[07/06/17 - 08:44 AM]
Video: Netflix Releases Trailer and Key Art for Icarus
Director Bryan Fogel's bold gambit was this: to investigate doping in sports, Fogel (an amateur bike racer) would dope himself, observe the changes in his performance, and see if he could evade detection.
---
[via press release from Netflix]
NETFLIX UNVEILS TRAILER AND KEY ART FOR ICARUS
Directed by Bryan Fogel, the original documentary will launch globally on August 4, 2017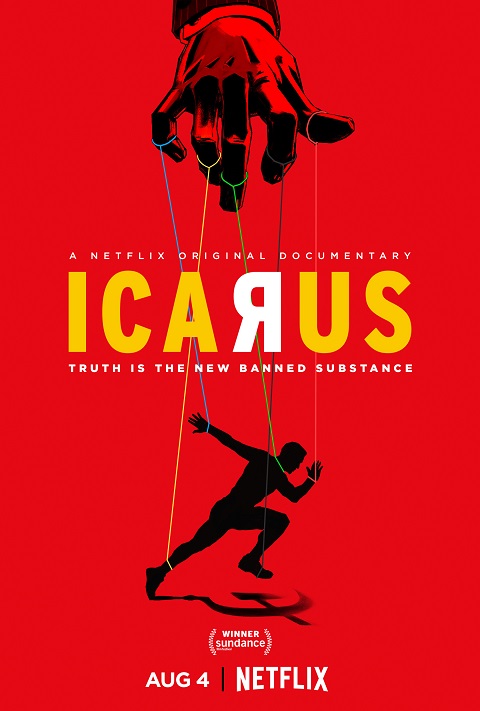 Los Angeles, CA (July 7, 2017) - In the audacious documentary Icarus, director Bryan Fogel's bold gambit was this: to investigate doping in sports, Fogel (an amateur bike racer) would dope himself, observe the changes in his performance, and see if he could evade detection. In doing so, he was connected to a renegade Russian scientist, Dr. Grigory Rodchenkov, a pillar of his country's "anti-doping" program. Over dozens of Skype calls, urine samples, and badly administered hormone injections, Fogel and Rodchenkov grow closer despite shocking allegations that place Rodchenkov at the center of Russia's state-sponsored Olympic doping program.
When the truth is more complex than imagined, and accusations of illegalities run to Russia's highest chains of command, the two realize they hold the power to reveal the biggest international sports scandal in living memory. Exemplifying the special bond between filmmaker and subject, this is a vital portrait of the sacrifice some people will make to stand up for truth. Icarus places you at the heart of an international game of cat and mouse, where a miscalculation can cost you your life.



[02/23/18 - 04:40 PM]
Video: First-Look of John Legend Rehearsing from "Jesus Christ Superstar Live in Concert"
The production will air live Easter Sunday, April 1 at 8 pm ET/PT in front of a large audience at the Marcy Armory in Williamsburg, Brooklyn, New York.


[02/23/18 - 01:01 PM]
Video: Syfy's "The Expanse" Reveals Season 3 Premiere Date and Trailer
Picking up immediately following the emotional and suspenseful second season finale, the 13-episode third season finds Earth, Mars and The Belt at war, with each competing entity vying for control.


[02/23/18 - 09:31 AM]
Video: Take a Behind-the-Scenes Look at the Making of "Everything Sucks!"
The footage was shot entirely on handheld video cameras by the cast during production.


[02/23/18 - 08:02 AM]
Video: Netflix Unleashes the "Queer Eye" Fab Five on One of Their Own!
The Fab 5 from "Queer Eye" took Netflix's Los Angeles headquarters by storm, making over their IT department known as the NERDS.


[02/22/18 - 10:39 AM]
Video: BBC America's "Killing Eve" Debuts First Teaser Trailer
Sandra Oh and Jodie Comer star in thriller penned by Phoebe Waller-Bridge and produced by Sally Woodward Gentle's Sid Gentle Productions.


[02/22/18 - 07:39 AM]
Video: Life Is a Battle, Here's How Hers Began - "Roxanne Roxanne" Trailer Debut
In the early 1980s, the most feared battle MC in Queens, New York, was a fierce teenage girl with the weight of the world on her shoulders.


[02/22/18 - 06:31 AM]
Video: Jared Leto Descends Into the World of the Yazuka - "The Outsider" Trailer Debut
Set in post-WWII Japan, an imprisoned American soldier (Leto) is released with the help of his Yakuza cellmate.


[02/21/18 - 11:19 AM]
Video: Jim Brockmire Takes New Orleans by Storm in "Brockmire" Season 2 Trailer
Season 2 premieres on IFC Wednesday, April 25 at 10:00/9:00c, with eight episodes airing weekly.


[02/21/18 - 09:42 AM]
Video: Trailer Debut - "Flint Town" on Netflix March 2
In the aftermath of the Flint water crisis, "Flint Town" takes an intimate look at the state of policing in America through the lens of the Flint Police Department.


[02/21/18 - 07:00 AM]
Video: Danger, Will Robinson! Netflix Releases First Look at "Lost in Space," Launching on Earth on April 13
Netflix provided NASA with access to the pilot episode, which was transmitted 12 days ago to the International Space Station for astronauts to view during their leisure time.


[02/20/18 - 10:02 AM]
Video: New Trailer for Season Two of CBS All Access' "The Good Fight"
The series stars Christine Baranski, Cush Jumbo, Rose Leslie, Delroy Lindo, Audra McDonald, Sarah Steele, Justin Bartha, Michael Boatman and Nyambi Nyambi.


[02/20/18 - 10:01 AM]
Video: WGN America Reveals "100 Code" Premiere Date for Tuesday, May 29 and Unveils All-New Trailer
"100 Code" is a tense crime thriller, following the hunt for a serial killer who targets young, blonde and blue-eyed women, found dead in fields of flowers.


[02/20/18 - 08:40 AM]
Video: Netflix Releases "Marvel's Jessica Jones" Franchise Trailer
With flashes back to the first season, the trailer explores Jessica's path to season two, while she shows everyone how to fight like a woman.


[02/18/18 - 10:46 PM]
Video: Netflix Reveals Launch Date, Official Trailer and First Look for Its Arabic Comedy Special "Adel Karam: Live from Beirut"
With its rapidly growing stand-up comedy special slate, Adel now joins notable comedy stars such as Gad Elmaleh, Jack Whitehall and Dieter Nuhr in Netflix's effort to bring great international talent to its global audience.


[02/16/18 - 12:00 PM]
Video: TBS Reveals First Trailer for "The Last O.G."
The series centers on Tray (Tracy Morgan), an ex-con shocked to see just how much the world has changed when he is released from prison for on good behavior after a 15-year stint.