[07/06/17 - 12:06 PM]
Video: Showtime(R) Releases the Trailer and Poster Art for the Fifth and Final Season of "Episodes"
The show's swan song kicks off Sunday, August 20 at 10:00/9:00c.
---
[via press release from Showtime]
SHOWTIME(R) RELEASES THE TRAILER AND POSTER ART FOR THE FIFTH AND FINAL SEASON OF "EPISODES"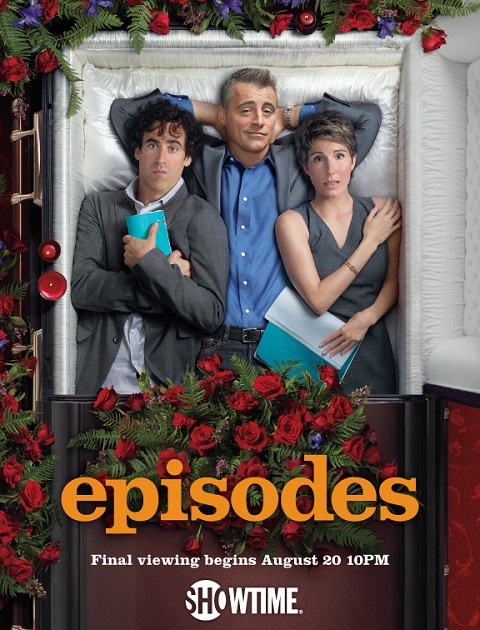 NEW YORK - July 6, 2017 - SHOWTIME has released the official trailer and key art for the fifth and final season of its acclaimed comedy series EPISODES, which will premiere on Sunday, August 20 at 10 p.m. ET/PT. EPISODES stars Matt LeBlanc in his four-time Emmy(R)-nominated and Golden Globe(R)-winning role playing a fictionalized version of himself.
At the start of the final season of EPISODES, several months have passed and the game show hosted by Matt is now a runaway hit. Unfortunately for Matt, this means his years as an actor are completely forgotten. Sean (Stephen Mangan) and Beverly (Tamsin Greig) are equally miserable. Sean's loathsome ex-partner is now in charge of their new series, The Opposite of Us, and Sean and Beverly must now endure his utter lack of humor or talent as they watch him slowly destroy their show. EPISODES also stars John Pankow, Kathleen Rose Perkins and Mircea Monroe. EPISODES is created, written and executive produced by award-winning writing partners David Crane (Friends) and Jeffrey Klarik (Mad About You). Klarik directed the entire final season. The series is also executive produced by Jimmy Mulville through his Hat Trick production company.
Since its debut in 2011, EPISODES has received 10 Primetime Emmy nominations across multiple categories, including Outstanding Lead Actor in a Comedy Series for LeBlanc, and Outstanding Writing for a Comedy Series for creators David Crane and Jeffrey Klarik - who have been nominated for every season the series has been eligible. The series has also earned two Golden Globe nominations for Best Television Series - Comedy or Musical, and in its first season, LeBlanc won the Golden Globe Award for Best Performance by an Actor in a Television Series - Comedy Or Musical. Additionally, Crane and Klarik have earned two Writers Guild of America Award nominations for New Series and Episodic Comedy. For more information about EPISODES, follow Twitter and Facebook, and join the conversation using #Episodes.
SHOWTIME is currently available to subscribers via cable, DBS and telco providers, and as a stand-alone streaming service through Apple(R), Roku(R), Amazon, Google, Xbox One and Samsung at www.showtime.com/samsung. Consumers can also subscribe to SHOWTIME via Hulu, YouTube TV, Sling TV, Sony PlayStation(R) Vue and Amazon Channels. The network's authentication service, SHOWTIME ANYTIME, is available at no additional cost to SHOWTIME customers who subscribe to the network through participating providers. Subscribers can also watch on their computers at www.showtime.com and www.showtimeanytime.com.



[10/18/18 - 09:32 AM]
Video: Trailer Debut - Netflix's "The Degenerates" Original Comedy Special Series
The series consists of six 30-minute episodes full of no-holds-barred comedy for mature audiences from the likes of rising comics Big Jay Oakerson, Joey Diaz, Liza Treyger, Yamaneika Saunders, Christina P., and Brad Williams.


[10/18/18 - 07:04 AM]
Video: We'll Start You Off with a Sample - "Narcos: Mexico" Trailer Debut
"Narcos: Mexico" will explore the origins of the modern drug war by going back to its roots, beginning at a time when the Mexican trafficking world was a loose and disorganized confederation of independent growers and dealers.


[10/17/18 - 06:32 AM]
Video: "Patriot Act with Hasan Minhaj" - Studio Spot - Netflix
In a never before seen sneak peek of the weekly topical show, Minhaj treated viewers via Instagram to a hint of the show's high tech, interactive set.


[10/16/18 - 12:02 PM]
Video: Trailer Debut - "The Final Table" - A Global Cooking Competition
The Netflix series features 12 teams of two chefs from around the world cooking the national dishes of Mexico, Spain, England, Brazil, France, Japan, the U.S., India and Italy.


[10/16/18 - 08:03 AM]
Video: Featurette Debut - Inside the Bewitching World of Sabrina Spellman
The 10-episode Netflix original series premieres October 26.


[10/12/18 - 07:01 AM]
Video: Trailer & Key Art Debut - Michael Douglas and Alan Arkin Return to TV in "The Kominsky Method"
The Netflix series also features Nancy Travis, Sarah Baker and guest stars including Lisa Edelstein, Emily Osment, Graham Rogers, Danny Devito, Ann-Margret, Jay Leno, Patti LaBelle, Ashleigh LaThorpe and more.


[10/11/18 - 11:45 AM]
Video: IFC's "Baroness von Sketch Show" Season 3 Trailer Revealed
The new season premieres with two back to back episodes Thursday, November 8 at 9:00/8:00c.


[10/10/18 - 01:30 PM]
Video: USA Network Reveals First Promo and Key Art for Music Showcase Series "Real Country" Featuring Shania Twain, Jake Owen and Travis Tritt
From Wilshire Studios, the eight-part series will premiere Tuesday, November 13 at 10:00/9:00c.


[10/10/18 - 10:10 AM]
Video: YouTube Premium Debuts New Trailer for AwesomenessTV's Hit Comedy "Foursome"
The longest running YouTube Original show will launch its fourth season on Wednesday, October 24.


[10/10/18 - 09:02 AM]
Video: "Best. Worst. Weekend. Ever." - Official Trailer - Netflix
The limited series follows four friends as they make the most of their last weekend before high school.


[10/10/18 - 08:02 AM]
Video: "Haunted" - Official Trailer - Netflix
Real people, real stories, real horror: Netflix's "Haunted" arrives October 19.


[10/10/18 - 06:00 AM]
Video: Netflix Debuts Teaser Trailer & Key Art for "The Christmas Chronicles"
The holiday adventure tells the story of sister and brother, Kate (Darby Camp) and Teddy Pierce (Judah Lewis), whose Christmas Eve plan to catch Santa Claus (Kurt Russell) on camera turns into an unexpected journey that most kids could only dream about.


[10/10/18 - 12:12 AM]
Video: "The Night Comes for Us" - Official Trailer - Netflix
After sparing a girl's life during a massacre, an elite Triad assassin is targeted by an onslaught of murderous gangsters.


[10/09/18 - 09:04 AM]
Video: "Warrior" - Official Trailer - Netflix
A war veteran returns home with the hopes of peace and normalcy, but soon finds himself in a dangerous battle between a rough biker gang and the police force determined to take them down.


[10/09/18 - 07:31 AM]
Video: Trailer Debut - Netflix's "Making a Murderer" Part 2
Netflix presents the highly-anticipated second chapter of the critically acclaimed, Emmy Award-winning original documentary series.