[07/06/17 - 12:06 PM]
Video: Showtime(R) Releases the Trailer and Poster Art for the Fifth and Final Season of "Episodes"
The show's swan song kicks off Sunday, August 20 at 10:00/9:00c.
---
[via press release from Showtime]
SHOWTIME(R) RELEASES THE TRAILER AND POSTER ART FOR THE FIFTH AND FINAL SEASON OF "EPISODES"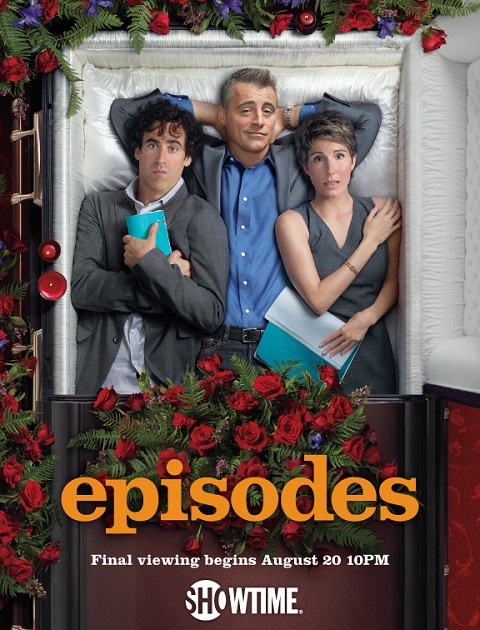 NEW YORK - July 6, 2017 - SHOWTIME has released the official trailer and key art for the fifth and final season of its acclaimed comedy series EPISODES, which will premiere on Sunday, August 20 at 10 p.m. ET/PT. EPISODES stars Matt LeBlanc in his four-time Emmy(R)-nominated and Golden Globe(R)-winning role playing a fictionalized version of himself.
At the start of the final season of EPISODES, several months have passed and the game show hosted by Matt is now a runaway hit. Unfortunately for Matt, this means his years as an actor are completely forgotten. Sean (Stephen Mangan) and Beverly (Tamsin Greig) are equally miserable. Sean's loathsome ex-partner is now in charge of their new series, The Opposite of Us, and Sean and Beverly must now endure his utter lack of humor or talent as they watch him slowly destroy their show. EPISODES also stars John Pankow, Kathleen Rose Perkins and Mircea Monroe. EPISODES is created, written and executive produced by award-winning writing partners David Crane (Friends) and Jeffrey Klarik (Mad About You). Klarik directed the entire final season. The series is also executive produced by Jimmy Mulville through his Hat Trick production company.
Since its debut in 2011, EPISODES has received 10 Primetime Emmy nominations across multiple categories, including Outstanding Lead Actor in a Comedy Series for LeBlanc, and Outstanding Writing for a Comedy Series for creators David Crane and Jeffrey Klarik - who have been nominated for every season the series has been eligible. The series has also earned two Golden Globe nominations for Best Television Series - Comedy or Musical, and in its first season, LeBlanc won the Golden Globe Award for Best Performance by an Actor in a Television Series - Comedy Or Musical. Additionally, Crane and Klarik have earned two Writers Guild of America Award nominations for New Series and Episodic Comedy. For more information about EPISODES, follow Twitter and Facebook, and join the conversation using #Episodes.
SHOWTIME is currently available to subscribers via cable, DBS and telco providers, and as a stand-alone streaming service through Apple(R), Roku(R), Amazon, Google, Xbox One and Samsung at www.showtime.com/samsung. Consumers can also subscribe to SHOWTIME via Hulu, YouTube TV, Sling TV, Sony PlayStation(R) Vue and Amazon Channels. The network's authentication service, SHOWTIME ANYTIME, is available at no additional cost to SHOWTIME customers who subscribe to the network through participating providers. Subscribers can also watch on their computers at www.showtime.com and www.showtimeanytime.com.



[09/21/17 - 06:10 AM]
Video: "Def Comedy Jam 25" - Official Trailer - Netflix
Dave Chappelle, Martin Lawrence, Steve Harvey, Cedric the Entertainer, Adele Givens, Tracy Morgan, Sheryl Underwood, D.L. Hughley and many more celebrate one of comedy's greatest institutions.


[09/20/17 - 09:01 AM]
Video: "The Meyerowitz Stories (New and Selected)" - Official Trailer - Netflix
Adam Sandler, Ben Stiller, Dustin Hoffman, Elizabeth Marvel, Grace Van Patten and Emma Thompson star in Noah Baumbach's latest film.


[09/20/17 - 07:31 AM]
Video: "Marvel's The Punisher" - Official Trailer - Netflix
They killed Frank Castle's family to get to him. Now, the Punisher exacts his revenge.


[09/19/17 - 10:12 AM]
Video: Behind the Scenes of "Star Trek: Discovery" with the Series' Cast and Creators
The newest edition of the "Star Trek" franchise is set to premiere this Sunday, September 24.


[09/15/17 - 06:54 AM]
Video: Oh Mylanta, We're 30?! The "Fuller House" Season Three Trailer Is Here!
The series returns to Netflix on Friday, September 22.


[09/14/17 - 04:18 PM]
Video: Cinemax - "Tales from the Tour Bus" Trailer - Debuts September 22
Mike Judge co-created, narrates and serves as an executive producer on the series, which recounts the raucous adventures of these musicians, as told by those who knew them best.


[09/14/17 - 12:08 PM]
Video: Showtime(R) Unveils Poster Art and Behind-the-Scenes Look at Its New Comedy "White Famous"
The series will now premiere its first two episodes back-to-back on Sunday, October 15 at 10:00/9:00c.


[09/14/17 - 09:32 AM]
Video: Starz Releases Official Trailer for New Original Documentary "Nude" to Premiere October 29th at 10 PM ET/PT
The feature-length documentary explores perceptions of nudity in art by chronicling the creative process of fashion photographer David Bellemere.


[09/14/17 - 09:15 AM]
Video: Watch First Season Two "Search Party" Trailer; Series Returns November 19
The TBS series stars Alia Shawkat, Meredith Hagner, John Early, John Reynolds and Brandon Micheal Hall.


[09/14/17 - 06:07 AM]
Video: Netflix - "Kingdom of Us" - Trailer & Key Art Debut
The Netflix original documentary will premiere at the BFI London Film Festival on October 7 ahead of its global launch on Netflix on October 13.


[09/13/17 - 12:14 PM]
Video: Rob Schneider Returns in "Real Rob"
This season's guest stars include Adam Sandler, Eugenio Derbez, Michael Madsen, Danny Trejo, Angela Kinsey, Haylie Duff, Chris Kattan, Bobby Lee, Monica Huarte, Karyme Lozano and James Hong.


[09/13/17 - 09:41 AM]
Video: Crackle Releases Original Key Art and Trailer for Halloween Special "SuperMansion: Drag Me to Halloween" Streaming Thursday, October 5th
In the all-new stop-motion animated Crackle original special, the League of Freedom experiences all the fun and adventures of Halloween.


[09/12/17 - 10:19 AM]
Video: Netflix Debuts the Trailer for "The Death and Life of Marsha P. Johnson"
Having played a pivotal role in the previous year's Stonewall Riots, in 1970, Johnson and fellow trans icon Sylvia Rivera formed the world's first trans-rights organization, STAR (Street Transvestites Action Revolutionaries).


[09/12/17 - 09:30 AM]
Video: First Look at the "Star Trek: Discovery" Main Title Scoring Session
The series invites fans to go behind the scenes for a first look at the main title scoring session for the series, featuring a 60-piece orchestra conducted by Emmy(R)-winning composer Jeff Russo.


[09/12/17 - 08:46 AM]
Video: WE tv's "Marriage Boot Camp Reality Stars" Debuts New Supertease - Season 9 Premieres October 13!
The season will feature a brand new house of dysfunctional couples including Kailyn Lowry and Javi Marroquin, Juelia Kinney and JJ Lane, Bobby Panahi and Asifa Mirza, Peter Gunz and Amina Buddafly and Mehgan James and DeAndre Perry.