[07/06/17 - 12:06 PM]
Video: Showtime(R) Releases the Trailer and Poster Art for the Fifth and Final Season of "Episodes"
The show's swan song kicks off Sunday, August 20 at 10:00/9:00c.
---
[via press release from Showtime]
SHOWTIME(R) RELEASES THE TRAILER AND POSTER ART FOR THE FIFTH AND FINAL SEASON OF "EPISODES"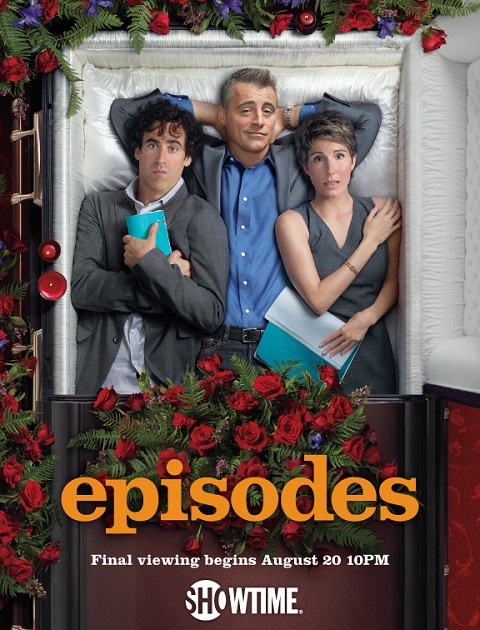 NEW YORK - July 6, 2017 - SHOWTIME has released the official trailer and key art for the fifth and final season of its acclaimed comedy series EPISODES, which will premiere on Sunday, August 20 at 10 p.m. ET/PT. EPISODES stars Matt LeBlanc in his four-time Emmy(R)-nominated and Golden Globe(R)-winning role playing a fictionalized version of himself.
At the start of the final season of EPISODES, several months have passed and the game show hosted by Matt is now a runaway hit. Unfortunately for Matt, this means his years as an actor are completely forgotten. Sean (Stephen Mangan) and Beverly (Tamsin Greig) are equally miserable. Sean's loathsome ex-partner is now in charge of their new series, The Opposite of Us, and Sean and Beverly must now endure his utter lack of humor or talent as they watch him slowly destroy their show. EPISODES also stars John Pankow, Kathleen Rose Perkins and Mircea Monroe. EPISODES is created, written and executive produced by award-winning writing partners David Crane (Friends) and Jeffrey Klarik (Mad About You). Klarik directed the entire final season. The series is also executive produced by Jimmy Mulville through his Hat Trick production company.
Since its debut in 2011, EPISODES has received 10 Primetime Emmy nominations across multiple categories, including Outstanding Lead Actor in a Comedy Series for LeBlanc, and Outstanding Writing for a Comedy Series for creators David Crane and Jeffrey Klarik - who have been nominated for every season the series has been eligible. The series has also earned two Golden Globe nominations for Best Television Series - Comedy or Musical, and in its first season, LeBlanc won the Golden Globe Award for Best Performance by an Actor in a Television Series - Comedy Or Musical. Additionally, Crane and Klarik have earned two Writers Guild of America Award nominations for New Series and Episodic Comedy. For more information about EPISODES, follow Twitter and Facebook, and join the conversation using #Episodes.
SHOWTIME is currently available to subscribers via cable, DBS and telco providers, and as a stand-alone streaming service through Apple(R), Roku(R), Amazon, Google, Xbox One and Samsung at www.showtime.com/samsung. Consumers can also subscribe to SHOWTIME via Hulu, YouTube TV, Sling TV, Sony PlayStation(R) Vue and Amazon Channels. The network's authentication service, SHOWTIME ANYTIME, is available at no additional cost to SHOWTIME customers who subscribe to the network through participating providers. Subscribers can also watch on their computers at www.showtime.com and www.showtimeanytime.com.



[11/22/17 - 06:30 AM]
Video: Watch the Trailer for the Netflix Film "El Camino Christmas," Launching December 8
Tim Allen, Vincent D'Onofrio, Luke Grimes, Dax Shepard, Jessica Alba, Kurtwood Smith and Michelle Mylett make up the ensemble cast.


[11/20/17 - 12:07 PM]
Video: The Wait Is Finally Over - Here's the Official Trailer for Season 3 of "The Magicians"
Look for the new season to roll out Wednesday, January 10 on Syfy.


[11/17/17 - 09:02 AM]
Video: "Dave Chappelle: Equanimity" - New Stand-Up Special Teaser - Netflix
Dave Chappelle's brand new stand-up special premieres December 31 on Netflix.


[11/17/17 - 08:38 AM]
Video: "Easy" Season 2 Returns to Netflix December 1 - Watch the New Trailer
Aubrey Plaza, Dave Franco, Aya Cash, Judy Greer, Kate Berlant, Joe Lo Truglio, Zazie Beetz, Elizabeth Reaser, Kate Micucci, Michael Chernus, Jane Adams, Jacqueline Toboni, Evan Jonigkeit, Marz Timms, and Kiersey Clemons star in the upcoming season.


[11/16/17 - 11:31 AM]
Video: Showtime(R) Releases Full Trailer and Official Poster for "The Chi" Premiering January 7 at 10 PM ET/PT
Produced entirely in its namesake city, "The Chi" is a timely coming-of-age story centering on a group of residents who become linked by coincidence but bonded by the need for connection and redemption.


[11/16/17 - 07:11 AM]
Video: The Making of "The Grand Tour" Season Two - "It's a Half-a-Romeo"
In a brand-new behind-the-scenes video, Jeremy, Richard and James try to come up with an alternative to last year's "Celebrity Brain Crash" segment, with questionable results.


[11/14/17 - 11:16 AM]
Video: Paramount Network Debuts New "Waco" Trailer
The six-part series launches Wednesday, January 24 at 10:00/9:00c on Paramount Network.


[11/09/17 - 07:12 AM]
Video: Netflix Unveils the Gripping Official Trailer for "Dark," Its First German Original Series
"Dark," premiering on Netflix on December 1, is set in a German town in present day where the disappearance of two young children exposes the double lives and fractured relationships among four families.


[11/08/17 - 10:54 AM]
Video: Season 2 Trailer for Hulu Original Series "Shut Eye"
All 10 episodes of Season 2 premiere Wednesday, December 6 only on Hulu.


[11/06/17 - 06:03 AM]
Video: Netflix Bequeaths "The Crown" Season Two Trailer
Strength comes through struggle in season two of "The Crown," launching on Netflix globally Friday, December 8.


[11/02/17 - 10:50 AM]
Video: Starz Releases Official Trailer and Premiere Date for New Spy Thriller "Counterpart"
Academy Award(R)-winner J.K. Simmons stars in two roles in this spy thriller from creator Justin Marks and MRC, and executive producers Gilbert Films and Anonymous Content.


[11/02/17 - 10:33 AM]
Video: Watch the New Trailer for "Voyeur" - Launches Globally on Netflix and in Select Theaters December 1
The documentary follows Gay Talese, the 84-year-old giant of modern journalism, as he reports one of the most controversial stories of his career: a portrait of a Colorado motel owner, Gerald Foos.


[11/02/17 - 06:58 AM]
Video: Trailer Debut for New Netflix Documentary "Saving Capitalism" Launching November 21
Directed by Jacob Kornbluth and based on Robert Reich's 2015 book, the film explores the reasons why the economic system that once made America strong is suddenly failing, as well as how it can be fixed.


[11/01/17 - 06:01 AM]
Video: Amazing Brand New Footage of "The Grand Tour" Released in the Official Trailer for Season 2
The highly anticipated second season of "The Grand Tour," Amazon's number one global hit show, will launch exclusively on Prime Video on December 8.


[10/31/17 - 11:58 AM]
Video: WGN America Releases All-New Teaser Trailer for "Shoot the Messenger" Premiering Early 2018
The eight-part, one-hour series stars Elyse Levesque as Daisy Channing, Lyriq Bent as Kevin Lutz, Lucas Bryant as Simon Olenski and Alex Kingston as Mary Foster.