STARZ RELEASES NEW "OUTLANDER" VIDEO AND "HOWARDS END" IMAGES AT TCA
Beverly Hills, Calif. - July 28, 2017 - Today at the Televisions Critics Association (TCA) Summer 2017 Press Tour, STARZ released a new behind the scenes video entitled "Parallel Lives," from "Outlander" season three, featuring new footage and cast interviews (link above). The STARZ Original Series "Outlander" premieres on Sunday, September 10th at 8pm ET/PT on STARZ.
The network also released four new images from "Howards End," based on the classic E.M. Forster novel. STARZ Limited Series "Howards End" will premiere in 2018.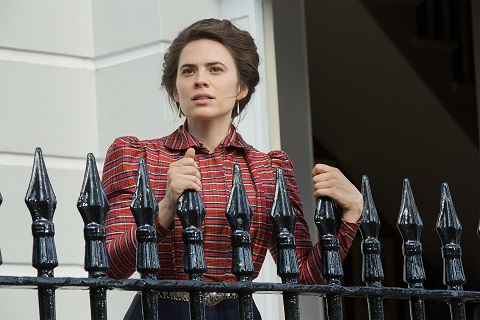 Pictured: Hayley Atwell (Margaret Schlegel)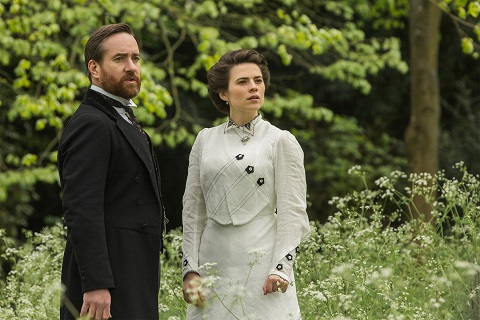 Pictured: Matthew Macfadyen (Henry Wilcox), Hayley Atwell (Margaret Schlegel)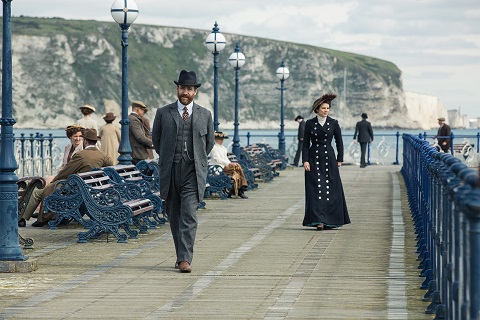 Pictured: Matthew Macfadyen (Henry Wilcox), Hayley Atwell (Margaret Schlegel)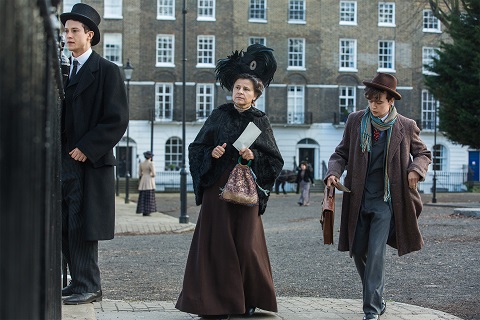 Pictured: Tracey Ullman (Aunt Juley)
About "Outlander" Season Three
The third season of "Outlander" picks up right after Claire (Caitriona Balfe) travels through the stones to return to her life in 1948. Now pregnant with Jamie's (Sam Heughan) child, she struggles with the fallout of her sudden reappearance and its effect on her marriage to her first husband, Frank (Tobias Menzies). Meanwhile, in the 18th century, Jamie suffers from the aftermath of his doomed last stand at the historic battle of Culloden, as well as the loss of Claire. As the years pass, Jamie and Claire attempt to make a life apart from one another, each haunted by the memory of their lost love. The budding possibility that Claire can return to Jamie in the past breathes new hope into Claire's heart... as well as new doubt. Separated by continents and centuries, Claire and Jamie must find their way back to each other. As always, adversity, mystery, and adventure await them on the path to reunion. And the question remains: When they find each other, will they be the same people who parted at the standing stones, all those years ago?
Diana Gabaldon's eight-book Outlander series has sold more than 28 million copies worldwide and all the books have graced the New York Times best-sellers list. The "Outlander" series spans the genres of history, science fiction, romance and adventure in one amazing tale. The second season of "Outlander" won the Critics' Choice Award for Most Bingeworthy Show, and four People's Choice Awards, including Favorite TV Show.
Ronald D. Moore, Maril Davis, Matthew B. Roberts, Toni Graphia, Anne Kenney and Andy Harries serve as executive producers of "Outlander," which is produced by Tall Ship Productions, Story Mining & Supply Company and Left Bank Pictures in association with Sony Pictures Television.
"Outlander" Online
For more information, go to the official Outlander Facebook Page and follow @Outlander_Starz on Twitter and Instagram. Join the conversation with #Outlander and #STARZ. Website: http://www.starz.com/originals/Outlander
About Howards End
Often considered E.M. Forster's masterpiece, "Howards End" is the story of two independent and unconventional sisters and the men in their lives seeking love and meaning as they navigate an ever-changing world. Academy Award winning screenwriter Kenneth Lonergan brings a fresh take to this adaptation directed by BAFTA winner Hettie Macdonald.
Margaret Schlegel (Hayley Atwell) is an intelligent, idealistic young woman who is courted by the older Henry Wilcox (Matthew Macfadyen), a self-made conservative businessman, after his wife Ruth Wilcox (Julia Ormond) dies unexpectedly and he becomes owner of Howards End. Meanwhile Margaret's passionate and capricious younger sister Helen Schlegel (Philippa Coulthard) takes up the cause of Leonard Bast (Joseph Quinn) a young bank clerk who falls on hard times at work and at home with his partner Jacky (Rosalind Eleazar). In the absence of their late parents, the sisters' loving but interfering Aunt Juley (Tracey Ullman) tries to keep the young ladies and their brother Tibby (Alex Lawther) on the straight and narrow.
"Howards End" Online Join the conversation with #HowardsEnd and #STARZ