CRACKLE RELEASES NEW TRAILER AND KEY ART FOR SOPHOMORE SEASON OF THE NETWORK'S ORIGINAL DRAMA SERIES, "STARTUP" TO DEBUT THURSDAY, SEPTEMBER 28TH; VIRTUAL REALITY EXPERIENCE TO LAUNCH THIS FALL ON PLAYSTATION(R) VR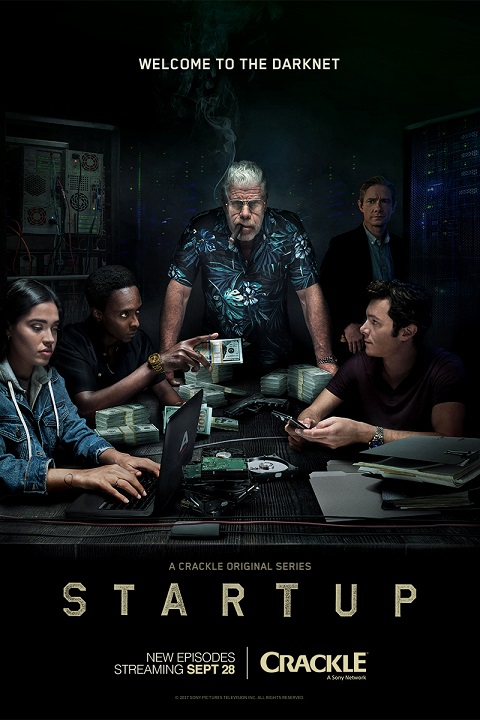 Crackle released the season two trailer and key art for the network's original drama series, "StartUp" returning with all 10-episodes on Thursday, September 28th. In addition, the free, AVOD service shared plans to release an interactive and immersive virtual reality experience based on the series to debut on PlayStation(R) VR and other platforms later fall. Most recently, it was announced that Crackle is headed to the Venice Film Festival with "Snatch VR Heist Experience," the network's 360 3D interactive expression of the critically acclaimed drama inspired by the film of the same name. The experience, starring Rupert Grint, is one of the selections to be showcased later this month in Venice Virtual Reality, the festival's new competition for virtual reality viewing.
The second season of "StartUp," picks up on the streets of Miami following the takeover of GenCoin, an unregulated global cryptocurrency. With their startup now in the hands of the Russian Mob, our unlikely trio, Izzy Morales, Ronald Dacey, and Nick Talman, reinvest in their partnership and launch an exciting new endeavor, a darknet prototype called ArakNet. But as their decentralized network begins to grow, so too does the peril, the corruption, and the moral turpitude. As our heroes attempt to stay alive long enough to triumph, the sophomore season of "StartUp" poses the all-important question, what is the cost of ambition, and reveals the frightening lengths one might go to achieve ultimate success.
Returning in season two are series' stars Adam Brody ("CHiPS," "The League") also producer, Martin Freeman ("Fargo," "Sherlock"), Edi Gathegi ("The Blacklist," "The Blacklist: Redemption") and Otmara Marrero ("Graceland"). In addition, Ron Perlman (Hellboy, "Sons of Anarchy") also a producer, joins the sophomore season as Wes Chandler, a multi-millionaire businessman with a level-headed grit, and Addison Timlin ("Californication") will portray Perlman's daughter Mara.
"StartUp" is produced by Critical Content and Hollywood Gang Productions. Tom Forman, Andrew Marcus, Ray Ricord, Gianni Nunnari, Shannon Gaulding and Anne Clements ("The Oath") all serve as executive producers. The series is created and written by Ben Ketai ("Chosen," THE FOREST) who also serves as executive producer and director. Adam Brody and Ron Perlman serve as producers.
For more information, visit "StartUp" on Facebook, Instagram and Twitter. Join the conversation with #StartUp and #Crackle.
About Crackle
Crackle, a unit of Sony Pictures Television Networks, programs Hollywood movies, popular TV shows, original series and feature films for the worlds connected audience. Crackle is freely accessible in the U.S. with no subscription or commitment required. The streaming service is available in 21 countries and houses a robust library of original programming available anytime, anywhere on every connected device. Check out Crackle on Facebook or follow @Crackle on Twitter for real time updates. For additional information, please go to www.crackle.com.