[08/22/17 - 09:39 AM]
Video: Netflix Debuts Key Art & Trailer for "Strong Island"
The film will launch on Netflix and in limited theatrical release on September 15.
---
[via press release from Netflix]
Netflix Debuts Key Art & Trailer for Strong Island
In April 1992, on Long Island NY, William Jr., the Ford's eldest child, a black 24 year-old teacher, was killed by Mark Reilly, a white 19 year-old mechanic. Although Ford was unarmed, he became the prime suspect in his own murder. Director Yance Ford chronicles the arc of his family across history, geography and tragedy - from the racial segregation of the Jim Crow South to the promise of New York City; from the presumed safety of middle class suburbs, to the maelstrom of an unexpected, violent death. It is the story of the Ford family: Barbara Dunmore, William Ford and their three children and how their lives were shaped by the enduring shadow of racism in America.
A deeply intimate and meditative film, Strong Island asks what one can do when the grief of loss is entwined with historical injustice, and how one grapples with the complicity of silence, which can bind a family in an imitation of life, and a nation with a false sense of justice.
Strong Island will launch on Netflix and in limited theatrical release on September 15, 2017.
Trailer:
Key Art: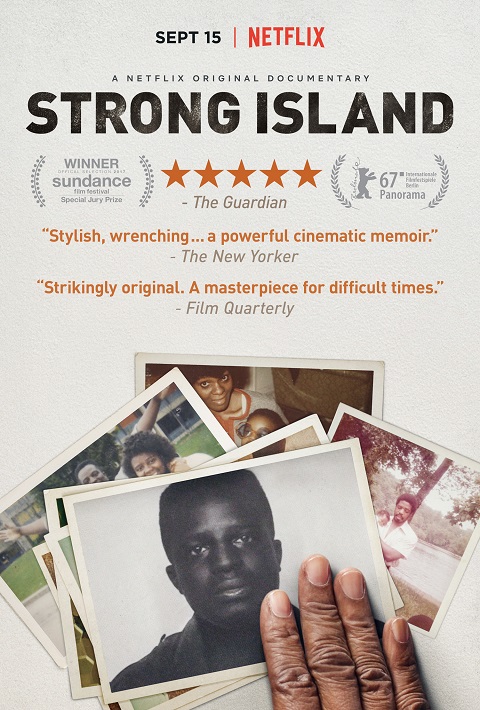 [02/21/18 - 11:19 AM]
Video: Jim Brockmire Takes New Orleans by Storm in "Brockmire" Season 2 Trailer
Season 2 premieres on IFC Wednesday, April 25 at 10:00/9:00c, with eight episodes airing weekly.


[02/21/18 - 09:42 AM]
Video: Trailer Debut - "Flint Town" on Netflix March 2
In the aftermath of the Flint water crisis, "Flint Town" takes an intimate look at the state of policing in America through the lens of the Flint Police Department.


[02/21/18 - 07:00 AM]
Video: Danger, Will Robinson! Netflix Releases First Look at "Lost in Space," Launching on Earth on April 13
Netflix provided NASA with access to the pilot episode, which was transmitted 12 days ago to the International Space Station for astronauts to view during their leisure time.


[02/20/18 - 10:02 AM]
Video: New Trailer for Season Two of CBS All Access' "The Good Fight"
The series stars Christine Baranski, Cush Jumbo, Rose Leslie, Delroy Lindo, Audra McDonald, Sarah Steele, Justin Bartha, Michael Boatman and Nyambi Nyambi.


[02/20/18 - 10:01 AM]
Video: WGN America Reveals "100 Code" Premiere Date for Tuesday, May 29 and Unveils All-New Trailer
"100 Code" is a tense crime thriller, following the hunt for a serial killer who targets young, blonde and blue-eyed women, found dead in fields of flowers.


[02/20/18 - 08:40 AM]
Video: Netflix Releases "Marvel's Jessica Jones" Franchise Trailer
With flashes back to the first season, the trailer explores Jessica's path to season two, while she shows everyone how to fight like a woman.


[02/18/18 - 10:46 PM]
Video: Netflix Reveals Launch Date, Official Trailer and First Look for Its Arabic Comedy Special "Adel Karam: Live from Beirut"
With its rapidly growing stand-up comedy special slate, Adel now joins notable comedy stars such as Gad Elmaleh, Jack Whitehall and Dieter Nuhr in Netflix's effort to bring great international talent to its global audience.


[02/16/18 - 12:00 PM]
Video: TBS Reveals First Trailer for "The Last O.G."
The series centers on Tray (Tracy Morgan), an ex-con shocked to see just how much the world has changed when he is released from prison for on good behavior after a 15-year stint.


[02/15/18 - 11:03 AM]
Video: Powerful New "Sneaky Pete" Trailer
The critically-acclaimed Prime Original, a co-production with Sony Pictures Television Studios, revolves around a con man, Marius (Giovanni Ribisi) who left prison only to find himself hunted by the vicious gangster he once robbed.


[02/14/18 - 09:30 AM]
Video: Finding Love Is Hard, Streaming It Is Easy - Netflix's "Love" Trailer Is Here
The third and final season launches globally on Netflix on March 9.


[02/14/18 - 08:21 AM]
Video: WE tv Reveals a Jaw-Dropping Sneak Peek of the Highly Anticipated Season 10 of "Marriage Boot Camp: Reality Stars Family Edition" Premiering March 9 at 9:00 PM ET/PT
Four famously dysfunctional families prove crazy is relative on the highly anticipated season 10 of "Marriage Boot Camp Reality Stars Family Edition."


[02/14/18 - 07:29 AM]
Video: A Valentine's Day Message from Jim Jefferies - Season 2 of "The Jim Jefferies Show" Premieres March 27 on Comedy Central
To commemorate Valentine's Day, Jim wonders why images of naked babies are only acceptable on greeting cards one day a year.


[02/13/18 - 01:05 PM]
Video: Freeform Releases Key Art & Promo for Highly-Anticipated Mermaid Drama, "Siren"
The newcomer premieres March 29 on Freeform with a special two-hour event.


[02/12/18 - 05:08 PM]
Video: New Trailer - Crackle's "The Oath" from Curtis "50 Cent" Jackson, Starring Sean Bean and Ryan Kwanten
The series launches Thursday, March 8 on the streaming service.


[02/12/18 - 07:31 AM]
Video: "A Series of Unfortunate Events" - Season 2 - Official Teaser - Netflix
March 30, get ready for more villains, more schemes, more peril, more orphans and more intentional fires.