[09/06/17 - 06:03 AM]
Video: "Mudbound" - Witness the Powerful First Look
Carey Mulligan, Jason Clarke, Jason Mitchell, Mary J. Blige, Rob Morgan, Jonathan Banks and Garrett Hedlund star in the Netflix film, which debuts Friday, November 17.
---
[via press release from Netflix]
Mudbound - Witness the Powerful First Look
From director/co-writer Dee Rees, the singular talent who brought you Pariah and Bessie, comes the ambitious new film Mudbound, which premiered to great acclaim at the 2017 Sundance Film Festival.
Set against the backdrop of the Mississippi Delta during the Jim Crow era after World War II, Mudbound is both a timeless and timely film following two families - one black, one white - bound together by the hardships of farm life. Starring Carey Mulligan, Jason Clarke, Jason Mitchell, Mary J. Blige, Rob Morgan, Jonathan Banks and Garrett Hedlund.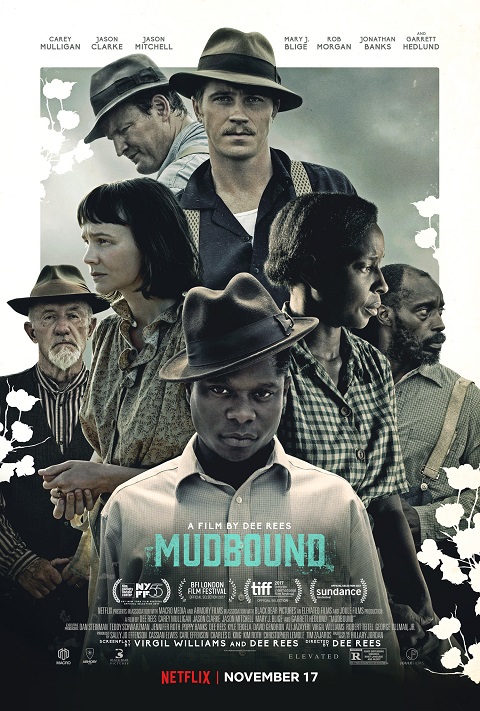 Mudbound will launch on Netflix and in select theaters on Friday, November 17. www.netflix.com/mudbound
SYNOPSIS
Set in the rural American South during World War II, Dee Rees' Mudbound is an epic story of two families pitted against one another by a ruthless social hierarchy, yet bound together by the shared farmland of the Mississippi Delta.
Mudbound follows the McAllan family, newly transplanted from the quiet civility of Memphis and unprepared for the harsh demands of farming. Despite the grandiose dreams of Henry (Jason Clarke), his wife Laura (Carey Mulligan) struggles to keep the faith in her husband's losing venture. Meanwhile, Hap and Florence Jackson (Rob Morgan, Mary J. Blige) - sharecroppers who have worked the land for generations - struggle bravely to build a small dream of their own despite the rigidly enforced social barriers they face.
The war upends both families' plans as their returning loved ones, Jamie McAllan (Garrett Hedlund) and Ronsel Jackson (Jason Mitchell), forge a fast but uneasy friendship that challenges the brutal realities of the Jim Crow South in which they live.



[11/17/17 - 09:02 AM]
Video: "Dave Chappelle: Equanimity" - New Stand-Up Special Teaser - Netflix
Dave Chappelle's brand new stand-up special premieres December 31 on Netflix.


[11/17/17 - 08:38 AM]
Video: "Easy" Season 2 Returns to Netflix December 1 - Watch the New Trailer
Aubrey Plaza, Dave Franco, Aya Cash, Judy Greer, Kate Berlant, Joe Lo Truglio, Zazie Beetz, Elizabeth Reaser, Kate Micucci, Michael Chernus, Jane Adams, Jacqueline Toboni, Evan Jonigkeit, Marz Timms, and Kiersey Clemons star in the upcoming season.


[11/16/17 - 11:31 AM]
Video: Showtime(R) Releases Full Trailer and Official Poster for "The Chi" Premiering January 7 at 10 PM ET/PT
Produced entirely in its namesake city, "The Chi" is a timely coming-of-age story centering on a group of residents who become linked by coincidence but bonded by the need for connection and redemption.


[11/16/17 - 07:11 AM]
Video: The Making of "The Grand Tour" Season Two - "It's a Half-a-Romeo"
In a brand-new behind-the-scenes video, Jeremy, Richard and James try to come up with an alternative to last year's "Celebrity Brain Crash" segment, with questionable results.


[11/14/17 - 11:16 AM]
Video: Paramount Network Debuts New "Waco" Trailer
The six-part series launches Wednesday, January 24 at 10:00/9:00c on Paramount Network.


[11/09/17 - 07:12 AM]
Video: Netflix Unveils the Gripping Official Trailer for "Dark," Its First German Original Series
"Dark," premiering on Netflix on December 1, is set in a German town in present day where the disappearance of two young children exposes the double lives and fractured relationships among four families.


[11/08/17 - 10:54 AM]
Video: Season 2 Trailer for Hulu Original Series "Shut Eye"
All 10 episodes of Season 2 premiere Wednesday, December 6 only on Hulu.


[11/06/17 - 06:03 AM]
Video: Netflix Bequeaths "The Crown" Season Two Trailer
Strength comes through struggle in season two of "The Crown," launching on Netflix globally Friday, December 8.


[11/02/17 - 10:50 AM]
Video: Starz Releases Official Trailer and Premiere Date for New Spy Thriller "Counterpart"
Academy Award(R)-winner J.K. Simmons stars in two roles in this spy thriller from creator Justin Marks and MRC, and executive producers Gilbert Films and Anonymous Content.


[11/02/17 - 10:33 AM]
Video: Watch the New Trailer for "Voyeur" - Launches Globally on Netflix and in Select Theaters December 1
The documentary follows Gay Talese, the 84-year-old giant of modern journalism, as he reports one of the most controversial stories of his career: a portrait of a Colorado motel owner, Gerald Foos.


[11/02/17 - 06:58 AM]
Video: Trailer Debut for New Netflix Documentary "Saving Capitalism" Launching November 21
Directed by Jacob Kornbluth and based on Robert Reich's 2015 book, the film explores the reasons why the economic system that once made America strong is suddenly failing, as well as how it can be fixed.


[11/01/17 - 06:01 AM]
Video: Amazing Brand New Footage of "The Grand Tour" Released in the Official Trailer for Season 2
The highly anticipated second season of "The Grand Tour," Amazon's number one global hit show, will launch exclusively on Prime Video on December 8.


[10/31/17 - 11:58 AM]
Video: WGN America Releases All-New Teaser Trailer for "Shoot the Messenger" Premiering Early 2018
The eight-part, one-hour series stars Elyse Levesque as Daisy Channing, Lyriq Bent as Kevin Lutz, Lucas Bryant as Simon Olenski and Alex Kingston as Mary Foster.


[10/31/17 - 08:01 AM]
Video: Starz Releases New Teaser Trailer for "Ash vs Evil Dead"
The third season finds Ash, having gone from murderous urban legend to humanity-saving hometown hero, discovering that he has a long lost daughter who's been entrusted in his care.


[10/30/17 - 11:00 AM]
Video: Stream the First Episode of "Young Sheldon" Now on YouTube
Beginning today, for the next five days fans can stream the premiere episode on YouTube with limited commercials in advance of the series' return on Thursday.