[09/07/17 - 07:55 AM]
Video: Netflix Releases Trailer for "One of Us," from Award-Winning Filmmakers Heidi Ewing and Rachel Grady, Verite Look at Insular Hasidic World, Launches Oct. 20
The film takes a deep and moving look at the lives of three individuals who have chosen to leave the hugely insular world of Hasidic Judaism.
---
[via press release from Netflix]
NETFLIX RELEASES TRAILER FOR ONE OF US, FROM AWARD-WINNING FILMMAKERS HEIDI EWING AND RACHEL GRADY, VERITE LOOK AT INSULAR HASIDIC WORLD, LAUNCHES OCT. 20
The Netflix Original Documentary, ONE OF US from Heidi Ewing & Rachel Grady launches October 20 globally on Netflix, following a World Premiere at the Toronto International Film Festival.
In their new documentary ONE OF US, acclaimed observational filmmakers Heidi Ewing and Rachel Grady (JESUS CAMP, DETROPIA) take a deep and moving look at the lives of three individuals who have chosen to leave the hugely insular world of Hasidic Judaism. The film follows Etty, a mother of seven, as she decides to leave a violent marriage and divorce her husband; Ari, a teenager on the verge of manhood who is struggling with addiction and the effects of childhood abuse; and Luzer, an actor who, despite having found success in the secular world, still wrestles with his decision eight years earlier to leave the Hasidic community. Produced over three years, ONE OF US offers unique and intimate access to the lives of all three as they deal not only with questions of their beliefs but also with the consequences of leaving the only community they have ever known. With their trademark sensitivity and keen interest in the nature of faith, Ewing & Grady chronicle these journeys towards personal freedom that comes at a very high cost.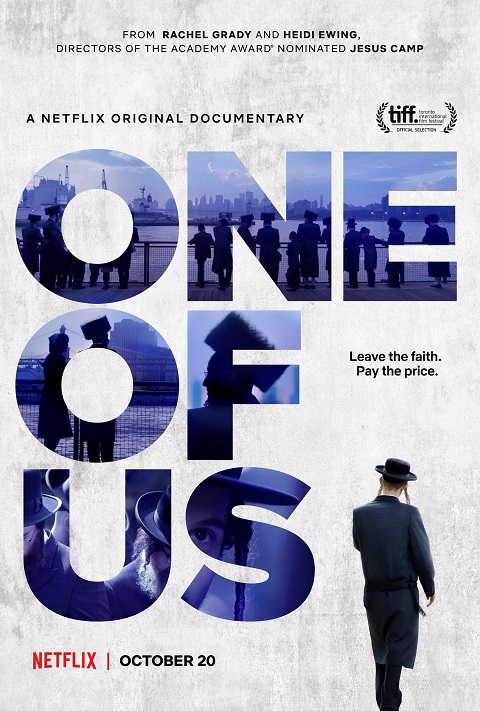 netflix.com/oneofus



[01/17/18 - 07:03 AM]
Video: First Look at the New Season of "Queer Eye" Launching Exclusively on Netflix February 7
The series returns to Netflix and is going global, introducing audiences around the world to a modern aesthetic, diverse perspective and a brand new Fab Five.


[01/16/18 - 06:30 AM]
Video: "Breathe" - Official Trailer - Prime Video
"Breathe" is an Indian drama that explores the lives of ordinary men faced with extraordinary circumstances.


[01/15/18 - 08:21 AM]
Video: Netflix Reflects on "Black Mirror" Season 4 with Six All-New, Behind-the-Scenes Videos
"Black Mirror" Season 4 is now streaming on Netflix.


[01/14/18 - 01:45 PM]
Video: Crackle Releases Trailer and Key Art for New Original Scripted Series, "The Oath," from Curtis "50 Cent" Jackson and His G-Unit Film & Television Inc., to Premiere Thursday, March 8th
The show stars Ryan Kwanten, Cory Hardrict, Katrina Law, Arlen Escarpeta, J.J. Soria and Sean Bean.


[01/12/18 - 12:31 PM]
Video: "Genius: Picasso" - Trailer - National Geographic
Antonio Banderas plays the title role on the new season, premiering Tuesday, April 24.


[01/12/18 - 07:14 AM]
Video: Get a Rare Glimpse Behind the "Black Mirror" with All-New Season 4 Featurette
The video features in-depth interviews from creator, writer and executive producer Charlie Brooker, executive producer Annabel Jones and "Arkangel" director Jodie Foster.


[01/11/18 - 09:02 AM]
Video: Trailer for Hulu's "The Looming Tower"
Based on the Pulitzer-Prize winning book, "The Looming Tower" traces the rising threat of Osama Bin Laden and Al-Qaeda in the late 1990s and how the rivalry between the FBI and CIA during that time may have inadvertently set the path for the tragedy of 9/11.


[01/11/18 - 07:49 AM]
Video: Explore "Altered Carbon" Here with the Official Season 1 Trailer
Based on the classic cyberpunk noir novel by Richard K. Morgan, "Altered Carbon" is an intriguing story of murder, love, sex, and betrayal, set more than 300 years in the future.


[01/10/18 - 09:47 AM]
Video: Crackle Announces February 8 Premiere and Reveals Trailer, Key Art and First-Look Images for "In the Cloud"
"In the Cloud" takes place in the near future after dozens of people are killed in attacks by a serial terrorist bomber.


[01/10/18 - 09:09 AM]
Video: Trailer for "Dirty Money" - A Netflix Original Documentary Series, Available Globally on January 26
From Academy Award-winning director Alex Gibney, this thrilling six-part investigative series provides an up-close and personal view into untold stories of scandal and corruption in the world of business.


[01/09/18 - 03:26 PM]
Video: Season Three of "UnREAL" Returns February 26 - Brand New Season 3 Extended Two-Minute Promo
Caitlin FitzGerald takes the reins as Everlasting's female "suitress," Serena.


[01/09/18 - 11:10 AM]
Video: "Trust" - Season 1: Official Trailer - FX
From Academy Award winners Danny Boyle, Simon Beaufoy and Christian Colson, FX's new series will premiere March 25.


[01/06/18 - 05:36 PM]
Video: Showtime(R) Releases Official Trailer for "Our Cartoon President" Premiering on Sunday, February 11 at 8 PM ET/PT
The network will give viewers an early preview of the series, making the first episode available across multiple platforms online and On Demand on Sunday, January 28.


[01/06/18 - 05:34 PM]
Video: Showtime(R) Unveils Official Trailer for "Patrick Melrose" Starring Benedict Cumberbatch
Set to debut later this year, the series is based on the acclaimed Patrick Melrose series of semi-autobiographical novels written by Edward St. Aubyn.


[01/06/18 - 05:33 PM]
Video: Showtime(R) Releases "Homeland" Posters and New Teaser for Season Seven
The network's No. 1 drama series, "Homeland" is currently filming in Richmond, Virginia.