[09/07/17 - 07:55 AM]
Video: Netflix Releases Trailer for "One of Us," from Award-Winning Filmmakers Heidi Ewing and Rachel Grady, Verite Look at Insular Hasidic World, Launches Oct. 20
The film takes a deep and moving look at the lives of three individuals who have chosen to leave the hugely insular world of Hasidic Judaism.
---
[via press release from Netflix]
NETFLIX RELEASES TRAILER FOR ONE OF US, FROM AWARD-WINNING FILMMAKERS HEIDI EWING AND RACHEL GRADY, VERITE LOOK AT INSULAR HASIDIC WORLD, LAUNCHES OCT. 20
The Netflix Original Documentary, ONE OF US from Heidi Ewing & Rachel Grady launches October 20 globally on Netflix, following a World Premiere at the Toronto International Film Festival.
In their new documentary ONE OF US, acclaimed observational filmmakers Heidi Ewing and Rachel Grady (JESUS CAMP, DETROPIA) take a deep and moving look at the lives of three individuals who have chosen to leave the hugely insular world of Hasidic Judaism. The film follows Etty, a mother of seven, as she decides to leave a violent marriage and divorce her husband; Ari, a teenager on the verge of manhood who is struggling with addiction and the effects of childhood abuse; and Luzer, an actor who, despite having found success in the secular world, still wrestles with his decision eight years earlier to leave the Hasidic community. Produced over three years, ONE OF US offers unique and intimate access to the lives of all three as they deal not only with questions of their beliefs but also with the consequences of leaving the only community they have ever known. With their trademark sensitivity and keen interest in the nature of faith, Ewing & Grady chronicle these journeys towards personal freedom that comes at a very high cost.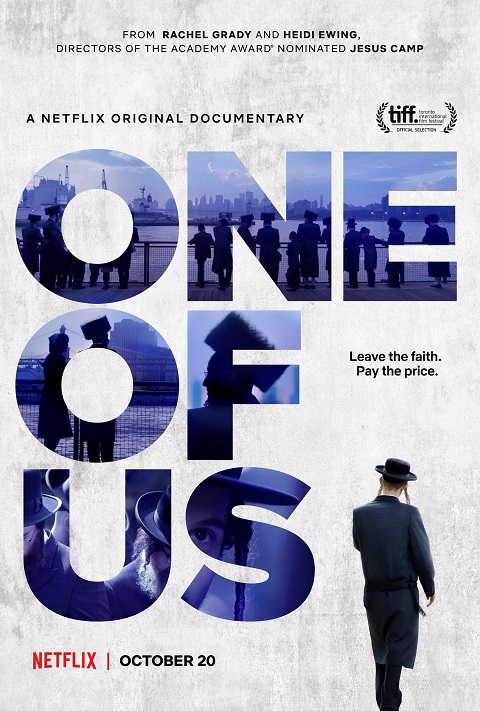 netflix.com/oneofus



[03/16/18 - 08:02 AM]
Video: Showtime(R) Reveals Premiere Date and Sneak Peek for "Patrick Melrose"
The Benedict Cumberbatch-led drama will launch on Saturday, May 12 at 9:00/8:00c.


[03/15/18 - 07:05 AM]
Video: Check Out the New Trailers from "Rapture" - A Netflix Original Documentary Series Launches March 30
From Mass Appeal, "Rapture" stares directly into the bright light that hip hop culture shines on the world and doesn't blink.


[03/14/18 - 10:23 AM]
Video: National Geographic to Make Neil deGrasse Tyson's "StarTalk" Interview with Legendary Scientist Stephen Hawking Available for Free, Without Commercials, on All Digital Platforms
The episode aired last week as part of the series' season finale, and will run online commercial free.


[03/14/18 - 10:00 AM]
Video: "The 100" - Season 5 Official Extended Trailer - The CW
"The 100" returns Tuesday, April 24 at 9:00/8:00c on The CW.


[03/13/18 - 08:30 AM]
Video: Trailer for Netflix Film "6 Balloons" - Starring Abbi Jacobson and Dave Franco
Over the course of one night, a woman drives across LA with her heroin addict brother in search of a detox center, with his two year old daughter in tow.


[03/13/18 - 07:30 AM]
Video: Brace for Impact as the Robinsons Take You Behind the Scenes of Netflix's "Lost in Space," Launching April 13
Ride along and go behind-the-scenes of their epic adventure with stars Toby Stephens, Molly Parker, Mina Sundwall, Taylor Russell, Max Jenkins, and showrunner Zack Estrin, in this all-new featurette.


[03/13/18 - 06:31 AM]
Video: Trailer Debut - Netflix's "Paradox," Featuring Neil Young + Promise of the Real, Launches March 23
A fantasy, a loud poem and a free-spirited tale of music and love, "Paradox" is a one-of-a-kind personal expression.


[03/12/18 - 08:01 AM]
Video: Trailer Debut - In Sickness and Health, "Alexa & Katie" Are Here for You
The American Cancer Society is participating in the launch of "Alexa & Katie" and working to improve awareness and support for childhood cancers.


[03/09/18 - 09:37 AM]
Video: This Is Her Fight - Watch Netflix's "First Match" Trailer
Hardened by years in foster care, a teenage girl from Brooklyn's Brownsville neighborhood decides that joining the all-boys' wrestling team is the only way back to her estranged father.


[03/09/18 - 09:36 AM]
Video: Epic Baking Fails on Netflix's "Nailed It!"
Hosted by Nicole Byer and master pastry chef Jacques Torres, this is a show for anyone who has tried to copy a Pinterest recipe and epically failed.


[03/08/18 - 09:39 AM]
Video: "The Handmaid's Tale" Teaser Art and Trailer
The first two episodes of the second season will stream on Wednesday, April 25.


[03/08/18 - 07:31 AM]
Video: Get a Taste of "Santa Clarita Diet" in This Delicious New Season 2 Trailer
Watch Sheila, Joel and Abby Hammond continue to navigate the murky waters of zombie-ism in this all-new trailer for the new season, launching Friday, March 23 globally on Netflix.


[03/08/18 - 07:01 AM]
Video: The Game Is Not Over Yet... Dude Crew Is Back and Ready to Attack in New Trailer for "Game Over, Man!"
Adam Devine, Anders Holm and Blake Anderson star in the outrageous homage to 1980s action-comedies, due on Netflix on March 23.


[03/07/18 - 09:03 AM]
Video: Prescription for Success: "Take Your Pills." Watch This Trailer.
The Netflix documentary explores the rise in popularity of prescription stimulants such as Adderall in today's do-more-better-faster world.


[03/07/18 - 08:04 AM]
Video: Netflix Regretfully Releases Official Trailer for the Second Season of "A Series of Unfortunate Events"
Like some dreaded disease or infestation, "A Series of Unfortunate Events" will soon reappear with the global launch of season two, March 30 on Netflix.