[10/12/17 - 12:00 PM]
Video: Showtime(R) Releases the Trailer and Official Poster for "SMILF" Premiering November 5 at 10 PM ET/PT
The upcoming comedy series is created, starring and executive produced by Frankie Shaw and based on her Sundance Film Festival Jury Award-winning short film of the same name.
---
[via press release from Showtime]
SHOWTIME(R) RELEASES THE TRAILER AND OFFICIAL POSTER FOR "SMILF" PREMIERING NOVEMBER 5 AT 10 PM ET/PT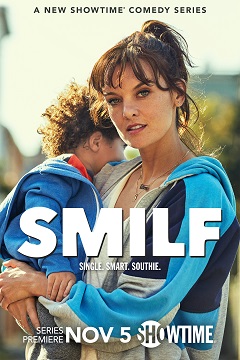 NEW YORK - October 12, 2017 - SHOWTIME has released the trailer and the official poster art for the upcoming comedy series SMILF, created, starring and executive produced by Frankie Shaw and based on her Sundance Film Festival Jury Award-winning short film of the same name. Shaw also wrote the pilot. The new eight-episode, half-hour SHOWTIME comedy is a raw, honest look at the life of a 20-something single mom from quadruple threat Shaw. SMILF will premiere on Sunday, November 5 at 10 p.m. ET/PT, following the 9 p.m. ET/PT season eight premiere of the SHOWTIME hit series SHAMELESS.
SMILF takes a comedic look at the life of Bridgette Bird (Shaw), a young woman from South Boston whose desires for relationships, sex and a career collide with the realities of working-class single motherhood. Shaw brings her singular, unapologetic point of view to the semi-autobiographical comedy series. The cast includes multiple Emmy(R) winner Rosie O'Donnell in her first series regular TV role as Bridgette's prideful, outspoken Southie mother, along with Miguel Gomez, Samara Weaving, and Alexandra and Anna Reimer. Guest stars include Emmy and Golden Globe(R) nominee Connie Britton, Mark Webber and Raven Goodwin. Executive producing alongside Shaw are Oscar(R) nominee Michael London, Lee Eisenberg and Gene Stupnitsky, and Scott King. Janice Williams also executive produced the pilot. SMILF is produced by ABC Signature Studios as a co-production with SHOWTIME.
SHOWTIME is currently available to subscribers via cable, DBS and telco providers, and as a stand-alone streaming service through Apple(R), Roku(R), Amazon, Google, Xbox One and Samsung. Consumers can also subscribe to SHOWTIME via Hulu, YouTube TV, Sling TV, DirecTV Now, Sony PlayStation(R) Vue and Amazon Channels. The network's authentication service, SHOWTIME ANYTIME, is available at no additional cost to SHOWTIME customers who subscribe to the network through participating providers. Subscribers can also watch on their computers at www.showtime.com and www.showtimeanytime.com.



[06/22/18 - 08:00 AM]
Video: Trailer for Netflix Film "How It Ends" - Starring Theo James, Forest Whitaker and Kat Graham
As a mysterious apocalypse causes the spread of misinformation and violence, a man and his estranged father-in-law race across a chaotic and fractured country to save his pregnant wife.


[06/21/18 - 10:47 AM]
Video: Netflix Reveals Trailer for "Flavors of Youth" from the Producers of "Your Name"
Told in three chapters in three cities, "Flavors of Youth" explores the simple joys of life through sensual memories and how the beating heart of love cannot be defeated by the flow of time.


[06/21/18 - 09:52 AM]
Video: Sony Crackle Releases Trailer and Key Art for Summer Original Movie, "Office Uprising," Premiering Thursday, July 19
Brenton Thwaites, Zachary Levi, Jane Levy, Karan Soni, Ian Harding and Alan Ritchson star in the project.


[06/21/18 - 07:03 AM]
Video: "To All The Boys I've Loved Before" Teaser Trailer Debut
Netflix's film adaption of the popular YA novel stars Lana Condor, Janel Parrish and Noah Centineo and is directed by Susan Johnson.


[06/20/18 - 09:04 AM]
Video: Trailer Debut - "Nailed It!" Season 2
Hosted by Nicole Byer and Jacques Torres, home bakers with a terrible track record take a shot at re-creating edible masterpieces for a $10,000 prize.


[06/20/18 - 08:31 AM]
Video: Trailer Debut - "Comedians in Cars Getting Coffee" - New Episodes Only on Netflix July 6
Guests include: the late Jerry Lewis, Kate McKinnon, Ellen DeGeneres, Hasan Minhaj, Dana Carvey, Neil Brennan, Tracy Morgan, Brian Regan, Alec Baldwin, Zach Galifinakis, John Mulaney, and Dave Chappelle.


[06/19/18 - 08:02 AM]
Video: Trailer - "Last Chance U" - New Season, New U
The quaint town of Independence, Kansas, is the new setting, as the underdog Pirates of Independence Community College have a chance to finally stand tall after more than a decade of losses.


[06/19/18 - 07:32 AM]
Video: Featurette Debut - It's "GLOW" Up Time! Watch the Cast Transform Behind the Scenes
Season two launches globally on Netflix next Friday, June 29.


[06/18/18 - 10:07 AM]
Video: Trailer Released for Sundance Now's "Next of Kin," Making Its U.S. Debut on Thursday, June 21st
All episodes of the six-part drama star Archie Panjabi and Jack Davenport, and will be available to binge at once.


[06/18/18 - 06:00 AM]
Video: Set Sail with Netflix's New Trailer for "Like Father" Starring Kristen Bell and Kelsey Grammer
When a workaholic young executive (Kristen Bell), is left at the altar, she ends up on her Caribbean honeymoon cruise with the last person she ever expected: her estranged and equally workaholic father (Kelsey Grammer).


[06/15/18 - 09:03 AM]
Video: Enter a New Reality When "Kiss Me First" Launches on Netflix June 29 - Trailer Debut
Netflix's YA drama series follows a young woman who recently lost her mother and has been left adrift in London.


[06/14/18 - 10:01 AM]
Video: "Mindhunter" - The Making of a Serial Killer
Cameron Britton pulls back the curtain to reveal his process as he transforms from nice guy actor into disturbed serial killer Ed Kemper.


[06/14/18 - 10:00 AM]
Video: RuPaul's Drag Race Queens Recap Season 1 of TNT's "Claws"
Watch as these fierce ladies pay homage to the badass women behind the Nail Artisans of Manatee County.


[06/12/18 - 09:30 AM]
Video: Sony Crackle Gets Your Heart Pumping This Summer with Official Trailer for Travis Pastrana's "Action Figures 2"
The sequel to Pastrana's hit 2015 action sports movie "Action Figures" pays homage to old-school action sports videos and highlights extreme human performance.


[06/12/18 - 07:02 AM]
Video: "Marvel's Luke Cage" Final Trailer Released - Harlem's Queen Rises and Confronts New Menace
In the final trailer, Mariah Dillard is faced with an imminent and formidable threat to her hold over Harlem - the unstoppable Bushmaster.