[11/30/17 - 10:16 AM]
Video: Key Art and Trailer - "East Los High: Finale Event"
The show will premiere on Hulu this Friday, December 1.
---
[via press release from Hulu]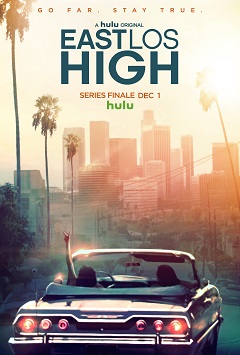 Synopsis:
The long-awaited return of East Los High has arrived with a Finale Event that bids farewell to the highly acclaimed and Emmy-nominated original television series. Season four of East Los High left fans on the edge of their seats with the most shocking cliffhangers in the show's history. Eight months later, the crew prepares to leave high school behind and maybe even East LA as they begin a journey of self-discovery and learn the true meaning of love, family and friendship in this romantic, sexy and emotional series finale. East Los High continues to provide a unique and relevant space on television at a time when the plight of immigrant communities like East Los Angeles are under fire. By featuring underrepresented voices and bringing awareness to issues relevant to the Latino community, the series provides a realistic account of Latino youth culture in the U.S. today. East Los High's Finale Event pays tribute to the popular characters fans have followed during the past four seasons, reminding us that their universal stories will continue to grow, prosper and transcend.
The series stars Danielle Vega, Prince Royce, Alexandra Rodriguez and Carlito Olivero.
East Los High comes to Hulu from Wise Entertainment and is created by Kathleen Bedoya and Carlos Portugal. Executive produced by Katie Elmore Mota, Mauricio Mota and Kathleen Bedoya.



[05/23/18 - 11:00 AM]
Video: Official Trailer Revealed for Season Two of TNT's "Claws"
As previously announced, the series returns Sunday, June 10 at 9:00/8:00c.


[05/23/18 - 10:02 AM]
Video: CBS All Access Reveals Official Trailer and Additional Key Art for "Strange Angel"
Based on George Pendle's book of the same name, the series is inspired by the real life story of Jack Parsons and explores the dramatic intersection between genius and madness, science and science fiction.


[05/22/18 - 10:44 AM]
Video: WE tv Reveals a Jaw-Dropping Sneak Peek of the Highly-Anticipated Return of Season 2 of "Mama June: From Not to Hot" Premiering June 15 at 9:00PM ET/PT
Mama June is headed back to the pageant circuit on the season two return of "Mama June: From Not to Hot."


[05/22/18 - 07:06 AM]
Video: Trailer Debut - "The Staircase" on Netflix June 8
"The Staircase" follows the compelling story of Michael Peterson, a crime novelist accused of killing wife Kathleen after she is found dead at the bottom of a staircase in their home, and the 16 year judicial battle that followed.


[05/22/18 - 06:31 AM]
Video: A Very Important Man, A Very Dangerous Secret, A Very Unexpected Problem - "A Very English Scandal" Arrives June 29
Hugh Grant and Ben Whishaw star in the shocking true story of the first British politician to stand trial for conspiracy to murder.


[05/21/18 - 07:08 AM]
Video: AMC Releases All-New "Preacher" Promo in Anticipation of the Season Three Premiere on Sunday, June 24 at 10:00 PM ET/PT
The fiery new promo raises the curtain on our sinister cast of characters including Jesse, Cassidy, Tulip, Gran'ma, Allfather, God Dog, and many more.


[05/18/18 - 03:06 PM]
Video: Showtime(R) Debuts Trailer for "Just Another Immigrant"
The 10-episode, half-hour series will air back-to-back episodes on Fridays beginning on June 8 at 9:00/8:00c.


[05/18/18 - 12:12 PM]
Video: Netflix Releases All New Trailer & Key Art for "The Break with Michelle Wolf," Every Sunday Beginning May 27th
Wolf shares a first look of what's to come each week with this trailer: sketches, guests, and jokes Michelle could only get away with on Netflix.


[05/17/18 - 09:05 AM]
Video: The CW's New Fall Series Teasers & Extended First Looks
The network offers a first look at newcomers "Charmed" and "All American."


[05/17/18 - 08:00 AM]
Video: One Last Mission - The "Sense8" Finale Trailer Is Here!
The "Sense8" series finale launches globally on June 8, only on Netflix.


[05/16/18 - 02:32 PM]
Video: First Look Trailers of CBS' New Series for Fall 2018
Get your first look at dramas "Magnum P.I.," "FBI" and "God Friended Me"; plus comedies "Happy Together," "Murphy Brown" and "The Neighborhood."


[05/16/18 - 12:11 PM]
Video: "Five Points" Trailer from Kerry Washington + Facebook Watch
Premiering June 4, "Five Points" will debut with three episodes available at 9am PT/12pm ET.


[05/16/18 - 11:03 AM]
Video: Netflix Releases New Trailer for "Unbreakable Kimmy Schmidt"
The first six episodes of the fourth season premieres Wednesday, May 30 on Netflix.


[05/16/18 - 07:00 AM]
Video: See What's to Come This Season on "Total Bellas"
Season three will follow Nikki Bella and John Cena through their ups and downs as they plan their wedding and face the challenges that go into preparing for the big day.


[05/15/18 - 01:00 PM]
Video: Trailers of ABC's New Series
Get your first look at "The Rookie," "Whiskey Cavalier," "Single Parents," "The Kids Are Alright," "Grand Hotel," "A Million Little Things" and "The Fix."