[11/30/17 - 10:16 AM]
Video: Key Art and Trailer - "East Los High: Finale Event"
The show will premiere on Hulu this Friday, December 1.
---
[via press release from Hulu]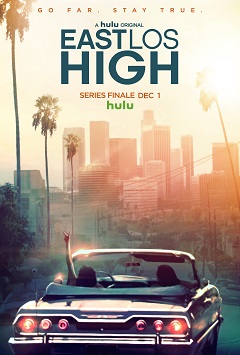 Synopsis:
The long-awaited return of East Los High has arrived with a Finale Event that bids farewell to the highly acclaimed and Emmy-nominated original television series. Season four of East Los High left fans on the edge of their seats with the most shocking cliffhangers in the show's history. Eight months later, the crew prepares to leave high school behind and maybe even East LA as they begin a journey of self-discovery and learn the true meaning of love, family and friendship in this romantic, sexy and emotional series finale. East Los High continues to provide a unique and relevant space on television at a time when the plight of immigrant communities like East Los Angeles are under fire. By featuring underrepresented voices and bringing awareness to issues relevant to the Latino community, the series provides a realistic account of Latino youth culture in the U.S. today. East Los High's Finale Event pays tribute to the popular characters fans have followed during the past four seasons, reminding us that their universal stories will continue to grow, prosper and transcend.
The series stars Danielle Vega, Prince Royce, Alexandra Rodriguez and Carlito Olivero.
East Los High comes to Hulu from Wise Entertainment and is created by Kathleen Bedoya and Carlos Portugal. Executive produced by Katie Elmore Mota, Mauricio Mota and Kathleen Bedoya.



[08/20/19 - 11:16 AM]
Video: Welcome to "The I-Land" - Netflix
In this sci-fi adventure series, 10 people wake up on a treacherous island with no memory and soon discover this world is not as it seems.


[08/20/19 - 09:02 AM]
Video: "Marriage Story" - Teaser Trailer - Netflix
The film comes from Academy Award-nominated filmmaker Noah Baumbach and stars Scarlett Johansson, Adam Driver, Laura Dern, Alan Alda and Ray Liotta.


[08/20/19 - 06:17 AM]
Video: "Elite" Season 2 - Official Trailer - Netflix
The series returns Friday, September 6 on the streaming service.


[08/19/19 - 10:03 AM]
Video: "The Marvelous Mrs. Maisel" Season 3 Teaser Available Now
Look for the show's third season Friday, December 6 on Amazon Prime Video.


[08/19/19 - 07:07 AM]
Video: "The Politician" - Official Trailer - Netflix
Executive producer Ryan Murphy's new original series premieres September 27.


[08/16/19 - 09:09 AM]
Video: Showtime(R) Offers First Two Episodes of "On Becoming a God in Central Florida" for Free Early Sampling
The 10-episode series will officially premiere Sunday, August 25 at 10:00/9:00c.


[08/15/19 - 07:07 AM]
Video: Dave Chappelle Netflix Standup Comedy Special Trailer - "Sticks & Stones"
The comedian's fifth special for the streaming service drops August 26, only on Netflix.


[08/14/19 - 05:45 PM]
Video: Watch the New "9-1-1" Season Three Trailer!
Season three launches Monday, September 23 on FOX.


[08/14/19 - 12:31 PM]
Video: "The Masked Singer" - America's Favorite Guessing Game Has an All-New Promo
The series returns for its second season with a special two-hour premiere on Wednesday, September 25.


[08/14/19 - 12:21 PM]
Video: "Invader Zim: Enter the Florpus" - Official Trailer - Netflix
The revival special premieres this Friday, August 16 on the streaming service.


[08/14/19 - 09:02 AM]
Video: "Styling Hollywood" - Official Trailer - Netflix
Celebrity stylist Jason Bolden and interior designer Adair Curtis are giving you an exclusive look at your favorite Hollywood looks and digs.


[08/14/19 - 07:06 AM]
Video: "13 Reasons Why" Season 3 Final Trailer: Who Killed Bryce Walker? - Netflix
As previously announced, the show's latest season drops August 23 on the streaming service.


[08/14/19 - 07:02 AM]
Video: SundanceTV Releases New Teaser and Key Art for Season 2 of "This Close"
The expanded second season, featuring eight, half-hour episodes, will air with two back-to-back episodes on Thursday, September 12 and Friday, September 13, and the following week on Thursday, September 19 and Friday, September 20.


[08/13/19 - 03:02 PM]
Video: "Falling Inn Love" Starring Christina Milian - Official Trailer - Netflix
After losing her job and her boyfriend, city girl Gabriela (Milian) spontaneously enters a contest and wins a rustic New Zealand inn.


[08/13/19 - 09:02 AM]
Video: "American Factory" - Official Trailer - Netflix
When a Chinese billionaire re-opens a factory and hires two thousand blue-collar Americans, early days of hope and optimism give way to setbacks as high-tech China clashes with working-class America.