[11/30/17 - 10:16 AM]
Video: Key Art and Trailer - "East Los High: Finale Event"
The show will premiere on Hulu this Friday, December 1.
---
[via press release from Hulu]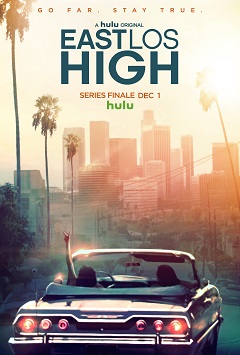 Synopsis:
The long-awaited return of East Los High has arrived with a Finale Event that bids farewell to the highly acclaimed and Emmy-nominated original television series. Season four of East Los High left fans on the edge of their seats with the most shocking cliffhangers in the show's history. Eight months later, the crew prepares to leave high school behind and maybe even East LA as they begin a journey of self-discovery and learn the true meaning of love, family and friendship in this romantic, sexy and emotional series finale. East Los High continues to provide a unique and relevant space on television at a time when the plight of immigrant communities like East Los Angeles are under fire. By featuring underrepresented voices and bringing awareness to issues relevant to the Latino community, the series provides a realistic account of Latino youth culture in the U.S. today. East Los High's Finale Event pays tribute to the popular characters fans have followed during the past four seasons, reminding us that their universal stories will continue to grow, prosper and transcend.
The series stars Danielle Vega, Prince Royce, Alexandra Rodriguez and Carlito Olivero.
East Los High comes to Hulu from Wise Entertainment and is created by Kathleen Bedoya and Carlos Portugal. Executive produced by Katie Elmore Mota, Mauricio Mota and Kathleen Bedoya.



[08/15/18 - 09:02 AM]
Video: "Follow This" - From BuzzFeed and Netflix - Official Trailer
The new 15-minute documentary series, premiering August 23, covers tech, culture, politics, and social media.


[08/15/18 - 06:32 AM]
Video: See the New Trailer for "The Angel," Netflix's Spy Thriller from Director Ariel Vromen
Marwan Kenzari, Toby Kebbell, Hannah Ware, Waleed Farouq Zuaiter, Maisa Abd Elhadi, Sasson Gabay, Miki Leon, Ori Pfeffer and Slimane Daz star in the film.


[08/14/18 - 02:02 PM]
Video: Trailer & Key Art Debut - "Next Gen" Starring Constance Wu, Charlyne Yi, and John Krasinski
Netflix's animated film tells the story of an unlikely friendship between a rebellious girl and a runaway combat robot, as they unite to stop a madman's plan for technological world domination.


[08/14/18 - 09:31 AM]
Video: Amazon Prime Video Releases New Teaser Trailer for Highly-Anticipated Anthology Series, "The Romanoffs," From Nine-Time Emmy Winner Matthew Weiner
The highly anticipated original contemporary anthology series is set to premiere on Amazon Prime Video Friday, October 12 with new episodes released weekly, on Fridays.


[08/13/18 - 10:00 AM]
Video: CBS All Access Reveals Official Trailer for "One Dollar"
The series is a mystery set in a small rust belt town in post-recession America, where a one-dollar bill changing hands connects a group of characters involved in a shocking multiple murder.


[08/13/18 - 08:16 AM]
Video: Netflix Trailer Debut - "City of Joy"
The original documentary will launch globally on Netflix on September 7.


[08/09/18 - 01:16 PM]
Video: Get Happy for a Sneak Peek of Season Two of "The Marvelous Mrs. Maisel"
The second season of "The Marvelous Mrs. Maisel" will premiere later this year exclusively on Amazon Prime Video.


[08/09/18 - 09:01 AM]
Video: "Magic for Humans" - Official Trailer - Netflix
From baffling people on the street to orchestrating elaborate tricks, Justin Willman blends good-natured magic with grown-up laughs.


[08/09/18 - 08:01 AM]
Video: "Stay Here" - Official Trailer - Netflix
Designer Genevieve Gorder and real estate expert Peter Lorimer show property owners how to turn their short-term rentals into moneymaking showstoppers.


[08/09/18 - 08:01 AM]
Video: First Official Trailer - "The Kindergarten Teacher," The New Netflix Film by Sara Colangelo Starring Maggie Gyllenhaal
Lisa Spinelli (Maggie Gyllenhaal) is a kindergarten teacher in Staten Island who yearns to live a life of art and intellectualism.


[08/08/18 - 07:43 AM]
Video: Trailer Debut - Netflix's "The Innocents" - Everything Changes on August 24
When teenagers Harry and June run away from their repressive families to be together, they're derailed by an extraordinary discovery - June's ability to shape-shift.


[08/07/18 - 08:03 AM]
Video: Trailer Debut - "Zion", A Netflix Original Documentary Short
The film is a gripping portrait of Zion Clark, a young wrestler born without legs who grew up in foster care.


[08/06/18 - 05:06 PM]
Video: Showtime(R) Announces Fall Premiere Dates and Releases New Trailers for Its Hit Drama Series "Ray Donovan" and New Limited Series "Escape at Dannemora"
Look for the dramas on Sunday, October 28 and Sunday, November 18, respectively.


[08/06/18 - 05:04 PM]
Video: Showtime(R) Releases Official Posters and Trailer for Its New Comedy Series "Kidding," Starring Jim Carrey
The series centers on Jeff, aka Mr. Pickles (Carrey), an icon of children's television and a beacon of kindness and wisdom to America's impressionable young minds and the parents who grew up with him.


[08/06/18 - 07:31 AM]
Video: Trailer for Netflix Film "The After Party" - Starring Kyle Harvey, Shelley Hennig, Teyana Taylor, Wiz Khalifa, French Montana, DJ Khaled and More
When an aspiring rapper goes viral for all the wrong reasons, he thinks his career is over.