[11/30/17 - 10:16 AM]
Video: Key Art and Trailer - "East Los High: Finale Event"
The show will premiere on Hulu this Friday, December 1.
---
[via press release from Hulu]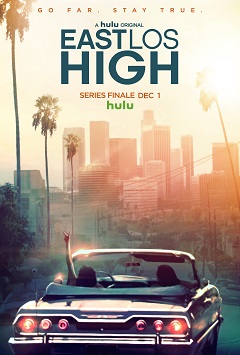 Synopsis:
The long-awaited return of East Los High has arrived with a Finale Event that bids farewell to the highly acclaimed and Emmy-nominated original television series. Season four of East Los High left fans on the edge of their seats with the most shocking cliffhangers in the show's history. Eight months later, the crew prepares to leave high school behind and maybe even East LA as they begin a journey of self-discovery and learn the true meaning of love, family and friendship in this romantic, sexy and emotional series finale. East Los High continues to provide a unique and relevant space on television at a time when the plight of immigrant communities like East Los Angeles are under fire. By featuring underrepresented voices and bringing awareness to issues relevant to the Latino community, the series provides a realistic account of Latino youth culture in the U.S. today. East Los High's Finale Event pays tribute to the popular characters fans have followed during the past four seasons, reminding us that their universal stories will continue to grow, prosper and transcend.
The series stars Danielle Vega, Prince Royce, Alexandra Rodriguez and Carlito Olivero.
East Los High comes to Hulu from Wise Entertainment and is created by Kathleen Bedoya and Carlos Portugal. Executive produced by Katie Elmore Mota, Mauricio Mota and Kathleen Bedoya.



[10/23/20 - 10:11 AM]
Video: Shudder Releases Trailer, Key Art and Images for "A Creepshow Animated Special" Premiering Thursday, October 29
The special features two stories directed by Creepshow showrunner Greg Nicotero, with animation by Octopie animation studio.


[10/23/20 - 09:07 AM]
Video: Showtime(R) Releases First Look at Tekashi 6ix9ine Docu-Series "Supervillain"
The three-part docu-series is set to premiere early 2021.


[10/23/20 - 08:01 AM]
Video: "Dash & Lily" - Official Trailer - Netflix
Opposites attract at Christmas as cynical Dash and sunny Lily trade messages and dares in a red notebook they pass back and forth around New York City.


[10/22/20 - 12:00 PM]
Video: Showtime(R) Releases Trailer and Poster Art for New Docu-Series "The Reagans"
The four-part series contextualizes the legacy of Ronald and Nancy a generation later while exploring the palace intrigue of the Reagan White House years.


[10/22/20 - 10:47 AM]
Video: "Voices of Fire" - Official Teaser - Netflix
The series, from executive producer Pharrell Williams, launches November 20.


[10/22/20 - 09:32 AM]
Video: "Dolly Parton's Christmas on the Square" Starring Christine Baranski - Official Trailer - Netflix
The musical also features Treat Williams, Jeanine Mason, Josh Segarra, Mary Lane Haskell, and many more talented folks.


[10/22/20 - 09:18 AM]
Video: Official Hulu Trailer - "Run"
There's something unnatural, even sinister about the relationship between Chloe (newcomer Kiera Allen) and her mom, Diane (Sarah Paulson).


[10/22/20 - 09:01 AM]
Video: Showtime(R) Announces Premiere Date for "Your Honor" and Debuts Second Trailer
The 10-episode legal thriller stars Cranston as Michael Desiato, a respected New Orleans judge whose teenage son, Adam (Hunter Doohan), is involved in a hit-and-run that leads to a high-stakes game of lies, deceit and impossible choices.


[10/22/20 - 08:02 AM]
Video: "The Liberator" - Official Trailer - Netflix
A diverse, deeply brave crew of ragtag soldiers become some of the most heroic fighters of the European invasion in World War II.


[10/22/20 - 07:16 AM]
Video: "The Prom" - Official Teaser Trailer - Netflix
Directed by Ryan Murphy, "The Prom" is the spectacular, big-hearted film adaptation of the Tony-nominated Broadway musical.


[10/22/20 - 07:02 AM]
Video: "Servant" - Hooked - Apple TV+
From M. Night Shyamalan, season two arrives January 15 on Apple TV+.


[10/22/20 - 01:17 AM]
Video: "Paranormal" - Official Trailer - Netflix
Refaat Ismail, a cynical hematology professor with a dark sense of humor, has his world turned upside down and his lifelong scientific convictions questioned after he begins to experience paranormal activities.


[10/21/20 - 07:31 AM]
Video: "The Life Ahead" - Official Trailer - Netflix
"The Life Ahead" starring Sophia Loren and Ibrahima Gueye arrives on Netflix on November 13.


[10/21/20 - 07:11 AM]
Video: "Animaniacs" (Official) Trailer - A Hulu Original
22 years of pent-up zaniness coming your way!


[10/21/20 - 07:05 AM]
Video: Season 7 of "Braxton Family Values" Premieres Thursday, November 5 at 9PM ET/PT on WE tv
Following a year of love and loss, can the Braxtons come together and find their harmony once again?