[11/30/17 - 10:16 AM]
Video: Key Art and Trailer - "East Los High: Finale Event"
The show will premiere on Hulu this Friday, December 1.
---
[via press release from Hulu]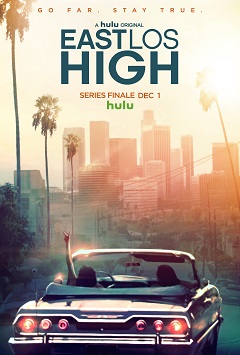 Synopsis:
The long-awaited return of East Los High has arrived with a Finale Event that bids farewell to the highly acclaimed and Emmy-nominated original television series. Season four of East Los High left fans on the edge of their seats with the most shocking cliffhangers in the show's history. Eight months later, the crew prepares to leave high school behind and maybe even East LA as they begin a journey of self-discovery and learn the true meaning of love, family and friendship in this romantic, sexy and emotional series finale. East Los High continues to provide a unique and relevant space on television at a time when the plight of immigrant communities like East Los Angeles are under fire. By featuring underrepresented voices and bringing awareness to issues relevant to the Latino community, the series provides a realistic account of Latino youth culture in the U.S. today. East Los High's Finale Event pays tribute to the popular characters fans have followed during the past four seasons, reminding us that their universal stories will continue to grow, prosper and transcend.
The series stars Danielle Vega, Prince Royce, Alexandra Rodriguez and Carlito Olivero.
East Los High comes to Hulu from Wise Entertainment and is created by Kathleen Bedoya and Carlos Portugal. Executive produced by Katie Elmore Mota, Mauricio Mota and Kathleen Bedoya.



[02/21/18 - 09:42 AM]
Video: Trailer Debut - "Flint Town" on Netflix March 2
In the aftermath of the Flint water crisis, "Flint Town" takes an intimate look at the state of policing in America through the lens of the Flint Police Department.


[02/21/18 - 07:00 AM]
Video: Danger, Will Robinson! Netflix Releases First Look at "Lost in Space," Launching on Earth on April 13
Netflix provided NASA with access to the pilot episode, which was transmitted 12 days ago to the International Space Station for astronauts to view during their leisure time.


[02/20/18 - 10:02 AM]
Video: New Trailer for Season Two of CBS All Access' "The Good Fight"
The series stars Christine Baranski, Cush Jumbo, Rose Leslie, Delroy Lindo, Audra McDonald, Sarah Steele, Justin Bartha, Michael Boatman and Nyambi Nyambi.


[02/20/18 - 10:01 AM]
Video: WGN America Reveals "100 Code" Premiere Date for Tuesday, May 29 and Unveils All-New Trailer
"100 Code" is a tense crime thriller, following the hunt for a serial killer who targets young, blonde and blue-eyed women, found dead in fields of flowers.


[02/20/18 - 08:40 AM]
Video: Netflix Releases "Marvel's Jessica Jones" Franchise Trailer
With flashes back to the first season, the trailer explores Jessica's path to season two, while she shows everyone how to fight like a woman.


[02/18/18 - 10:46 PM]
Video: Netflix Reveals Launch Date, Official Trailer and First Look for Its Arabic Comedy Special "Adel Karam: Live from Beirut"
With its rapidly growing stand-up comedy special slate, Adel now joins notable comedy stars such as Gad Elmaleh, Jack Whitehall and Dieter Nuhr in Netflix's effort to bring great international talent to its global audience.


[02/16/18 - 12:00 PM]
Video: TBS Reveals First Trailer for "The Last O.G."
The series centers on Tray (Tracy Morgan), an ex-con shocked to see just how much the world has changed when he is released from prison for on good behavior after a 15-year stint.


[02/15/18 - 11:03 AM]
Video: Powerful New "Sneaky Pete" Trailer
The critically-acclaimed Prime Original, a co-production with Sony Pictures Television Studios, revolves around a con man, Marius (Giovanni Ribisi) who left prison only to find himself hunted by the vicious gangster he once robbed.


[02/14/18 - 09:30 AM]
Video: Finding Love Is Hard, Streaming It Is Easy - Netflix's "Love" Trailer Is Here
The third and final season launches globally on Netflix on March 9.


[02/14/18 - 08:21 AM]
Video: WE tv Reveals a Jaw-Dropping Sneak Peek of the Highly Anticipated Season 10 of "Marriage Boot Camp: Reality Stars Family Edition" Premiering March 9 at 9:00 PM ET/PT
Four famously dysfunctional families prove crazy is relative on the highly anticipated season 10 of "Marriage Boot Camp Reality Stars Family Edition."


[02/14/18 - 07:29 AM]
Video: A Valentine's Day Message from Jim Jefferies - Season 2 of "The Jim Jefferies Show" Premieres March 27 on Comedy Central
To commemorate Valentine's Day, Jim wonders why images of naked babies are only acceptable on greeting cards one day a year.


[02/13/18 - 01:05 PM]
Video: Freeform Releases Key Art & Promo for Highly-Anticipated Mermaid Drama, "Siren"
The newcomer premieres March 29 on Freeform with a special two-hour event.


[02/12/18 - 05:08 PM]
Video: New Trailer - Crackle's "The Oath" from Curtis "50 Cent" Jackson, Starring Sean Bean and Ryan Kwanten
The series launches Thursday, March 8 on the streaming service.


[02/12/18 - 07:31 AM]
Video: "A Series of Unfortunate Events" - Season 2 - Official Teaser - Netflix
March 30, get ready for more villains, more schemes, more peril, more orphans and more intentional fires.


[02/12/18 - 07:30 AM]
Video: Benji Finds a New Home - "Benji" Trailer Debut
Kiele Sanchez, Gabriel Bateman and Darby Camp star in the Netflix film, which launches on March 16.