[02/14/18 - 09:30 AM]
Video: Finding Love Is Hard, Streaming It Is Easy - Netflix's "Love" Trailer Is Here
The third and final season launches globally on Netflix on March 9.
---
[via press release from Netflix]
Will they? Won't they? Should they?
Celebrate Valentine's Day with the trailer for the third and final season of Love, launching globally on Netflix on March 9.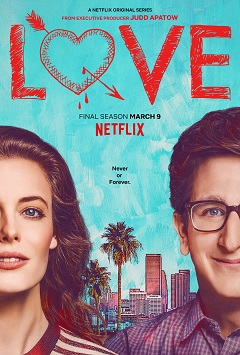 After a long, complicated, and somewhat messy journey, Gus (Paul Rust) and Mickey (Gillian Jacobs) enter this season of Love in a place we've never seen them before: a fully committed relationship. While to some people, a committed relationship feels like the end, for Gus and Mickey, navigating this new state together is only the beginning and shows us that love, for all it's weird ups, downs and hilarious in-betweens, is both incredibly complicated and wonderfully simple. After all, all you need is love.
Netflix.com/Love
For more information please visit the official Love social pages: instagram.com/loveonnetflix twitter.com/love facebook.com/loveonnetflix



[07/20/18 - 02:46 PM]
Video: First Look Trailer of "Star Trek: Discovery" Season Two Premiere Episode Revealed Today at Comic-Con International
Plus: Alex Kurtzman, who directed the season two premiere, also announced at today's panel the plan for "Star Trek: Short Treks."


[07/20/18 - 02:01 PM]
Video: Nickelodeon Reveals First-Look Footage of All-New "Invader Zim: Enter the Florpus" TV Movie at San Diego Comic-Con 2018
As previously announced, Richard Horvitz and Rikki Simons return as fan-favorites Zim and Gir alongside Andy Berman as Dib Membrane and Melissa Fahn as Gaz Membrane.


[07/20/18 - 12:31 PM]
Video: "The Walking Dead" Season 9 - Official Comic-Con Trailer
AMC's "The Walking Dead" returns for its ninth season on Sunday, October 7 at 9:00/8:00c.


[07/20/18 - 12:02 PM]
Video: "Young Justice" Comic-Con(R) 2018 Sneak Peek Video
The video highlights key moments from the first two seasons of the beloved series and provides an early look at the highly anticipated new season.


[07/20/18 - 11:52 AM]
Video: "Fear the Walking Dead" Season 4 - Official Comic-Con Trailer
"Fear the Walking Dead" returns Sunday, August 12 at 9:00/8:00c on AMC.


[07/20/18 - 09:01 AM]
Video: EPIX Releases Trailer for "Get Shorty" Season Two
In season two, Miles Daly (Chris O'Dowd) struggles to reconcile his ambitions as a filmmaker and a family man with his skill set as a career criminal.


[07/19/18 - 02:25 PM]
Video: WE tv Releases a Dramatic Sneak Peek of "Marriage Boot Camp Reality Stars" Season 11, Premiering Friday, September 7 at 9PM
This season, "Boot Camp's" most explosive veteran and music vixen, Aubrey O'Day returns with a new man.


[07/19/18 - 02:23 PM]
Video: YouTube Original Series "Origin" Debuts Teaser Trailer at Comic-Con International: San Diego
The 10-episode series follows a group of outsiders who find themselves abandoned on a ship bound for a distant land.


[07/19/18 - 12:16 PM]
Video: "Doctor Who" - Series 11 Trailer
Jodie Whittaker stars as The Thirteenth Doctor, the latest incarnation of the character.


[07/19/18 - 09:00 AM]
Video: "Mayans M.C." - Official Trailer - FX
The cable channel releases the full trailer for the "Sons of Anarchy" spin-off, which premieres September 4.


[07/19/18 - 08:00 AM]
Video: Trailer Debut - Netflix's "Insatiable" - A Coming of Rage Story
"Insatiable" is a dark, twisted revenge comedy starring Debby Ryan, Dallas Roberts, and Alyssa Milano.


[07/18/18 - 09:13 AM]
Video: Trailer Debut - Rev Run's Scripted Netflix's Comedy - "All About the Washingtons"
The series is an autobiographical family sitcom that follows Joey Washington (Joey Simmons/Rev Run) and his wife Justine Washington (Justine Simmons), playing fictionalized versions of themselves raising a family of four kids.


[07/13/18 - 10:48 AM]
Video: "Casual" Official Trailer - The Final Season - A Hulu Original
All eight episodes will premiere on Tuesday, July 31.


[07/12/18 - 01:09 PM]
Video: Trailer Debut - "The Bleeding Edge," A Searing New Expose by Kirby Dick and Amy Ziering
Kirby Dick and Amy Ziering turn their sights on the $400 billion medical device industry in the Netflix film, examining lax regulations, corporate cover-ups, and profit driven incentives that put patients at risk daily.


[07/12/18 - 11:48 AM]
Video: Trailer Debut - "Duck Duck Goose" Starring Jim Gaffigan and Zendaya and Directed by Christopher Jenkins
Lance Lim, Greg Proops, Reggie Watts, Natasha Leggero, Diedrich Bader, Stephen Fry, Craig Ferguson, Jennifer Grey, Rick Overton, and Carl Reiner are also featured in the Netflix original.