[03/27/18 - 08:32 AM]
Video: Ed Harris and Jason Sudeikis Take a Road Trip in Debut Trailer for "Kodachrome"
The Mark Raso-helmed film will debut on Netflix and selected theaters on April 20.
---
[via press release from Netflix]
KODACHROME
A NETFLIX FILM
In Select Theaters and on Netflix April 20th, 2018
***TRAILER AND KEY ART WORLD PREMIERE***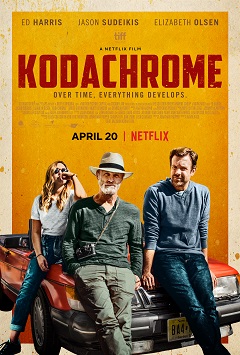 Directed by | Mark Raso
Starring | Jason Sudeikis, Ed Harris, Elizabeth Olsen
Written by | Jonathan Tropper
Produced by | Ellen Goldsmith-Vein, Eric Robinson, Jonathan Tropper, Shawn Levy, Dan Levine and Leon Clarence
Based upon an article by: A.G. Sulzberger
SYNOPSIS | Matt Ryder (Sudeikis) is convinced to drive his estranged and dying father Benjamin Ryder (Harris) cross country to deliver four old rolls of Kodachrome film to the last lab in the world that can develop them before it shuts down for good. Along with Ben's nurse Zooey (Olsen), the three navigate a world changing from analog to digital while trying to put the past behind them.
Visit netflix.com/kodachrome



[11/19/18 - 08:31 AM]
Video: "Pine Gap" Season 1 - Official Trailer - Netflix
The Australian television series will be available December 7 on the streaming service.


[11/19/18 - 08:01 AM]
Video: "Death by Magic" - Official Trailer - Netflix
In the most extreme magic show ever attempted, British magician DMC travels the globe to recreate the stunts that have cost famous magicians their lives.


[11/19/18 - 07:41 AM]
Video: Super Trailer - VH1's "Love & Hip Hop: New York"
From marriage woes and legal battles to career resets and new beginnings, the drama returns to the place it all began.


[11/16/18 - 01:04 PM]
Video: "Young Justice: Outsiders" - Teaser
The animated series comes to DC Universe on Friday, January 4.


[11/16/18 - 10:02 AM]
Video: Showtime Debuts New Trailer for "SMILF" Season Two
The Frankie Shaw-led comedy returns Sunday, January 20 at 10:30/9:30c on the pay channel.


[11/15/18 - 03:21 PM]
Video: Bravo's "Dirty John" Premiere Episode Is Available Now on YouTube, BravoTV.com, VOD and the Bravo App
Ahead of the premiere on Sunday, November 25, Bravo has made the entire first episode of "Dirty John" available for a pre-linear preview.


[11/15/18 - 10:02 AM]
Video: Comedy Central Releases Trailer for "The Other Two" - New Series from Chris Kelly and Sarah Schneider Premieres January 24
Guest stars for the debut season include, Beck Bennett, Kate Berlant, Michael Che, Andy Cohen, Heidi Gardner, Jackie Hoffman, Daniel K. Isaac, Brandon Scott Jones, Richard Kind, Greta Lee, Tinsley Mortimer, Andy Ridings, Josh Segarra, Wanda Sykes, Julio Torres, JJ Totah and Patrick Wilson.


[11/15/18 - 09:01 AM]
Video: "The Kominsky Method" - Official Trailer #2 - Netflix
On November 16, meet Sandy (Michael Douglas) and Norman (Alan Arkin), two lifelong friends who are navigating the ups and downs of life with humor, dignity, and a little bit of help from their families.


[11/15/18 - 08:01 AM]
Video: "The Fix" - Official Trailer - Netflix
In each episode, host Jimmy Carr and team captains D.L. Hughley and Katherine Ryan are joined by guest comics to debate and discuss one of the biggest challenges facing the world in a team panel format.


[11/15/18 - 07:31 AM]
Video: Netflix Debuts Trailer & Key Art for "A Christmas Prince: The Royal Wedding"
Rose McIver and Ben Lamb star in the film, due on November 30.


[11/15/18 - 07:01 AM]
Video: "Nicky Jam: El Ganador" - Official Trailer - Netflix
From his humble and troubled start in Boston, to his downfall on the streets, to becoming the king of one of the most popular musical genres, this is not only the life of Nicky Jam, but the history of reggaeton itself.


[11/14/18 - 12:02 PM]
Video: Netflix Debuts Trailer & Key Art for "Out of Many, One"
Directed and produced by John Hoffman and Nanfu Wang, the film launches globally on Netflix on December 12.


[11/14/18 - 08:01 AM]
Video: Netflix Debuts "F Is for Family" Season 3 Trailer
The new season rolls out Friday, November 30 on the streaming service.


[11/14/18 - 07:32 AM]
Video: "Frontier" Season 3 - Official Trailer - Netflix
The battle for profit and power spans continents as ferocious outlaw Declan Harp takes his fight against the Hudson's Bay Company across the Atlantic.


[11/14/18 - 07:01 AM]
Video: Jennifer Aniston and Danielle Macdonald Star in the Official Trailer for "Dumplin'"
The Netflix film is an adapted screenplay by Kristin Hahn based on Julie Murphy's #1 New York Times bestselling novel of the same name.