[09/06/18 - 09:46 AM]
Video: Netflix Debuts Trailer & Key Art for Quincy Jones Documentary
Mary J. Blige, Tony Bennett, Bono, Will Smith, Jay Z, Peggy Lipton, Paul McCartney and Oprah Winfrey are among those featured in the film, alongside Jones himself.
---
[via press release from Netflix]
NETFLIX Presents QUINCY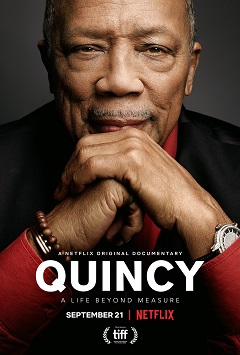 Directed By | Rashida Jones & Alan Hicks
Executive Produced By | Jane Rosenthal and Berry Welsh
Featuring | Quincy Jones, Mary J. Blige, Tony Bennett, Bono, Will Smith, Jay Z, Peggy Lipton, Paul McCartney, Oprah Winfrey and many others.
Netflix debuts trailer and key art for the original documentary Quincy ahead of its world premiere at this year's Toronto International Film Festival on September 9.
The film will launch globally and in select theaters in New York + Los Angeles on September 21.
SYNOPSIS | QUINCY is an intimate look into the life of icon Quincy Jones. The film seamlessly threads personal vérité moments with private archival footage to reveal a legendary life like no other. A unique force in music and popular culture for 70 years, Jones has transcended racial and cultural boundaries; his story is inextricably woven into the fabric of America. Beyond his own acclaim as a trumpeter, producer, conductor, composer and arranger, Jones's inimitable gift to discover the biggest talents of the past half of the century is unprecedented. He has mentored and cultivated the careers of young talents, from Lesley Gore and Michael Jackson to Oprah Winfrey and Will Smith. QUINCY is directed by Rashida Jones (Angie Tribeca and Hot Girls Wanted) and Alan Hicks (Keep On Keepin' On).



[01/18/19 - 10:50 AM]
Video: Trailer - Hulu Original Comedy "PEN15"
All 10 episodes will premiere Friday, February 8, only on Hulu.


[01/18/19 - 09:16 AM]
Video: New Trailer Released - truTV Season 2 of "At Home with Amy Sedaris"
This season, Sedaris welcomes an impressive list of guest stars, including: Rose Byrne, Matthew Broderick, Justin Theroux, Susan Sarandon, Gillian Jacobs, Juliette Lewis, Ellie Kemper, Fred Armisen, Michael Shannon and more!


[01/17/19 - 09:09 AM]
Video: IFC Releases First Trailer for the Highly-Anticipated Return of the Emmy(R)-Nominated "Documentary Now!"
This season's all-star line-up of guest stars includes Cate Blanchett, Michael Keaton, Owen Wilson, Michael C. Hall, John Mulaney, Taran Killam, Renee Elise Goldsberry, Bobby Moynihan, Natasha Lyonne, Paula Pell, Richard Kind, James Urbaniak and more.


[01/17/19 - 08:01 AM]
Video: New Trailer for Steven Soderbergh's "High Flying Bird" Starring Andre Holland and Zazie Beetz
The film will debut Friday, February 8 exclusively on Netflix.


[01/16/19 - 01:48 PM]
Video: "Happy!" - Season 2 Official Trailer - Syfy
The next insane season premieres Wednesday, March 27 on the cable channel.


[01/16/19 - 10:44 AM]
Video: "Better Things" - Season 3: Official Trailer - FX
As previously announced, the series returns Thursday, February 28 at 10:00/9:00c.


[01/16/19 - 10:01 AM]
Video: WGN America Unveils February 27 Premiere Date and First Trailer for Crime Drama "Gone"
Chris Noth, Leven Rambin and Danny Pino star in the 12-part limited series.


[01/16/19 - 08:03 AM]
Video: "Unbreakable Kimmy Schmidt" Final Episodes - Official Trailer - Netflix
Look for the show's swan song on Friday, January 25.


[01/15/19 - 07:31 AM]
Video: Trailer Debut - "Black Earth Rising" Launches January 25 on Netflix
The limited series is a contemporary thriller that follows the journey of Kate Ashby (Michaela Coel), a Rwandan orphaned by the genocide, raised in London by an adoptive mother and trying to discover the truth of her past.


[01/14/19 - 09:42 AM]
Video: Trailer Debut - "Conversations with a Killer: The Ted Bundy Tapes" Launches January 24
The series features exclusive, never-before-heard audio interviews with Ted Bundy from death row.


[01/14/19 - 08:06 AM]
Video: "Fyre Fraud" Now Streaming on Hulu
The film features an exclusive interview with Billy McFarland, the convicted con-man behind the festival.


[01/14/19 - 08:05 AM]
Video: Netflix Debuts Trailer & Key Art for "Paddleton"
Ray Romano and Mark Duplass star in the film, due on February 22.


[01/13/19 - 06:00 PM]
Video: "Game of Thrones" Returns April 14
HBO aired a new tease tonight, which announced the debut date for the show's six-episode, eighth and final season.


[01/10/19 - 10:11 AM]
Video: Trailer - "Fyre: The Greatest Party That Never Happened"
The Netflix documentary launches Friday, January 18.


[01/10/19 - 08:46 AM]
Video: Trailer Released for Sony Crackle's "The Oath" Season 2
The series returns with eight all-new episodes on Thursday, February 21 with a sneak peek on Amazon devices through the Sony Crackle app starting Monday, February 11.