[09/06/18 - 09:46 AM]
Video: Netflix Debuts Trailer & Key Art for Quincy Jones Documentary
Mary J. Blige, Tony Bennett, Bono, Will Smith, Jay Z, Peggy Lipton, Paul McCartney and Oprah Winfrey are among those featured in the film, alongside Jones himself.
---
[via press release from Netflix]
NETFLIX Presents QUINCY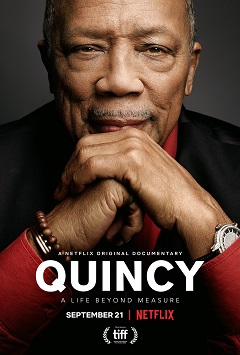 Directed By | Rashida Jones & Alan Hicks
Executive Produced By | Jane Rosenthal and Berry Welsh
Featuring | Quincy Jones, Mary J. Blige, Tony Bennett, Bono, Will Smith, Jay Z, Peggy Lipton, Paul McCartney, Oprah Winfrey and many others.
Netflix debuts trailer and key art for the original documentary Quincy ahead of its world premiere at this year's Toronto International Film Festival on September 9.
The film will launch globally and in select theaters in New York + Los Angeles on September 21.
SYNOPSIS | QUINCY is an intimate look into the life of icon Quincy Jones. The film seamlessly threads personal vérité moments with private archival footage to reveal a legendary life like no other. A unique force in music and popular culture for 70 years, Jones has transcended racial and cultural boundaries; his story is inextricably woven into the fabric of America. Beyond his own acclaim as a trumpeter, producer, conductor, composer and arranger, Jones's inimitable gift to discover the biggest talents of the past half of the century is unprecedented. He has mentored and cultivated the careers of young talents, from Lesley Gore and Michael Jackson to Oprah Winfrey and Will Smith. QUINCY is directed by Rashida Jones (Angie Tribeca and Hot Girls Wanted) and Alan Hicks (Keep On Keepin' On).



[10/29/20 - 03:02 PM]
Video: "A Closer Look" with Ralph Tresvant - Official Trailer (HD) - UMC
The music documentary series profiles R&B, Soul, and Hip-Hop artists whose song(s) have and continues to top the billboard charts and re-shape the music industry.


[10/29/20 - 02:01 PM]
Video: Showtime(R) Releases Trailer and Poster Art for "My Psychedelic Love Story" from Oscar(R) Winning Director Errol Morris
The film is a psychedelic head trip crossed with a possible CIA conspiracy and wrapped in a fascinating love story told by the late Joanna Harcourt-Smith about her time with Timothy Leary.


[10/29/20 - 08:41 AM]
Video: "Virgin River" Season 2 - Official Trailer - Netflix
For a small town, Virgin River has its fair share of drama - and Mel Monroe is often in the middle of it.


[10/29/20 - 07:01 AM]
Video: "The Crown" Season 4 - Official Trailer - Netflix
Olivia Colman, Josh O'Connor, Gillian Anderson and Emma Corrin star in the new season, due on November 15.


[10/29/20 - 07:01 AM]
Video: "Wolfwalkers" - Legendary Prologue - Apple TV+
Coming soon to theaters and on Apple TV+ December 11.


[10/29/20 - 06:22 AM]
Video: "Alien Xmas" - Official Trailer - Netflix Futures
Meet X, a little alien who learns that in a world full of stuff, things aren't meant to be taken, but given.


[10/28/20 - 04:35 PM]
Video: Trailer Debut - "Trial 4" - A Netflix Original Documentary Series
The eight-episode docuseries delves into the story of Sean Ellis, a man who served 22 years in prison after being found guilty of killing Boston Police Detective John Mulligan in 1993.


[10/28/20 - 04:02 PM]
Video: "The Baby-Sitters Club" Is Getting a Season 2 - Netflix Futures
Season one is now streaming, only on Netflix.


[10/28/20 - 04:01 PM]
Video: "Alice in Borderland" - Official Trailer - Netflix
Kento Yamazaki and Tao Tsuchiya star in the series, which starts December 10.


[10/28/20 - 07:01 AM]
Video: "The White Tiger" - Official Teaser Trailer - Netflix
From acclaimed writer-director Ramin Bahrani, the film is based on the New York Times bestseller and 2008 Man Booker Prize-winning novel.


[10/27/20 - 01:02 PM]
Video: "The Mighty Ones" - Trailer (Official) - A Hulu Original Series
The Mighty Ones are four best friends living in an unkempt backyard belonging to a trio of equally unkempt humans whom they mistake for gods.


[10/27/20 - 06:26 AM]
Video: "Saved by the Bell" Releases New Trailer and Show Art
In the new series, when California governor Zack Morris gets into hot water for closing too many underfunded high schools, he proposes they send the affected students to the most well-funded schools in the state - including Bayside High.


[10/27/20 - 05:01 AM]
Video: "The Midnight Sky" Starring George Clooney - Official Trailer - Netflix
Clooney directs the adaptation of Lily Brooks-Dalton's acclaimed novel "Good Morning, Midnight," co-starring David Oyelowo, Kyle Chandler, Demián Bichir and Tiffany Boone.


[10/27/20 - 02:01 AM]
Video: "Rose Island" - Official Trailer - Netflix
An idealistic engineer builds his own island off the Italian coast and declares it a nation, drawing the world's attention.


[10/26/20 - 10:01 AM]
Video: "Wayne" - Official Trailer - Prime Video
16-year-old Wayne can't help himself from righting the world's wrongs. Now, against all odds, he and his girlfriend Del are on a road trip to reclaim what's rightfully his.