[09/20/18 - 06:02 AM]
Video: Netflix Releases Official "Big Mouth" Season Two Trailer
Look for 10 new episodes to drop Friday, October 5 on the streaming service.
---
[via press release from Netflix]
EMBRACE YOUR INNER HORMONE MONSTER AND ARM YOURSELF WITH LOADS OF PROTECTION...
BIG MOUTH SEASON TWO OFFICIAL TRAILER IS HERE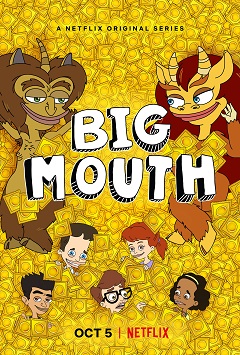 Big Mouth Season 2 Launches Friday, October 5 on Netflix
Big Mouth is a 10-episode, half-hour edgy adult animated comedy from real-life best friends Nick Kroll and Andrew Goldberg about the glorious nightmare that is teenage puberty. Comedian John Mulaney lends his voice to the character of Andrew, while Kroll (who serves as co-creator, executive producer) voices many including best friend Nick. Maya Rudolph, Jason Mantzoukas, Jordan Peele, Fred Armisen, Jenny Slate and Jessi Klein are among those who lend their voice to the series. Nick Kroll, Andrew Goldberg and screenwriter-directors Mark Levin & Jennifer Flackett are all creators and executive producers on the series. Big Mouth is a Netflix production.
Please visit the official social pages: Instagram: @bigmouth Twitter: @bigmouth Facebook: bigmouthnetflix



[12/14/18 - 09:06 AM]
Video: Showtime(R) Releases Official Poster and New Teaser for "Black Monday"
The 10-episode series will premiere on Sunday, January 20 at 10:00/9:00c.


[12/14/18 - 08:03 AM]
Video: "Russian Doll" Season 1 - Date Announcement - Netflix
From Natasha Lyonne, Amy Poehler and Leslye Headland comes "Russian Doll," February 1 on Netflix.


[12/13/18 - 02:03 PM]
Video: "Magic for Humans" Season 2 - Announcement - Netflix
Justin Willman will be back for season two in 2019.


[12/13/18 - 09:41 AM]
Video: FXX First Look for "You're the Worst"
The most beautiful and f'd up love story is coming to a close.


[12/13/18 - 09:00 AM]
Video: "One Day at a Time" Season 3 - Date Announcement - Netflix
The Alvarez family is back February 8, only on Netflix.


[12/13/18 - 09:00 AM]
Video: "Star Trek: Discovery" Unveils Season Two Official Trailer and Key Art
CBS All Access also announced the second season will be extended to 14 episodes, from the previously announced 13.


[12/13/18 - 06:02 AM]
Video: Are You Ready for It? Netflix Celebrates Taylor Swift Reputation Stadium Tour, Out on NYE
This epic concert film features pyro, fireworks, multiple stages and of course, a 63 foot cobra named Karyn.


[12/12/18 - 08:38 AM]
Video: "Trigger Warning with Killer Mike" - Teaser - Netflix
"'Trigger Warning' is about examining cultural taboos and giving viewers the space to examine the 'what ifs' and 'why nots' that limit how some people move and operate in the world," said Michael Render, pka Killer Mike.


[12/12/18 - 08:03 AM]
Video: "7 Days Out" - Official Trailer - Netflix
A behind-the-scenes look at the most iconic cultural events in fashion, sports, food, gaming, and space.


[12/12/18 - 07:33 AM]
Video: "Tidying Up with Marie Kondo" - Official Trailer - Netflix
Tidy guru Marie Kondo comes to the rescue by helping people tackle the clutter that's holding them back.


[12/12/18 - 07:03 AM]
Video: "Pinky Malinky" - Official Trailer - Netflix
Join Pinky Malinky and his best friends, Babs and JJ, as they make movies, drop sick beats, and explore their hometown of Sackenhack.


[12/12/18 - 06:03 AM]
Video: "3Below: Tales of Arcadia" - Official Trailer - Netflix
From visionary director Guillermo del Toro and the team behind "DreamWorks Trollhunters" comes an epic, hilarious tale of alien royalty who must escape intergalactic bounty hunters by blending in on a primitive junk heap known as Earth.


[12/11/18 - 12:08 PM]
Video: In 10 Days the Journey Begins - A New "Bird Box" Trailer Has Just Debuted!
The film will be released globally on Netflix on December 21 and will have an expanded theatrical release in additional theaters in the U.S., and throughout Europe.


[12/11/18 - 11:12 AM]
Video: "Struggle: The Life and Lost Art of Szukalski" - Netflix Trailer Debut
The Leonardo DiCaprio-produced documentary launches Friday, December 21.


[12/11/18 - 07:03 AM]
Video: "Siempre Bruja: Always a Witch" - Date Announcement - Netflix
The series, due on February 1, will follow 18 year old Carmen, a Colombian slave and witch from the 17th century who, in a desperate attempt to save her loved one, travels in time to present day Cartagena.