[09/20/18 - 06:02 AM]
Video: Netflix Releases Official "Big Mouth" Season Two Trailer
Look for 10 new episodes to drop Friday, October 5 on the streaming service.
---
[via press release from Netflix]
EMBRACE YOUR INNER HORMONE MONSTER AND ARM YOURSELF WITH LOADS OF PROTECTION...
BIG MOUTH SEASON TWO OFFICIAL TRAILER IS HERE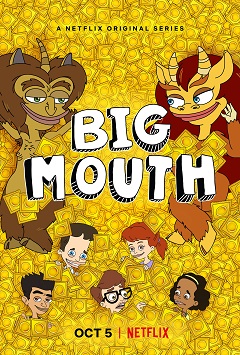 Big Mouth Season 2 Launches Friday, October 5 on Netflix
Big Mouth is a 10-episode, half-hour edgy adult animated comedy from real-life best friends Nick Kroll and Andrew Goldberg about the glorious nightmare that is teenage puberty. Comedian John Mulaney lends his voice to the character of Andrew, while Kroll (who serves as co-creator, executive producer) voices many including best friend Nick. Maya Rudolph, Jason Mantzoukas, Jordan Peele, Fred Armisen, Jenny Slate and Jessi Klein are among those who lend their voice to the series. Nick Kroll, Andrew Goldberg and screenwriter-directors Mark Levin & Jennifer Flackett are all creators and executive producers on the series. Big Mouth is a Netflix production.
Please visit the official social pages: Instagram: @bigmouth Twitter: @bigmouth Facebook: bigmouthnetflix



[10/22/20 - 12:00 PM]
Video: Showtime(R) Releases Trailer and Poster Art for New Docu-Series "The Reagans"
The four-part series contextualizes the legacy of Ronald and Nancy a generation later while exploring the palace intrigue of the Reagan White House years.


[10/22/20 - 10:47 AM]
Video: "Voices of Fire" - Official Teaser - Netflix
The series, from executive producer Pharrell Williams, launches November 20.


[10/22/20 - 09:32 AM]
Video: "Dolly Parton's Christmas on the Square" Starring Christine Baranski - Official Trailer - Netflix
The musical also features Treat Williams, Jeanine Mason, Josh Segarra, Mary Lane Haskell, and many more talented folks.


[10/22/20 - 09:18 AM]
Video: Official Hulu Trailer - "Run"
There's something unnatural, even sinister about the relationship between Chloe (newcomer Kiera Allen) and her mom, Diane (Sarah Paulson).


[10/22/20 - 09:01 AM]
Video: Showtime(R) Announces Premiere Date for "Your Honor" and Debuts Second Trailer
The 10-episode legal thriller stars Cranston as Michael Desiato, a respected New Orleans judge whose teenage son, Adam (Hunter Doohan), is involved in a hit-and-run that leads to a high-stakes game of lies, deceit and impossible choices.


[10/22/20 - 08:02 AM]
Video: "The Liberator" - Official Trailer - Netflix
A diverse, deeply brave crew of ragtag soldiers become some of the most heroic fighters of the European invasion in World War II.


[10/22/20 - 07:16 AM]
Video: "The Prom" - Official Teaser Trailer - Netflix
Directed by Ryan Murphy, "The Prom" is the spectacular, big-hearted film adaptation of the Tony-nominated Broadway musical.


[10/22/20 - 07:02 AM]
Video: "Servant" - Hooked - Apple TV+
From M. Night Shyamalan, season two arrives January 15 on Apple TV+.


[10/22/20 - 01:17 AM]
Video: "Paranormal" - Official Trailer - Netflix
Refaat Ismail, a cynical hematology professor with a dark sense of humor, has his world turned upside down and his lifelong scientific convictions questioned after he begins to experience paranormal activities.


[10/21/20 - 07:31 AM]
Video: "The Life Ahead" - Official Trailer - Netflix
"The Life Ahead" starring Sophia Loren and Ibrahima Gueye arrives on Netflix on November 13.


[10/21/20 - 07:11 AM]
Video: "Animaniacs" (Official) Trailer - A Hulu Original
22 years of pent-up zaniness coming your way!


[10/21/20 - 07:05 AM]
Video: Season 7 of "Braxton Family Values" Premieres Thursday, November 5 at 9PM ET/PT on WE tv
Following a year of love and loss, can the Braxtons come together and find their harmony once again?


[10/21/20 - 06:01 AM]
Video: "Mank" - Official Trailer - Netflix
Starring Academy Award Winner Gary Oldman, Amanda Seyfried, Lily Collins, Arliss Howard, Tom Pelphrey, Sam Troughton, Ferdinand Kingsley, Tuppence Middleton, Tom Burke, and Charles Dance.


[10/20/20 - 04:01 PM]
Video: "Aunty Donna's Big Ol' House of Fun" - Official Trailer - Netflix
Australian comedy group Aunty Donna star in this hybrid of narrative and sketch comedy about three roommates making their way through an absurdist world.


[10/20/20 - 10:02 AM]
Video: Official Trailer and Key Art - Hulu's "Eater's Guide to the World"
Join narrator Maya Rudolph on a quest to find the most unexpected places to score an epic meal, while drinking and dining with the locals along the way.