[10/08/18 - 07:06 AM]
Video: AMC Released Today "The Little Drummer Girl" Trailer and Key Art
The anticipated series is slated to debut in the U.S on AMC as a must-watch, three-night television event with a two-hour episode on November 19.
---
[via press release from AMC]
AMC RELEASED TODAY "THE LITTLE DRUMMER GIRL" TRAILER AND KEY ART
AMC released today the trailer and key art for the upcoming six-part mini-series, "The Little Drummer Girl," produced by The Ink Factory in partnership with BBC One and AMC.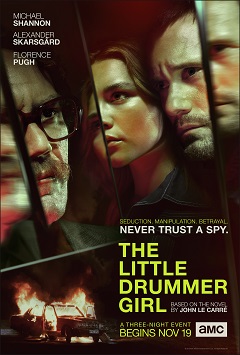 The anticipated series is slated to debut in the U.S on AMC as a must-watch, three-night television event with a two-hour episode on November 19 at 9:00 P.M. ET/PT. Additional two-hour episodes will air on consecutive nights at 9:00 P.M. ET/PT on November 20 and November 21. The series stars Screen Actors Guild, Emmy(R) and Golden Globe Award-Winner Alexander Skarsgård ("Big Little Lies") as Becker, twice Academy Award nominated Michael Shannon (The Shape of Water, Nocturnal Animals) as Kurtz and BAFTA nominated Florence Pugh (Lady Macbeth) as Charlie.
"The Little Drummer Girl" weaves an explosive story of espionage and international intrigue; of love and betrayal. Brilliant young actress Charlie (Pugh) strikes up an acquaintance with an intriguing stranger while on vacation in Greece, but it rapidly becomes apparent that his intentions are far from romantic. The man is Becker (Skarsgård), an Israeli intelligence officer, who entangles her in a complex and high stakes plot orchestrated by Spymaster, Kurtz (Shannon).
Set in the late 1970s, yet sharply contemporary, the global thriller is from the executive producers of the Golden Globe and Emmy(R) Award winning series "The Night Manager" and marks the television directorial debut of visionary filmmaker Park Chan-wook (Oldboy, The Handmaiden, Stoker). The award-winning director helms the entire six-part mini-series based on John le Carré's best-selling literary masterpiece of the same name.



[10/22/18 - 01:32 PM]
Video: Come Visit Orphelin Bay - "Tidelands" Launches December 14
The Netflix series follows Cal McTeer, played by Charlotte Best, a young woman who returns home to the small fishing village of Orphelin Bay after 10 years in juvenile detention then jail.


[10/22/18 - 07:34 AM]
Video: "Disenchantment" - Announcement: New Episodes Coming Soon - Netflix
Look for new episodes coming in 2019, 2020 and 2021.


[10/22/18 - 07:09 AM]
Video: Second Official Trailer - Amazon Prime Video's "Homecoming" Starring Julia Roberts
Heidi Bergman (Roberts) is a caseworker at the Homecoming Transitional Support Center, a Geist Group facility helping soldiers transition back to civilian life.


[10/19/18 - 10:31 AM]
Video: Showtime(R) Drops the Trailer for New Comedy "Black Monday" on Anniversary of the Historic Stock Market Crash
Don Cheadle, Andrew Rannells and Regina Hall star in the series, premiering Sunday, January 20 at 10:00/9:00c.


[10/19/18 - 08:02 AM]
Video: Sundance TV Releases "Jonestown: Terror in the Jungle" Trailer in Advance of Two-Night Special Event
Look for said event on Saturday, November 17 and Sunday, November 18 at 9:00/8:00c.


[10/18/18 - 09:32 AM]
Video: Trailer Debut - Netflix's "The Degenerates" Original Comedy Special Series
The series consists of six 30-minute episodes full of no-holds-barred comedy for mature audiences from the likes of rising comics Big Jay Oakerson, Joey Diaz, Liza Treyger, Yamaneika Saunders, Christina P., and Brad Williams.


[10/18/18 - 07:04 AM]
Video: We'll Start You Off with a Sample - "Narcos: Mexico" Trailer Debut
"Narcos: Mexico" will explore the origins of the modern drug war by going back to its roots, beginning at a time when the Mexican trafficking world was a loose and disorganized confederation of independent growers and dealers.


[10/17/18 - 06:32 AM]
Video: "Patriot Act with Hasan Minhaj" - Studio Spot - Netflix
In a never before seen sneak peek of the weekly topical show, Minhaj treated viewers via Instagram to a hint of the show's high tech, interactive set.


[10/16/18 - 12:02 PM]
Video: Trailer Debut - "The Final Table" - A Global Cooking Competition
The Netflix series features 12 teams of two chefs from around the world cooking the national dishes of Mexico, Spain, England, Brazil, France, Japan, the U.S., India and Italy.


[10/16/18 - 08:03 AM]
Video: Featurette Debut - Inside the Bewitching World of Sabrina Spellman
The 10-episode Netflix original series premieres October 26.


[10/12/18 - 07:01 AM]
Video: Trailer & Key Art Debut - Michael Douglas and Alan Arkin Return to TV in "The Kominsky Method"
The Netflix series also features Nancy Travis, Sarah Baker and guest stars including Lisa Edelstein, Emily Osment, Graham Rogers, Danny Devito, Ann-Margret, Jay Leno, Patti LaBelle, Ashleigh LaThorpe and more.


[10/11/18 - 11:45 AM]
Video: IFC's "Baroness von Sketch Show" Season 3 Trailer Revealed
The new season premieres with two back to back episodes Thursday, November 8 at 9:00/8:00c.


[10/10/18 - 01:30 PM]
Video: USA Network Reveals First Promo and Key Art for Music Showcase Series "Real Country" Featuring Shania Twain, Jake Owen and Travis Tritt
From Wilshire Studios, the eight-part series will premiere Tuesday, November 13 at 10:00/9:00c.


[10/10/18 - 10:10 AM]
Video: YouTube Premium Debuts New Trailer for AwesomenessTV's Hit Comedy "Foursome"
The longest running YouTube Original show will launch its fourth season on Wednesday, October 24.


[10/10/18 - 09:02 AM]
Video: "Best. Worst. Weekend. Ever." - Official Trailer - Netflix
The limited series follows four friends as they make the most of their last weekend before high school.