[05/09/19 - 11:01 AM]
Video: AMC Releases Key Art and Sneak Peek for "NOS4A2" Starring Zachary Quinto and Ashleigh Cummings
The new supernatural horror series premieres Sunday, June 2 at 10:00/9:00c.
---
[via press release from AMC]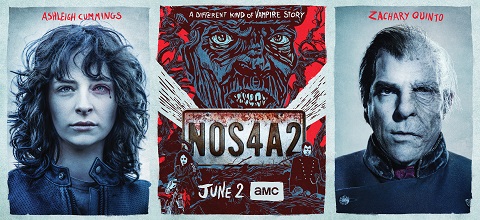 AMC released today the official key art and a sneak peek clip from the highly-anticipated supernatural horror series "NOS4A2," premiering Sunday, June 2 at 10:00 p.m. ET/PT.
The series stars Emmy(R)-nominated actor and producer Zachary Quinto ("Star Trek," "American Horror Story") and rising star Ashleigh Cummings ("The Goldfinch"). Emmy(R)-nominated director Kari Skogland ("The Handmaid's Tale," "Sons of Liberty") directed the first two episodes of the series.
"NOS4A2" introduces Vic McQueen (Cummings), a gifted young woman who discovers she has a supernatural ability to find lost things. This ability puts her on a collision course with the evil and immortal Charlie Manx (Quinto). Manx is a supernatural villain who feeds off the souls of children then deposits what remains of them into Christmasland - a twisted place of Manx's imagination where every day is Christmas Day and unhappiness is against the law. Vic strives to defeat Manx and rescue his victims - without losing her mind or falling victim to him herself.
The cast also includes Olafur Darri Olafsson ("Lady Dynamite") as Bing Partridge, Virginia Kull ("The Looming Tower") as Linda McQueen, Ebon Moss-Bachrach ("The Punisher") as Chris McQueen and Jahkara Smith (aka Sailor J) as Maggie Leigh.



[05/23/19 - 10:00 AM]
Video: CBS All Access Reveals Teaser Trailer and Key Art for "Star Trek: Picard"
The series features Sir Patrick Stewart reprising his iconic role as Jean-Luc Picard, which he played for seven seasons on "Star Trek: The Next Generation."


[05/23/19 - 07:50 AM]
Video: Trailer & Key Art Debut - Who is the Black Godfather? The Story of the Original Influencer Clarence Avant
Reginald Hudlin's new documentary film premieres Friday, June 7 on Netflix.


[05/22/19 - 11:01 AM]
Video: "Claws" Official Season 3 Trailer Revealed
The series returns for season three on Sunday, June 9 at 9:00/8:00c on TNT.


[05/22/19 - 10:25 AM]
Video: OWN Unveils Season Four Trailer and Key Art of the Critically-Acclaimed Drama Series "Queen Sugar" from Ava DuVernay
The contemporary drama series is back for the fourth consecutive year, following the Bordelon family as they discover Nova (Rutina Wesley) is publishing her memoir which divulges long-held family secrets.


[05/22/19 - 09:00 AM]
Video: WE tv Releases the Highly Anticipated "Growing Up Hip Hop: Atlanta" Sneak Peek
Season three kicks off Thursday, June 13 at 9:00/8:00c on the cable channel.


[05/22/19 - 07:30 AM]
Video: Date Announce & First Look - "Orange Is the New Black" Seventh and Final Season
The show's swan song will drop Friday, July 26 on Netflix.


[05/21/19 - 07:48 AM]
Video: Episode Titles & Trailers - "Black Mirror" Season 5
As previously announced, the new season rolls out Wednesday, June 5 on Netflix.


[05/21/19 - 06:01 AM]
Video: Trailer & Key Art Debut - "Armistead Maupin's Tales of the City" - Launching on Netflix June 7
Inspired by the books of Armistead Maupin, the Netflix limited series begins a new chapter in the beloved story.


[05/21/19 - 05:01 AM]
Video: Netflix Launches the Trailer for "Chopsticks"
Netflix's first Indian original film will premiere on Friday, May 31.


[05/17/19 - 02:09 AM]
Video: Netflix Launches the Trailer for Its Latest Drama Series, "Leila"
Based on author Prayaag Akbar's award-winning book of the same name, the series premieres Friday, June 14.


[05/16/19 - 11:04 AM]
Video: "Claws" Season 3 Key Art & Behind the Scenes Video Revealed!
"Claws" returns for season three on Sunday, June 9 at 9:00/8:00c on TNT.


[05/16/19 - 10:03 AM]
Video: CBS All Access Debuts "Strange Angel" Season Two Official Trailer and Key Art
The period drama explores the bizarre true story of Jack Parsons, a man who straddled the worlds of science and the occult, pioneering America's rocketry program while simultaneously practicing sex magick rituals as a devotee of Aleister Crowley's religion, Thelema.


[05/16/19 - 09:15 AM]
Video: The CW's New Series First Look Clips & Trailers
Get your first look at new dramas "Batwoman," "Katy Keene" and "Nancy Drew."


[05/16/19 - 08:02 AM]
Video: Trailer & Guests - "My Next Guest Needs No Introduction with David Letterman"
Letterman welcomes Kanye West, Ellen DeGeneres, Tiffany Haddish, Lewis Hamilton, and Melinda Gates.


[05/16/19 - 08:01 AM]
Video: Ali Wong and Randall Park in "Always Be My Maybe" - Trailer Debut!
The film is directed by Nahnatchka Khan from a script by Ali Wong, Randall Park, and Michael Golamco.