SHOWTIME(R) UNVEILS POSTER AND OFFICIAL TRAILER FOR "THE LOUDEST VOICE"
Limited Series Starring Russell Crowe As Fox News Founder Roger Ailes Premieres Sunday, June 30 At 10 PM ET/PT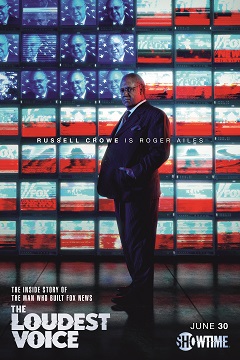 NEW YORK - May 9, 2019 - SHOWTIME has released the official poster and trailer for its highly anticipated seven-part limited series THE LOUDEST VOICE, starring Academy Award(R) and Golden Globe(R) winner Russell Crowe as Fox News founder Roger Ailes. THE LOUDEST VOICE will premiere on Sunday, June 30 at 10 p.m. ET/PT. To watch and share the trailer, go to:
THE LOUDEST VOICE is based on extensive reporting by Gabriel Sherman in his bestselling book, The Loudest Voice in the Room, which included interviews with more than 600 people and Sherman's reporting for New York Magazine. In addition to Crowe, the star-studded cast also includes Academy Award nominee Naomi Watts as former Fox News anchor Gretchen Carlson, Golden Globe nominee Sienna Miller (Layer Cake) as Ailes' wife Elizabeth, Oscar(R) nominee and Emmy(R) winner Seth MacFarlane (Family Guy) as former Fox News PR chief Brian Lewis, Screen Actors Guild Award(R) nominee Simon McBurney (The Theory of Everything) as News Corp leader Rupert Murdoch, Annabelle Wallis (Peaky Blinders) as former Fox News booker Laurie Luhn and Aleksa Palladino (Boardwalk Empire) as Ailes' longtime assistant Judy Laterza. Guest stars include Emmy and Golden Globe nominee Josh Charles (The Good Wife) as Casey Close, Gretchen Carlson's husband, and Josh Stamberg (The Affair) as former Fox executive, Bill Shine. Emmy nominee Kari Skogland (The Handmaid's Tale) directed multiple episodes.
In today's politically charged media landscape, no figure looms larger, even after his passing, than Roger Ailes, who molded Fox News into a force that irrevocably changed the conversation about the highest levels of government. To understand the events that led to the rise of the modern Republican Party, one must understand Ailes. The upcoming limited series takes on that challenge, focusing primarily on the past decade in which Ailes arguably became the Republican Party's de facto leader, while also touching on defining events in Ailes' life, including his experiences with world leaders that gave birth to Ailes' political career and the sexual harassment accusations and settlements that brought his Fox News reign to an end. The series aims to shed light on the psychology that drives the political process from the top down.
The first episode of the limited series was written by Oscar winner Tom McCarthy (Spotlight) and Sherman. The project is a co-production from SHOWTIME and Blumhouse Television (Sharp Objects, The Jinx, Get Out). In addition to Crowe, McCarthy serves as executive producer with Alex Metcalf and Emmy winner Jason Blum, as well as Marci Wiseman and Jeremy Gold for Blumhouse Television, Liza Chasin of 3dot Productions, Kari Skogland and Padraic McKinley.
SHOWTIME is currently available to subscribers via cable, DBS, and telco providers, and as a stand-alone streaming service through Amazon, Apple(R), Google, LG Smart TVs, Oculus Go, Roku(R), Samsung Smart TVs and Xbox One. Consumers can also subscribe to SHOWTIME via Amazon's Prime Video Channels, DirecTV Now, FuboTV, Hulu, The Roku Channel, Sling TV, Sony PlayStation(TM) Vue, and YouTube TV or directly at www.showtime.com.