STARZ RELEASES ELECTRIFYING OFFICIAL TRAILER FOR "THE ROOK"
Plus, First Look at Artwork Revealing Characters Supernatural Abilities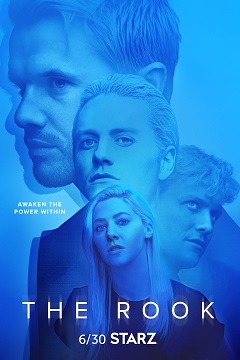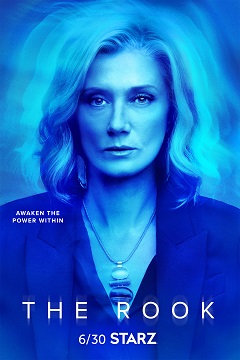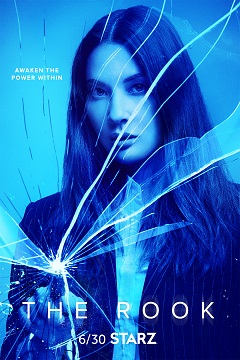 Santa Monica, Calif. - June 4th, 2019 - Starz, a Lionsgate company (NYSE: LGF.A, LGF.B), today released the official trailer for the Lionsgate and Liberty Global-produced STARZ Original Series "The Rook." In addition to the previously released key art, featuring Emma Greenwell in the title role of 'Myfanwy Thomas,' STARZ also today shared the character art for the balance of the star-studded cast. The full collection of art combined with the official trailer provide a nod to each characters' abilities and give deeper insight into the highly-anticipated new season, which will premiere on Sunday, June 30th at 8PM ET/PT.
The striking character art grants a first-look at Joely Richardson ("Nip/Tuck," Red Sparrow) as 'Linda Farrier', Olivia Munn ("The Newsroom," The Predator) as 'Monica Reed', Adrian Lester (The Day After Tomorrow, "Riviera") as 'Conrad Grantchester', and Ronan Raftery (Fantastic Beasts and Where to Find Them, "Moone Boy"), Catherine Steadman (About Time, "Downton Abbey") and Jon Fletcher ("Genius," "The Messengers") as 'The Gestalt'.
About The Rook
"The Rook" is a supernatural spy thriller, which tells the story of Myfanwy Thomas, a woman who wakes up in the rain beside London's Millennium Bridge with no memory of who she is and no way to explain the circle of latex-gloved dead bodies splayed around her. When Myfanwy discovers she is a high-ranking official in the Checquy, Britain's last truly secret service for people with paranormal abilities, she will have to navigate the dangerous and complex world of the agency to uncover who wiped her memory - and why she is a target.
"The Rook's" star-studded cast also includes Emma Greenwell ("Shameless", "The Path"), (Shelley Conn ("The Lottery," How Do You Know), and James D'Arcy ("Agent Carter," Dunkirk).
"The Rook" is produced by Lionsgate and Liberty Global (NASDAQ: LBTYA, LBTYB, LBTYK). It is adapted and co-produced by Sam Holcroft and Al Muriel, and drawn from Daniel O'Malley's novel. Showrunner duo Lisa Zwerling ("Betrayal," "FlashForward," "ER") and Karyn Usher ("Bones," "Prison Break," "Backstrom") serve as executive producers via their Carpool Entertainment production company, alongside Stephen Garrett ("The Night Manager," "Hunted") who executive produces under his Character 7 banner.
Liberty Global will simultaneously exclusively premiere the series on demand through certain of its European cable TV platforms, while Liberty Latin America will do the same in its markets in Latin America and the Caribbean. Lionsgate holds worldwide rights to "The Rook" and is actively licensing the series to international buyers.
For more information on "The Rook," as well as access to press materials and show assets, please visit the STARZ Media Room, which is compatible with iPad devices: https://mediaroom.starz.com.
Visit "The Rook's" official Facebook Page, and follow @TheRookSTARZ on Twitter and Instagram. Join the conversation with #TheRook and #STARZ.
About STARZ
Starz (www.starz.com), a Lionsgate company (NYSE: LGF.A, LGF.B), is a leading global media and entertainment company that produces and distributes premium streaming content to worldwide audiences across subscription television platforms. Starz is home to the flagship domestic STARZ(R) brand, STARZ ENCORE, 17 premium pay TV channels and the associated on-demand and online services, including the highly rated STARZ app. With the launch of the STARZPLAY international premium streaming platform and STARZ PLAY Arabia, Starz is expanding its global footprint in a growing number of territories. Sold through multichannel video distributors, including cable operators, satellite television providers, telecommunications companies, and other online and digital platforms, Starz offers subscribers more than 7,500 distinct premium television episodes and feature films, including STARZ Original series, first-run movies and other popular programming.
About Lionsgate
The first major new studio in decades, Lionsgate is a global content leader whose films, television series, digital products and linear and over-the-top platforms reach next generation audiences around the world. In addition to its filmed entertainment leadership, Lionsgate content drives a growing presence in interactive and location-based entertainment, video games, esports and other new entertainment technologies. Lionsgate's content initiatives are backed by a nearly 17,000-title film and television library and delivered through a global sales and distribution infrastructure. The Lionsgate brand is synonymous with original, daring and ground-breaking content created with special emphasis on the evolving patterns and diverse composition of the Company's worldwide consumer base.
About Liberty Global
Liberty Global (NASDAQ: LBTYA, LBTYB and LBTYK) is the world's largest international TV and broadband company, with operations in 10 European countries under the consumer brands Virgin Media, Unitymedia, Telenet and UPC. We invest in the infrastructure and digital platforms that empower our customers to make the most of the video, internet and communications revolution. Our substantial scale and commitment to innovation enable us to develop market-leading products delivered through next-generation networks that connect 21 million customers subscribing to 45 million TV, broadband internet and telephony services. We also serve 6 million mobile subscribers and offer WiFi service through 12 million access points across our footprint. In addition, Liberty Global owns 50% of VodafoneZiggo, a joint venture in the Netherlands with 4 million customers subscribing to 10 million fixed-line and 5 million mobile services, as well as significant investments in ITV, All3Media, ITI Neovision, Lionsgate, the Formula E racing series and several regional sports networks.