[06/28/19 - 09:18 AM]
Video: New Teaser & Key Art - AMC's "Preacher" Fourth and Final Season, Premiering August 4
As the series inches closer to the finale, God's endgame for the universe begins to click into place.
---
[via press release from AMC]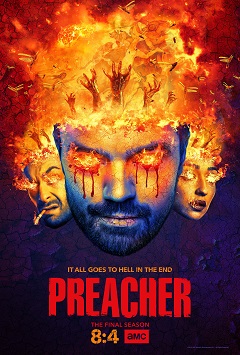 AMC has released the season four key art and a teaser in anticipation of the fourth and final season of "Preacher," premiering Sunday, August 4 at 9pm ET.
"Preacher" stars Dominic Cooper, Academy Award(R) nominee Ruth Negga and Joseph Gilgun, along with series regulars Ian Colletti, Graham McTavish, Pip Torrens, Julie Ann Emery, Noah Taylor, Mark Harelik and Tyson Ritter. As the series inches closer to the finale, God's endgame for the universe begins to click into place. Trapped between heavenly prophecies, hellish prisons, and all-out nuclear war, Jesse, Tulip, and Cassidy make their bloody way to the Most High. Whether they can reach God in time - or whether all this carnage is part of His divine plan - will soon be revealed as "Preacher" barrels towards the end of the world.
The Sony Pictures Television-AMC Studios co-production is developed for television by executive producer and showrunner Sam Catlin and executive producers Seth Rogen and Evan Goldberg.



[07/17/19 - 07:34 AM]
Video: "Twelve Forever" New Series Trailer - Netflix
Reggie's wild imagination unlocks a weird and wonderful world where she can be herself - and escape the pressures of growing up.


[07/17/19 - 07:01 AM]
Video: "Dear White People" - Cast Announcement - Netflix
Yvette Nicole Brown, Laverne Cox, Blair Underwood, Flava Flav, Justin Simien and more are coming to Winchester in Volume 3.


[07/16/19 - 12:32 PM]
Video: New Trailer for "The Red Sea Diving Resort" Starring Chris Evans and Michael K. Williams
Inspired by remarkable true life rescue missions, the film is the incredible story of a group of international agents and brave Ethiopians who in the early 80s used a deserted holiday retreat in Sudan as a front to smuggle thousands of refugees to Israel.


[07/15/19 - 01:25 PM]
Video: Showtime(R) Debuts Trailer and Official Poster for "On Becoming a God in Central Florida"
Starring Emmy and Golden Globe nominee Kirsten Dunst, the 10-episode series is a story about the cult of free enterprise and one woman's relentless pursuit of the American Dream.


[07/15/19 - 11:57 AM]
Video: "No Good Nick" Part 2 Trailer - Netflix
Steps away from being exposed as an impostor, Nick works harder, faster and smarter to right the Thompsons' wrongs and spring her father out of jail.


[07/11/19 - 09:09 AM]
Video: IFC Drops a Brand Funk'n-New Trailer for "Sherman's Showcase"
Plus: preview a full scene from the new season featuring guest star Natasha Bedingfield and the resurgence of Owl City.


[07/11/19 - 07:02 AM]
Video: "Sintonia" - Trailer - Netflix
Look for the streaming service's latest original on Friday, August 9.


[07/11/19 - 06:07 AM]
Video: Trailer Debut - "The Great Hack" - Netflix - July 24
The documentary uncovers the dark world of data exploitation, offering astounding access to the personal journeys of key players in the explosive Cambridge Analytica/Facebook data scandal.


[07/10/19 - 09:01 AM]
Video: Celebrate Motherhood - Watch the "Otherhood" Trailer Debut!
Angela Bassett, Patricia Arquette and Felicity Huffman star in the Netflix film, which premieres Friday, August 2.


[07/09/19 - 11:42 AM]
Video: Trailer and Key Art Released for Award-Winning Hulu Documentary "Jawline"
The film premieres in select theaters and on Hulu Friday, August 23.


[07/06/19 - 12:01 PM]
Video: Starz Releases First Footage of "Power" Season Six with Official Trailer Drop and Key Art Reveal
Created by Courtney A. Kemp, season six premieres Sunday, August 25 and culminates with the Final Betrayal played out across an extended 15-episode season.


[07/03/19 - 12:08 PM]
Video: New Teaser Trailer for "Wu-Tang: An American Saga"
The first three episodes will premiere on Hulu Wednesday, September 4, with the remaining seven episodes streaming weekly.


[07/03/19 - 09:31 AM]
Video: OWN Announces September 3 Season Premiere for Hit Megachurch Drama "Greenleaf" and Reveals Official Season Four Trailer
Last season, "Greenleaf" was Wednesday night's #1 original cable series for African-American women and total viewers and has averaged over 2 million viewers in each of its three seasons.


[07/02/19 - 11:02 AM]
Video: AMC's "The Terror: Infamy" Releases Key Art and New Trailer
"The Terror: Infamy" centers on a series of bizarre deaths that haunt a Japanese American community, and a young man's journey to understand and combat the malevolent entity responsible.


[07/02/19 - 10:32 AM]
Video: Netflix Trailer Debut - "Frankenstein's Monster's Monster, Frankenstein"
In this new mockumentary, join "Stranger Things" actor David Harbour as he uncovers lost footage from his father's televised stage play, Frankenstein's Monster's Monster, Frankenstein.