[04/08/20 - 10:05 AM]
Video: Amazon Prime Video Releases "Homecoming" Season 2 Teaser Trailer
The critically-acclaimed series returns for its second season with a fresh new mystery and an exciting new star, Janelle Monáe.
---
[via press release from Amazon]
AMAZON PRIME VIDEO RELEASES "HOMECOMING" SEASON 2 TEASER TRAILER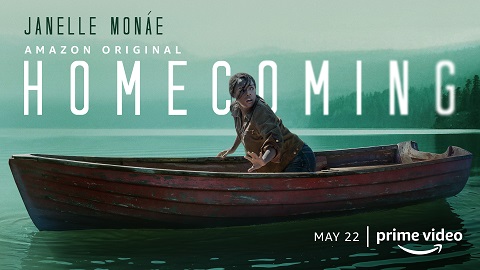 Amazon Prime Video has released the teaser trailer for HOMECOMING SEASON 2, premiering May 22nd, 2020.
The critically-acclaimed series Homecoming returns for its second season with a fresh new mystery and an exciting new star, Janelle Monáe. Her character wakes in a rowboat adrift a lake, with no memory of how she got there - or even who she is. Her ensuing search for identity will lead her into the heart of the Geist Group, the unconventional wellness company behind the Homecoming Initiative.
The second season finds Stephan James reprising his role as Walter Cruz, who is trying to build a new life following the traumas of war and the Homecoming Initiative, when he begins to realize that there's an even more insidious version of the program underway - if only he can remember. Hong Chau returns as Audrey Temple, an anonymous underling at Geist who finds herself thrust into unexpected positions at the top of the corporate ladder. Joining the cast for season Two are Oscar-winner Chris Cooper as Leonard Geist, the company's eccentric founder; and Emmy-winner Joan Cusack as Francine Bunda, an equally eccentric military woman.
Homecoming's co-showrunners and executive producers are Eli Horowitz and Micah Bloomberg, who are also the creators of the Gimlet Media podcast upon which the show is based. All episodes of the second season are directed by Kyle Patrick Alvarez,who also serves as Executive Producer. Homecoming is co-produced by Amazon Studios and UCP, a division of NBCUniversal Content Studios, and executive produced by, in addition to those already named: Julia Roberts through her production company Red Om Films, Sam Esmail through his production company Esmail Corp, Chad Hamilton of Anonymous Content, and Chris Giliberti, Alex Blumberg and Matt Lieber of Gimlet Media.



[06/03/20 - 10:12 AM]
Video: "Lovecraft Country" Official Teaser - HBO
The pay channel releases the latest tease for the upcoming drama, due in August.


[05/29/20 - 04:50 PM]
Video: "Alexa & Katie" Part 4 Trailer - Netflix Futures
The final season of "Alexa & Katie" arrives Saturday, June 13.


[05/29/20 - 03:14 AM]
Video: "Curon" - Official Trailer - Netflix
17 years after the tragic events that forced her to leave Curon, a woman returns home with her twin children.


[05/28/20 - 04:04 PM]
Video: "Japan Sinks: 2020" - Official Trailer - Netflix
From director Masaaki Yuasa, the project marks the first anime adaptation of the bestselling science fiction novel by Sakyo Komatsu.


[05/28/20 - 10:01 AM]
Video: "We Are Freestyle Love Supreme" - Trailer (Official) - A Hulu Documentary
Before the world knew of the Broadway musicals "In the Heights" and "Hamilton," Lin-Manuel Miranda started an improv hip-hop group called Freestyle Love Supreme.


[05/28/20 - 09:09 AM]
Video: "F Is for Family" Season 4 - Official Trailer - Netflix
While Frank deals with an unwelcome visit from his estranged father, Sue pursues New Age pregnancy support, and the Murphy kids try out new personas.


[05/28/20 - 03:17 AM]
Video: "Under the Riccione Sun" - Official Teaser - Netflix
Mara, Tommy, Guenda, Marco, Emma, Ciro, Furio, Camilla, Bea, Gualtiero will be totally changed by the end of the summer. Maybe not all of them... but just wait and see for yourselves.


[05/27/20 - 05:11 PM]
Video: Netflix Debuts Official Trailer for "Jo Koy: In His Elements"
For the first time ever, comedian Jo Koy takes Netflix to the Philippines in his new special.


[05/27/20 - 04:55 PM]
Video: Welcome To Olympus. Unprecedented "Reality Z" Trailer Reveals Disputed Fortress in the Middle of a Zombie Apocalypse
A tribute to fans of the genre, the visceral show combines British irony with Brazilian tropicalist anthropophagy, and has the city of Rio de Janeiro as the background for the story.


[05/27/20 - 02:01 PM]
Video: "Secret Society of Second-Born Royals" - Official Trailer - Disney+
They're not the heirs, but they're destined to protect the throne.


[05/27/20 - 08:01 AM]
Video: "Lenox Hill" - Official Trailer - Netflix
Follow the journey of four real doctors who struggle to balance their personal lives with the highs and lows of working on the frontlines of America's healthcare system.


[05/26/20 - 01:02 PM]
Video: Trailer - Hulu's "Love, Victor"
The series will premiere with all 10 episodes on June 19, only on Hulu.


[05/26/20 - 12:33 PM]
Video: Showtime(R) Documentary Films Announces New Timothy Leary Feature from Errol Morris and Releases First Look
The film is inspired by Joanna Harcourt-Smith's memoir, "Tripping the Bardo with Timothy Leary: My Psychedelic Love Story."


[05/26/20 - 08:12 AM]
Video: "Spelling the Dream" - Official Trailer - Netflix
Following four hopeful competitors' journeys, this documentary explores the trend of Indian Americans ruling the Scripps National Spelling Bee since 1999.


[05/26/20 - 07:05 AM]
Video: "I May Destroy You" - Official Trailer - HBO
Set in London, where gratification is only an app away, the story centers on Arabella, a carefree, self-assured Londoner with a group of great friends, a boyfriend in Italy, and a burgeoning writing career.