[04/30/20 - 09:06 AM]
Video: Trailer - Hulu's "Ramy" Season Two
All 10 episodes of season two premiere on Friday, May 29.
---
[via press release from Hulu]
TRAILER: Hulu's RAMY Season Two
Check out the official trailer for season two of Hulu's critically-acclaimed comedy series RAMY starring Golden Globe(R) Award-winner Ramy Youssef! All 10 episodes of RAMY season two premiere on Friday, May 29th on Hulu.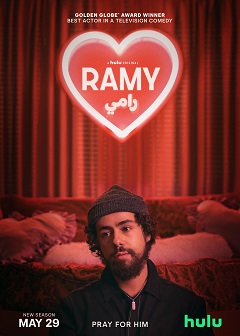 SYNOPSIS: The Golden Globe(R) Award-winning actor Ramy Youssef returns to Hulu for his critically-acclaimed performance in the Hulu Original comedy series RAMY. The series follows first-generation, Egyptian-American Ramy Hassan (Youssef) who is on a spiritual journey in his politically-divided New Jersey neighborhood. RAMY brings a new perspective to the screen as it explores the challenges of what it's like to be caught between a religious community who believes life is a moral test, and a millennial generation that doubts an afterlife even exists. In the second season, Ramy delves further into his spiritual journey, finding a new Muslim community and embracing a deeper commitment to his faith.
Alongside Youssef, the new season will star two-time Academy Award(R) and Golden Globe(R) Award-winner Mahershala Ali. The series also features Mohammed Amer, Hiam Abbass, Amr Waked, May Calamawy, Dave Merheje, Laith Nakli and Steve Way.
Ramy is written, executive produced, created by and starring Ramy Youssef, executive produced by A24's Ravi Nandan, co-creators Ari Katcher and Ryan Welch, Jerrod Carmichael, and produced by A24.



[01/25/21 - 11:01 AM]
Video: HBO Max Debuts Official Trailer & Key Art for Max Original Limited Series "It's a Sin," Premiering February 18
Set in 1981, Ritchie (Olly Alexander), Roscoe (Omari Douglas) and Colin (Callum Scott Howells) are young lads, strangers at first, leaving home at 18 and heading off to London with hope and ambition and joy... and walking straight into a virus that most of the world ignores.


[01/25/21 - 09:07 AM]
Video: Apple TV+ Releases Official Trailer for All-New Original Series, "The Snoopy Show," Premiering Globally on February 5, 2021
"The Snoopy Show" is an animated series for kids of all ages that stars the internationally beloved beagle and his feathered best friend Woodstock as they tackle all-new adventures.


[01/25/21 - 09:05 AM]
Video: YouTube Originals Debuts First-Look Trailer of "Life in a Day 2020"
Ten years after the original "Life in a Day," YouTube and the filmmakers asked people all over the world to record their lives to tell the story of a single day on Earth.


[01/25/21 - 06:00 AM]
Video: "Little Coincidences" - Official Trailer - Prime Video Spain
Look for the show's third season beginning Friday, February 5.


[01/24/21 - 09:53 AM]
Video: "Godzilla vs. Kong" - Official Trailer - HBO Max
Available on HBO Max in the US only, for 31 days from its theatrical release, at no extra cost to subscribers.


[01/23/21 - 09:01 AM]
Video: "MeatEater" Season 9 Part 2 - Official Trailer - Netflix
Steve sets his sights on game such as mule deer, duck, wild turkey, bear and moose in travels that take him to hunting hot spots across the US.


[01/21/21 - 11:48 AM]
Video: AMC Releases New Trailer for "The Walking Dead's" Extended 10th Season
In these six new episodes, we find our survivors trying to pick themselves up by their bootstraps following the destruction the Whisperers left in their wake.


[01/19/21 - 09:01 AM]
Video: "Nadiya Bakes" - Official Trailer - Netflix
Delightful cakes and heavenly breads pop from the oven as Nadiya Hussain returns to baking, her happy place, and spotlights creative kindred spirits.


[01/19/21 - 09:01 AM]
Video: "Pixar Popcorn" - Official Trailer - Disney+
The collection of 10 mini shorts features characters from Pixar favorites like "Toy Story," "Finding Nemo," "Cars" and "The Incredibles" in all-new, bite-size stories created by Pixar Animation Studios' talented animators.


[01/19/21 - 07:59 AM]
Video: "Axios" on HBO - Season 4 - Official Trailer - HBO
Known for delivering news, coverage, and insight with a distinctive brand of smart brevity, "Axios" on HBO helps viewers better understand the big trends reshaping America and the world through exclusive interviews, profiles, and breaking news content.


[01/19/21 - 07:31 AM]
Video: "Tiffany Haddish Presents: They Ready" Season 2 - Official Trailer - Netflix
Tiffany Haddish returns to share the spotlight with a new batch of comedians who bring wildly funny and authentic takes on life in this stand-up series.


[01/19/21 - 07:02 AM]
Video: "The Luminaries" Official Trailer - Starz
Murder. Mystics. Destiny. Will their journeys be a matter of fortune or fate?


[01/19/21 - 06:01 AM]
Video: "Mighty Express" Season 2 Trailer - Netflix Jr
The new season is available on Netflix on Tuesday, February 2.


[01/19/21 - 05:01 AM]
Video: "Fate: The Winx Saga" - Official Trailer - Netflix
Determined to master their enchanting powers, a group of teens navigate rivalry, romance and supernatural studies at Alfea, a magical boarding school.


[01/18/21 - 04:01 PM]
Video: "Space Sweepers" - Official Trailer - Netflix
Chasing after space debris and faraway dreams in year 2092, four misfits unearth explosive secrets during the attempted trade of a wide-eyed humanoid.