STARZ UNVEILS TRAILER, KEY ART AND PREMIERE DATE FOR ORIGINAL DOCUSERIES "CONFRONTING A SERIAL KILLER" FROM OSCAR(R)-NOMINATED AND EMMY(R)-WINNING FILMMAKER JOE BERLINGER
MAKING ITS WORLD PREMIERE TODAY AT SXSW FILM FESTIVAL, THIS GROUNDBREAKING SERIES SHINES A LIGHT ON THE DEVASTATING IMPACT OF RACIAL AND GENDER BIAS IN THE CRIMINAL JUSTICE SYSTEM AGAINST VICTIMS FROM MARGINALIZED COMMUNITIES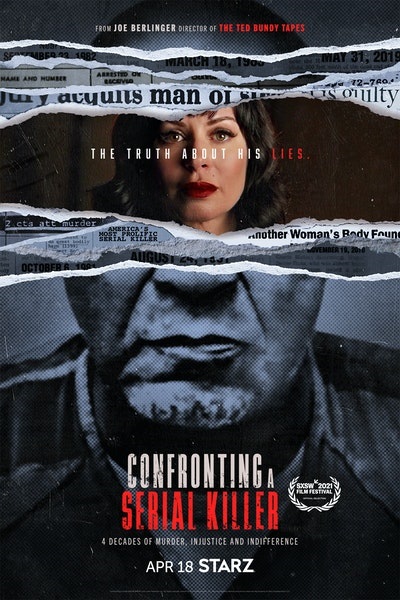 Santa Monica, Calif - Starz announced today that the original docuseries "Confronting a Serial Killer" from Oscar(R)-nominated and Emmy(R)-winning filmmaker Joe Berlinger is set to premiere on Sunday, April 18 on STARZ across all platforms, as well as on STARZ at 9PM ET/PT. Additionally, the network unveiled the official trailer as well as the original key art for the five-episode series. Set to make its world premiere at the annual SXSW Film Festival today, "Confronting a Serial Killer" will also air day and date on the Starzplay international streaming service across Europe, Latin America and Japan.
The five-episode series tells the timely story of the unprecedented relationship between acclaimed New York Times best-selling author and memoirist Jillian Lauren ('Some Girls: My Life in a Harem') and the most prolific serial killer in American history, Samuel Little, and her race against time to identify his victims before it's too late (Little recently died in prison at the age of 80, after having avoided justice for his crimes for decades). Lauren uncovers Little's darkest secrets and aids law enforcement in solving a multitude of cold case murders while struggling to reconcile her own history of addiction and abuse with her present-day mission to return the identities of previously nameless bodies and forgotten women. As she slips deeper into his sordid world, Jillian realizes that she may become, psychologically, Little's last victim.
Through the perspectives of Lauren, as well as several female members of law enforcement, multiple investigators, survivors and victims' family members, "Confronting a Serial Killer" shines a light on systemic issues within the criminal justice system including bias against marginalized communities, particularly women of color, and those struggling with addiction, mental illness, and trauma.
"Confronting a Series Killer" is executive produced and directed by Oscar(R)-nominated and Emmy(R)-winning filmmaker Joe Berlinger (The Paradise Lost Trilogy, Metallica: Some Kind of Monster, "Conversations with a Killer: The Ted Bundy Tapes") with Po Kutchins ("The Murder of Laci Peterson," "Prison Town, USA," "The Circus: Inside the Greatest Political Show on Earth") serving as showrunner and executive producer. Jon Doran and Jon Kamen also serve as executive producers.
Produced by Lionsgate Television, Third Eye Motion Picture Company and RadicalMedia, Senior Vice President, Head of Unscripted Programming Alice Dickens-Koblin is the executive overseeing "Confronting a Serial Killer" on behalf of Starz and Lionsgate.
About Starz
Starz (www.starz.com), a Lionsgate company (NYSE: LGF.A, LGF.B), is the global media company taking the lead in streaming premium content that spotlights a spectrum of women both in front and behind the camera for audiences worldwide. Starz is home to the flagship domestic STARZ(R) service, including STARZ ENCORE, 17 premium pay TV channels and the associated on-demand and online services, as well as the proprietary and highly-rated STARZ app. In 2018, Starz launched its Starzplay international premium streaming platform and, coupled with its Starz Play Arabia venture, has since expanded its global footprint into 50 countries throughout Europe, Latin America, Canada, Japan and India. The essential complement to any subscription platform, STARZ and Starzplay are available across digital OTT platforms and multichannel video distributors, including cable operators, satellite television providers, and telecommunications companies around the world. Starz offers subscribers more than 7,500 distinct premium television episodes and feature films, including STARZ Original series, first-run movies and other popular programming.
About Lionsgate
Combining the STARZ premium global subscription platform with world-class motion picture and television studio operations, Lionsgate (NYSE: LGF.A, LGF.B) brings a unique and varied portfolio of entertainment to consumers around the world. Its film, television, subscription and location-based entertainment businesses are backed by a 17,000-title library and the largest collection of film and television franchises in the independent media space. A digital age company driven by its entrepreneurial culture and commitment to innovation, the Lionsgate brand is synonymous with bold, original, relatable entertainment for the audiences it serves worldwide.
About Third Eye Motion Picture Company
Third Eye Motion Picture Company is Academy Award(R)-nominated and Emmy(R) and Peabody-winning filmmaker Joe Berlinger's film and television development company. Berlinger has been a leading voice in nonfiction film and television for almost three decades, with a particular emphasis on the criminal justice system. Berlinger's films include landmark documentaries such as: Brother's Keeper, a DGA Award-winner that broke new ground with its narrative storytelling techniques; HBO's Paradise Lost trilogy with resulted in the freeing of the wrongly-convicted West Memphis Three after almost two decades in prison; and Some Kind of Monster, an intimate portrait of Metallica that redefined the rockumentary genre, one of seven Berlinger films to premiere at the Sundance Film Festival. In addition to his feature work, Berlinger has created or played pivotal roles as executive producer, director &/or producer of many acclaimed and award-winning television series. Berlinger's passion for using media to bring attention to the issue of wrongful conviction continued with Wrong Man for Starz, which took an in-depth look into six separate cases of alleged wrongful conviction over two seasons. In 2019, Berlinger broke new ground by covering the same subject in scripted and unscripted forms simultaneously with Conversations With a Killer: The Ted Bundy Tapes and Extremely Wicked, Shocking Evil and Vile, which starred Zac Efron as Bundy. Both attracted enormous audiences around the world, with Conversations becoming Netflix's highest-rated nonfiction title in 2019, and Extremely Wicked landing in the top ten of most-streamed titles in any genre for 2019. Berlinger maintained his streak of social justice filmmaking with the Netflix docuseries Jeffrey Epstein: Filthy Rich, a victim-focused look at the sordid life of one of the world's most vile serial pedophiles. The series reached the #1 spot on the network's chart of most-streamed shows or movies across all genres in May of 2020, and, most recently, for Netflix, Crime Scene: The Vanishing at the Cecil Hotel whoch debuted globally as the #1 program on the platform during its first week of release.
About Radical Media
With offices in New York, Los Angeles, London, Berlin, and Shanghai, RadicalMedia is a global media company that creates and produces film, television, music programming, commercials, brand partnerships, interactive design, and digital and immersive experiences for all distribution platforms. In addition to being the production home for Joe Berlinger's work, RadicalMedia is fluent in each and every discipline of storytelling, with Oscar(R), Emmy(R), Peabody(R) and Grammy(R) Award accolades including The Academy Award(R)-winning documentary, The Fog of War; Netflix's first original documentary film, the Oscar-nominated and Emmy-Winning What Happened, Miss Simone?; History Channel's top rated mini series of all time, GRANT; The top streaming film of 2020, Hamilton on Disney+; Hamilton's America; Netflix's Bobby Kennedy for President; and National Geographic's MARS.