BBC AMERICA RELEASES PREMIERE DATE, TRAILER AND KEY ART FOR AN ALL-NEW SEASON OF "TOP GEAR"
Fast-Paced Motor Show Returns to BBC AMERICA and AMC+ on November 23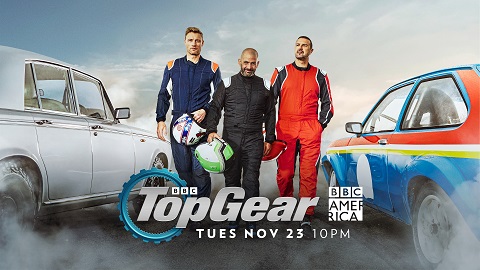 New York, NY - November 1, 2021 - The world's biggest motoring show, Top Gear, returns to BBC AMERICA and AMC+ on Tuesday, November 23 at 10pm ET/9c. In their fifth season at the wheel, hosts Freddie Flintoff, Chris Harris and Paddy McGuinness hit the road again in a series of challenges designed to push them and their cars to the limit.
BBC AMERICA's new trailer, released today, shows a glimpse of the trio at the British Grand Prix, as well as them electric caravanning, going on an international expedition to Iceland, Freddie Flintoff zorbing, and Paddy McGuinness paying tribute to the legendary former stunt performer Eddie Kidd.
Cars featured in the trailer:
· Alfa Romeo Giulia GTAm, McLaren 765LT, Aston Martin V8 Vantage F1 Edition
· Polestar 2 with the Mink caravan, Audi E-tron Sport Back 55 Quattro S-Line with the Opus caravan, Mercedes EQC 400 with the GoPod caravan
· Aston Martin Victor
· Chevrolet Corvette
· DMC DeLorean
· Lamborghini Huracan
· Rolls Royce Dawn
· Vauxhall Chevette
The series is produced by BBC Studios with Clare Pizey and Alex Renton serving as executive producers.
###
About BBC AMERICA
BBC AMERICA (BBCA) is a hub of innovative, culturally contagious programming including the Peabody Award-winning series Killing Eve starring Golden Globe(R) and SAG(R) Award-winner Sandra Oh and Emmy(R) Award-winner Jodie Comer. The network is the definitive television home and co-producer of the most iconic natural history series including Planet Earth II, Blue Planet II, Frozen Planet II and upcoming Dynasties II. BBCA transforms every Saturday into Wonderstruck, a weekly 24-hour destination for wildlife and wonder. A joint venture between AMC Networks and BBC Studios (the commercial arm of the BBC), BBCA's influential series such as Doctor Who, Orphan Black, and Luther have attracted critical acclaim and earned Emmy(R) Awards, Golden Globes(R), Peabody Awards, Critics' Choice Awards, NAACP Image Awards, TCA Awards and more. New programming coming soon includes The Graham Norton Show, The Split, Doctor Who, Dynasties, and more. BBC AMERICA is available across all platforms, including on-air, online, on demand and mobile. Find out more by visiting press.amcnetworks.com.
ABOUT AMC+
AMC+ is the company's new premium subscription bundle featuring an extensive lineup of popular and critically acclaimed original programming from across AMC Networks' entertainment networks and a number of the company's targeted streaming services including Shudder, Sundance Now and IFC Films Unlimited, which feature content such as Riviera, Creepshow, A Discovery of Witches and Boyhood. Currently available to Amazon Prime Video Channels, Apple TV channels, Comcast Xfinity, DISH and Sling TV customers, AMC+ features a continually refreshed new library of commercial-free content, including Mad Men, Orphan Black, Portlandia, The Salisbury Poisonings, Gangs of London, Soulmates and The Walking Dead: World Beyond, among many others.