[11/08/21 - 11:02 AM]
Video: All the Feels! New "Grey's Anatomy" Key Art and Crossover Trailer Now Available
The latest "Station 19"/"Grey's Anatomy" event airs this Thursday, November 11 on ABC.
---
[via press release from ABC]
NEW "GREY'S ANATOMY" KEY ART AND "STATION 19" X "GREY'S ANATOMY" EXPLOSIVE CROSSOVER TRAILER NOW AVAILABLE
'Station 19' and 'Grey's Anatomy' Return With a Must-See Crossover Event Thursday, Nov. 11, Beginning at 8/7c on ABC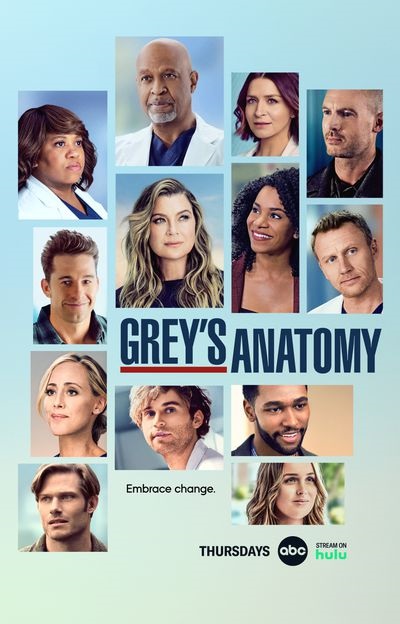 "Things We Lost in the Fire" - When Theo and Vic hit a relationship milestone, Vic is forced to reckon with her feelings about commitment. Andy takes refuge at Dean's home and helps care for Pruitt, while Dean considers a new potential career opportunity. Meanwhile, an explosion rips apart a neighborhood and changes the lives of our firefighters forever in this new episode of "Station 19," airing THURSDAY, NOV. 11 (8:00-9:00 p.m. EST), on ABC.
"Bottle Up and Explode!" - The Grey Sloan doctors spring into action after an explosion rocks Seattle, with the incoming trauma hitting close to home. Owen experiences PTSD after he hears the explosion, while his sister Megan enlists help from Winston and Hayes in confidence. In Minnesota, Meredith and Amelia meet up with a familiar face who assists in their study on an all-new episode of "Grey's Anatomy," THURSDAY, NOV. 11 (9:00-10:01 p.m. EST), on ABC.
Watch episodes on demand and on Hulu the day following their premieres.



[12/01/21 - 11:30 AM]
Video: Prime Video Releases Official Series Trailer for "With Love"
The multi-holiday romantic comedy series, written and created by Gloria Calderón Kellett, follows the Diaz siblings, Lily and Jorge Jr., on a mission to find love and purpose.


[12/01/21 - 03:01 AM]
Video: "The Claus Family 2" - Official Trailer - Netflix
Santa's one job? Deliver presents. But as Jules takes the reins from his Grandpa Noël, he receives a young girl's letter with a special holiday wish.


[11/30/21 - 06:01 PM]
Video: "Bulgasal: Immortal Souls" - Official Trailer - Netflix
Cursed since birth and exempt from death, a revenge-driven immortal sets out on a quest to reclaim his soul and end a 600-year-old vendetta.


[11/30/21 - 01:01 PM]
Video: New Trailer for the Highly Anticipated Fourth Season of "The Real Housewives of Miami" Available Now
The first three episodes will be available on Thursday, December 16, with new episodes available thereafter on Thursdays.


[11/30/21 - 11:59 AM]
Video: Official Trailer and Key Art Released for "And Just Like That...," Debuting December 9
The series will debut with two episodes on Thursday, December 9 while the following eight episodes will premiere weekly on subsequent Thursdays.


[11/30/21 - 09:01 AM]
Video: "Word Party Presents: Math!" Sneak Peek - Netflix Jr
Count numbers, compare shapes, and find patterns with baby animals Franny, Bailey, Kip, Lulu, and Tilly as they use math and sing songs to solve problems.


[11/30/21 - 08:01 AM]
Video: "Selling Tampa" - Official Trailer - Netflix
The agents at the all-female, Black-owned Allure Realty mix business with fun as they rule the waterfront of a hot Tampa luxury real estate market.


[11/30/21 - 07:15 AM]
Video: Peacock Makes First Holiday Delivery This Season with Trailer and Key Art for "The Housewives of the North Pole"
Betsy Brandt, Kyle Richards, Jearnest Corchado, Kyle Selig, Tetona Jackson, Carlos Ponce, Alec Mapa and Damon Dayoub star in the film, due on Thursday, December 9.


[11/30/21 - 07:01 AM]
Video: "Men in Kilts" - Season 2 Announcement - Starz
Your favorite blokes are returning to take you on another extraordinary adventure, this time to New Zealand.


[11/30/21 - 06:00 AM]
Video: Test, Test, Is This Thing On? Prime Video Releases First-Look Teaser of Season Four of "The Marvelous Mrs. Maisel"
The fourth season makes its highly anticipated debut on February 18, 2022, with two new episodes dropping every Friday for four weeks.


[11/29/21 - 04:01 PM]
Video: "The Hungry and the Hairy" - Official Trailer - Netflix
On the motorbike road trip of their dreams, buddies Rain and Ro Hong-chul relax and unwind as they delight in tasty eats and scenic locales around Korea.


[11/29/21 - 11:17 AM]
Video: "Black Market" with Michael K. Williams Premieres Season 2 Trailer
Offering an unflinching look into the lives of people operating in these illegal markets, host Michael K. Williams examines how these shadow economies have evolved since his journeys in the first season of the show.


[11/29/21 - 10:01 AM]
Video: "Nicole Byer: BBW (Big Beautiful Weirdo)" - Official Trailer - Netflix Comedy Special
Karens gone wild. Cat funerals. Trying to hook up during lockdown. Nicole Byer gets delightfully down and dirty in her first Netflix comedy special.


[11/29/21 - 09:17 AM]
Video: "Dead Asleep" - Official Trailer
"Dead Asleep" explores the case of a young man convicted of murdering his roommate... while sleepwalking.


[11/29/21 - 08:01 AM]
Video: "Saturday Morning All Star Hits!" Season 1 - Official Trailer - Netflix
Wildly irreverent and slightly disturbing, twin hosts Skip and Treybor (Kyle Mooney) take us on a trip through the Saturday Morning cartoon experience.