TEASER TRAILER FOR PARAMOUNT+ ORIGINAL SERIES "FATAL ATTRACTION" NOW AVAILABLE
Produced by Paramount Television Studios and Amblin Television, the Series Premieres with Three Episodes on April 30, Exclusively on Paramount+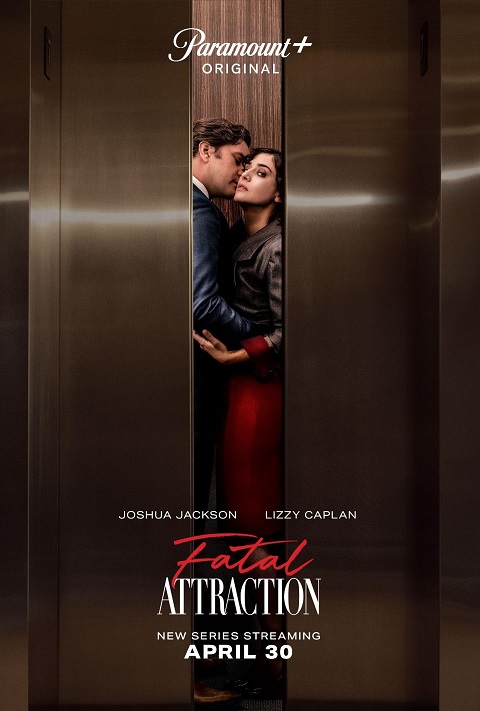 March 1, 2023 - Paramount+ today revealed the official teaser trailer and art for the upcoming original series FATAL ATTRACTION. The series premieres Sunday, April 30 with three episodes exclusively on Paramount+ in the U.S. and Canada. The series will premiere the following day in the U.K., Australia, Latin America, Italy, Germany, Switzerland, Austria and France. The premiere date in South Korea will be announced at a later date. Following the premiere, new episodes of the eight-episode season will be available to stream weekly on Sundays in the U.S. and Canada, and on Mondays in the U.K., Australia, Latin America, Italy, Germany, Switzerland, Austria and France. The final two episodes will be available to stream on Sunday, May 28.
FATAL ATTRACTION is a deep-dive reimagining of the classic psychosexual thriller and '80s cultural touchstone. The new series will explore fatal attraction and the timeless themes of marriage and infidelity through the lens of modern attitudes toward strong women, personality disorders and coercive control.
The series stars Joshua Jackson as Dan Gallagher, Lizzy Caplan as Alex Forrest, Amanda Peet as Beth Gallagher, Alyssa Jirrels as Ellen Gallagher, Toby Huss as Mike Gerard, Reno Wilson as Detective Earl Brooker and Brian Goodman as Arthur Tomlinson.
Alexandra Cunningham ("Dirty John," "Chance") serves as writer, showrunner and executive producer on the series alongside executive producer Kevin J. Hynes ("Perry Mason"), with whom Cunningham shares co-story credit, and executive producers Darryl Frank ("The Americans") and Justin Falvey ("The Americans") for Amblin Television. Silver Tree also serves as executive producer and directed five episodes.
About Paramount+
Paramount+, a direct-to-consumer digital subscription video on-demand and live streaming service, combines live sports, breaking news and a mountain of entertainment. The premium streaming service features an expansive library of original series, hit shows and popular movies across every genre from world-renowned brands and production studios, including BET, CBS, Comedy Central, MTV, Nickelodeon, Paramount Pictures and the Smithsonian Channel. The service is also the streaming home to unmatched sports programming, including every CBS Sports event, from golf to football to basketball and more, plus exclusive streaming rights for major sports properties, including some of the world's biggest and most popular soccer leagues. Paramount+ also enables subscribers to stream local CBS stations live across the U.S. in addition to the ability to stream CBS News Network for 24/7 news and CBS Sports HQ for sports news and analysis. For more information about Paramount+, please visit www.paramountplus.com and follow @ParamountPlus on social platforms.
About Paramount Television Studios
Paramount Television Studios is a leading content studio, developing and financing a wide range of cutting-edge and entertaining television programs across all media platforms for distribution worldwide. The studio's robust slate includes THE OFFER (Paramount+), GREASE: RISE OF THE PINK LADIES (Paramount+), FATAL ATTRACTION (Paramount+), AMERICAN GIGOLO (Showtime),  STATION ELEVEN (HBO Max), SHANTARAM (Apple TV+), TIME BANDITS (Apple TV+), DEFENDING JACOB (Apple TV+), HOME BEFORE DARK (Apple TV+), Tom Clancy's JACK RYAN (Prime Video), REACHER (Prime Video), CROSS (Prime Video), THE SPIDERWICK CHRONICLES (Disney+), JOE PICKETT (Spectrum Originals), THE HAUNTING OF BLY MANOR (Netflix) and THE HAUNTING OF HILL HOUSE (Netflix), among others. Paramount Television Studios is a subsidiary of Paramount (NASDAQ: PARA; PARAA), a global content company with premier television, film, and digital entertainment brands. 
About Amblin Television
Amblin Television, a long-time leader in quality programming, is a division of Amblin Partners, a content creation company led by Steven Spielberg. Amblin Television's Presidents, Darryl Frank and Justin Falvey, oversee all development, production and programming for the company. Amblin Television currently has fourteen projects in various stages of production and release, including Fatal Attraction and Halo for Paramount+, Masters of the Air for Apple, the third season of Animaniacs for Hulu, season three of Resident Alien for SYFY, season two of Billy the Kid for MGM+, two seasons of Gremlins: Secrets of the Mogwai for HBO Max, two seasons of Tiny Toons Looniversity for HBO Max and Cartoon Network, and the documentaries Good Night Oppy for Amazon Prime Video, and Life on Our Planet and Big Vape for Netflix. Amblin Television also produced the Emmy, Golden Globe and Peabody Award-winning drama The Americans for FX, the Golden Globe-nominated and double Emmy Award-winning mini-series Into the West for TNT, Emmy-winning documentary series Why We Hate for Discover, the Emmy-nominated HBO movie All The Way starring Bryan Cranston, Smash for NBC, Under the Dome for CBS, Falling Skies for TNT, The Borgias and The United States of Tara for Showtime, and Las Vegas for NBC. www.amblin.com
#FatalAttraction Twitter: @FatalAttraction, @ParamountPlus, @ParamountTVS, @amblin Instagram/Facebook: @FatalAttraction, @ParamountPlus, @ParamountTelevisionStudios, @amblin