SLIP | Official Trailer | The Roku Channel
Restless in her marriage, SLIP - starring Zoe Lister-Jones - follows Mae through a surreal journey of parallel universes, married to different people, trying to find a way back to her partner, and ultimately, herself.
**Official Selection at SXSW 2023 - TV Premieres**
First Season Available on The Roku Channel April 21, 2023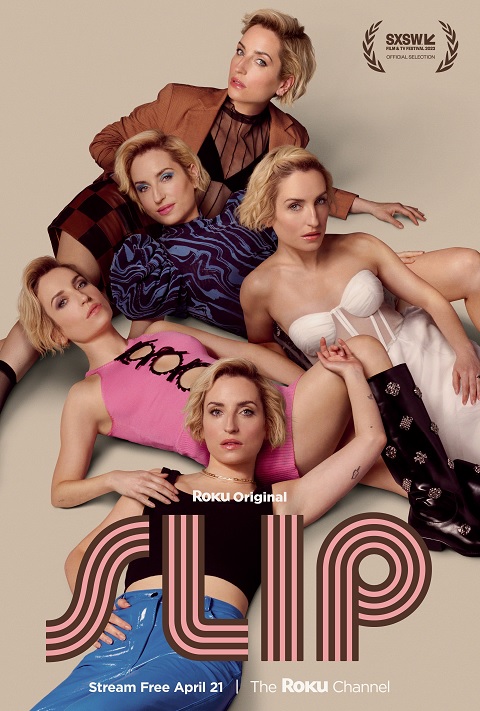 Director/Writer: Zoe Lister-Jones
Executive Producers: Zoe Lister-Jones, Ro Donnelly, Dakota Johnson, Katie O'Connell Marsh, Ivan Schneeberg, and David Fortier
Producers: Karen Harnisch
Production Partners: Boat Rocker and TeaTime Pictures
Cast: Zoe Lister-Jones, Tymika Tafari, Whitmer Thomas, Amar Chadha-Patel, Emily Hampshire
Mae is restless in a life and marriage that works. There is love between her and her husband, but little romance. When Mae "slips" and has a one-night stand with Eric, a handsome man she meets at a bar, she wakes up the next morning in a panic, only to realize she's entered a parallel universe in which she and Eric are married. This is the start of her surreal journey as she slips into other realities and relationships, trying to find a way back to her husband, and ultimately, herself.
Stream The Roku Channel for FREE on Roku devices, the Web, iOS and Android devices, Amazon Fire TV and select Samsung TVs. No subscription required.
About Roku
Roku pioneered streaming to the TV. We connect users to the streaming content they love, enable content publishers to build and monetize large audiences, and provide advertisers with unique capabilities to engage consumers. Roku streaming players and TV-related audio devices are available in the U.S. and in select countries through direct retail sales and licensing arrangements with service operators. Roku TV(TM) models are available in the U.S. and in select countries through licensing arrangements with TV OEM brands. Roku Smart Home products, including cameras, video doorbells, lighting, plugs, and more are available in the U.S. Roku is headquartered in San Jose, California U.S.A.
*According to Nielsen.