SHOWTIME(R) RELEASES THE OFFICIAL TRAILER AND KEY ART FOR "THE CAINE MUTINY COURT-MARTIAL," WRITTEN AND DIRECTED BY OSCAR(R)-WINNING FILMMAKER WILLIAM FRIEDKIN IN HIS FINAL FILM
THE CAINE MUTINY COURT-MARTIAL Will Launch October 6, On Streaming and On Demand for All Paramount+ with SHOWTIME Subscribers, Before Making Its On-Air Debut on SHOWTIME October 8 at 9 p.m. ET/PT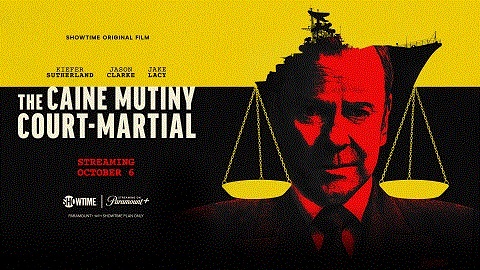 September 21, 2023 - SHOWTIME today released the official trailer and key art for the highly anticipated original film THE CAINE MUTINY COURT-MARTIAL, written and directed by Academy Award(R)-celebrated filmmaker William Friedkin and based on the Pulitzer Prize-winning novel by Herman Wouk of the same name. The captivating film follows a U.S. naval first officer who's standing trial for orchestrating a mutiny after his captain shows signs of becoming unhinged and jeopardizes the lives of his crew. Following the film's premiere at the 80th Venice International Film Festival, THE CAINE MUTINY COURT-MARTIAL, will premiere on streaming and on demand for all SHOWTIME and Paramount+ with SHOWTIME subscribers on Friday, October 6, before making its on-air debut on SHOWTIME on Sunday, October 8, at 9 p.m. ET/PT.
THE CAINE MUTINY COURT-MARTIAL is set to premiere on Paramount+ in all international markets where the streaming service is currently live, including the UK, Canada, Latin America, the Caribbean, Australia, France, Italy, Ireland, Germany, Switzerland, Austria and South Korea.
Featuring an outstanding ensemble cast, THE CAINE MUTINY COURT-MARTIAL stars Kiefer Sutherland (24), Jason Clarke (Oppenheimer), Jake Lacy (White Lotus), Monica Raymund (Chicago Fire), Lewis Pullman (Top Gun: Maverick), Jay Duplass (Transparent), Tom Riley (The Nevers) and Lance Reddick (John Wick).
At the start of a naval court-martial, Barney Greenwald (Clarke), a skeptical naval lawyer, reluctantly agrees to defend Lt. Steve Maryk (Lacy), a first officer of the Navy who took control of the U.S.S. CAINE from its domineering captain Lt. Philip Francis Queeg (Sutherland) during a violent sea storm in unfriendly waters. As the trial progresses, Greenwald becomes increasingly concerned and questions if the events aboard the Caine were deemed a true mutiny or simply the courageous acts of a group of sailors who did not trust their unstable leader.
The Republic Pictures feature, THE CAINE MUTINY COURT-MARTIAL, is a film by William Friedkin (The French Connection, The Exorcist) and based on the play by Herman Wouk. Written and directed by Friedkin, the film is produced by Annabelle Dunne (Joan Didion: The Center Will Not Hold, Everything Is Copy and Fake Famous) and Matt Parker (Beasts of the Southern Wild) with Michael Salven (Dungeons & Dragons: Honor Among Thieves) and Mike Upton (John Wick) serving as executive producers. The film is distributed by Paramount Global Content Distribution.
Editor's Note: The film, THE CAINE MUTINY COURT-MARTIAL, was completed prior to William Friedkin's passing on August 7, 2023.
About Paramount+
Paramount+, a direct-to-consumer digital subscription video on-demand and live streaming service, combines live sports, breaking news and A Mountain of Entertainment(TM). The premium streaming service features an expansive library of original series, hit shows and popular movies across every genre from world-renowned brands and production studios, including BET, CBS, Comedy Central, MTV, Nickelodeon, Paramount Pictures and the Smithsonian Channel. Paramount+ with SHOWTIME, the service's cornerstone plan, is also home to SHOWTIME(R) content, including scripted hits, critically acclaimed nonfiction projects, SHOWTIME SPORTS(R) (including industry-leading SHOWTIME BOXING(R)) and films. This premium plan includes unmatched events and sports programming through the local live CBS stream, including golf, basketball and more, plus streaming access to CBS News Network for 24/7 news and CBS Sports HQ for sports news and analysis.
About Republic Pictures
The Republic Pictures label, originally founded in 1935, has been newly revitalized as an acquisition label that leverages Paramount Global's vast worldwide distribution channels, across home entertainment, streaming, television and other distribution platforms, to distribute a wide range of acquired films. Republic Pictures is an acquisition-only label under Paramount Pictures.