MGM+
PRESENTS
New Trailer and Key Art Available For Science-Fiction Thriller Beacon 23
Produced by Boat Rocker and based on the best-selling book by Hugh Howey, the series stars Emmy nominee Lena Headey ("Game of Thrones") and Emmy and Golden Globe Nominee Stephan James ("Homecoming")
The series is set to premiere on MGM+ on Sunday, November 12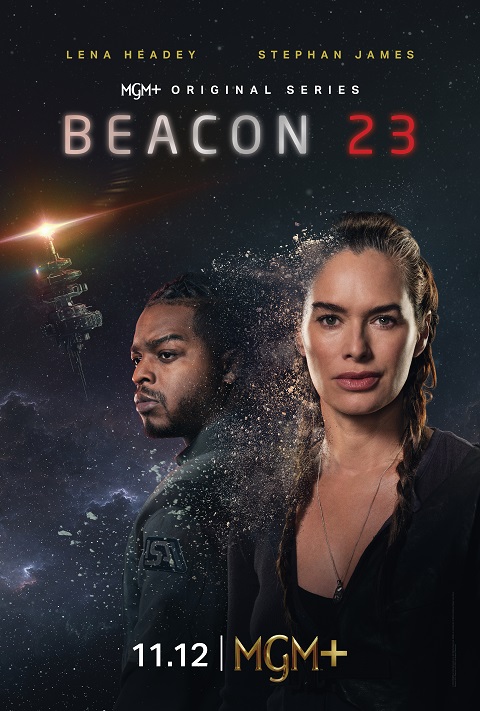 Beacon 23 takes place in the farthest reaches of the Milky Way and follows Aster (Lena Headey), a government agent, and Halan (Stephan James), a stoic ex-military man, whose fates become entangled after they find themselves trapped together inside one of many Beacons that serve as a lighthouse for intergalactic travelers. Every Beacon is run by one highly trained human and a specialized Artificial Intelligence. Aster mysteriously finds her way to the lonely Beacon-keeper Halan, and a tense battle of wills unfolds. Halan begins to question whether Aster is friend or foe, as her ability to disguise her agenda and motives could make her a formidable opponent.
Science-fiction mystery thriller and love story Beacon 23 is based on the best-selling book by Hugh Howey. Produced by Boat Rocker, the global series premiere is scheduled to debut on Sunday, November 12 on MGM+ at 9:00 p.m. EST/PST with the first two of eight episodes. Zak Penn (Ready Player One, Free Guy) created the series, and executive produced along with Glen Mazzara (The Walking Dead, The Shield).
Produced by Boat Rocker, Zak Penn and Glen Mazzara served as executive producers alongside David Fortier, Ivan Schneeberg, James Middleton, Nick Nantell, Tina Thor, Katie O'Connell Marsh, Elisa Ellis, Liz Varner, Ira Steven Behr, Daniel Percival, Joy Blake, Lena Headey, and Stephan James.
Boat Rocker oversees global distribution and licensing for Beacon 23.
About Boat Rocker
Boat Rocker is the home for creative visionaries. An independent, integrated global entertainment company, our purpose is to tell stories and build iconic brands across all genres and mediums. With offices around the world, Boat Rocker's creative and commercial capabilities include Scripted, Unscripted, and Kids and Family television production, distribution, brand & franchise management, a world-class animation studio, and talent management through Untitled Entertainment. A selection of Boat Rocker's projects include: Invasion (Apple TV+), Pretty Baby: Brooke Shields (Hulu), Slip (Roku), Downey's Dream Cars (Max), Orphan Black (BBC AMERICA, CTV Sci-Fi Channel), Dear... (Apple TV+), Billie Eilish: The World's a Little Blurry (Apple TV+), The Next Step (BBC, Corus, CBC), Daniel Spellbound (Netflix), and Dino Ranch (Disney+, Disney Junior, CBC). For more information, please visit www.boatrocker.com.
About MGM+
MGM+, an Amazon company, is a premium linear channel and streaming service delivering a broad lineup of quality original series and docuseries, the latest movie releases, and classic film franchises - all available in the U.S. on TV, on-demand, online, and across devices. MGM+ is a destination for original premium content, with original series including sci-fi horror series FROM; Emmy-winning series Godfather of Harlem; the Western adventure Billy the Kid; and cinematic dramatic and limited series including The Winter King, Beacon 23, A Spy Among Friends, War of the Worlds, Rogue Heroes, and Belgravia. The network is also the home of acclaimed docuseries, including Emmy-nominated Laurel Canyon, My Life as a Rolling Stone, NFL Icons, and San Francisco Sounds: A Place in Time. Premium movies are also available, including Top Gun: Maverick, No Time to Die, Creed 3, House of Gucci, Sonic the Hedgehog 2, Till, and Smile.
With thousands of titles available for streaming, MGM+ is available nationwide through cable, telco, satellite, emerging digital distribution channels, its MGM+ app, and all new Fire TV device purchases come with a six-month MGM+ subscription courtesy of Amazon. For more information about the current MGM+ lineup, go to www.mgmplus.com or follow on X, Instagram, Facebook, TikTok, and YouTube.