BATTLE LINES ARE DRAWN BETWEEN RAQ & KANAN IN THE SEASON THREE KEY ART AND TRAILER FOR STARZ'S "POWER BOOK III: RAISING KANAN"
Prestige Family Crime Drama Starring Tony(R) Award Winner Patina Miller and MeKai Curtis Returns on December 1 on STARZ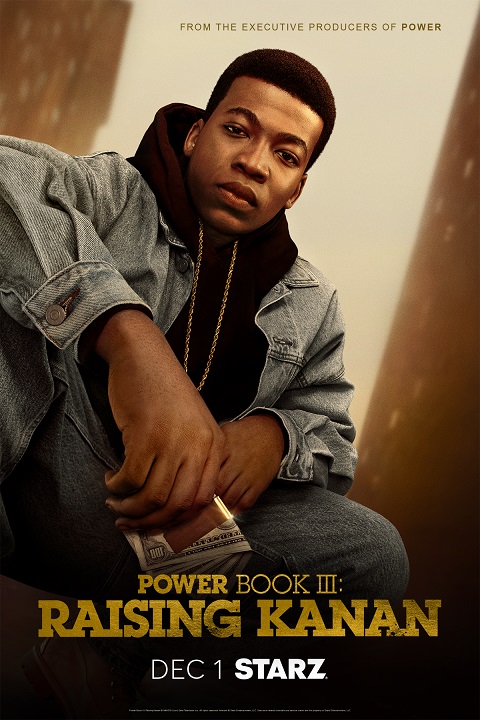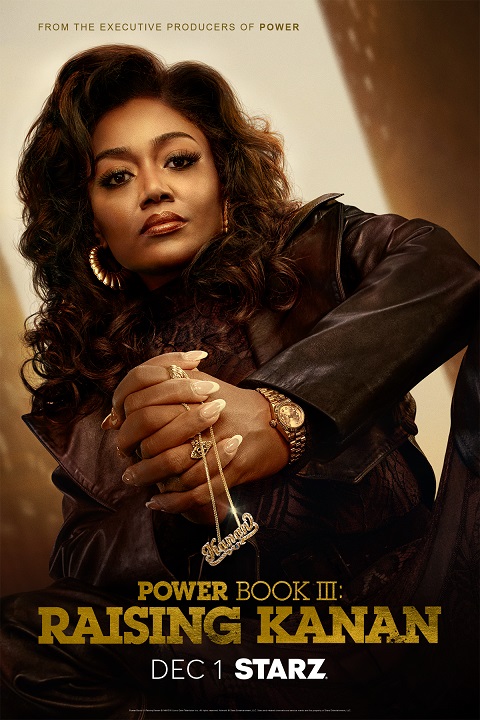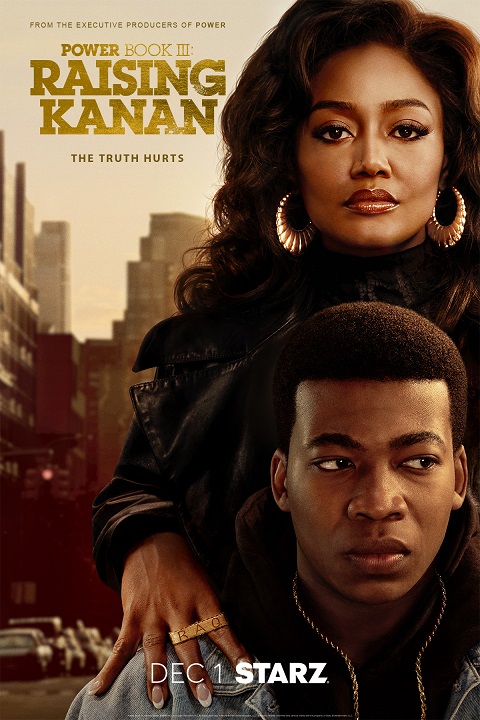 Santa Monica, Calif. - October 26, 2023 - STARZ released today the official trailer, character art and key art for the highly anticipated third season of "Power Book III: Raising Kanan," set to return December 1. This season continues to tell the origin story of fan-favorite character Kanan Stark (MeKai Curtis), originally played by 50 Cent in the flagship series, delving further into his evolution from the devoted son of Raquel "Raq" Thomas (Patina Miller) into the eventual ferocious, amoral and pragmatic personality fans know from "Power." New episodes of "Power Book III: Raising Kanan'' will be available weekly on Fridays at midnight ET on the STARZ app, all STARZ streaming and on-demand platforms. On linear, it will debut on STARZ at 8:00 p.m. ET/PT in the U.S. and Canada.
Season three picks up where we left off, in Southside Jamaica Queens with the Thomas family in turmoil and reeling from the Mob's coordinated attack on Raquel, Marvin and Lou-Lou. After her close call, Raquel is looking to make a fresh start, but Kanan doesn't trust her or believe it when she says she's done. Can she really be out of the game? As the trailer claims, the truth is a lie, and Kanan's been burned before. The trailer also shows the return of Italian mob boss Stefano (Tony Danza) and introduces new adversaries "Snaps" and "Pop" (Wendell Pierce and Erika Woods.)
Over the last two seasons of "Raising Kanan," Kanan Stark has slowly learned the truth about not only his mother, but also himself. It has been a tortuous journey for him and everyone around him. With each new revelation, Kanan has been forced to confront his family's seemingly never-ending web of secrets and lies. He has spent much of this time in a state of denial, but now, Kanan's blinders are finally off, and he doesn't like what he sees. In season three, Kanan finds himself grappling with the very notions of right and wrong. Good and evil. Fidelity and disloyalty. And he's not alone. Every member of the Thomas family must confront an existential crisis that challenges their very identity. Whether it's Marvin, who's still trying to redeem himself, or Raq, who's finally coming clean, or Lou, who's wrestling with his own evil, or Jukebox, who's simply trying to break free from her family's pathology, they are all attempting to redefine and reinvent themselves. They won't all be able to complete this intensely personal quest, but for those who do, the destination may reveal the most terrifying secret of all. There is no right and wrong or good and evil. There are no absolutes. In the end, there's just you.
In addition to Miller, Curtis, Danza, Pierce and Woods, "Power Book III: Raising Kanan" stars Omar Epps as "Detective Malcolm Howard," London Brown as "Marvin Thomas," Malcolm Mays as "Lou-Lou Thomas," Hailey Kilgore as "Jukebox," Joey Bada$$ as "Unique," Shanley Caswell as "Detective Burke" and Antonio Ortiz as "Famous," with Grantham Coleman joining the cast as "Ronnie" this season.
"Power Book III: Raising Kanan" is the second series in the expanded "Power" Universe franchise. Sascha Penn serves as showrunner and executive producer for season three. The "Power" Universe series is executive produced by the creator and showrunner of the original "Power," Courtney A. Kemp through her production company End of Episode, Curtis "50 Cent" Jackson through G-Unit Film and Television, and Mark Canton through Atmosphere Entertainment MM. Chris Selak, Kevin Fox, Santa Sierra, and Tash Grey also serve as executive producers. Lionsgate Television produces the series for STARZ.
Follow "Power Book III: Raising Kanan" on Social Twitter: @RaisingKanan Instagram: @RaisingKananStarz Facebook: @RaisingKanan Join the conversation with #RAISINGKANAN and #STARZ
About STARZ
STARZ (www.starz.com), a Lionsgate company, is a leading global media streaming platform committed to delivering premium content that amplifies narratives by, about and for women and underrepresented audiences. STARZ is home to the highly rated and first-of-its-kind STARZ app that offers the ability to stream or download STARZ premium content, as well as the flagship domestic STARZ(R) service, including STARZ ENCORE, 17 premium pay TV channels, and the associated on-demand and online services. In 2018, STARZ launched its international premium streaming platform STARZPLAY, now LIONSGATE+, to provide subscribers access to bold, curated storytelling. LIONSGATE+, coupled with the STARZPLAY ARABIA joint venture in MENA and Lionsgate Play in South and Southeast Asia, has a footprint that extends across the globe. STARZ and LIONSGATE+ are available across digital OTT platforms and multichannel video distributors, including cable operators, satellite television providers, and telecommunications companies around the world. In February 2021, STARZ launched #TakeTheLead, a multi-faceted and innovative inclusion initiative expanding its existing efforts to improve representation on screen, behind the camera and throughout the company.
About Lionsgate
Lionsgate (NYSE: LGF.A, LGF.B) encompasses world-class motion picture and television studio operations aligned with the STARZ premium global subscription platform to bring a unique and varied portfolio of entertainment to consumers around the world. The Company's film, television, subscription and location-based entertainment businesses are backed by an 18,000-title library and a valuable collection of iconic film and television franchises. A digital age company driven by its entrepreneurial culture and commitment to innovation, the Lionsgate brand is synonymous with bold, original, relatable entertainment for audiences worldwide.