FUSE REVEALS SEASON THREE TRAILER AND PREMIERE DATE FOR HIT ORIGINAL SERIES "SEX SELLS," SPOTLIGHTING ENTREPRENEURS WHO ARE BUILDING EMPIRES BY ENHANCING SEXUAL HEALTH AND POSITIVITY
Fuse's #1 Original Series "Sex Sells" premieres Wednesday, November 29 at 10:00 PM ET/PT on Fuse and Fuse+, followed by new episodes each week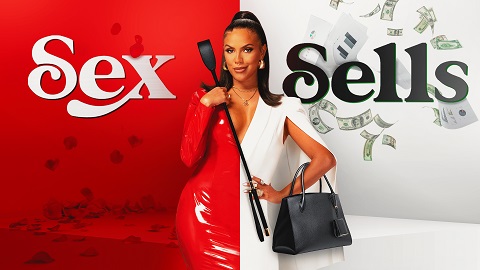 New York, October 30 - Fuse Media revealed the official trailer and premiere date for the new season of its wildly popular #1 original series Sex Sells, which returns Wednesday, November 29 at 10:00 pm ET/PT on Fuse and Fuse+. Hosted by former tech professional-turned podcaster and sex positivity advocate Weezy, Sex Sells celebrates the entrepreneurs and industry leaders in sexual health and wellness while exploring just how these independent business owners are creating success.
In season three, Weezy gets down to business with the creator of a leading AI sex toy, a celebrity sex tape broker, a burlesque costume designer, a surrogate partner, an intimacy coach, and more, to give viewers an honest and unfiltered look at what goes into running these lucrative sex-positive companies across America. From overhead costs, to growing memberships, to pricing out services, Sex Sells is a crash course lesson in business. And, in a special finale episode, Weezy heads to Paris to see how "The City of Lights" illuminates local entrepreneurs' paths to success while promoting sexual health and positivity.
Sex Sells is produced by Fuse Studios. Catch up on previous episodes of Sex Sells on Fuse+.
ABOUT FUSE MEDIA:
Fuse Media is a Latino-owned, global entertainment company, and the leader in creating and distributing inclusive, purpose-driven stories and experiences for and with culturally diverse young adults. With a portfolio of award-winning original content and a growing global footprint, Fuse Media strives to authentically reflect the world of its young and diverse audience, pioneering a multicultural and creative destination. The Fuse Media family includes linear channels Fuse and FM (Fuse Music); subscription streaming service Fuse+; a rapidly growing suite of internationally distributed DEI-focused FAST Channels; Fuse Studios, its in-house production arm; Ignition Studios, a specialized production company defining the future of inclusive content; as well as a growing branded content and live events business. To learn more, visit FuseMedia.com.