[07/17/13 - 10:21 AM]
CBS Presents a Sneak Peek of the Key Art for Its New Fall 15-Episode Thriller "Hostages"
The Jerry Bruckheimer-produced drama premieres Monday, September 23 at 10:00/9:00c.
---
[via press release from CBS]
CBS PRESENTS A SNEAK PEEK OF THE KEY ART FOR ITS NEW FALL 15-EPISODE THRILLER "HOSTAGES"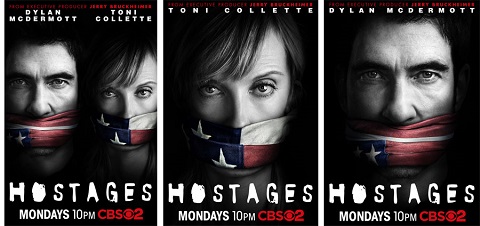 CBS has released a sneak peek of the key art designs for the Network's new fall 15-episode thriller HOSTAGES. The designs will be featured at Comic-Con this week and will begin appearing in print, online and outdoor later this summer.
HOSTAGES, from executive producer Jerry Bruckheimer, to premiere Monday, Sept. 23 (10:00-11:00 PM, ET/PT), is a high-octane suspense drama starring Emmy Award winner Toni Collette as a premiere surgeon thrust into a chilling political conspiracy when her family is taken hostage by rogue FBI agent Duncan Carlisle (Dylan McDermott). Dr. Ellen Sanders and her family are held captive in their home by Carlisle, a desperate man doing the wrong thing for the right reasons, who orders her to assassinate the President when she operates on him.
The print designs feature Collette and McDermott in one version together and in two alternate versions, individually.




[07/07/15 - 11:05 AM]
All Six Principal Voice Performers Will Return for the Historic 27th and 28th Seasons of "The Simpsons"
Dan Castellaneta, Julie Kavner, Nancy Cartwright, Yeardley Smith, Hank Azaria and Harry Shearer are all due back.


[07/07/15 - 09:42 AM]
USA Network Orders Fourth Season of Hit Reality Series "Chrisley Knows Best"
The network will soon start production on two previously announced Chrisley pilots including a nighttime talk show hosted by Todd Chrisley from Embassy Row and a spin-off pilot with series partner Maverick TV.


[07/07/15 - 09:12 AM]
Netflix Kicks Off Original Film Initiative with Cary Fukunaga's "Beasts of No Nation," Premiering in All Netflix Territories and Select Theaters on October 16, 2015
Other upcoming titles include "The Ridiculous Six," "Crouching Tiger, Hidden Dragon: The Green Legend" and "Pee-wee's Big Holiday."


[07/07/15 - 08:45 AM]
Showtime(R) Service Is Available Now Over the Internet
The service is available as a stand-alone streaming service on Apple TV(R), iPhone(R), iPad(R), iPod touch(R) and the Roku streaming platform, and consumers can subscribe to the service for one monthly price of $10.99.


[07/07/15 - 08:44 AM]
Monday's Broadcast Ratings: "The Bachelorette" Sparks Victory for ABC
The Alphabet wins the night in both total viewers and adults 18-49.


[07/07/15 - 08:31 AM]
Comedy Central Renews Multiplatform Late-Night Hit Series "@midnight with Chris Hardwick" for Third Season
The third season order of "@midnight," produced by Funny Or Die, is a 40-week run that will air throughout 2016.


[07/07/15 - 08:22 AM]
Alton Brown Brings "Cutthroat Kitchen" to the Great Outdoors in Special Summer Series "Camp Cutthroat"
The primetime tournament begins on Wednesday, August 12 at 9pm ET/PT (all times ET/PT), leading up to a final showdown between the four winners on Wednesday, September.


[07/07/15 - 08:06 AM]
SundanceTV Releases Serial-Inspired Podcast, "Rectify: The Case Against"
Written by Kate Powers, the podcast provides a stirring narrative of the first two seasons of 16 episodes, recapping what we know about Daniel Holden's case.


[07/07/15 - 08:00 AM]
E! Brings Pop Culture Fans Unprecedented Coverage of San Diego Comic-Con
Join E! in celebrating the fandemonium with a front row seat to the main event on-air, online and on social beginning Wednesday, July 8 through Sunday, July 12.


[07/07/15 - 06:00 AM]
Introducing the "WAGS" (Wives and Girlfriends of Sports Stars) from E!'s New Series Premiering Tuesday, August 18th at 10:00PM ET/PT
As part of an elite, exclusive group, the WAGS are close friends who are bound together by a strict hierarchy, unspoken rules and plenty of drama - and those who have the coveted ring and a husband with a contract are the ones with all the power!


[07/06/15 - 03:46 PM]
Marvel & ESPN Films Premiere Short Film Series Beginning July 10
All eight films will have a television premiere and will also be released on the ESPN 30 for 30 Facebook page the same day.


[07/06/15 - 03:35 PM]
National Geographic Channel Announces Cast of Four-Hour Movie Event "Saints & Strangers"
Vincent Kartheiser, Anna Camp, Ron Livingston, Barry Sloane, Ray Stevenson and Natascha McElhone are among the ensemble cast members.


[07/06/15 - 02:20 PM]
Investigation Discovery Closes Out First Half of 2015 Celebrating Best 2nd Quarter and Best June Ever in Prime and Total Day
Investigation Discovery spins the numbers for the second quarter of 2015.


[07/06/15 - 01:37 PM]
Lifetime Renews Critically Acclaimed Drama "UnREAL" for Second Season
Airing on Mondays at 10:00/9:00c, "UnREAL" is Lifetime's youngest scripted series ever, with a median age of 43.


[07/06/15 - 01:20 PM]
Staggering 25.4 Million Witness USA Defeat Japan to Win Coveted FIFA Women's World Cup 2015 Title
FOX Sports spins the numbers for Sunday, July 5.