CBS PRESENTS A SNEAK PEEK OF THE KEY ART FOR ITS NEW FALL 15-EPISODE THRILLER "HOSTAGES"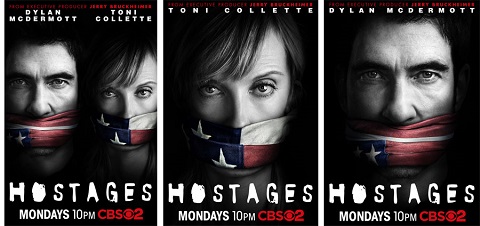 CBS has released a sneak peek of the key art designs for the Network's new fall 15-episode thriller HOSTAGES. The designs will be featured at Comic-Con this week and will begin appearing in print, online and outdoor later this summer.
HOSTAGES, from executive producer Jerry Bruckheimer, to premiere Monday, Sept. 23 (10:00-11:00 PM, ET/PT), is a high-octane suspense drama starring Emmy Award winner Toni Collette as a premiere surgeon thrust into a chilling political conspiracy when her family is taken hostage by rogue FBI agent Duncan Carlisle (Dylan McDermott). Dr. Ellen Sanders and her family are held captive in their home by Carlisle, a desperate man doing the wrong thing for the right reasons, who orders her to assassinate the President when she operates on him.
The print designs feature Collette and McDermott in one version together and in two alternate versions, individually.