[07/17/13 - 10:21 AM]
CBS Presents a Sneak Peek of the Key Art for Its New Fall 15-Episode Thriller "Hostages"
The Jerry Bruckheimer-produced drama premieres Monday, September 23 at 10:00/9:00c.
---
[via press release from CBS]
CBS PRESENTS A SNEAK PEEK OF THE KEY ART FOR ITS NEW FALL 15-EPISODE THRILLER "HOSTAGES"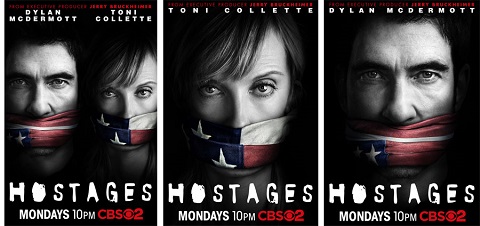 CBS has released a sneak peek of the key art designs for the Network's new fall 15-episode thriller HOSTAGES. The designs will be featured at Comic-Con this week and will begin appearing in print, online and outdoor later this summer.
HOSTAGES, from executive producer Jerry Bruckheimer, to premiere Monday, Sept. 23 (10:00-11:00 PM, ET/PT), is a high-octane suspense drama starring Emmy Award winner Toni Collette as a premiere surgeon thrust into a chilling political conspiracy when her family is taken hostage by rogue FBI agent Duncan Carlisle (Dylan McDermott). Dr. Ellen Sanders and her family are held captive in their home by Carlisle, a desperate man doing the wrong thing for the right reasons, who orders her to assassinate the President when she operates on him.
The print designs feature Collette and McDermott in one version together and in two alternate versions, individually.




[04/27/15 - 08:33 AM]
Sunday's Broadcast Ratings: ABC Tops Demos with "Once Upon a Time," "Secrets & Lies"
The latter surges to a series high among adults 18-49.


[04/26/15 - 02:01 PM]
HBO Sports Is the Fight Fan's Destination for Mayweather-Pacquiao
The blockbuster welterweight unification title showdown is set for Saturday, May 2 from the MGM Grand Garden Arena in Las Vegas.


[04/26/15 - 08:46 AM]
Saturday's Broadcast Ratings: NBC Tops Demos with NHL Playoffs
CBS then is the most-watched broadcast network last night.


[04/26/15 - 08:40 AM]
Encore Telecast of "Saturday Night Live," With Host Chris Hemsworth, Is Its Top Rebroadcast Since February 21
NBC spins the numbers for Saturday, April 25.


[04/25/15 - 06:00 PM]
Ariana Grande, Fifth Harmony and Becky G Among Top Winners at the 2015 Radio Disney Music Awards
"Disney Channel Presents the Radio Disney Music Awards" airs tomorrow night, Sunday, April 26 at 8:00/7:00c on Disney Channel.


[04/25/15 - 08:42 AM]
"Grimm" Is Steady Week to Week in Adults 18-49, Grows in Men and Women 18-49, Adults, Men and Women 25-54 and Total Viewers
NBC spins the numbers for Friday, April 24.


[04/25/15 - 08:40 AM]
"20/20: Bruce Jenner - The Interview" Draws 16.9 Million on Friday - Biggest "20/20" in 15 Years
ABC spins the numbers for Friday, April 24.


[04/25/15 - 08:33 AM]
Friday's Broadcast Ratings: "Bruce Jenner - The Interview" Posts Big Numbers for ABC
Nearly 17 million viewers on average tune into the two-hour special.


[04/24/15 - 11:33 PM]
Development Update: Friday, April 24
Updates include: Brooklyn Sudano joins Hulu's "11/22/63"; Disney Channel adds trio to "Jessie" spin-off; and Danielle Sanchez-Witzel to run NBC's "The Carmichael Show."


[04/24/15 - 07:43 PM]
E! Announces New Documentary Series Following Bruce Jenner's Life as a Transgender Woman
The eight-part, one-hour series will premiere Sunday, July 26 at 9:00pm on E! and will also air on the E! channels internationally.


[04/24/15 - 04:25 PM]
Oscar(R) Nominee and Multiple Tony(R) Winner Frank Langella to Return to FX's Peabody Award-Winning Drama "The Americans"
Langella will reprise his role as "Gabriel," Philip and Elizabeth's mysterious KGB handler.


[04/24/15 - 03:05 PM]
Whipclip Teams Up with Pop to Offer Fans Easy Access to Create and Share Video Clips from Network's Original Programming Line-Up
Using Whipclip, viewers can create customized clips of their favorite moments and share them instantly on Facebook, Twitter, Tumblr, Pinterest and via email and SMS.


[04/24/15 - 12:48 PM]
Discovery Channel Renews Hit-Series "Deadliest Catch" for Twelfth Season
From Original Productions, the 13-time Emmy Award-winning series follows the real-life adventures of Alaskan fisherman with one of the most dangerous jobs in the world - crab fishing on the unpredictable Bering Sea.


[04/24/15 - 12:43 PM]
FOX Sports 1 Presents First Ever "U.S. Open Media Day Special"
Originating from the United States Golf Association's Media Day at Chambers Bay, the program, recorded earlier in the day, airs in primetime Monday, April 27, (9:30 PM ET) on FOX Sports 1.


[04/24/15 - 12:32 PM]
Discovery Channel Grabs #1 in Both Persons 25-54 and Persons 18-49 on Cable for the Week
Discovery spins the numbers for the week of April 13-19.