[07/17/13 - 10:21 AM]
CBS Presents a Sneak Peek of the Key Art for Its New Fall 15-Episode Thriller "Hostages"
The Jerry Bruckheimer-produced drama premieres Monday, September 23 at 10:00/9:00c.
---
[via press release from CBS]
CBS PRESENTS A SNEAK PEEK OF THE KEY ART FOR ITS NEW FALL 15-EPISODE THRILLER "HOSTAGES"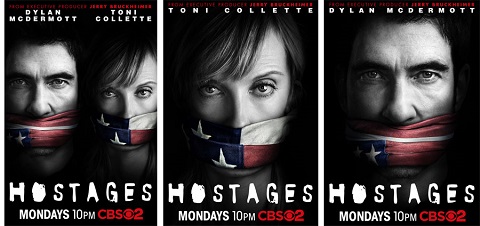 CBS has released a sneak peek of the key art designs for the Network's new fall 15-episode thriller HOSTAGES. The designs will be featured at Comic-Con this week and will begin appearing in print, online and outdoor later this summer.
HOSTAGES, from executive producer Jerry Bruckheimer, to premiere Monday, Sept. 23 (10:00-11:00 PM, ET/PT), is a high-octane suspense drama starring Emmy Award winner Toni Collette as a premiere surgeon thrust into a chilling political conspiracy when her family is taken hostage by rogue FBI agent Duncan Carlisle (Dylan McDermott). Dr. Ellen Sanders and her family are held captive in their home by Carlisle, a desperate man doing the wrong thing for the right reasons, who orders her to assassinate the President when she operates on him.
The print designs feature Collette and McDermott in one version together and in two alternate versions, individually.




[02/20/17 - 08:37 AM]
Sunday's Broadcast Ratings: ABC Wins Low Key Night in Demos
The Alphabet wins the evening among adults 18-49 with a modest 0.9 average rating.


[02/19/17 - 08:07 PM]
Upcoming Episodes of "Big Little Lies," "Girls," "Crashing" Available for Early Streaming Next Friday
HBO's originals will be available in advance of Sunday's telecast against the Oscars.


[02/19/17 - 04:18 PM]
BBC America Announces "Blue Planet II" - Successor to Nature Series Phenomenon "Planet Earth II"
This brand new seven-part landmark nature series exploring the world's oceans, will be presented by world renowned broadcaster and naturalist Sir David Attenborough.


[02/19/17 - 08:32 AM]
Saturday's Broadcast Ratings: NBC Wins Race in Total Viewers, Adults 18-49
The Peacock's "SNL Vintage" tops the night in the key demographic.


[02/18/17 - 08:25 AM]
Friday's Broadcast Ratings: CBS Tops Both Viewers, Demos
The Eye's "Blue Bloods" leads the night in each category.


[02/17/17 - 03:05 PM]
ABC Counts Down to Oscar(R) Sunday from Morning till Night with Special Episodes of "Jimmy Kimmel Live," "Speechless," "Good Morning America" and "The Chew," Beginning Monday, February 20
On "Speechless": When the Dimeos throw their annual Oscar party with other special-needs families, Maya feels threatened by new mom Becca, who seems a little too perfect.


[02/17/17 - 02:37 PM]
"The Late Show with Stephen Colbert" to Broadcast Live Following President Trump's Address to Congress, Tuesday, Feb. 28
Colbert will host from the Ed Sullivan Theater in New York and welcome actress Lisa Kudrow and former White House Press Secretary Josh Earnest as his guests.


[02/17/17 - 12:20 PM]
Nick Swisher Joins FOX Sports - 2009 World Series Champion and MLB All-Star Serves as Studio Analyst
Recently retired, Swisher, a fan-favorite with an infectious personality throughout his 12-year playing career, makes his 2017 debut on FS1's "MLB Whiparound" this April.


[02/17/17 - 11:09 AM]
TNT's "Animal Kingdom" Returns for Season 2 Tuesday, May 30
The second season has been expanded to 13 episodes, up from its 10-episode freshman run.


[02/17/17 - 10:31 AM]
The Top 20 Junior Home Cooks Are Revealed on "MasterChef Junior"
Throughout this season, the juniors will face a wide array of exciting new challenges, including one served up by former First Lady Michelle Obama.


[02/17/17 - 09:21 AM]
"The Walking Dead" Season 7 Mid-Season Premiere Delivers 15.9 Million Total Viewers
AMC further spins the numbers for Sunday, February 12.


[02/17/17 - 09:01 AM]
TBS's "Full Frontal with Samantha Bee" Is #1 in Late Night Among Young Adults in 2017
TBS spins the numbers for the year to date.


[02/17/17 - 08:37 AM]
Showtime Sports(R) to Stream First Ever Live Boxing Event on Twitter with Broner vs. Grandos, Live on Saturday, Feb. 18
The unique collaboration with Twitter is an extension of the Showtime Free Preview Weekend during which the premium network will be available to more than 73 million television households nationwide from Friday, February 17 through Monday, February 20.


[02/17/17 - 08:27 AM]
Thursday's Broadcast Ratings: ABC Continues Demo Win Streak
The Alphabet leads the night among adults 18-49 for the fourth consecutive week.


[02/16/17 - 11:28 PM]
Development Update: Thursday, February 16
Updates include: Kevin Smith brings "Sam & Twitch" to BBC America; Retta tapped for "Good Girls" at NBC; and Jonathan Krisel to helm "Ghosted" at FOX.