[01/07/15 - 09:00 AM]
AMC Releases Key Art for "The Walking Dead" Season 5B
As previously announced, new episodes resume Sunday, February 8 at 9:00/8:00c on the cable channel.
---
[via press release from AMC]
AMC Releases Key Art for "The Walking Dead" Season 5B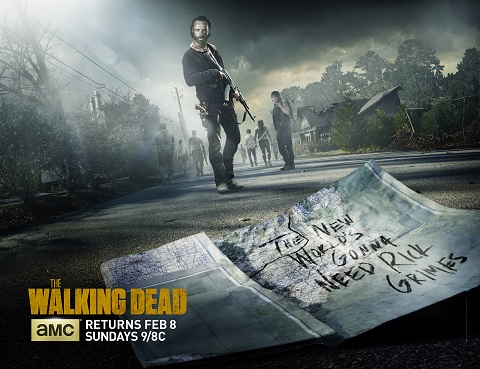 AMC released today the key art for the second half of The Walking Dead's fifth season, which debuts Sunday, February 8 at 9 p.m. ET/PT.
After the tragic events of the mid-season finale - as well as losing the possibility of a cure in Washington, DC - Rick Grimes' band of survivors find themselves on the road, surviving day-to-day and trying to hold on to their shredded humanity and dwindling hope. Stripped of security and without a direction for the future, some of the group near their breaking point, some find themselves hardened and cold and some just try to grasp onto what little they have left.
Though they are still breathing, the line between Rick's group and the dead is starting to blur. Could there be anything at this point that brings them back to life?
The Walking Dead ended the first half of its fifth season on Sunday, November 30 with a mid-season finale that delivered 14.8 million viewers and 9.6 million adults 18-49, up 23% and 24%, respectively, over last season's corresponding episode. It is the #1 show in all of television among adults 18-49, including the NFL, which had held top honors since 2007. The first eight episodes of The Walking Dead season five delivered an average of 14.6 million viewers and 9.5 million adults 18-49, outpacing everything else on television this season.




[09/20/19 - 01:12 PM]
New Season of E!'s Transformational Reality Series "Botched" Premieres Tuesday, November 5 at 10PM ET/PT
Plus: see the most outrageous show moments, mind-blowing transformations, and over-the-top patients of the entire series on the "Most Outrageous Patients Special" airing Tuesday, October 29.


[09/20/19 - 10:57 AM]
Netflix Adapts Tony Award-Winner Jason Robert Brown's Broadway Musical 13 Into a Family Film
Following a move from New York City to small-town Indiana, young Evan Goldman grapples with his parents' divorce, prepares for his impending Bar Mitzvah, and navigates the complicated social circles of a new school.


[09/20/19 - 10:09 AM]
Animal Planet Acquires Worldwide Television Rights to Documentary Film "Watson"
The film chronicles Sea Shepherd founder Captain Paul Watson, who has spent his life sailing the globe to keep our oceans and their inhabitants safe.


[09/20/19 - 09:59 AM]
Ryan Seacrest Returns as Host of Iconic Singing Competition Series "American Idol"
He reunites with previously announced music industry legends and all-star judges Luke Bryan, Katy Perry and Lionel Richie, as well as in-house mentor, Bobby Bones.


[09/20/19 - 09:22 AM]
Lifetime Commits to Two More Seasons of "Married at First Sight" for 2020
"Married at First Sight" season 10 will take place in Washington, D.C. and premieres New Year's Day, January 1, 2020.


[09/20/19 - 09:01 AM]
The Premiere Episode of New CBS Comedy "The Unicorn" to Get Early Multiplatform Preview Beginning Today
The premiere episode may be seen across CBS.com, the CBS mobile app, Amazon Prime Video Channels, Apple TV channels on the Apple TV app, and Roku ahead of its broadcast premiere on Thursday, September 26.


[09/20/19 - 08:43 AM]
Travel Channel Set to Premiere Landmark Live Ghost Hunt From One of America's Oldest and Most Haunted Cities - Salem, Massachusetts - on Friday, October 4
The all-star team includes Jack Osbourne and Katrina Weidman ("Portals to Hell"), Amy Bruni, Adam Berry and Chip Coffey ("Kindred Spirits"), Dalen Spratt, Juwan Mass and Marcus Harvey ("Ghost Brothers: Haunted Houseguests"), Dave Schrader and Cindy Kaza ("The Holzer Files").


[09/20/19 - 08:31 AM]
Netflix Renews "GLOW" for a Fourth and Final Season
The streaming service broke the news on social media this morning.


[09/20/19 - 08:16 AM]
Thursday's Broadcast Ratings: ABC Tops Viewers, Shares Demo Crown with CBS, FOX
Preliminary results see the Alphabet holding onto the top spot last night.


[09/20/19 - 08:04 AM]
Video: "Fractured" - Official Trailer - Can You Solve the Mystery? - Netflix
Sam Worthington and Lily Rabe star in the streaming service's latest original movie, due on Friday, October 11.


[09/20/19 - 07:44 AM]
Video: "Rotten" Season 2 - Official Trailer - Netflix
The series returns Friday, October 4 with six new unsavory truths about the underbelly of the global food industry.


[09/20/19 - 06:56 AM]
HGTV Adds David Bromstad and Tyler Florence to Its Lineup of Special Guest Stars on "Extreme Makeover: Home Edition"
The HGTV spin on Extreme Makeover: Home Edition is scheduled to air in early 2020.


[09/20/19 - 06:05 AM]
Video: "The Crown" Season 3 - Teaser Trailer - Netflix
The new season, starring Olivia Colman as Queen Elizabeth II, arrives November 17.


[09/20/19 - 04:09 AM]
Video: "Baby" Season 2 - Official Trailer - Netflix
The series returns on Friday, October 18 with new characters, tough decisions and fresh secrets.


[09/19/19 - 03:59 PM]
HBO Max Confirms Production on Film Adaptation of Critically Acclaimed Novel "UNpregnant"
Haley Lu Richardson and Barbie Ferreira will star in the project, to be directed by Rachel Lee Goldenberg.