IN "THROW BACK-TO-BACK" WEEKENDS, THE UNAUTHORIZED BEVERLY HILLS, 90210 STORY AND THE UNAUTHORIZED MELROSE PLACE STORY PREMIERE ON OCTOBER 3RD AND OCTOBER 10TH
Los Angeles, CA (July 22, 2015) - Ah, the 1990s. Sideburns, frosted tips, slap bracelets, fanny packs and, of course, the launch of two shows that made television history -- Beverly Hills, 90210 and Melrose Place. In a Lifetime "throw back-to-back" weekend event, The Unauthorized Beverly Hills, 90210 Story premieres Saturday, October 3, at 8pm ET/PT and The Unauthorized Melrose Place Story follows on Saturday, October 10, at 8pm ET/PT. The movies are the latest in Lifetime's "Unauthorized Story" film franchise and revisit two of the decade's most iconic programs and reveal what transpired behind the scenes during the cast members' rise to fame.
An international pop culture phenomenon, Beverly Hills, 90210 ruled the '90s television landscape and reigned as the top teen show for nearly a decade during which Jason Priestley, Luke Perry, Shannen Doherty, Jennie Garth and Tori Spelling became household names. The Unauthorized Beverly Hills, 90210 Story reveals the roller coaster ride behind the show's first four seasons, highlighting the drama between cast members and producers both on and off-set as they journeyed together from near-cancelation to unparalled fame and success.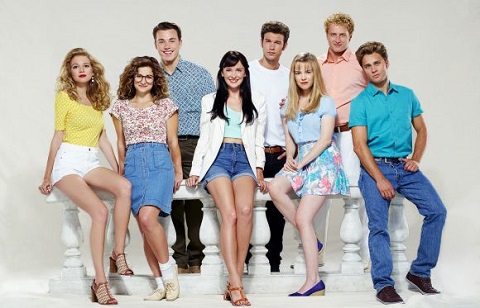 The Unauthorized Beverly Hills, 90210 Story cast includes:
· AARON SPELLING: Dan Castellaneta (The Simpsons)
· DARREN STAR: Adam Korson (Hot in Cleveland)
· BRENDA WALSH/SHANNEN DOHERTY: Samantha Munro (Degrassi: The Next Generation)
· BRANDON WALSH/JASON PRIESTLEY: Max Lloyd-Jones (Switched at Birth)
· KELLY TAYLOR/JENNIE GARTH: Abbie Cobb (Suburgatory)
· DYLAN MCKAY/LUKE PERRY: Jesy McKinney (Chapter III: Nightmare)
· DONNA MARTIN/TORI SPELLING: Abby Ross (Once Upon a Time)
· STEVE SANDERS/IAN ZIERING: David Lennon (Restless Virgins)
· ANDREA ZUCKERMAN/GABRIELLE CARTERIS: Michele Goyns (The Town That Came A-Courtin')
· DAVID SILVER/BRIAN AUSTIN GREEN: Ross Linton (Of Them All)
· VALERIE MALONE/TIFFANI-AMBER THIESSEN: Alyssa Lynch (The Unauthorized Saved by the Bell Story)
Executive produced by Peter M. Green (Mean Girls 2) and Howard Braunstein (The Informant!), The Unauthorized Beverly Hills, 90210 Story is produced by Christian Bruyere (A Girl's Best Friend), written by Jeff Roda (three-time Black List writer) and directed by Vanessa Parise (Perfect High).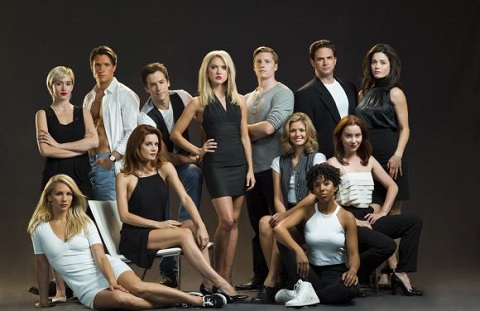 Launched in 1992 as a companion for Beverly Hills, 90210, Melrose Place quickly became a giant television hit in its own right. Originally designed to be an authentic, grounded look at 20-something life in Los Angeles, the program soon became 90210's soapier, yet equally popular counterpart. The Unauthorized Melrose Place Story highlights the remarkable behind-the-scenes moments that shaped the series including early casting drama, Heather Locklear arriving to "save" Melrose Place, and the actors begging their writers for even wilder storylines to make them fan favorites.
The Unauthorized Melrose Place Story cast includes:
· AARON SPELLING: Dan Castellaneta (The Simpsons)
· DARREN STAR: Adam Korson (Hot in Cleveland)
· AMANDA WOODWARD/HEATHER LOCKLEAR: Ciara Hanna (Power Rangers Megaforce)
· ALLISON PARKER/COURTNEY THORNE-SMITH: Rebecca Dalton (Spun Out)
· BILLY CAMPBELL/ANDREW SHUE: Frank Bailey (The Super Alliance)
· JAKE HANSON/GRANT SHOW: Ryan Bruce (The Memory Book)
· JANE MANCINI/JOSIE BISSETT: Chloe McClay (Girlfriends' Guide to Divorce)
· JO REYNOLDS/DAPHNE ZUNIGA: Ali Cobrin (Look)
· KIMBERLY SHAW/MARCIA CROSS: Teagan Vincze (The Scarehouse)
· MATT FIELDING/DOUG SAVANT: Joseph Coleman (Supernatural)
· MICHAEL MANCINI/THOMAS CALABRO: Brandon Barash (Major Crimes)
· RHONDA BLAIR/VANESSA A. WILLIAMS: Karissa Tynes (Jennifer's Body)
· SYDNEY ANDREWS/LAURA LEIGHTON: Chelsea Hobbs (Make It or Break It)
· SANDY LOUISE HARDING/AMY LOCANE: Lanie McAuley (Scarecrow)
The Unauthorized Melrose Place Story is executive produced by Braunstein and Michael Larkin (Secrets in the Walls), produced by Bruyere and written by Dana Schmalenberg (Single Ladies). Mark Griffiths (A Novel Romance) directs.
ABOUT LIFETIME
Lifetime is a premier female-focused entertainment destination dedicated to offering the highest quality original programming spanning scripted series, non-fiction series and movies. As a result of the network's aggressive programming strategy that has doubled the hours of its original programming, in 2014 the network reached its strongest ranking among the key Women 18-49 demo in six years and its youngest median age in 18 years. Lifetime Television(R), LMN(R), Lifetime Real Women(R) and Lifetime Digital(TM) are part of Lifetime Entertainment Services, LLC, a subsidiary of A+E Networks. A+E Networks is a joint venture of the Disney-ABC Television Group and Hearst Corporation.