[10/04/16 - 09:04 AM]
A Most Foul Date Announce from Netflix - "Lemony Snicket's A Series of Unfortunate Events"
Look for the series to launch Friday, January 13, 2017 on the streaming service.
---
[via press release from Netflix]
A most foul date announce from Netflix/Lemony Snicket
"If you like watching stories in which children enjoy pleasant rides in truck beds, on their way to colorful destinations where they finally solve the curious mysteries plaguing their lives...That story is streaming elsewhere." -- Lemony Snicket
Today, in an announcement sure to set it on a path to misery and ruin, Netflix reveals the date for its upcoming series Lemony Snicket's A Series of Unfortunate Events - Friday, January 13, 2017.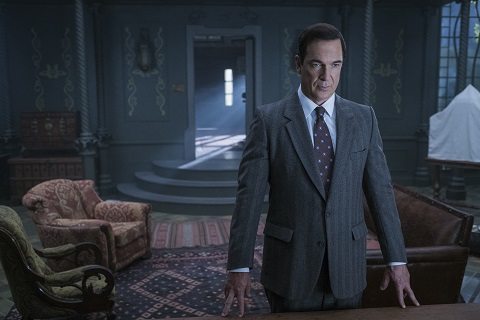 Series Description:
Based on the internationally best-selling series of books by Lemony Snicket (aka Daniel Handler) and starring Emmy and Tony Award winner Neil Patrick Harris, Lemony Snicket's A Series of Unfortunate Events recounts the tragic tale of the Baudelaire orphans -- Violet, Klaus, and Sunny - whose evil guardian Count Olaf will stop at nothing to get his hands on their inheritance. The siblings must outsmart Olaf at every turn, foiling his many devious plans and disguises, in order to discover clues to their parents' mysterious death. The eight-episode series is a Netflix original production, executive produced by Emmy Award winner Barry Sonnenfeld and Daniel Handler, and also stars Patrick Warburton (Lemony Snicket), Joan Cusack (Justice Strauss), Malina Weissman (Violet Baudelaire) and Louis Hynes (Klaus Baudelaire). The series premieres January 13, 2017 only on Netflix.




[05/25/17 - 11:59 AM]
Rubber Hits the Road on the New Season of CNBC's "Jay Leno's Garage" Premiering Wednesday, June 28th
Celebrity guests this season include President George W. Bush and Laura Bush, Ted Koppel, Wanda Sykes, Michael Strahan, Brad Garrett, Josh Duhamel, J. B. Smoove, among others.


[05/25/17 - 10:59 AM]
History Orders Robert Zemeckis Scripted Drama Series "Blue Book"
"Blue Book" chronicles the true top secret United States Air Force-sponsored investigations into UFO-related phenomena in the 1950's and 60's known as "Project Blue Book."


[05/25/17 - 10:46 AM]
Summer Is Blazing Hot with "Teen Choice 2017" Live Sunday, August 13, on FOX
For 19 years, the special has presented performances and appearances by some of pop culture's brightest stars.


[05/25/17 - 10:30 AM]
The Avengers Return for an Action-Packed One-Hour "Marvel's Avengers: Secret Wars" Season Four Premiere on Saturday, June 17, on Disney XD
Picking up right after the events of season three "Ultron Revolution," the fourth season finds Tony Stark trapped in another dimension.


[05/25/17 - 10:04 AM]
"Legends of Chamberlain Heights" Returns for Season Two on Sunday, June 18 at 11:30 P.M. ET/PT on Comedy Central
"Legends of Chamberlain Heights" is an urban animated series mixing raucous comedy and social commentary that centers on three high school freshman basketball benchwarmers.


[05/25/17 - 10:02 AM]
HBO Renews Hit Series "Silicon Valley" and "Veep" for 2018
Both shows are returning in 2018, it was announced today by Casey Bloys, president, HBO Programming.


[05/25/17 - 09:57 AM]
Ina Garten Launches "Barefoot Contessa: Cook Like a Pro" on Sunday, May 28th at 11AM ET/PT on Food Network
Each of the all-new eight episodes were shot on-location at Ina's home in East Hampton, New York.


[05/25/17 - 09:37 AM]
Video: Sneak Peaks from Netflix's "Friends from College" - Premieres July 14th
Soak up all of the immature use of mature language in four all new NSFW sneak peeks at the new Netflix original series.


[05/25/17 - 09:26 AM]
Hip-Hop. Money. Fame. Deception. Murder. All Collide in New Original Scripted Series, "Tales", Premiering Tuesday, June 27, 2017
The project is a scripted anthology series of "song stories" weaving classic and current hip-hop songs into captivating visual narratives from the lyrics of some of hip-hop's greatest hits.


[05/25/17 - 08:59 AM]
Video: All-New Hack into "Broad City!" Communication Barriers Keep Abbi & Ilana From Successfully Playing Synchronized Solitaire
Season four premieres on Wednesday, August 23 on Comedy Central.


[05/25/17 - 08:44 AM]
Bravo Media Premieres Season Three of "Odd Mom Out" on Wednesday, July 12 at 10PM ET/PT
Joining the cast this season is Christine Taylor playing Brooke's older sister, Barrett.


[05/25/17 - 08:26 AM]
Wednesday's Broadcast Ratings: "Survivor" Finale Puts CBS on Top
The Eye wins the evening in both total viewers and adults 18-49.


[05/25/17 - 08:22 AM]
Travel Channel Names 10 of the Newest Extreme Waterslides to Ride this Weekend
These awesome aquatic adventures are just the beginning of the fun in Travel Channel's new season of "Xtreme Waterparks," premiering on Sunday, June 4.


[05/25/17 - 07:31 AM]
"Andi Mack" Has Been Ordered for Second Season on Disney Channel
The series ranks as the #1 TV series of 2017 to-date among Girls 6-11, Girls 9-14 and Girls 6-14.


[05/25/17 - 07:04 AM]
Video: EPIX Releases First Trailer for "Get Shorty"
The series is based in part on the 1990 Elmore Leonard novel of the same name.