[10/04/16 - 09:04 AM]
A Most Foul Date Announce from Netflix - "Lemony Snicket's A Series of Unfortunate Events"
Look for the series to launch Friday, January 13, 2017 on the streaming service.
---
[via press release from Netflix]
A most foul date announce from Netflix/Lemony Snicket
"If you like watching stories in which children enjoy pleasant rides in truck beds, on their way to colorful destinations where they finally solve the curious mysteries plaguing their lives...That story is streaming elsewhere." -- Lemony Snicket
Today, in an announcement sure to set it on a path to misery and ruin, Netflix reveals the date for its upcoming series Lemony Snicket's A Series of Unfortunate Events - Friday, January 13, 2017.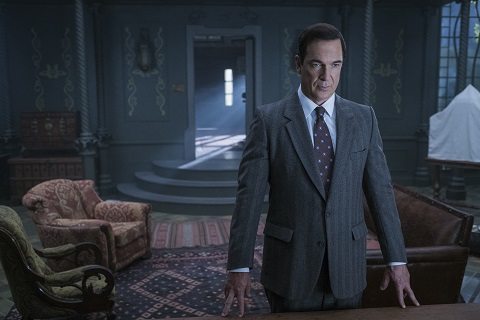 Series Description:
Based on the internationally best-selling series of books by Lemony Snicket (aka Daniel Handler) and starring Emmy and Tony Award winner Neil Patrick Harris, Lemony Snicket's A Series of Unfortunate Events recounts the tragic tale of the Baudelaire orphans -- Violet, Klaus, and Sunny - whose evil guardian Count Olaf will stop at nothing to get his hands on their inheritance. The siblings must outsmart Olaf at every turn, foiling his many devious plans and disguises, in order to discover clues to their parents' mysterious death. The eight-episode series is a Netflix original production, executive produced by Emmy Award winner Barry Sonnenfeld and Daniel Handler, and also stars Patrick Warburton (Lemony Snicket), Joan Cusack (Justice Strauss), Malina Weissman (Violet Baudelaire) and Louis Hynes (Klaus Baudelaire). The series premieres January 13, 2017 only on Netflix.




[10/21/16 - 02:02 PM]
NLCS Game 5 Is Second Most-Watched Telecast in FS1 History
FOX Sports spins the numbers for Thursday, October 20.


[10/21/16 - 12:08 PM]
Freeform Brings Fan Favorite "Stitchers" and New Original Sci-Fi Series "Beyond" to Stan Lee's L.A. Comic Con on October 29 and 30
"Stitchers" co-stars Ritesh Rajan, Damon Dayoub and Sarah Davenport are among those scheduled to appear.


[10/21/16 - 10:05 AM]
Freeform's Annual "Countdown to 25 Days of Christmas" Starts on Thanksgiving Day, Thursday, November 24
Said offerings include the premiere "The Odd Life of Timothy Green," "Boxtrolls," and the network premiere of the fourth installment of the hit "Cinderella Story" franchise, "A Cinderella Story: If the Shoe Fits."


[10/21/16 - 10:04 AM]
Freeform's Funday Programming Event Begins November 12 and Continues Through November 13
Highlights include the network premieres of "Planes: Fire & Rescue," "How to Train Your Dragon" and "Shrek Forever After."


[10/21/16 - 10:03 AM]
"Madonna: Rebel Heart Tour" to Premiere on Showtime(R) on December 9 at 9 PM ET/PT
The film is co-directed by Danny B. Tull and Nathan Rissman, both of whom have worked extensively with Madonna on her feature films and tour movies.


[10/21/16 - 09:55 AM]
David Blaine Is Back With an Extraordinary Special, "David Blaine: Beyond Magic," Airing Tuesday, November 15, on ABC
Following his critically acclaimed ratings smash "David Blaine: Real or Magic," Blaine returns with his most revealing performance yet.


[10/21/16 - 09:35 AM]
Video: Netflix's "Haters Back Off!" Star Miranda Sings Shares Some of Her Favorite Things
Based on the character created by Colleen Ballinger, "Haters Back Off!" delves into the oddball family life of Miranda Sings.


[10/21/16 - 09:31 AM]
Video: Netflix Unveils The Ivory Game Trailer and Poster
From executive producer Leonardo DiCaprio, The Ivory Game is an epic documentary feature that goes undercover into the dark and sinister underbelly of ivory trafficking.


[10/21/16 - 09:29 AM]
Premiere Date Change - A&E Network Will Now Air Original Docu-Series "The Killing Season" on November 12
The newcomer will now roll out with back-to-back episodes one week later than previously announced.


[10/21/16 - 09:24 AM]
No One Can Hear You Scream: Investigation Discovery's All-New Series "Dead Silent" Premieres Tuesday, October 25 at 9/8C
In the six-part series, myth, urban legend, and horror movie dread collide to showcase real-life, dark and twisted tales too frightening to be imaginary.


[10/21/16 - 09:02 AM]
Oxygen Media Strikes Again with New True Crime Series "Killision Course" Premiering Saturday, November 5th at 9PM ET/PT
The four-episode, genre breaking series, recreates true stories of murder connecting the victim, accomplice and killer, on a joy ride of suspense, betrayal and obsession.


[10/21/16 - 08:47 AM]
Thursday's Broadcast Ratings: CBS Holds Off Competition with NFL
The Eye wins the night in both total viewers and adults 18-49.


[10/20/16 - 03:55 PM]
Oxygen Media Tests the Bonds of Friendship When New Competition Series "The Battle of the Ex-Besties" Premieres Tuesday, December 6 at 11PM ET/PT
Hosted by Sibley Scoles, the series follows fourteen former BFFs who are forced to confront - and hopefully forget - past differences in order to win a life-changing $100,000 grand prize.


[10/20/16 - 01:49 PM]
Investigation Discovery Delivers Nearly One Million Viewers for World Television Premiere of "Southwest of Salem: The Story of the San Antonio Four"
Investigation Discovery further spins the numbers for Saturday, October 15.


[10/20/16 - 01:04 PM]
Investigation Discovery Looks at When Happily Ever After Goes Horribly Wrong in All-New Series "Married with Secrets"
The new eight-part series premieres Tuesday, October 25 at 10:00/9:00c.