[10/04/16 - 09:04 AM]
A Most Foul Date Announce from Netflix - "Lemony Snicket's A Series of Unfortunate Events"
Look for the series to launch Friday, January 13, 2017 on the streaming service.
---
[via press release from Netflix]
A most foul date announce from Netflix/Lemony Snicket
"If you like watching stories in which children enjoy pleasant rides in truck beds, on their way to colorful destinations where they finally solve the curious mysteries plaguing their lives...That story is streaming elsewhere." -- Lemony Snicket
Today, in an announcement sure to set it on a path to misery and ruin, Netflix reveals the date for its upcoming series Lemony Snicket's A Series of Unfortunate Events - Friday, January 13, 2017.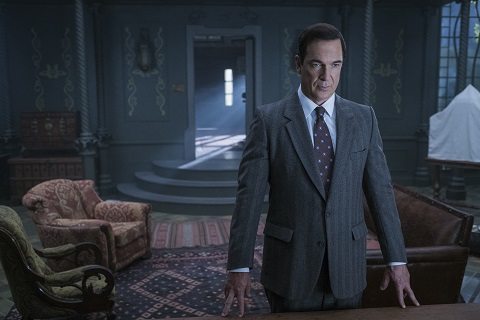 Series Description:
Based on the internationally best-selling series of books by Lemony Snicket (aka Daniel Handler) and starring Emmy and Tony Award winner Neil Patrick Harris, Lemony Snicket's A Series of Unfortunate Events recounts the tragic tale of the Baudelaire orphans -- Violet, Klaus, and Sunny - whose evil guardian Count Olaf will stop at nothing to get his hands on their inheritance. The siblings must outsmart Olaf at every turn, foiling his many devious plans and disguises, in order to discover clues to their parents' mysterious death. The eight-episode series is a Netflix original production, executive produced by Emmy Award winner Barry Sonnenfeld and Daniel Handler, and also stars Patrick Warburton (Lemony Snicket), Joan Cusack (Justice Strauss), Malina Weissman (Violet Baudelaire) and Louis Hynes (Klaus Baudelaire). The series premieres January 13, 2017 only on Netflix.




[06/28/17 - 03:55 PM]
Freeform's "Pretty Little Liars" Signs Off Historic Run with Over 1-Year Highs and Is No. 1 Most-Tweeted TV Episode of 2017 with 1.7 Million Tweets
Freeform spins the numbers for Tuesday, June 27.


[06/28/17 - 01:29 PM]
Viceland Brings Two Docu-Series to Air in July with "Last Chance High" and "Funny How?"
The former is an eight-part documentary series is adapted and updated from the acclaimed 2014 Vice News web series focused on the students at Moses Montefiore Academy, a school for the most troubled youth on Chicago's tumultuous West Side.


[06/28/17 - 01:24 PM]
FOX Sports Loads Bases for 2017 MLB All-Star Game
Superstars from the American and National Leagues face off in the 2017 All-Star Game from Marlins Park in Miami, Fla., on Tuesday, July 11, with pregame coverage beginning at 7:30 PM ET on the FOX broadcast network.


[06/28/17 - 01:22 PM]
Paula Patton Stars as a Mother Desperate to Change Fate and Prevent a Murder, on the Series Premiere of ABC's "Somewhere Between," Monday, July 24
The second episode will now air on Tuesday, July 25 (10:00-11:00 p.m. EDT) during its new regular night and time.


[06/28/17 - 01:00 PM]
FX Networks Promotes Current Series Executives Colette Wilson and Barbara Crawford and Development's Kevin Wandell
"Colette, Barbara and Kevin have been integral to the growth and success of FX Networks' slate of original programs and we are happy that they will be playing an even greater role going forward," said Nick Grad and Eric Schrier.


[06/28/17 - 12:36 PM]
Showtime(R) Announces Multi-Part NBA Documentary Film with Executive Producers LeBron James, Maverick Carter and Filmmaker Gotham Chopra
"We are thrilled to be collaborating with LeBron, Maverick and Gotham on what will be a comprehensive look at one of the most influential sports institutions in the world," said Stephen Espinoza.


[06/28/17 - 12:13 PM]
Tuesday's Broadcast Ratings: NBC, "Got Talent" Hold Off ABC, "Bachelorette" Special
The Peacock easily wins the evening in both total viewers and adults 18-49.


[06/28/17 - 11:48 AM]
"The Daily Show with Trevor Noah" Records Its Most-Watched Quarter Ever Led by Its Most-Watched Month Ever in June
Comedy Central further spins the numbers for the quarter to date.


[06/28/17 - 11:01 AM]
Cartoon Network Sets "OK K.O.! Let's Be Heroes" for an Epic One-Hour Series Premiere Tuesday, Aug. 1 at 6:30 p.m. (ET/PT)
The show follows K.O., an endlessly optimistic kid attempting to be the greatest hero he can be in a video game inspired world set in Lakewood Plaza.


[06/28/17 - 10:54 AM]
"Top Gear America" Premieres Sunday, July 30, 8/7c on BBC America
William Fichtner, Antron Brown and Tom "Wookie" Ford topline the latest installment in the franchise.


[06/28/17 - 10:35 AM]
"Under the Influence" New Original Series - The Troubled Stories of Heath Ledger and River Phoenix Are the Focus of the Series Premiere on Friday, July 7, 2017 at 9pm ET/6pm PT
Future episodes include Lindsay Lohan and Britney Spears, Lauryn Hill and Amy Winehouse, Philip Seymour Hoffman and Cory Monteith, John Belushi and Chris Farley and George Michael and Prince.


[06/28/17 - 10:15 AM]
"Treehouse Masters" Returns to Animal Planet for an All-New Season on August 4 at 9PM/ET
This season, Pete Nelson and his crew will take on new build locations, including Norway for their first ever international treehouse build, and a very special treehouse for singer-songwriter Grace Vanderwaal.


[06/28/17 - 10:02 AM]
Amazon Prime Video to Be Exclusive Premium Subscription Home for the CBS Series "Salvation"
Unlimited streaming and downloading of all the series' episodes will be available to Prime members four days after their initial broadcast on CBS.


[06/28/17 - 10:00 AM]
FX Networks Sets Premiere Dates for "You're the Worst" and "Better Things"
The comedies are due back Wednesday, September 6 and Thursday, September 14 on FXX and FX, respectively.


[06/28/17 - 09:54 AM]
Video: Netflix Unveils Trailer and Art for "Daughters of Destiny"
The four-part original documentary series chronicles the lives of five girls from Indian families who are among the so-called "Dalit" caste and most impoverished communities in the world.