[10/04/16 - 09:04 AM]
A Most Foul Date Announce from Netflix - "Lemony Snicket's A Series of Unfortunate Events"
Look for the series to launch Friday, January 13, 2017 on the streaming service.
---
[via press release from Netflix]
A most foul date announce from Netflix/Lemony Snicket
"If you like watching stories in which children enjoy pleasant rides in truck beds, on their way to colorful destinations where they finally solve the curious mysteries plaguing their lives...That story is streaming elsewhere." -- Lemony Snicket
Today, in an announcement sure to set it on a path to misery and ruin, Netflix reveals the date for its upcoming series Lemony Snicket's A Series of Unfortunate Events - Friday, January 13, 2017.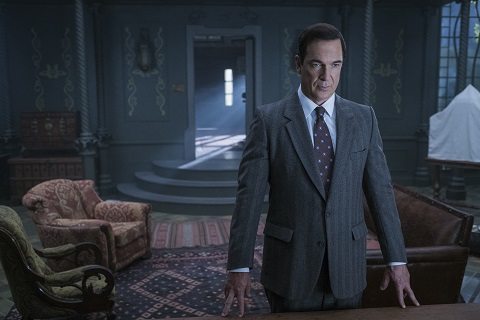 Series Description:
Based on the internationally best-selling series of books by Lemony Snicket (aka Daniel Handler) and starring Emmy and Tony Award winner Neil Patrick Harris, Lemony Snicket's A Series of Unfortunate Events recounts the tragic tale of the Baudelaire orphans -- Violet, Klaus, and Sunny - whose evil guardian Count Olaf will stop at nothing to get his hands on their inheritance. The siblings must outsmart Olaf at every turn, foiling his many devious plans and disguises, in order to discover clues to their parents' mysterious death. The eight-episode series is a Netflix original production, executive produced by Emmy Award winner Barry Sonnenfeld and Daniel Handler, and also stars Patrick Warburton (Lemony Snicket), Joan Cusack (Justice Strauss), Malina Weissman (Violet Baudelaire) and Louis Hynes (Klaus Baudelaire). The series premieres January 13, 2017 only on Netflix.




[03/20/18 - 10:19 AM]
Video: Syfy Reveals "Nightflyers" Official First Look
The series follows eight maverick scientists and a powerful telepath who embark on an expedition to the edge of our solar system aboard The Nightflyer - a ship with a small tightknit crew and a reclusive captain - in the hope of making contact with alien life.


[03/20/18 - 09:56 AM]
Netflix's First Global Original Motor Series, "Fastest Car," Launches on April 6
In each episode, three souped-up "sleeper" cars, tinkered with and lovingly labored on, go head to head with one of the world's most sought-after supercars.


[03/20/18 - 09:28 AM]
TLC's Hit Docu-Series "Long Lost Family" Returns for a Third Season on Sunday, April 8 at 10/9c
This series offers viewers the chance to hear stories from people who have endured a lifetime of separation, and who long to finally be reunited with family members with whom they share an innately deep connection - but who, in many cases, they have never met.


[03/20/18 - 09:16 AM]
New Seasons of Anime Hit Series "FLCL" Crash Land This Summer
Debuting on Adult Swim's popular anime block Toonami, the new seasons bring together members of the original animation team with a whole new generation of creators.


[03/20/18 - 09:00 AM]
Additional Performers and Presenters Announced for the "53rd Academy of Country Music Awards"
Drew Brees, Nancy O'Dell, Rebecca Romijn and Lindsey Vonn have been added as presenters for the ceremony.


[03/20/18 - 08:46 AM]
Matthew Goode and Matthew Rhys Star in "The Wine Show" - Premiering on Ovation TV April 18
From a beautiful villa in the Italian countryside, Goode and Rhys set off on a new challenge in every episode, uncovering some of the best wines in the world, and telling the stories that surround them.


[03/20/18 - 08:18 AM]
Monday's Broadcast Ratings: "The Voice" Tops "American Idol" in Second Showdown
NBC wins the evening in both total viewers and adults 18-49.


[03/20/18 - 08:00 AM]
All-Star Ensemble Cast Joins Anna Paquin in the Pop Original Television Series "Flack"
The series starts production this week in London.


[03/20/18 - 07:49 AM]
PBA and FOX Sports Announce Multi-Year, Multi-Platform Rights Deal
The package will bring a substantial schedule of live PBA events to television, including prime time events and a new bracket-style, multi-week PBA Playoffs tournament that concludes with a unique PBA championship finale.


[03/20/18 - 07:42 AM]
"Recovery Boys," "Mercury 13" and "Shirkers" to Premiere at the 2018 Hot Docs Canadian International Documentary Festival
"Mercury 13" is a remarkable story of the women who were tested for spaceflight in 1961 before their dreams were dashed in being the first to make the trip beyond Earth.


[03/20/18 - 07:16 AM]
April Showers Bravo Fans with Back-to-Back Premieres Starting Sunday, April 1
Newly announced to the lineup is "Southern Charm New Orleans" on Sunday, April 15 at 9:00/8:00c.


[03/20/18 - 07:04 AM]
Amazon Prime Video Announces "All or Nothing" Banner for Upcoming Global Sports Docuseries
New seasons featuring The Michigan Wolverines, New Zealand All Blacks and Manchester City are due later this year.


[03/19/18 - 11:36 PM]
Development Update: Monday, March 19
Updates include: Mira Sorvino to star in "The Code" at CBS; Matt Ryan's John Constantine to become regular on "DC's Legends of Tomorrow"; and Jenna Dewan Tatum is the latest to board FOX's "Mixtape."


[03/19/18 - 05:00 PM]
Video: "Amateur" Trailer & Poster Debut - It's March Madness!
The Netflix film is about 14-year-old basketball phenom Terron Forte, who has to navigate the under-the-table world of amateur athletics when he is recruited to an elite NCAA prep school.


[03/19/18 - 12:38 PM]
Jonathan and Drew Scott Take Home Reno Rivalry to San Francisco in New Season of HGTV's "Brother vs. Brother: Jonathan vs. Drew"
Set in the San Francisco suburbs, the new six-episode season of HGTV's popular real estate and renovation competition series will be a hyper-test of the twins' reno know-how.