[10/04/16 - 09:04 AM]
A Most Foul Date Announce from Netflix - "Lemony Snicket's A Series of Unfortunate Events"
Look for the series to launch Friday, January 13, 2017 on the streaming service.
---
[via press release from Netflix]
A most foul date announce from Netflix/Lemony Snicket
"If you like watching stories in which children enjoy pleasant rides in truck beds, on their way to colorful destinations where they finally solve the curious mysteries plaguing their lives...That story is streaming elsewhere." -- Lemony Snicket
Today, in an announcement sure to set it on a path to misery and ruin, Netflix reveals the date for its upcoming series Lemony Snicket's A Series of Unfortunate Events - Friday, January 13, 2017.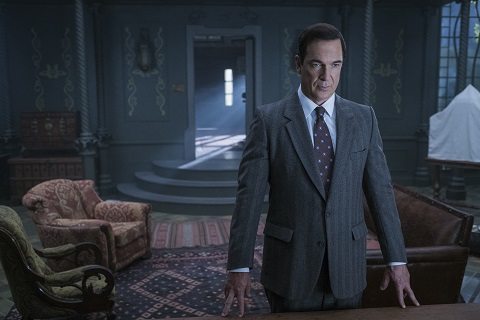 Series Description:
Based on the internationally best-selling series of books by Lemony Snicket (aka Daniel Handler) and starring Emmy and Tony Award winner Neil Patrick Harris, Lemony Snicket's A Series of Unfortunate Events recounts the tragic tale of the Baudelaire orphans -- Violet, Klaus, and Sunny - whose evil guardian Count Olaf will stop at nothing to get his hands on their inheritance. The siblings must outsmart Olaf at every turn, foiling his many devious plans and disguises, in order to discover clues to their parents' mysterious death. The eight-episode series is a Netflix original production, executive produced by Emmy Award winner Barry Sonnenfeld and Daniel Handler, and also stars Patrick Warburton (Lemony Snicket), Joan Cusack (Justice Strauss), Malina Weissman (Violet Baudelaire) and Louis Hynes (Klaus Baudelaire). The series premieres January 13, 2017 only on Netflix.




[09/21/17 - 02:16 PM]
"Saturday Night Live" Rolls Out Season 43 with Star-Studded 3-Week Lineup on Sept. 30, Oct. 7 & 14
Gal Gadot and Kumail Nanjiani are on tap alongside the previously announced Ryan Gosling.


[09/21/17 - 01:08 PM]
Mark Hamill, Lena Headey and David Bradley Join the Cast of Guillermo del Toro's "Trollhunters" for Season 2
In February, del Toro announced a second season of 13 episodes would debut in late 2017.


[09/21/17 - 01:01 PM]
Boxing's Heavyweight Resurgence Continues on Showtime(R)
The network announced today coverage of unified heavyweight world champion Anthony Joshua's upcoming WBA and IBF world title defense against top-rated mandatory challenger Kubrat Pulev on Saturday, October 28.


[09/21/17 - 11:00 AM]
Two-Time Tony Award Winner Matthew Broderick Cast as the Narrator in FOX's Live Musical Event, "A Christmas Story Live!," Airing Sunday, December 17, on FOX
As the narrator, Broderick will play the grown-up Ralphie Parker, who looks back with love and humor on his favorite childhood Christmas.


[09/21/17 - 11:00 AM]
David Lim Upped to Series Regular on New CBS Drama Series "S.W.A.T."
Lim portrays Victor Tan, a relatively new S.W.A.T. officer who made his name in the Hollywood division before advancing to the heights of the LAPD and Metro S.W.A.T.


[09/21/17 - 09:07 AM]
Netflix Has Picked Up "BoJack Horseman" for a Fifth Season
Will Arnett voices BoJack, the failed legendary '90s sitcom star from the favorite family sitcom Horsin' Around, who has been trying to find his way through a muddle of self-loathing, whisky and failed relationships.


[09/21/17 - 08:20 AM]
Wednesday's Broadcast Ratings: NBC, "America's Got Talent" Win Summer Finale Showdown
The Peacock holds off "Big Brother" on CBS and "MasterChef" on FOX.


[09/21/17 - 08:02 AM]
"Comic Book Men" Season 7 Premieres Sunday, October 22 at Midnight on AMC
Guests this season include Method Man, Robert Englund and more!


[09/21/17 - 08:01 AM]
"AMC Visionaries: Robert Kirkman's Secret History of Comics" Will Premiere as a Two-Night Television Event on Sunday, November 12th at 11:00PM ET/PT and Monday, November 13th at 10:00PM ET/PT
The six-part one-hour documentary series takes a deeper look into the stories, people and events that have transformed the world of comic books.


[09/21/17 - 08:00 AM]
"Michael Jackson's Halloween," A New One-Hour Animated Special, to Be Broadcast Friday, Oct. 27 on CBS
The special will feature the voices of actors Christine Baranski, Kiersey Clemons, Alan Cumming, George Eads, Brad Garrett, Lucy Liu, Jim Parsons and Lucas Till.


[09/21/17 - 07:22 AM]
CMT Partners with Louisiana Community and Technical Colleges and Louisiana Calling in Statewide Push Encouraging Residents to Pursue Higher Education
Louisiana native and rising country star Courtney Cole was on-hand for the announcement, where she committed to return to her home state for an eight-stop community college tour in 2018.


[09/21/17 - 07:02 AM]
An All-New "The Great American Baking Show" Debuts This December on ABC
Ayesha Curry and Anthony "Spice" Adams will host the new season.


[09/21/17 - 06:10 AM]
Video: "Def Comedy Jam 25" - Official Trailer - Netflix
Dave Chappelle, Martin Lawrence, Steve Harvey, Cedric the Entertainer, Adele Givens, Tracy Morgan, Sheryl Underwood, D.L. Hughley and many more celebrate one of comedy's greatest institutions.


[09/20/17 - 02:45 PM]
Comedy Central Launches Global Podcast Network Featuring Brand Extensions of Comedy Central's Hit Franchises and New Original Content
Comedy Central's late night hit "The Jim Jefferies Show" will debut "The Jim Jefferies Show Podcast" today, and it will be available for download and streaming worldwide across Apple Podcasts, Google Play, Spotify, Stitcher, and other digital platforms.


[09/20/17 - 01:18 PM]
A&E Network to Premiere New Nonfiction Limited Series "The Eleven" on Thursday, October 19 at 9PM ET/PT
The six-part limited series follows investigators as they reexamine the murders of 11 teenage girls after discovering a confession letter from current inmate and convicted murderer Edward Harold Bell.