[10/04/16 - 09:04 AM]
A Most Foul Date Announce from Netflix - "Lemony Snicket's A Series of Unfortunate Events"
Look for the series to launch Friday, January 13, 2017 on the streaming service.
---
[via press release from Netflix]
A most foul date announce from Netflix/Lemony Snicket
"If you like watching stories in which children enjoy pleasant rides in truck beds, on their way to colorful destinations where they finally solve the curious mysteries plaguing their lives...That story is streaming elsewhere." -- Lemony Snicket
Today, in an announcement sure to set it on a path to misery and ruin, Netflix reveals the date for its upcoming series Lemony Snicket's A Series of Unfortunate Events - Friday, January 13, 2017.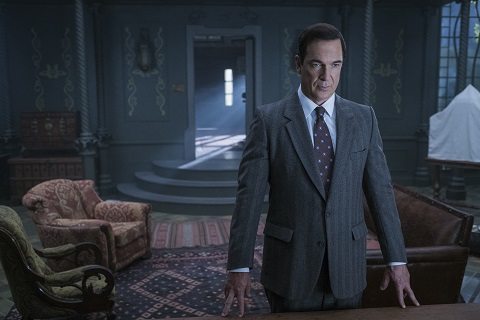 Series Description:
Based on the internationally best-selling series of books by Lemony Snicket (aka Daniel Handler) and starring Emmy and Tony Award winner Neil Patrick Harris, Lemony Snicket's A Series of Unfortunate Events recounts the tragic tale of the Baudelaire orphans -- Violet, Klaus, and Sunny - whose evil guardian Count Olaf will stop at nothing to get his hands on their inheritance. The siblings must outsmart Olaf at every turn, foiling his many devious plans and disguises, in order to discover clues to their parents' mysterious death. The eight-episode series is a Netflix original production, executive produced by Emmy Award winner Barry Sonnenfeld and Daniel Handler, and also stars Patrick Warburton (Lemony Snicket), Joan Cusack (Justice Strauss), Malina Weissman (Violet Baudelaire) and Louis Hynes (Klaus Baudelaire). The series premieres January 13, 2017 only on Netflix.




[01/19/17 - 10:42 AM]
Discovery's New Survival Series "The Wheel" Delivers Cable's Best Friday Launch Since 2015
Discovery further spins the numbers for Friday, January 13.


[01/19/17 - 10:01 AM]
Aspiring Gladiators Are Put to the Test in New Six-Part Digital Series "Scandal: Gladiator Wanted"
In the series, Huck (Guillermo Diaz), Quinn (Katie Lowes) and Marcus (Cornelius Smith Jr.) are tasked with finding an intern for Olivia Pope & Associates.


[01/19/17 - 09:31 AM]
Oscar(R)-Nominated Actor Stephen Rea and Emmy(R)-Award Winner Richard Schiff Cast as Guest Stars in Starz Spy Thriller "Counterpart" from MRC, Gilbert Films and Anonymous Content
J.K. Simmons stars as a lowly cog in a bureaucratic agency, who discovers that the agency he works for is really guarding a crossing into a parallel dimension.


[01/19/17 - 08:51 AM]
Wednesday's Broadcast Ratings: "Speechless" Tops Tight Demo Race for ABC
ABC, CBS, FOX and NBC all finish within a tenth of each other among adults 18-49.


[01/19/17 - 08:30 AM]
Jane Lynch Cast as Former U.S. Attorney General Janet Reno in Discovery's Highly-Anticipated Scripted Series "Manifesto"
The series will tell the story of how FBI agent Jim "Fitz" Fitzgerald (Sam Worthington) deployed a radical approach to intelligence gathering to take down Ted Kaczynski (Paul Bettany), also known as the "Unabomber."


[01/19/17 - 08:27 AM]
MTV Brings the Laughs with All-New "Ridiculousness Fridays" Block Live with Rob Dyrdek Beginning January 20 at 8:00 PM ET/PT
Every Friday night MTV will air two all-new episodes of "Ridiculousness" during which, Rob and friends will be live in studio.


[01/19/17 - 08:01 AM]
On April 14, The World Meets Sandy Wexler, A Hollywood Icon
Adam Sandler stars in the Netflix original, about a talent manager working in Los Angeles in the 1990s who diligently represents a group of eccentric clients on the fringes of show business.


[01/19/17 - 06:49 AM]
Video: Netflix Releases First Clip from Casting JonBenet
Directed by Kitty Green, Casting JonBenet will have its world premiere on Sunday, January 22 at the 2017 Sundance Film Festival.


[01/19/17 - 06:30 AM]
CBS Announces "Grammy(R) Red Carpet Live," An Entertainment Special Hosted by "ET's" Nancy O'Dell and Kevin Frazier, to Be Broadcast Live Feb. 12 on CBS
Previously announced performers include John Legend, Metallica, Carrie Underwood and Keith Urban.


[01/19/17 - 06:14 AM]
Amazon Studios Greenlights Comedic Apocalyptic Limited Series "Good Omens"
Set to debut in 2018, the six part series takes place in 2018 when the Apocalypse is near and Final Judgment is set to descend upon humanity.


[01/19/17 - 04:02 AM]
New Presenters Announced for the 23rd Annual Screen Actors Guild Awards(R)
Casey Affleck, Mahershala Ali, Naomie Harris, Lucas Hedges, Taraji P. Henson, Brie Larson, Janelle Monae, Viggo Mortensen and Octavia Spencer are all on tap.


[01/18/17 - 12:31 PM]
Logo Hits the Slopes Again for Aspen Gay Ski Week
Logo's stars will lead viewers on a new adventure each day in a series of 10 original short segments.


[01/18/17 - 12:30 PM]
BET to Premiere New Original Scripted Drama, "Rebel," from John Singleton on March 28th at 9PM ET/PT
Directed by John Singleton, the series follows a police officer who leaves the force after being under an intense Internal Affairs/criminal investigation for shooting her partner in the hopes of stopping him from gunning down her little brother.


[01/18/17 - 12:11 PM]
Fall's Best Reviewed and #1-Rated New Series "This Is Us" Receives Renewal for Two Additional Seasons
To date, 72 million total viewers have viewed the first 10 episodes in some fashion on all platforms.


[01/18/17 - 12:03 PM]
FOX Dominates Divisional Playoff Weekend
FOX Sports spins the numbers for its NFL postseason coverage to date.