[01/06/17 - 06:32 AM]
First Look at Netflix's Futuristic Thriller Mute by Visionary Filmmaker Duncan Jones
Duncan Jones, the creative mind behind the cult-hit Moon and Source Code, returns to his creative roots with this original and gripping story set in an immersive universe.
---
[via press release from Netflix]
First Look at Netflix's futuristic thriller Mute by visionary filmmaker Duncan Jones
Netflix presents the First Look at the highly-anticipated futuristic thriller Mute. Enter the captivating world of visionary filmmaker Duncan Jones, featuring Alexander Skarsgård, Paul Rudd, Justin Theroux and newcomer Seyneb Saleh.
Duncan Jones, the creative mind behind the cult-hit Moon and Source Code, returns to his creative roots with this original and gripping story set in an immersive universe.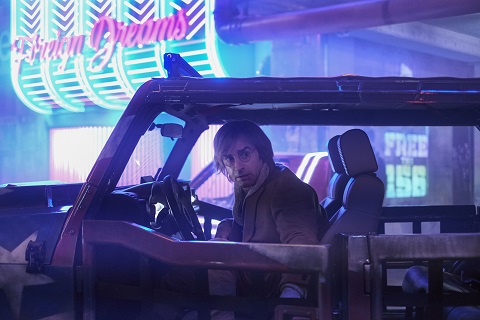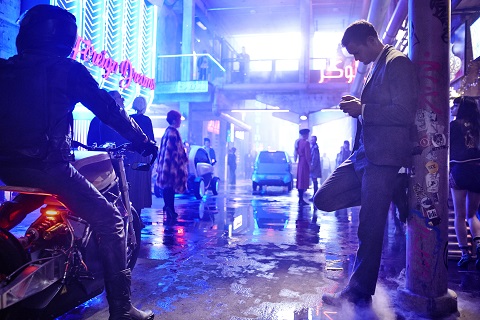 Synopsis:
Set in the near-future, Leo (Alexander Skarsgård) is a bartender living in the pulsing city of Berlin. Because of a childhood accident, Leo lost the ability to speak and the only good thing in his life is his beautiful girlfriend Naadirah (Seyneb Saleh). When she vanishes without a trace, Leo's search for her takes him deep into the city's seedy underbelly. A pair of wise-cracking American surgeons (Paul Rudd and Justin Theroux) are the only recurring clue and Leo is forced to take on this teeming underworld in order to find his love.
The Netflix original film is directed by Duncan Jones and written by Jones and Michael Robert Johnson. Stuart Fenegan serves as producer and Charles J.D. Schissel and Trevor Beattie serve as executive producers. The film will launch in all territories where Netflix is available in 2017.




[11/23/20 - 03:20 PM]
"Dateline NBC" Wins November Sweep Period
NBC spins the numbers for the November sweeps period.


[11/23/20 - 03:20 PM]
For the First Time in 5 Years, "20/20" Is Friday's No. 1 Newsmagazine During November 2020 Sweep in Adults 18-49 and Adults 25-54
ABC spins the numbers for the November sweeps period.


[11/23/20 - 02:27 PM]
Have a Holly Jolly Season with CBS' Holiday Specials!
The Eye recaps its holiday offerings in the upcoming weeks.


[11/23/20 - 01:01 PM]
"Resident Alien" - New Dramedy Starring Alan Tudyk Premieres Wednesday, January 27 at 10pm ET/PT on Syfy
Based on the Dark Horse comic, the series follows Harry, an alien played by Alan Tudyk that crash lands on Earth and passes himself off as a small-town human doctor.


[11/23/20 - 12:06 PM]
John Barrowman Is Set to Return for the "Doctor Who" Holiday Special on BBC America
In the upcoming special titled "Revolution of the Daleks," Captain Jack will be on hand to help the fam as they discover a disturbing plan forming involving one of the Doctor's most feared and dangerous enemies, the Daleks.


[11/23/20 - 12:00 PM]
TLC's "7 Little Johnstons" Returns with a Season of Love on Tuesday, December 29 at 8PM ET/PT
After each new episode, viewers can get a behind-the-scenes look with the new digital original series "Inside the Episodes," in which the Johnstons dish on all of the moments the cameras didn't capture.


[11/23/20 - 10:00 AM]
FOX and Its Free Streaming Platform, Tubi, to Jointly Encore Season One of Critically Acclaimed Comedy "The Moodys," Starring Denis Leary and Elizabeth Perkins
FOX will air the program's first two episodes on Sunday, December 20, from 8:00-9:00 PM ET/PT.


[11/23/20 - 09:59 AM]
HBO's "The Art of Political Murder," A Real-Life Political Thriller About the Investigation Into the Murder of Guatemalan Bishop Juan Gerardi, Debuts December 16
The film, executive produced by George Clooney and Grant Heslov, tells the story of the 1998 murder of Guatemalan human rights activist Bishop Juan Gerardi, which stunned a country ravaged by decades of political violence, and the fight for justice that ensued.


[11/23/20 - 09:02 AM]
MTV Greenlights "Deliciousness" Hosted by Tiffani Thiessen with Panel of Foodies Including Angela Kinsey, Kel Mitchell and Tim Chantarangsu
The "Ridiculousness" spin-off will kick off with a one week holiday-themed special event from December 14 to December 18 at 7:00/6:00c.


[11/23/20 - 09:01 AM]
All Seems Lost, But the War Rages on - "Transformers: War for Cybertron - Earthrise" Debuts December 30
Netflix confirmed the news on social media this morning.


[11/23/20 - 08:19 AM]
Sunday's Broadcast Ratings: NBC Tops Night with "Sunday Night Football"
The network cruises to another victory in total viewers and adults 18-49.


[11/23/20 - 08:02 AM]
A Record-Setting 62 Million Households Chose to Watch "The Queen's Gambit" in Its First 28 Days
Said numbers make it Netflix's biggest scripted limited series to date.


[11/23/20 - 08:00 AM]
HBO Special Event "Between the World and Me" Available to Stream for Free on HBOMax.com Beginning November 25
Additionally, HBO's "Between the World and Me Podcast," co-produced by Spoke Media and Domino Sound, will be available on all major podcast platforms.


[11/23/20 - 08:00 AM]
Enjoy the Holidays at Home with "CMA Country Christmas" Airing Monday, Nov. 30, on ABC
This year's event will feature performances by Kelsea Ballerini, Gabby Barrett, Dan + Shay, Florida Georgia Line, Lady A, Little Big Town, Tim McGraw, Thomas Rhett, and Darius Rucker with Lindsey Stirling.


[11/23/20 - 07:18 AM]
Crackle Launches Exclusive Documentary Film, "A Reindeer's Journey," Available for Free on Crackle December 1
Narrated by Donald Sutherland and directed by Guillaume Maidatchevsky, the film focuses on Ailo, a newborn reindeer who embarks on an incredible odyssey with the help of his mother.