NEWS FROM CRACKLE'S 2017 WINTER TCA PRESENTATION:
Pasadena, CA (January 13, 2017) - Crackle, Sony's streaming network, presented today at the Television Critics Association press tour in Pasadena, CA. Eric Berger, Crackle General Manager and EVP, Sony Pictures Television Digital Networks, was on hand to announce the premiere date and welcome the cast and creator of the network's upcoming scripted original drama, "Snatch" including Rupert Grint, Luke Pasqualino, Lucien Laviscount, Phoebe Dynevor, Ed Westwick, and showrunner, writer, Alex De Rakoff. The "Snatch" panel was followed by news regarding the sophomore season of the Emmy-nominated stop-motion animated comedy "SuperMansion." The panel featured cast members Yvette Nicole Brown, Tucker Gilmore, and Bryan Cranston (who also serves as executive producer) and co-creators, executive producers and writers, Matthew Senreich and Zeb Wells. Berger also announced start of production for Season 2 of the original drama, "StartUp," starring Adam Brody, Edi Gathegi and Otmara Marrero, which is set to return to the AVOD streaming service later in 2017. Details and links provided below:
"SNATCH," NEW CRACKLE SCRIPTED ORIGINAL DRAMA BASED ON ICONIC FILM OF THE SAME NAME, TO DEBUT THURSDAY, MARCH 16; FIRST LOOK TEASER TRAILER AND KEY ART REVEALED AT TELEVISION CRITICS TOUR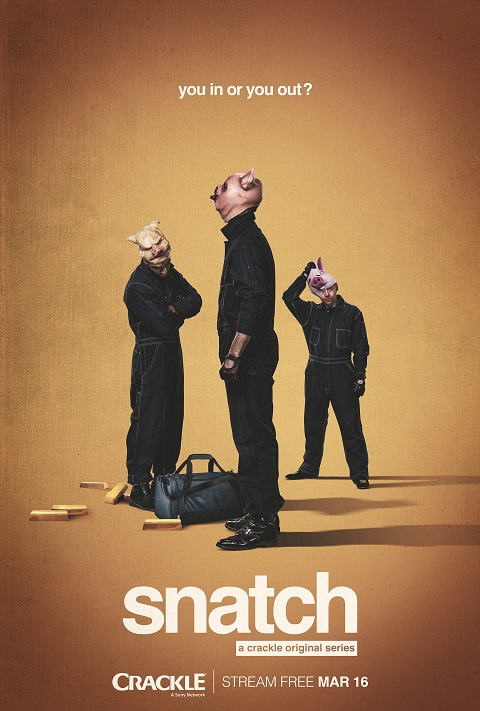 "Snatch," Crackle's new scripted original drama based loosely on the wildly popular movie of the same name, is set to premiere Thursday, March 16, it was announced today. The 10-episode, one-hour series stars Rupert Grint as the utterly posh, Charlie Cavendish. Best known as Ron Weasley in the Harry Potter film franchise, Grint also serves as an executive producer. In addition, the series stars an ensemble cast featuring Luke Pasqualino ("Skins", "The Borgias") as Albert Hill, Lucien Laviscount ("Scream Queens", "Honeytrap") as Billy Ayres, Dougray Scott ("Fear the Walking Dead," "Doctor Who") as Vic Hill, Phoebe Dynevor ("The Village," "Dickensian) as Lotti Mott, Juliet Aubrey (The Infiltrator," "Primeval") as Lily Hill, and Ed Westwick ("Wicked City," "Gossip Girl"), who guest stars as Sonny Castillo. The series is executive produced by Alex De Rakoff, who also serves as writer and showrunner.
Inspired by a real life heist in London, "Snatch," centers on a group of twenty-something, up and coming hustlers who stumble upon a truck load of stolen gold bullion and are suddenly thrust into the high-stakes world of organized crime. The boys must quickly learn to navigate the treacherous waters of London's underworld as rogue cops, gypsy fighters, international mobsters and local villains descend.
###
About Crackle
Crackle, a unit of Sony Pictures Television, programs Hollywood movies, popular TV shows, original series and feature films for the worlds connected audience. Crackle is freely accessible in the U.S. with no subscription or commitment required. The streaming service is available in 21 countries and houses a robust library of original programming available anytime, anywhere on every connected device. Check out Crackle on available on Facebook or follow @Crackle on Twitter for real time updates. For additional information, please go to www.crackle.com.