[02/24/17 - 08:30 AM]
Showtime(R) Celebrates "Twin Peaks" Day, Unveiling Dual Key Art
One poster depicts Laura Palmer (Sheryl Lee), whose mysterious death sparked the "Twin Peaks" saga, while the other showcases series star Kyle MacLachlan as Special Agent Dale Cooper.
---
[via press release from Showtime]
SHOWTIME(R) CELEBRATES "TWIN PEAKS" DAY, UNVEILING DUAL KEY ART
The 18-Part Limited Event Series Premieres On Sunday, May 21 At 9 PM ET/PT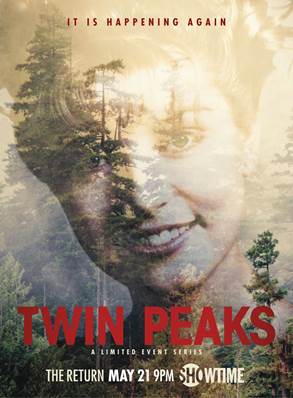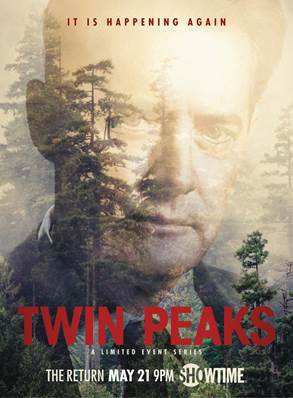 NEW YORK - February 24, 2017 - In honor of TWIN PEAKS Day, SHOWTIME has released dual posters for the new limited series, which will debut with a two-part premiere on Sunday, May 21 at 9 p.m. ET/PT on air, on demand and over the internet. One poster depicts Laura Palmer (Sheryl Lee), whose mysterious death sparked the TWIN PEAKS saga, while the other showcases series star Kyle MacLachlan as Special Agent Dale Cooper.
Immediately following the premiere on SHOWTIME, subscribers will have access to the third and fourth parts, exclusively across the SHOWTIME streaming service, SHOWTIME ANYTIME(R) and SHOWTIME ON DEMAND(R). In its second week, TWIN PEAKS will air the third and fourth parts back-to-back on SHOWTIME on May 28, starting at 9 p.m. ET/PT, followed by single parts in subsequent weeks.
Directed entirely by David Lynch, the new SHOWTIME 18-part limited event series picks up 25 years after the inhabitants of a quaint northwestern town were stunned when their homecoming queen Laura Palmer was shockingly murdered. TWIN PEAKS is written and executive produced by series creators David Lynch and Mark Frost, and is executive produced by Sabrina S. Sutherland. For more information about TWIN PEAKS, go to: http://twinpeaksonshowtime.com, follow on @SHO_TwinPeaks and join the conversation using #TwinPeaks.




[05/25/17 - 10:04 AM]
"Legends of Chamberlain Heights" Returns for Season Two on Sunday, June 18 at 11:30 P.M. ET/PT on Comedy Central
"Legends of Chamberlain Heights" is an urban animated series mixing raucous comedy and social commentary that centers on three high school freshman basketball benchwarmers.


[05/25/17 - 09:57 AM]
Ina Garten Launches "Barefoot Contessa: Cook Like a Pro" on Sunday, May 28th at 11AM ET/PT on Food Network
Each of the all-new eight episodes were shot on-location at Ina's home in East Hampton, New York.


[05/25/17 - 09:37 AM]
Video: Sneak Peaks from Netflix's "Friends from College" - Premieres July 14th
Soak up all of the immature use of mature language in four all new NSFW sneak peeks at the new Netflix original series.


[05/25/17 - 09:26 AM]
Hip-Hop. Money. Fame. Deception. Murder. All Collide in New Original Scripted Series, "Tales", Premiering Tuesday, June 27, 2017
The project is a scripted anthology series of "song stories" weaving classic and current hip-hop songs into captivating visual narratives from the lyrics of some of hip-hop's greatest hits.


[05/25/17 - 08:59 AM]
Video: All-New Hack into "Broad City!" Communication Barriers Keep Abbi & Ilana From Successfully Playing Synchronized Solitaire
Season four premieres on Wednesday, August 23 on Comedy Central.


[05/25/17 - 08:44 AM]
Bravo Media Premieres Season Three of "Odd Mom Out" on Wednesday, July 12 at 10PM ET/PT
Joining the cast this season is Christine Taylor playing Brooke's older sister, Barrett.


[05/25/17 - 08:22 AM]
Travel Channel Names 10 of the Newest Extreme Waterslides to Ride this Weekend
These awesome aquatic adventures are just the beginning of the fun in Travel Channel's new season of "Xtreme Waterparks," premiering on Sunday, June 4.


[05/25/17 - 07:31 AM]
"Andi Mack" Has Been Ordered for Second Season on Disney Channel
The series ranks as the #1 TV series of 2017 to-date among Girls 6-11, Girls 9-14 and Girls 6-14.


[05/25/17 - 07:04 AM]
Video: EPIX Releases First Trailer for "Get Shorty"
The series is based in part on the 1990 Elmore Leonard novel of the same name.


[05/25/17 - 07:04 AM]
BBC America's "Broadchurch" Begins Final Season on Wednesday, June 28 at 10/9c
Olivia Colman and David Tennant return for the show's third and final chapter.


[05/25/17 - 06:43 AM]
"Home Town" Delivers Standout Season One Ratings for HGTV
HGTV further spins the numbers for the series to date.


[05/25/17 - 06:01 AM]
Robin Roberts Guest Stars in a Special Episode of Disney Junior's Acclaimed Animated Series "Doc McStuffins," Premiering on National Cancer Survivors Day, Sunday, June 4
Roberts plays the voice of "Audrey's Mom" in an episode titled "Hannah the Brave."


[05/24/17 - 11:54 AM]
Science Channel's "Space's Deepest Secrets" Deciphers Strange Signals from Alien Worlds to Determine If We Are Really Alone in the Universe
The special episode tells the story of a genuine scientific mystery, the recent discovery, confirmation, and on-going attempts to understand the origin of Fast Radio Bursts (FRBs), enigmatic pulses from deep space that have so-far defied explanation.


[05/24/17 - 11:28 AM]
Crackle Set for Epic Rager with New Original Movie, "Party Boat," Starring Jay Mohr, Brett Davern, Beau Mirchoff, Sung Kang & Katie Leclerc
"Party Boat" focuses on 25-year-old Max, who is throwing his wildest party yet - a 25th birthday party for his best friend Kiley.


[05/24/17 - 11:02 AM]
ABC's "Jimmy Kimmel Live: Game Night" Returns for the 2017 NBA Finals
Kevin Hart, Robert Downey Jr., Tom Holland, Will Ferrell, Owen Wilson, Jamie Foxx and Billy Crystal are among those on tap.