[02/24/17 - 08:30 AM]
Showtime(R) Celebrates "Twin Peaks" Day, Unveiling Dual Key Art
One poster depicts Laura Palmer (Sheryl Lee), whose mysterious death sparked the "Twin Peaks" saga, while the other showcases series star Kyle MacLachlan as Special Agent Dale Cooper.
---
[via press release from Showtime]
SHOWTIME(R) CELEBRATES "TWIN PEAKS" DAY, UNVEILING DUAL KEY ART
The 18-Part Limited Event Series Premieres On Sunday, May 21 At 9 PM ET/PT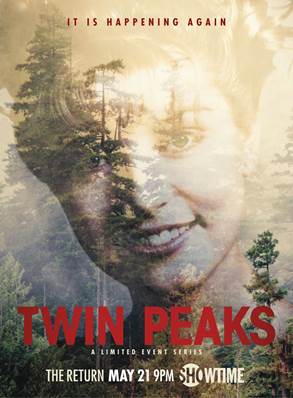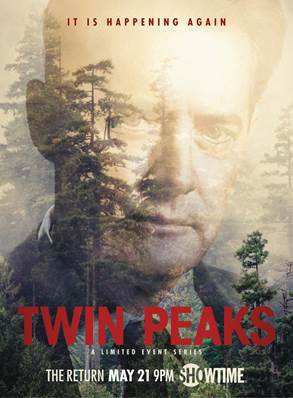 NEW YORK - February 24, 2017 - In honor of TWIN PEAKS Day, SHOWTIME has released dual posters for the new limited series, which will debut with a two-part premiere on Sunday, May 21 at 9 p.m. ET/PT on air, on demand and over the internet. One poster depicts Laura Palmer (Sheryl Lee), whose mysterious death sparked the TWIN PEAKS saga, while the other showcases series star Kyle MacLachlan as Special Agent Dale Cooper.
Immediately following the premiere on SHOWTIME, subscribers will have access to the third and fourth parts, exclusively across the SHOWTIME streaming service, SHOWTIME ANYTIME(R) and SHOWTIME ON DEMAND(R). In its second week, TWIN PEAKS will air the third and fourth parts back-to-back on SHOWTIME on May 28, starting at 9 p.m. ET/PT, followed by single parts in subsequent weeks.
Directed entirely by David Lynch, the new SHOWTIME 18-part limited event series picks up 25 years after the inhabitants of a quaint northwestern town were stunned when their homecoming queen Laura Palmer was shockingly murdered. TWIN PEAKS is written and executive produced by series creators David Lynch and Mark Frost, and is executive produced by Sabrina S. Sutherland. For more information about TWIN PEAKS, go to: http://twinpeaksonshowtime.com, follow on @SHO_TwinPeaks and join the conversation using #TwinPeaks.




[06/20/18 - 11:30 AM]
The CW Network to Roll Out New Six-Night Schedule Starting in October
The CW will be switching time periods for its two high-octane action and adventure Monday series, with "Arrow" now leading off the night and "DC's Legends Of Tomorrow" moving an hour later.


[06/20/18 - 11:01 AM]
Oxygen Media Presents "Serial Killer with Piers Morgan" Premiering Monday, July 16 at 7PM ET/PT
With unprecedented access to maximum security prisons, "Serial Killer with Piers Morgan" explores the minds of the most depraved serial killers for the first time.


[06/20/18 - 10:42 AM]
NBC Annouces the Eight Contestants Who Will Have to Get Crafty to Become Master Maker on Amy Poehler and Nick Offerman's "Making It"
The six-episode crafting series, hosted and executive produced by Amy Poehler and Nick Offerman, will feature judges Dayna Isom Johnson, Etsy's trend expert, and Simon Doonan, Creative Ambassador for Barneys New York.


[06/20/18 - 10:05 AM]
Charlamagne Tha God Brings His Unique Style of Interviewing to HBO in "The Gray Area with Charlamagne Tha God"
"I feel extremely blessed to be able to announce my official partnership with HBO on a new conversation series which will provide a safe space for 'unsafe' people to curate their stories and control their own narratives," notes Charlamagne.


[06/20/18 - 09:55 AM]
Freeform's "Marvel's Cloak & Dagger" Spikes to a New Series High on Its 3rd Telecast in Women 18-34
Freeform further spins the numbers for Thursday, June 14.


[06/20/18 - 09:12 AM]
"The Great Food Truck Race" Takes on the Wild West in Return of Summer Primetime Series
Hosted by Tyler Florence, the trip hits hot spots in the Southwest to test the competitors' cooking chops, selling skills and business savvy.


[06/20/18 - 09:04 AM]
Video: Trailer Debut - "Nailed It!" Season 2
Hosted by Nicole Byer and Jacques Torres, home bakers with a terrible track record take a shot at re-creating edible masterpieces for a $10,000 prize.


[06/20/18 - 09:00 AM]
ABC Announces Season Premiere of "Bachelor in Paradise" and Series Premiere of "Castaways"
"Castaways" is a revolutionary series testing the human need for companionship under extreme circumstances as each individual learns there are other castaways out there but are unaware of how many, their locations or when they will be rescued.


[06/20/18 - 08:31 AM]
Video: Trailer Debut - "Comedians in Cars Getting Coffee" - New Episodes Only on Netflix July 6
Guests include: the late Jerry Lewis, Kate McKinnon, Ellen DeGeneres, Hasan Minhaj, Dana Carvey, Neil Brennan, Tracy Morgan, Brian Regan, Alec Baldwin, Zach Galifinakis, John Mulaney, and Dave Chappelle.


[06/20/18 - 08:14 AM]
Tuesday's Broadcast Ratings: NBC, "Got Talent" Cruise to Victory
The Peacock easily wins the night among adults 18-49 and total viewers.


[06/19/18 - 03:06 PM]
The 2018 "MTV Movie & TV Awards" Scores Double Digit Increase with 3.371 Million Total Viewers
MTV spins the numbers for Monday, June 18.


[06/19/18 - 01:41 PM]
Hallmark Movies & Mysteries' First Annual "Summer of Mystery" Kicks Off on a High Note
Hallmark Channel spins the numbers for the weeks of May 28-June 17.


[06/19/18 - 12:51 PM]
Paradise Found in New HGTV Series "My Aloha Dream Home" Premiering Friday, June 22, at 9 p.m. ET/PT
Real estate broker and attorney Wayne Chi helps clients find a tropical getaway to call home in the new HGTV series.


[06/19/18 - 11:30 AM]
NBC Announces Fall Premiere Dates for New 2018-19 Season
"The Voice" as is custom will kick things off on Monday, September 24 followed by the launch of new drama "Manifest."


[06/19/18 - 11:11 AM]
Academy Award(R) Winner John Ridley Joins EPIX(R) Series "Godfather of Harlem" Produced by ABC Signature Studios
The 10-episode series tells the story of infamous crime boss Bumpy Johnson (Forest Whitaker), who in the early 1960s, returned from ten years in prison to find the neighborhood he used to rule in shambles and his power gone.