[02/24/17 - 08:30 AM]
Showtime(R) Celebrates "Twin Peaks" Day, Unveiling Dual Key Art
One poster depicts Laura Palmer (Sheryl Lee), whose mysterious death sparked the "Twin Peaks" saga, while the other showcases series star Kyle MacLachlan as Special Agent Dale Cooper.
---
[via press release from Showtime]
SHOWTIME(R) CELEBRATES "TWIN PEAKS" DAY, UNVEILING DUAL KEY ART
The 18-Part Limited Event Series Premieres On Sunday, May 21 At 9 PM ET/PT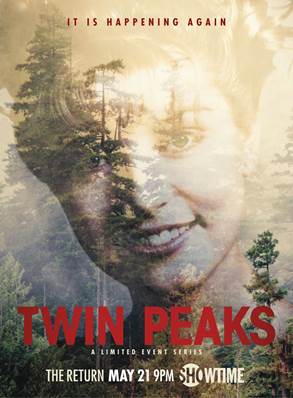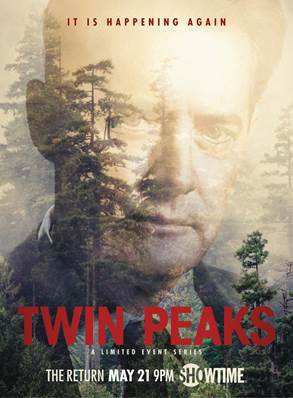 NEW YORK - February 24, 2017 - In honor of TWIN PEAKS Day, SHOWTIME has released dual posters for the new limited series, which will debut with a two-part premiere on Sunday, May 21 at 9 p.m. ET/PT on air, on demand and over the internet. One poster depicts Laura Palmer (Sheryl Lee), whose mysterious death sparked the TWIN PEAKS saga, while the other showcases series star Kyle MacLachlan as Special Agent Dale Cooper.
Immediately following the premiere on SHOWTIME, subscribers will have access to the third and fourth parts, exclusively across the SHOWTIME streaming service, SHOWTIME ANYTIME(R) and SHOWTIME ON DEMAND(R). In its second week, TWIN PEAKS will air the third and fourth parts back-to-back on SHOWTIME on May 28, starting at 9 p.m. ET/PT, followed by single parts in subsequent weeks.
Directed entirely by David Lynch, the new SHOWTIME 18-part limited event series picks up 25 years after the inhabitants of a quaint northwestern town were stunned when their homecoming queen Laura Palmer was shockingly murdered. TWIN PEAKS is written and executive produced by series creators David Lynch and Mark Frost, and is executive produced by Sabrina S. Sutherland. For more information about TWIN PEAKS, go to: http://twinpeaksonshowtime.com, follow on @SHO_TwinPeaks and join the conversation using #TwinPeaks.




[02/21/18 - 09:42 AM]
Video: Trailer Debut - "Flint Town" on Netflix March 2
In the aftermath of the Flint water crisis, "Flint Town" takes an intimate look at the state of policing in America through the lens of the Flint Police Department.


[02/21/18 - 09:06 AM]
As People Around the United States Fight This Year's Influenza Virus, Discovery Shines a Light on Three Deadly Viruses and Their Potential for Catastrophic Outbreaks in "Invisible Killers"
Look for the three specials back-to-back on Thursday, March 29.


[02/21/18 - 09:04 AM]
Bravo Media's Southern Socialites Are Back When "Southern Charm" Returns for Season 5 Thursday, April 5 at 9PM ET/PT
Join the Southern socialites Craig Conover, Kathryn Dennis, Cameran Eubanks, Austen Kroll, Thomas Ravenel, and Shep Rose as they welcome a new member, Chelsea Meissner, into the group and embark on another season of living the highlife in the low country.


[02/21/18 - 09:01 AM]
2018 National Women's Soccer League Game of the Week Begins Saturday, March 24 on Lifetime
Featuring Jenn Hildreth, Aly Wagner, and Dalen Cuff, the NWSL Game of the Week on Lifetime will air Saturdays beginning at 3:30pm ET with a pregame show leading up to kickoff at 3:50pm ET.


[02/21/18 - 08:37 AM]
Netflix Signs New Four Picture Deal with Jay and Mark Duplass
"The Untitled Duplass Brothers Ray Romano Project," the first film on the newly struck deal, will be released later this year.


[02/21/18 - 08:10 AM]
American Political Drama Series "Madam Secretary" to Premiere on WE tv Starting Wednesday, March 7 at 7PM
Beginning the following week, Wednesday, March 14, the series will air during all-day binge-a-thons on Wednesdays from 10am-4:00am ET/PT.


[02/21/18 - 07:00 AM]
Video: Danger, Will Robinson! Netflix Releases First Look at "Lost in Space," Launching on Earth on April 13
Netflix provided NASA with access to the pilot episode, which was transmitted 12 days ago to the International Space Station for astronauts to view during their leisure time.


[02/21/18 - 06:06 AM]
Amazon Studios to Adapt "Consider Phlebas," First Novel of the "Culture" Series, for Television
The series will be adapted by Dennis Kelly with Plan B Entertainment slated to produce and the Estate of Iain Banks attached as executive producer.


[02/21/18 - 05:32 AM]
Ten More Presenters Announced for 90th Oscars(R)
The additional presenters include Gal Gadot, Mark Hamill, Armie Hammer, Oscar Isaac, Lin-Manuel Miranda, Gina Rodriguez, Eva Marie Saint, Wes Studi, Kelly Marie Tran and Zendaya.


[02/20/18 - 11:42 PM]
Development Update: Tuesday, February 20
Updates include: Jay Hernandez to lead "Magnum, P.I." reboot at CBS; Lauren Cohan to star in ABC's "Whiskey Cavalier"; and Walton Goggins to topline "L.A. Confidential" at CBS.


[02/20/18 - 03:36 PM]
Miranda Otto Has Been Cast in the Netflix Original Series the "Untitled Sabrina Project," Based on the Archie Comics Graphic Novel "The Chilling Adventures of Sabrina"
Zelda Spellman (Otto) is Sabrina's sterner witch aunt (the other being Hilda, played by Lucy Davis).


[02/20/18 - 03:31 PM]
Moon Girl and Devil Dinosaur Are Heading to TV
Based on the hit comic book series, the animated project follows the adventures of nine-year-old super-genius Lunella Lafayette, an African-America girl who teams up with her crimson-colored dinosaur and uses her smarts to save the day.


[02/20/18 - 02:30 PM]
Disney Channel's Original Movie "Zombies" Reaches 10.3 Million Viewers Over the Holiday Weekend
Disney Channel further spins the numbers for Friday, February 16.


[02/20/18 - 02:10 PM]
Team USA Men's Hockey Win Over Slovakia Ranks as NBCSN's Most Watched Late-Night Hockey Game in 4 Years
NBC further spins the numbers for Monday, February 19.


[02/20/18 - 01:03 PM]
Bravo Media Closes the Deal in New Series "Sell It Like Serhant" Premiering Wednesday, April 11 at 10PM ET/PT
In this new series, Ryan Serhant answers the call of struggling salespeople across multiple industries who are on the brink of losing their jobs and are desperate for his expertise.