[04/04/17 - 10:42 AM]
"The Handmaid's Tale" Art Release
The first 3 episodes premiere on Wednesday, April 26 on Hulu with one each week following.
---
[via press release from Hulu]
"The Handmaid's Tale" Art Release
Today we released our first key art for The Handmaid's Tale.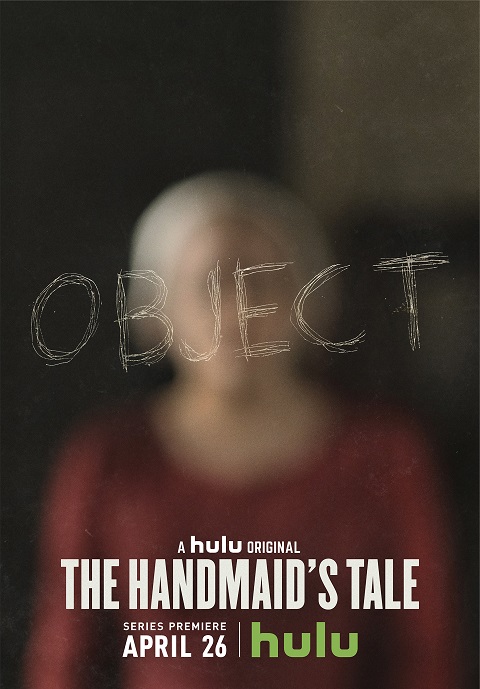 · The first 3 episodes premiere on Wednesday, April 26th with one each week following.
· The Handmaid's Tale comes to Hulu from MGM Television and is created, executive produced and written by Bruce Miller and executive produced by Warren Littlefield, Daniel Wilson, Fran Sears and Ilene Chaiken. MGM will serve as the international distributor.
· Cast includes: Elisabeth Moss, Joseph Fiennes, Yvonne Strahovski, Samira Wiley, Alexis Bledel, Max Minghella, Madeline Brewer, Ann Dowd, and O-T Fagbenle.
· Synopsis: The drama series, based on the award-winning, best-selling novel by Margaret Atwood, is the story of life in the dystopia of Gilead, a modern-day totalitarian society in what was formerly part of the United States. Facing environmental disasters and a plunging birthrate, Gilead is ruled by a twisted fundamentalist regime that treats women as property of the state. As one of the few remaining fertile women, Offred (Elisabeth Moss) is a Handmaid in the Commander's household, one of the caste of women forced into sexual servitude as a last desperate attempt to repopulate a devastated world. In this terrifying society where one wrong word could end her life, Offred navigates between Commanders, their cruel Wives, domestic Marthas, and her fellow Handmaids - where anyone could be a spy for Gilead - all with one goal: to survive and find the daughter that was taken from her.




[09/21/17 - 02:16 PM]
"Saturday Night Live" Rolls Out Season 43 with Star-Studded 3-Week Lineup on Sept. 30, Oct. 7 & 14
Gal Gadot and Kumail Nanjiani are on tap alongside the previously announced Ryan Gosling.


[09/21/17 - 01:08 PM]
Mark Hamill, Lena Headey and David Bradley Join the Cast of Guillermo del Toro's "Trollhunters" for Season 2
In February, del Toro announced a second season of 13 episodes would debut in late 2017.


[09/21/17 - 01:01 PM]
Boxing's Heavyweight Resurgence Continues on Showtime(R)
The network announced today coverage of unified heavyweight world champion Anthony Joshua's upcoming WBA and IBF world title defense against top-rated mandatory challenger Kubrat Pulev on Saturday, October 28.


[09/21/17 - 11:00 AM]
Two-Time Tony Award Winner Matthew Broderick Cast as the Narrator in FOX's Live Musical Event, "A Christmas Story Live!," Airing Sunday, December 17, on FOX
As the narrator, Broderick will play the grown-up Ralphie Parker, who looks back with love and humor on his favorite childhood Christmas.


[09/21/17 - 11:00 AM]
David Lim Upped to Series Regular on New CBS Drama Series "S.W.A.T."
Lim portrays Victor Tan, a relatively new S.W.A.T. officer who made his name in the Hollywood division before advancing to the heights of the LAPD and Metro S.W.A.T.


[09/21/17 - 09:07 AM]
Netflix Has Picked Up "BoJack Horseman" for a Fifth Season
Will Arnett voices BoJack, the failed legendary '90s sitcom star from the favorite family sitcom Horsin' Around, who has been trying to find his way through a muddle of self-loathing, whisky and failed relationships.


[09/21/17 - 08:20 AM]
Wednesday's Broadcast Ratings: NBC, "America's Got Talent" Win Summer Finale Showdown
The Peacock holds off "Big Brother" on CBS and "MasterChef" on FOX.


[09/21/17 - 08:02 AM]
"Comic Book Men" Season 7 Premieres Sunday, October 22 at Midnight on AMC
Guests this season include Method Man, Robert Englund and more!


[09/21/17 - 08:01 AM]
"AMC Visionaries: Robert Kirkman's Secret History of Comics" Will Premiere as a Two-Night Television Event on Sunday, November 12th at 11:00PM ET/PT and Monday, November 13th at 10:00PM ET/PT
The six-part one-hour documentary series takes a deeper look into the stories, people and events that have transformed the world of comic books.


[09/21/17 - 08:00 AM]
"Michael Jackson's Halloween," A New One-Hour Animated Special, to Be Broadcast Friday, Oct. 27 on CBS
The special will feature the voices of actors Christine Baranski, Kiersey Clemons, Alan Cumming, George Eads, Brad Garrett, Lucy Liu, Jim Parsons and Lucas Till.


[09/21/17 - 07:22 AM]
CMT Partners with Louisiana Community and Technical Colleges and Louisiana Calling in Statewide Push Encouraging Residents to Pursue Higher Education
Louisiana native and rising country star Courtney Cole was on-hand for the announcement, where she committed to return to her home state for an eight-stop community college tour in 2018.


[09/21/17 - 07:02 AM]
An All-New "The Great American Baking Show" Debuts This December on ABC
Ayesha Curry and Anthony "Spice" Adams will host the new season.


[09/21/17 - 06:10 AM]
Video: "Def Comedy Jam 25" - Official Trailer - Netflix
Dave Chappelle, Martin Lawrence, Steve Harvey, Cedric the Entertainer, Adele Givens, Tracy Morgan, Sheryl Underwood, D.L. Hughley and many more celebrate one of comedy's greatest institutions.


[09/20/17 - 02:45 PM]
Comedy Central Launches Global Podcast Network Featuring Brand Extensions of Comedy Central's Hit Franchises and New Original Content
Comedy Central's late night hit "The Jim Jefferies Show" will debut "The Jim Jefferies Show Podcast" today, and it will be available for download and streaming worldwide across Apple Podcasts, Google Play, Spotify, Stitcher, and other digital platforms.


[09/20/17 - 01:18 PM]
A&E Network to Premiere New Nonfiction Limited Series "The Eleven" on Thursday, October 19 at 9PM ET/PT
The six-part limited series follows investigators as they reexamine the murders of 11 teenage girls after discovering a confession letter from current inmate and convicted murderer Edward Harold Bell.