HISTORIC HEARTLAND DRAMA "DAMNATION" HEADS TO USA NETWORK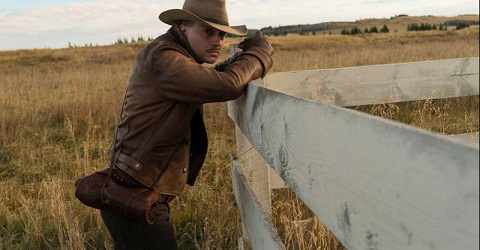 Announced Friday, USA Network greenlit the historic drama Damnation to series. The production of the pilot was announced in September.
Set against the backdrop of the American heartland in the 1930s, the epic saga Damnation centers on the mythic conflict and bloody struggle between big money and the downtrodden, God and greed, charlatans and prophets. The pilot introduces Seth Davenport (Killian Scott, 71), a man masquerading as a small-town Iowa preacher in the hopes of starting a full-blown insurrection against the status quo.
Focused on his mission, Davenport is unaware that an industrialist tycoon has hired a professional strikebreaker named Creeley Turner (Logan Marshall-Green, Quarry) to stop the uprising by any means necessary. But unbeknownst to those around them, these two men already share a secret bloody past.
The pilot was written and created by Tony Tost (Longmire) and directed by David MacKenzie (Oscar-nominated Hell or High Water). Both Tost and MacKenzie will executive-produce the series, along with James Mangold (Logan), and Guyman Casady (Game of Thrones) and Daniel Rappaport (Office Space) of Entertainment 360. Netflix, who co-produces the series with Universal Cable Productions, will have first-run rights to the series outside of the U.S.
"Tony's script captures a period of American history with many of the same conflicts that we are still facing today," Bill McGoldrick, EVP of NBCUniversal Cable Entertainment's scripted content group, said in September. "We are thrilled to collaborate with Universal Cable Productions, James Mangold, and Entertainment 360 on this powerful and ambitious historical drama."
Damnation is expected to premiere on USA Network this October!