[07/11/17 - 09:00 AM]
"Michael Jackson's Halloween," A New One-Hour Animated Special to Be Broadcast for the First Time This Fall on CBS
The special will feature the voices of actors Christine Baranski, Kiersey Clemons, Alan Cumming, George Eads, Brad Garrett, Lucy Liu, Jim Parsons and Lucas Till.
---
[via press release from CBS]
"MICHAEL JACKSON'S HALLOWEEN," A NEW ONE-HOUR ANIMATED SPECIAL TO BE BROADCAST FOR THE FIRST TIME THIS FALL ON CBS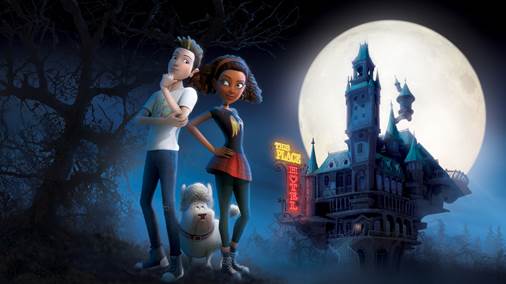 Featuring the Voices of Christine Baranski, Kiersey Clemons, Alan Cumming, George Eads, Brad Garrett, Lucy Liu, Jim Parsons and Lucas Till
Michael Jackson's Acclaimed Music Is the Soundtrack for the Special
MICHAEL JACKSON'S HALLOWEEN, a new one-hour animated adventure with Michael Jackson's acclaimed music as its soundtrack, will be broadcast for the first time this fall on the CBS Television Network. Created and produced by Optimum Productions, the Michael Jackson company now owned by his estate, the special will feature the voices of actors Christine Baranski, Kiersey Clemons, Alan Cumming, George Eads, Brad Garrett, Lucy Liu, Jim Parsons and Lucas Till.
The special follows millennials Vincent (Lucas Till) and Victoria (Kiersey Clemons), who meet "accidentally" on Halloween night and find themselves, along with Ichabod the dog, at a mysterious hotel located at 777 Jackson Street called This Place Hotel. Once inside, Vincent and Victoria are sent on an unexpected, magical adventure of personal discovery, culminating in a spectacular dance finale featuring an animated Michael Jackson.
MICHAEL JACKSON'S HALLOWEEN was created and produced by Optimum Productions, with animation production by Hammerhead. John Branca and John McClain, co-executors of the Estate of Michael Jackson, serve as executive producers. Daniel Chuba is the producer and Mark A.Z. Dippé is the director.




[07/26/17 - 03:10 PM]
HBO/Cinemax Programming Overview - Summer 2017
The company recaps its plans for the rest of the year and beyond.


[07/26/17 - 03:09 PM]
Five-Part Miniseries "Chernobyl," Starring Jared Harris, Produced by Sister Pictures and The Mighty Mint as an HBO/Sky Television Co-Production, to Begin Filming Next Year
Harris will play Valery Legasov, the Soviet scientist chosen by the Kremlin to investigate the accident.


[07/26/17 - 03:08 PM]
"Baltimore Rising," Chronicling the Struggle of Police and Activists to Hold the City Together in the Wake of Strife, Debuts in November on HBO
Directed by Sonja Sohn, the film follows activists, police officers, community leaders and gang affiliates, who struggle to hold Baltimore together, even as the homicide rate hits record levels.


[07/26/17 - 03:07 PM]
HBO Announces Documentary Lineup for the Second Half of 2017
Highlights include Alex Gibney and Blair Foster's Rolling Stone documentary, due in November.


[07/26/17 - 03:06 PM]
Hit HBO Comedy Series "Curb Your Enthusiasm," Starring Larry David, Returns for Its Ninth Season Oct. 1
Guest stars this season include Elizabeth Banks, Ed Begley, Jr., Carrie Brownstein, Bryan Cranston, Lauren Graham, Jimmy Kimmel, Nick Offerman, Nasim Pedrad and Elizabeth Perkins.


[07/26/17 - 03:05 PM]
James Franco and Maggie Gyllenhaal Star in HBO Drama Series "The Deuce," Created by David Simon and George Pelecanos, Debuting Sept. 10
The show's title comes from the local slang for New York's fabled 42nd Street.


[07/26/17 - 03:03 PM]
ESPN Films' Ric Flair 30 for 30 "Nature Boy" Premieres November 7
Director Rory Karpf will take an inside look at Flair's story, including his triumphs, his tragedies, and his pivotal role in turning pro wrestling into mainstream sports entertainment.


[07/26/17 - 03:01 PM]
Jon Stewart Returns to HBO for His First Stand-Up Special in 21 Years
Additionally, this fall Stewart will host the latest "Night of Too Many Stars" all-star benefit for NEXT For AUTISM, to be presented live from The Theater at Madison Square Garden in New York on Saturday, November 18.


[07/26/17 - 01:33 PM]
Comic-Con Trailer for "The Walking Dead," Viewed More Than 31 Million Times in Four Days Breaking Own Record for Views
AMC spins the digital numbers for the trailer to date.


[07/26/17 - 12:38 PM]
21 Million Viewers Tune In to Simulcast Premiere of Disney's "Descendants 2" in Live + 3 Data
Disney Channel further spins the numbers for Friday, July 21.


[07/26/17 - 11:14 AM]
Electus Partners with Michael Franzese, Moshe Diamant, and Michael Tadross Jr. to Create New Mafia Series "American Royalty"
The project is a revealing and uncompromising look back at a time when mobsters were bigger than life, often bringing politicians and corporate executives to their knees.


[07/26/17 - 11:00 AM]
Freeform Dives Into Production on New Original Drama Series "Siren"
Sibongile "Sibo" Mlambo joins the previously announced cast of Alex Roe, Eline Powell, Fola Evans-Akingbola, Ian Verdun and Rena Owen.


[07/26/17 - 10:58 AM]
PBS Announces "We'll Meet Again" with Ann Curry, New Six-Part Series Premiering Winter 2018
Exploring some of history's most dramatic events from across the globe through the personal stories of those who experienced them, the series brings together people whose lives intersected at pivotal moments.


[07/26/17 - 10:50 AM]
Animal Planet's "Rescue Dog to Super Dog" Gives Assistance and Comfort to People in Need and a Second Chance to Shelter Dogs
The newcomer launches Saturday, August 12 at 10:00/9:00c.


[07/26/17 - 10:49 AM]
Former NASA Astronaut Mike Massimino to Anchor Science Channel's Primetime Coverage of the Great American Eclipse on Monday, August 21 at 9 PM
In addition, Massimino will serve as guide to the definitive series on our closest neighbors in the solar system, "The Planets," premiering Tuesday, August 22 at 10:00/9:00c.