First look of Michael Sheen as Aziraphale and David Tennant as Crowley revealed as principal photography commences in London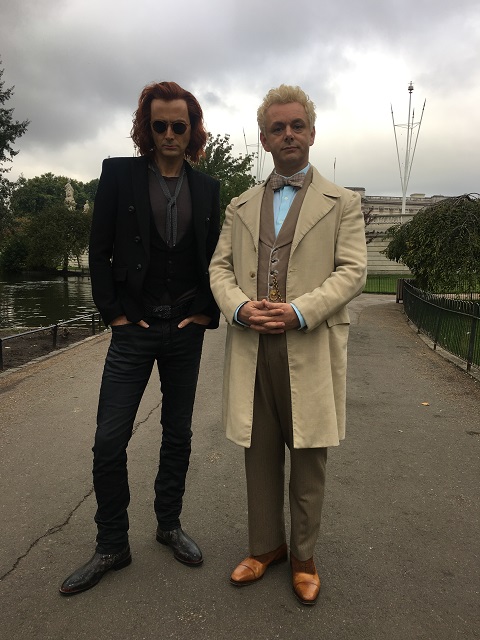 London, September 18th 2017 - Filming has begun on Amazon Prime Video's upcoming six-part series, Good Omens, as revealed by Showrunner Neil Gaiman on Twitter with a photo of multi-award-winning actors Michael Sheen (Masters of Sex, Passengers) and David Tennant (Broadchurch, Doctor Who) on set as lead characters Aziraphale and Crowley.
Based on the acclaimed novel by Terry Pratchett and Neil Gaiman Good Omens will be filming for the next six months in London, Oxfordshire and locations in South Africa. Equal parts humour and horror, fantasy and drama, it is written by Neil Gaiman (American Gods) who is serving as Showrunner and will launch in the UK in 2019 on Prime Video before going on to BBC Two at a later date.
Commenting on the start of production, Gaiman says: "People have fallen in love with an angel and a demon in a book by Terry Pratchett and me, and they have been excited and nervous to see how they would appear on screen - and I was probably the most nervous and excited of all. This is a first look. Michael Sheen is the best and finest of bookseller angels, David Tennant the coolest and most delightful of demons. Together they are one hell of a double act (or do I mean one made in Heaven?)"
Confirmed to be joining Sheen and Tennant in the cast are Adria Arjona (Anathema Device), Nina Sosanya (Sister Mary Loquacious), Jack Whitehall (Newt), Michael McKean (Shadwell), Miranda Richardson (Madame Tracy), Ned Dennehy (Hastur) and Ariyon Bakare (Ligur).
Good Omens was commissioned for Amazon Prime Video by Amazon Studios and for BBC Two by Patrick Holland, Controller, BBC Two; Shane Allen, Controller, BBC Comedy Commissioning and BBC commissioning editor Gregor Sharp. It is being produced by the comedy team at BBC Studios, the BBC's commercial production arm, Narrativia and The Blank Corporation, in association with BBC Worldwide.
Good Omens will launch globally on Prime Video in over 200 countries and territories in 2019 including in the UK, where it will also air on BBC Two at a later date. BBC Worldwide distributes rights for Good Omens internationally, after the series premiere on Prime Video. The series will be brought to the screen by the highly acclaimed director/executive producer Douglas Mackinnon, whose credits include Knightfall, Dirk Gently, Doctor Who, Outlander and the standalone Victorian episode of Sherlock: The Abominable Bride, winner of the Primetime Emmy Award for Outstanding Television Movie last year.
***
About Good Omens
According to The Nice And Accurate Prophecies of Agnes Nutter, Witch, (the world's only completely accurate book of prophecies) the world will end on a Saturday. Next Saturday, in fact. Just before dinner. So the armies of Good and Evil are amassing, Atlantis is rising, tempers are flaring. Everything appears to be going according to Divine Plan. Except Aziraphale, a somewhat fussy angel, and Crowley, a fast-living demon - both of whom have lived among Earth's mortals since The Beginning and have grown rather fond of the lifestyle - are not actually looking forward to the coming war. And someone seems to have misplaced the Antichrist...
About the Authors
Neil Gaiman is the award-winning author of books, graphic novels, short stories, and films for all ages, including the Oscar-nominated Coraline. Some of his most notable titles include the ground-breaking Sandman comics series, The Graveyard Book (the only book ever to win both the Newbery and Carnegie medals), and The Ocean At The End Of The Lane, the UK's National Book Award 2013 Book Of The Year. The television adaptation of his novel American Gods was released in 2017 and the film adaptation of his short story How to Talk To Girls At Parties follows later this year. Born in the UK, he now lives in the United States.
Terry Pratchett was the acclaimed creator of the global bestselling Discworld series, the first of which - The Colour of Magic - was published in 1983. As a young journalist, Neil Gaiman was the first person ever to interview him. Terry's books have been widely adapted for stage and screen, and he was the winner of multiple prizes, including the Carnegie Medal, as well as being awarded a knighthood for literature. He died in March 2015.
About Amazon Video
Amazon Video is a premium on-demand entertainment service that offers customers the greatest choice in what to watch, and how to watch it. Amazon Video is the only service that provides all of the following: Prime Video: thousands of popular movies and TV episodes, to stream or download, including Amazon Originals and Exclusives like Ridley Scott produced The Man in the High Castle; American Gods, the fantasy drama based on the book by Neil Gaiman; Goliath, starring Billy Bob Thornton; Sneaky Pete, executive produced by Bryan Cranston; BAFTA-winning Transparent; Golden Globe(R) winning MR. ROBOT; all series of Ripper Street and Jeremy Clarkson, Richard Hammond and James May's show, The Grand Tour. Prime Video is also now available to customers in more than 200 countries and territories around the globe. Amazon Channels: a complete "over-the-top" streaming solution that allows Prime members to add channel subscriptions including Discovery, Eurosport Player, ITV Hub+, BFI Player+ and hayu to their memberships for a low monthly subscription fee, without being tied into a long contract. Rent or Own: thousands of titles, including new-release movies and current TV shows available for on-demand rental or purchase for all Amazon customers. Instant Access: watch anytime, anywhere through the Amazon Video app on smart TVs, mobile devices, Amazon Fire TV, Fire TV Stick, and Fire tablets, on Xbox, PlayStation, Wii and Wii U, and through the web at www.amazon.co.uk/primevideo Premium Features: top features like 4K Ultra HD, High Dynamic Range (HDR) and mobile downloads for offline viewing.