[03/06/18 - 08:02 AM]
You Wanna Test Him? Step Up! "Marvel's Luke Cage" Returns June 22 on Netflix
After clearing his name, Luke Cage has become a celebrity on the streets of Harlem with a reputation as bulletproof as his skin.
---
[via press release from Netflix]
Can't burn him. Can't blast him. CAN'T BREAK HIM. Season Two of Marvel's Luke Cage premieres June 22 on Netflix.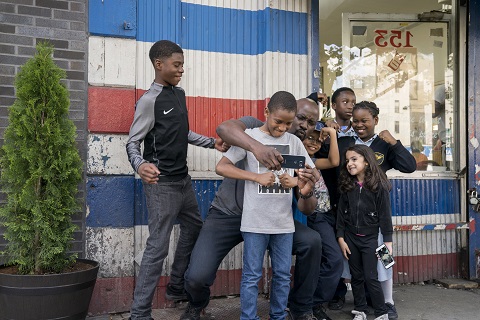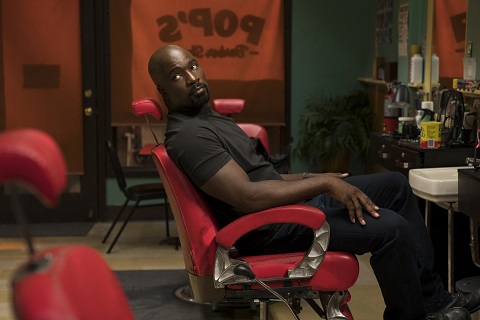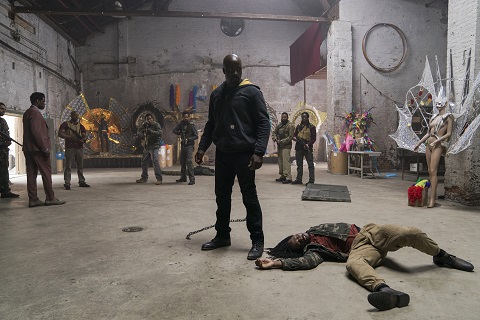 netflix.com/marvelslukecage
About Marvel's Luke Cage Season Two: After clearing his name, Luke Cage has become a celebrity on the streets of Harlem with a reputation as bulletproof as his skin. But being so visible has only increased his need to protect the community and find the limits of who he can and can't save. With the rise of a formidable new foe, Luke is forced to confront the fine line that separates a hero from a villain.
Credits: Marvel's Luke Cage stars Mike Colter (Extinction). The second season is executive produced by series showrunner Cheo Hodari Coker (Ray Donovan), Jim Chory (Marvel's Jessica Jones), and Jeph Loeb (Marvel's Jessica Jones), who also serves as Marvel's Head of Television. The premiere episode of season two is directed by Lucy Liu (Future World). The cast also features Simone Missick (Ray Donovan), Alfre Woodard (The Lion King), Theo Rossi (Sons of Anarchy), Mustafa Shakir (The Deuce), Gabrielle Dennis (Rosewood) and Rosario Dawson (Marvel's Daredevil). Marvel's Luke Cage is produced by Marvel Television in association with ABC Studios for Netflix. All 13 original episodes of Marvel's Luke Cage, Season 2 will premiere exclusively on Netflix.
For more on Marvel's Luke Cage, visit Netflix Media Center or our social channels: Facebook // facebook.com/MarvelsLukeCage/ Twitter // twitter.com/lukecage Instagram // instagram.com/marvelslukecage/ Hashtag // #LukeCage




[01/27/21 - 11:01 AM]
Coming Soon: NBC's Special Three-Night True Crime Television Event, "The Widower"
From the producers of "Dateline NBC," the project goes behind the scenes of one of the country's most confounding murder investigations, revealing a tale of evil and a tireless quest for justice in real time.


[01/27/21 - 11:00 AM]
HBO Max Highlights - February 2021
Original programming in February includes the season eight return of "Last Week Tonight with John Oliver," the second season of animated hit "Close Enough," the documentary premiere of "There Is No 'I' in Threesome," and five-episode limited series "Beartown."


[01/27/21 - 10:47 AM]
CBS Announces New Comedy "United States of Al," From Award-Winning Executive Producer Chuck Lorre, David Goetsch and Maria Ferrari, Will Premiere Thursday, April 1, 9:30 PM
The newcomer will take over said time period after "The Unicorn" completes its second season.


[01/27/21 - 10:30 AM]
Freeform's Hit Series "The Bold Type" Set to Return for a Fifth and Final Season in 2021
A signature hit for the network, the series will celebrate Kat, Jane and Sutton's journey in the farewell episodes set to air later this year.


[01/27/21 - 10:21 AM]
Starz Celebrates Women's History Month with "Ruth: Justice Ginsburg in Her Own Words" Documentary Premiere on March 1
The documentary chronicles Justice Ruth Bader Ginsburg's historic ascent to the Supreme Court, revealing both the public and private sides of the resilient, tenacious, and unassuming woman who became best known as the country's preeminent defender of gender equality and human rights.


[01/27/21 - 10:15 AM]
TBS Orders New Kitchen Competition Series "Rat in the Kitchen" Hosted By Comedian Natasha Leggero & Judged By Celebrity Chef Ludo Lefebvre
Each stand-alone episode of the new series brings six different dynamic chefs together to compete in the ultimate cooking battle; but one of the chefs is an undercover "rat in the kitchen" who sabotages fellow contestants' chances.


[01/27/21 - 10:15 AM]
FOX Renews Hit Competition Show "I Can See Your Voice," Hosted by Ken Jeong, for Second Season
Cheryl Hines and Adrienne Bailon-Houghton will return as permanent celebrity detectives.


[01/27/21 - 10:05 AM]
AMC's "Fear the Walking Dead" Returns for Second Half of Season Six on April 11
Three new characters join the cast in these nine episodes, including John Glover, Nick Stahl and Keith Carradine.


[01/27/21 - 10:01 AM]
HBO Max Original "Haute Dog" Returns with All-New Episodes on Thursday, February 4
Tasked with turning their K-9s into K-10s, the series introduces top pet stylists from across the country whose interpretations of imaginative challenges and out-of-the-box themes spotlight the best looks for man's best friend.


[01/27/21 - 10:01 AM]
OWN's New Drama "Delilah" from Acclaimed "Greenleaf" Creator Craig Wright Announces Additional Cast and Directors
The network announced today the addition of 14 new roles plus directors Ayoka Chenzira and Crystle C. Roberson for the upcoming drama.


[01/27/21 - 09:56 AM]
discovery+ Premieres World-Wide Exclusive Pope Francis Documentary "Francesco" Ahead of Easter Sunday on March 28th
From Oscar nominated director and producer, Evgeny Afineevksy, the film features unprecedented access to His Holiness Pope Francis, providing an intimate look at a global leader who approaches challenging and complex matters with tremendous humility, wisdom and generosity towards all.


[01/27/21 - 09:05 AM]
A Record 82 Million Households Around the World Chose to Watch "Bridgerton" in Its First 28 Days
Jinny Howe (VP, Original Series at Netflix) details the show's latest metrics.


[01/27/21 - 09:05 AM]
"A Teacher" Gets High Marks - 10-Episode Limited Series Becomes FX's Most-Watched Show on Hulu
All 10 episodes are available for viewing on the FX on Hulu hub.


[01/27/21 - 09:01 AM]
Video: Showtime Releases Trailer for Docu-Series "Supervillain: the Making of Tekashi 6ix9ine" Premiering on Sunday, February 21 at 10 PM ET/PT
New episodes will debut on-air every Sunday through March 7, while the entire series will release for on-demand streaming or download on Showtime and across all Showtime partner platforms on February 21.


[01/27/21 - 09:01 AM]
Video: "Canine Intervention" - Official Trailer - Netflix
No dog, no breed, no behavior is unfixable for Cali K9's Jas Leverette. Follow the Oakland dog trainer as he works with a range of canines and owners.