[03/06/18 - 08:02 AM]
You Wanna Test Him? Step Up! "Marvel's Luke Cage" Returns June 22 on Netflix
After clearing his name, Luke Cage has become a celebrity on the streets of Harlem with a reputation as bulletproof as his skin.
---
[via press release from Netflix]
Can't burn him. Can't blast him. CAN'T BREAK HIM. Season Two of Marvel's Luke Cage premieres June 22 on Netflix.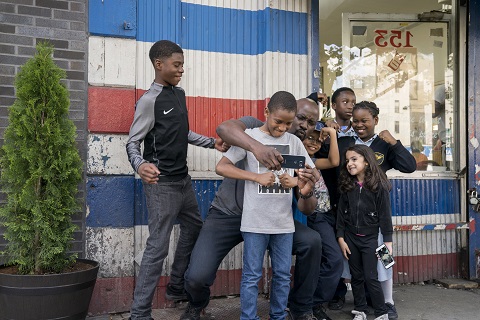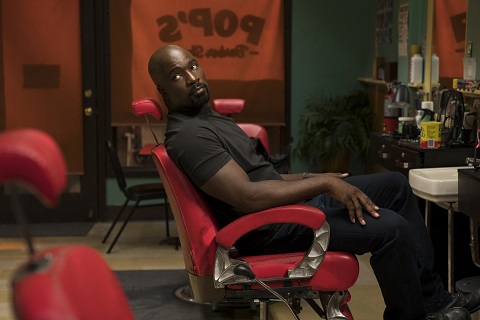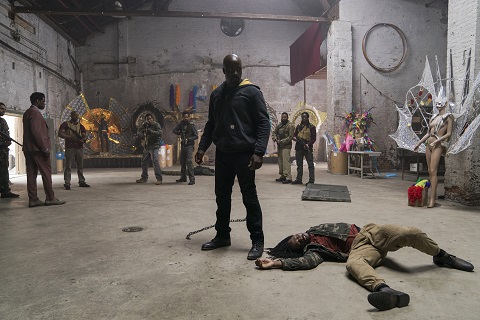 netflix.com/marvelslukecage
About Marvel's Luke Cage Season Two: After clearing his name, Luke Cage has become a celebrity on the streets of Harlem with a reputation as bulletproof as his skin. But being so visible has only increased his need to protect the community and find the limits of who he can and can't save. With the rise of a formidable new foe, Luke is forced to confront the fine line that separates a hero from a villain.
Credits: Marvel's Luke Cage stars Mike Colter (Extinction). The second season is executive produced by series showrunner Cheo Hodari Coker (Ray Donovan), Jim Chory (Marvel's Jessica Jones), and Jeph Loeb (Marvel's Jessica Jones), who also serves as Marvel's Head of Television. The premiere episode of season two is directed by Lucy Liu (Future World). The cast also features Simone Missick (Ray Donovan), Alfre Woodard (The Lion King), Theo Rossi (Sons of Anarchy), Mustafa Shakir (The Deuce), Gabrielle Dennis (Rosewood) and Rosario Dawson (Marvel's Daredevil). Marvel's Luke Cage is produced by Marvel Television in association with ABC Studios for Netflix. All 13 original episodes of Marvel's Luke Cage, Season 2 will premiere exclusively on Netflix.
For more on Marvel's Luke Cage, visit Netflix Media Center or our social channels: Facebook // facebook.com/MarvelsLukeCage/ Twitter // twitter.com/lukecage Instagram // instagram.com/marvelslukecage/ Hashtag // #LukeCage




[06/25/19 - 11:02 AM]
Michael Gladis and Lorenza Izzo Join "Penny Dreadful: City of Angels" as Upcoming Showtime(R) Drama Series Rounds Out Cast
The series stars Natalie Dormer, Daniel Zovatto, Kerry Bishé, Adriana Barraza, Rory Kinnear, Jessica Garza, Johnathan Nieves and Nathan Lane.


[06/25/19 - 10:48 AM]
OWN: Oprah Winfrey Network and OZY Media Announce New Four-Part Series "OWN Spotlight: Black Women OWN the Conversation"
Carlos Watson hosts four one-hour episodes featuring a panel of celebrity guests and 100 Black women with a focus on key issues including love and relationships, motherhood, beauty, and mind, body and soul.


[06/25/19 - 10:15 AM]
TLC Will Air "JFK Jr. and Carolyn's Wedding: The Lost Tapes" July 13 at 8PM ET/PT
"As the leading destination for weddings, TLC is immensely proud to air this intimate look into the exclusive and historic wedding of 'American royalty,' which captivated and delighted the world," said Howard Lee.


[06/25/19 - 09:03 AM]
"Good Talk with Anthony Jeslenik" Premieres September 6 on Comedy Central
Over the course of six episodes, Jeselnik will sit down with David Spade, Kristen Schaal, Kumail Nanjiani, Natasha Leggero, Nick Kroll, and Tig Notaro.


[06/25/19 - 09:01 AM]
Smithsonian Channel(TM) Welcomes a New Class of Wildlife Stars in "Orangutan Jungle School"
All episodes will be available to stream Friday, August 2 on Smithsonian Channel Plus, with the first two episodes free for those without a subscription.


[06/25/19 - 08:33 AM]
Bobby Flay Heats Things Up on Food Network This Summer with New Series "BBQ Brawl: Flay v. Symon" and "The Flay List"
Look for both series on Thursday nights in August on the cable channel.


[06/25/19 - 08:09 AM]
Monday's Broadcast Ratings: ABC Keeps Top Spot with "The Bachelorette"
The Alphabet again takes home a victory in total viewers and adults 18-49.


[06/24/19 - 12:00 PM]
George Clooney to Direct and Star in Untitled Mark L. Smith Project for Netflix
This post-apocalyptic tale follows the parallel stories of Augustine (Clooney), a lonely scientist in the Arctic, as he races to make contact with the crew of the Aether spacecraft as they try to return home to Earth.


[06/24/19 - 11:31 AM]
TLC's Sizzling Summer Lineup Brings the Heat with Series Premiere of "The Family Chantel" and Return of "Before the 90 Days"
Fans will get an extra special dose of Pedro and Chantel in the first ever spinoff of the "90 Day" franchise following an individual couple, "The Family Chantel," premiering Monday, July 22.


[06/24/19 - 11:25 AM]
"Yellowstone" Season Two Premiere Draws 5 Million Total Viewers, Making It Cable's Most-Watched Original Telecast This Summer
Paramount Network further spins the numbers for Wednesday, June 19.


[06/24/19 - 11:17 AM]
Food Network Celebrates Summer Charleston-Style with Kardea Brown's Fresh Southern Dishes in Brand-New Series "Delicious Miss Brown"
"'Delicious Miss Brown' is the perfect show for summer - the recipes are just right for a sunny day grilling outdoors or a fresh seafood meal by the water," said Courtney White.


[06/24/19 - 11:10 AM]
Rich Eisen to Host "NFL: The Grind" This Fall on EPIX(R)
Starting September 11, the 17-episode season of "NFL: The Grind" airs Wednesdays at 9:00/8:00c throughout the entirety of the 2019 NFL season.


[06/24/19 - 11:01 AM]
Showtime(R) Announces New Cast for "The L Word: Generation Q"
Arienne Mandi, Leo Sheng, Jacqueline Toboni and Rosanny Zayas are the latest to be cast in the series.


[06/24/19 - 11:00 AM]
FX Networks Returns to San Diego Comic-Con with "Archer," "What We Do in the Shadows" and "Mayans M.C."
The sessions will include panel discussions with producers and actors, exclusive footage and more.


[06/24/19 - 10:30 AM]
FOX Announces Fall Premiere Dates for the 2019-2020 Season
Look for the bulk of said lineup following the network's presentation of the 71st Primetime Emmy Awards on September 22.