[03/06/18 - 08:02 AM]
You Wanna Test Him? Step Up! "Marvel's Luke Cage" Returns June 22 on Netflix
After clearing his name, Luke Cage has become a celebrity on the streets of Harlem with a reputation as bulletproof as his skin.
---
[via press release from Netflix]
Can't burn him. Can't blast him. CAN'T BREAK HIM. Season Two of Marvel's Luke Cage premieres June 22 on Netflix.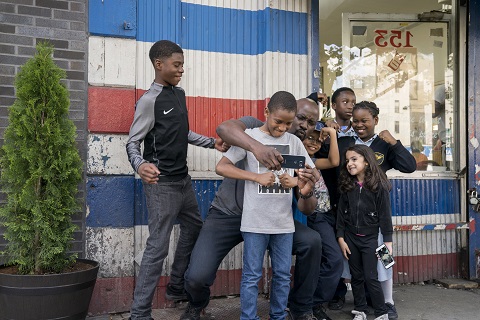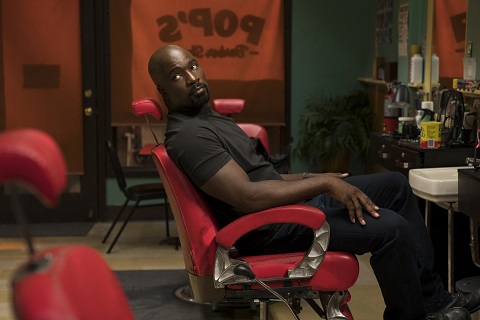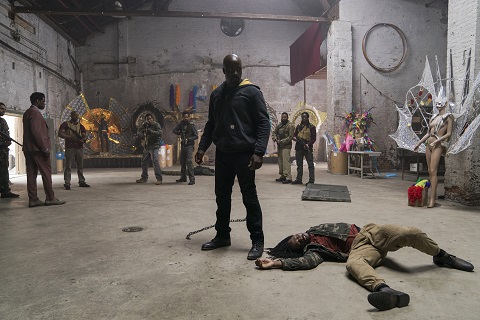 netflix.com/marvelslukecage
About Marvel's Luke Cage Season Two: After clearing his name, Luke Cage has become a celebrity on the streets of Harlem with a reputation as bulletproof as his skin. But being so visible has only increased his need to protect the community and find the limits of who he can and can't save. With the rise of a formidable new foe, Luke is forced to confront the fine line that separates a hero from a villain.
Credits: Marvel's Luke Cage stars Mike Colter (Extinction). The second season is executive produced by series showrunner Cheo Hodari Coker (Ray Donovan), Jim Chory (Marvel's Jessica Jones), and Jeph Loeb (Marvel's Jessica Jones), who also serves as Marvel's Head of Television. The premiere episode of season two is directed by Lucy Liu (Future World). The cast also features Simone Missick (Ray Donovan), Alfre Woodard (The Lion King), Theo Rossi (Sons of Anarchy), Mustafa Shakir (The Deuce), Gabrielle Dennis (Rosewood) and Rosario Dawson (Marvel's Daredevil). Marvel's Luke Cage is produced by Marvel Television in association with ABC Studios for Netflix. All 13 original episodes of Marvel's Luke Cage, Season 2 will premiere exclusively on Netflix.
For more on Marvel's Luke Cage, visit Netflix Media Center or our social channels: Facebook // facebook.com/MarvelsLukeCage/ Twitter // twitter.com/lukecage Instagram // instagram.com/marvelslukecage/ Hashtag // #LukeCage




[08/15/18 - 01:46 PM]
"North Woods Law" Returns to Animal Planet for An All-New Season from New Hampshire Sunday August 19 at 9PM
From heart-stopping animal encounters to harrowing pursuits of dangerous offenders, the only thing the Conservation Officers of New Hampshire Fish and Game can expect, is the unexpected.


[08/15/18 - 01:40 PM]
Premiere of Disney Channel's Original Movie "Freaky Friday" Is the #1 TV Telecast of the Summer in Kids 6-11 and Tweens 9-14
Disney Channel further spins the numbers for Friday, August 10.


[08/15/18 - 12:01 PM]
CBC and Netflix Renew Northwood Entertainment's Acclaimed "Anne with an E" for a Third Season
The new season is expected to begin production this winter for launch on CBC and Netflix later in 2019.


[08/15/18 - 10:30 AM]
"Craig of the Creek" Sails to Season Two
Beginning Monday, August 20, new episodes from the current season will premiere weekdays at 4 p.m. (ET/PT) on Cartoon Network.


[08/15/18 - 09:37 AM]
HGTV's "Love It or List It" Delivers Its Best Live Plus Same Day Ratings Since 2014
HGTV further spins the numbers for Monday, August 13.


[08/15/18 - 09:30 AM]
Judd Lormand Upped to Series Regular on "SEAL Team," on CBS
Lormand portrays Lieutenant Commander Eric Blackburn, the SEAL Team troop commander who coordinates operations whenever Bravo team is on mission.


[08/15/18 - 09:05 AM]
CMT Revs Up Programming Slate with Series Greenlight for "Racing Wives" and Season Two Renewal of "Music City" Debuting Early 2019
"Racing Wives" follows the never-before-seen private lives of captivating women who are married to world famous race car drivers.


[08/15/18 - 09:02 AM]
Video: "Follow This" - From BuzzFeed and Netflix - Official Trailer
The new 15-minute documentary series, premiering August 23, covers tech, culture, politics, and social media.


[08/15/18 - 09:01 AM]
Amazon Prime Video Announces September 21 as Global Premiere Date for Anticipated Animated Kids Series "Pete the Cat"
Based on the best-selling children's books, "Pete the Cat" is a fun, musically driven series about exploring your world and trying new things, while being smart, accepting, and optimistic.


[08/15/18 - 08:47 AM]
Melanie Laurent and Payman Maadi Join Michael Bay's "6 Underground"
The film, produced by Skydance and Netflix, will start filming later this month and will be released worldwide on Netflix in 2019.


[08/15/18 - 08:11 AM]
Tuesday's Broadcast Ratings: "America's Got Talent" Rises in Latest NBC Victory
The Peacock's summer mainstay eclipses the night in all categories.


[08/15/18 - 08:03 AM]
Bravo Media's Uptown Girls Dish Downtown Attitude in "The Real Housewives of New York City" Three-Part Reunion Kicking Off Wednesday, August 22 at 8PM ET/PT
Host Andy Cohen returns to the infamous couch with housewives Bethenny Frankel, Carole Radziwill, Dorinda Medley, Ramona Singer, Sonja Morgan, and Tinsley Mortimer to reflect on a tumultuous season in which friendships were tested and new adventures set sail.


[08/15/18 - 07:12 AM]
"Wild District," The Anticipated Series Starring Juan Pablo Raba, Premieres October 19th on Netflix
The 10-episode series follows Jhon Jeiver (Juan Pablo Raba), a lethal guerrilla fighter who escapes the jungle after the signing of the Colombian Peace Agreements.


[08/15/18 - 07:11 AM]
WE tv Renews Hit Series "Bridezillas"
The new season is set to premiere in 2019, with 10 hour-long episodes.


[08/15/18 - 06:32 AM]
Video: See the New Trailer for "The Angel," Netflix's Spy Thriller from Director Ariel Vromen
Marwan Kenzari, Toby Kebbell, Hannah Ware, Waleed Farouq Zuaiter, Maisa Abd Elhadi, Sasson Gabay, Miki Leon, Ori Pfeffer and Slimane Daz star in the film.