[07/21/18 - 01:45 PM]
Iconic Teen Hero "Kim Possible" Comes to Life
Set to debut in 2019, the movie is based on the global-hit animated series about an everyday high school girl who, in her spare time, saves the world from villains.
---
[via press release from Disney Channel]
ICONIC TEEN HERO 'KIM POSSIBLE' COMES TO LIFE
At San Diego Comic-Con 2018, Emmy(R) Award-winning executive producers Mark McCorkle and Bob Schooley revealed the first photo of the iconic character Kim Possible, brought to life by actress Sadie Stanley in the upcoming live-action Disney Chanel Original Movie "Kim Possible." Set to debut in 2019, the movie is based on the global-hit animated series about an everyday high school girl who, in her spare time, saves the world from villains. Sean Giambrone (ABC's "The Goldbergs") stars as Kim Possible's loyal best friend, Ron Stoppable.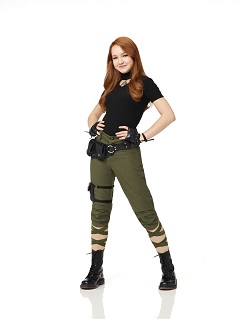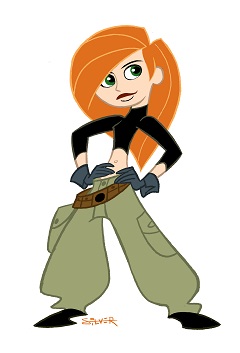 Photo credit: Disney Channel and Disney Channel/Craig Sjodin*
The live-action movie was written by McCorkle, Schooley and Josh Cagan ("The DUFF," "Bandslam"). The executive producers are McCorkle, Schooley and Zanne Devine ("I, Tonya" and "Easy A"). The movie will be co-directed and co-produced by Adam B. Stein and Zach Lipovsky (both of Disney XD's "MECH-X4"). Blyth Nailling (ABC's "Last Man Standing" and "Scrubs") is the casting director.
Also starring are Alyson Hannigan ("How I Met Your Mother," Disney Junior's animated series "Fancy Nancy") as brain surgeon Dr. Ann Possible (AKA Mom Possible); Todd Stashwick ("12 Monkeys") and Taylor Ortega will play fan-favorite villains Drakken and Shego, respectively; Connie Ray ("The Big C") as grandmother Nana Possible; Ciara Wilson ("OMG!") as new high school student Athena; Erika Tham ("Make It Pop") who will play Kim's childhood frenemy, Bonnie; and Issac Ryan Brown ("Raven's Home") as teen computer genius Wade. The comedy-adventure is set to debut in 2019.
The live-action "Kim Possible" Disney Channel Original Movie is a production of Middleton Productions, a subsidiary of Omnifilm Entertainment.




[04/18/19 - 05:07 PM]
"Still Laugh-In: The Stars Celebrate" Will Launch Globally on Netflix Tuesday, May 14th
The special, which was taped at Hollywood's Dolby Theater, is filled with an elite lineup of talent paying homage to the iconic show and its director/producer George Schlatter with modern takes on timeless moments.


[04/18/19 - 04:45 PM]
NBC Shifts Two of Its Tuesday Series by Moving "The Village" to 8 p.m. and "The Voice" to 9 p.m.
The five-week change will begin April 23 and conclude May 21.


[04/18/19 - 12:15 PM]
ABC Slots "Bless This Mess" Pilot Encore in Advance of Second Episode
Look for its debut installment at 8:30/7:30c this Tuesday, April 23 (in place of "The Kids Are Alright") followed by a new episode at 9:30/8:30c.


[04/18/19 - 11:57 AM]
Lifetime Reveals Royal Slate in Celebration of Prince Harry & Meghan Markle's First Wedding Anniversary
Said offerings are timed with the premiere of "Harry & Meghan: Becoming Royal" on Memorial Day, Monday, May 27 at 8:00/7:00c.


[04/18/19 - 11:00 AM]
Lauren Corrao Joins Freeform as Executive Vice President, Original Programming and Development
Most recently she was co-president of Tornante TV, an independent studio owned by former Disney CEO Michael Eisner.


[04/18/19 - 11:00 AM]
FOX Renews "Last Man Standing," Starring Tim Allen, for the 2019-2020 Season
"Hard to believe 'Last Man Standing' hits 150 episodes this week and it gets better with another upcoming season at FOX!" said Allen.


[04/18/19 - 10:44 AM]
Governor Cuomo Announces Netflix Will Expand New York Presence with New Production Hub in New York City
The production hub will include an expanded office in Manhattan and six sound stages in Brooklyn with the capacity to hold thousands of production crew jobs within five years.


[04/18/19 - 10:17 AM]
It's a Bird, It's a Plane, It's "Krypton" Season 2 on Syfy June 12 at 10PM
Plus: the brand new, full-length trailer puts a spotlight on villains, both familiar and new, as the fate of our much-loved heroes is threatened once more.


[04/18/19 - 10:02 AM]
It's a Family Affair as E!'s Latest Docu-Series "Relatively Nat & Liv" Premieres Sunday, June 2nd at 10PM ET/PT
The series features social influencers, and cousins, Natalie Halcro and Olivia Pierson, along with their close-knit families, as they juggle their lives between the beauty and fame of Los Angeles and their humble and hilarious roots in Vancouver.


[04/18/19 - 10:01 AM]
HBO Documentary Films Currently in Production on Series Taking an Inside Look at the NXIVM Organization
Jehane Noujaim and Karim Amer ("The Square," "Control Room," "Startup.com") are behind the project.


[04/18/19 - 10:00 AM]
Season Two of CBS All Access' "Strange Angel" to Premiere Thursday, June 13
The period drama explores the bizarre true story of Jack Parsons, a man who straddled the worlds of science and the occult, pioneering America's rocketry program while simultaneously practicing sex magick rituals as a devotee to Aleister Crowley's religion, Thelema.


[04/18/19 - 09:09 AM]
Video: Comedy Central's New Sketch Series "Alternatino with Arturo Castro" Releases Official Trailer, Premiering June 18
The series premieres alongside new episodes of "Drunk History" on Tuesday, June 18.


[04/18/19 - 09:03 AM]
Video: "Flinch" - Official Trailer - Netflix
In the new reality series, contestants are challenged to not flinch; if they do, there are consequences.


[04/18/19 - 09:01 AM]
"The Chernobyl Podcast," Five-Episode Companion Piece to the HBO Miniseries, Debuts May 6
Craig Mazin (creator, writer and executive producer of the miniseries "Chernobyl") and NPR's Peter Sagal (host of "Wait Wait... Don't Tell Me!") have recorded the five-episode podcast as a companion piece.


[04/18/19 - 08:47 AM]
Video: "Anthony Jeselnik: Fire in the Maternity Ward" - Official Trailer - Netflix
Jeselnik's latest special premieres Tuesday, April 30 on the streaming service.