[07/21/18 - 01:45 PM]
Iconic Teen Hero "Kim Possible" Comes to Life
Set to debut in 2019, the movie is based on the global-hit animated series about an everyday high school girl who, in her spare time, saves the world from villains.
---
[via press release from Disney Channel]
ICONIC TEEN HERO 'KIM POSSIBLE' COMES TO LIFE
At San Diego Comic-Con 2018, Emmy(R) Award-winning executive producers Mark McCorkle and Bob Schooley revealed the first photo of the iconic character Kim Possible, brought to life by actress Sadie Stanley in the upcoming live-action Disney Chanel Original Movie "Kim Possible." Set to debut in 2019, the movie is based on the global-hit animated series about an everyday high school girl who, in her spare time, saves the world from villains. Sean Giambrone (ABC's "The Goldbergs") stars as Kim Possible's loyal best friend, Ron Stoppable.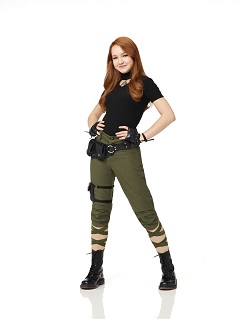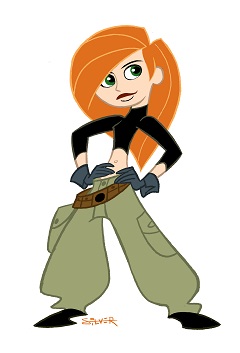 Photo credit: Disney Channel and Disney Channel/Craig Sjodin*
The live-action movie was written by McCorkle, Schooley and Josh Cagan ("The DUFF," "Bandslam"). The executive producers are McCorkle, Schooley and Zanne Devine ("I, Tonya" and "Easy A"). The movie will be co-directed and co-produced by Adam B. Stein and Zach Lipovsky (both of Disney XD's "MECH-X4"). Blyth Nailling (ABC's "Last Man Standing" and "Scrubs") is the casting director.
Also starring are Alyson Hannigan ("How I Met Your Mother," Disney Junior's animated series "Fancy Nancy") as brain surgeon Dr. Ann Possible (AKA Mom Possible); Todd Stashwick ("12 Monkeys") and Taylor Ortega will play fan-favorite villains Drakken and Shego, respectively; Connie Ray ("The Big C") as grandmother Nana Possible; Ciara Wilson ("OMG!") as new high school student Athena; Erika Tham ("Make It Pop") who will play Kim's childhood frenemy, Bonnie; and Issac Ryan Brown ("Raven's Home") as teen computer genius Wade. The comedy-adventure is set to debut in 2019.
The live-action "Kim Possible" Disney Channel Original Movie is a production of Middleton Productions, a subsidiary of Omnifilm Entertainment.




[12/12/18 - 12:29 PM]
TLC's Weight Transformation Lineup Returns in the New Year with Premieres of "My 600-lb Life" and "Family by the Ton"
Look for both series back-to-back starting Wednesday, January 2 at 8:00/7:00c.


[12/12/18 - 12:19 PM]
Oxygen to Debut Two-Hour Documentary "Dirty John, The Dirty Truth" on Monday, January 14 at 8 PM ET/PT
Bravo Media's scripted anthology "Dirty John" wraps its freshman run the previous night, Sunday, January 13.


[12/12/18 - 12:16 PM]
HGTV's Ben and Erin Napier Reimagine Old Properties for New Residents in Third Season of "Home Town"
"I think people don't always see the beauty and magic in historic properties," said Ben. "Erin and I want all of the houses in Laurel to shine."


[12/12/18 - 12:01 PM]
Spike Lee Teams Up with NYU Proteges for Time Travel Feature for Netflix
"See You Yesterday" centers on two Brooklyn teenage science prodigies, Claudette "C.J." Walker and Sebastian J. Thomas, who build make-shift time machines to save C.J.'s brother, Calvin, from being wrongfully killed by a police officer.


[12/12/18 - 12:01 PM]
Pedro Pascal Leads a Most Impressive Cast in "The Mandalorian," The First Ever Live-Action "Star Wars" Series, Coming to Disney+
He is officially joined by Gina Carano, Giancarlo Esposito, Emily Swallow, Carl Weathers, Omid Abtahi, Werner Herzog, and Nick Nolte.


[12/12/18 - 11:30 AM]
ABC Announces Premiere Dates for New Series "The Fix," "Grand Hotel," "Whiskey Cavalier" and Returning Shows "American Idol," "Match Game" and "For the People"
Plus: "A Million Little Things" moves to Thursdays at 9:00/8:00c starting January 17.


[12/12/18 - 11:16 AM]
Season Two of "Milo Murphy's Law," Starring Al Yankovic, Debuts with a "Phineas and Ferb" Hour-Long Crossover Special Saturday, Jan. 5, on Disney Channel and Disney XD
Both series hail from acclaimed animation producers Dan Povenmire and Jeff "Swampy" Marsh, who will reprise their "Phineas and Ferb" roles as Dr. Doofenshmirtz and Major Monogram.


[12/12/18 - 11:00 AM]
Starring Mahershala Ali and Created by Nic Pizzolatto, "True Detective" Returns for Third Season Jan. 13, Exclusively on HBO
The series returns for its eight-episode third season with two episodes debuting back-to-back.


[12/12/18 - 09:01 AM]
The Forces Behind "End of the F***ing World" & "Stranger Things" Unite for "I Am Not Okay with This"
The latest Netflix original series is based on Charles Forsman's graphic novel of the same name.


[12/12/18 - 08:45 AM]
"Everything's Gonna Be Okay," From Critically Acclaimed Writer and Comedian Josh Thomas, Picked Up to Series by Freeform
The half-hour comedy introduces Nicholas (Josh Thomas), a neurotic 25-year-old still living at home with his single dad and two teenage half-sisters, one of which has autism.


[12/12/18 - 08:38 AM]
Video: "Trigger Warning with Killer Mike" - Teaser - Netflix
"'Trigger Warning' is about examining cultural taboos and giving viewers the space to examine the 'what ifs' and 'why nots' that limit how some people move and operate in the world," said Michael Render, pka Killer Mike.


[12/12/18 - 08:33 AM]
Reelz Kicks Off Winter 2019 Slate with a Return to the 1970s with New Specials, New Series and Returning Series
New series include "I Lived with a Killer," "Famous Fortune Fights," and "Notorious."


[12/12/18 - 08:12 AM]
"Lip Sync Battle" Season 5 Premieres January 17 at 9pm ET/PT on Paramount Network
On tap this season are Queer Eye's Fab 5, Andy Roddick, Brooklyn Decker, Darren Criss, Big Bird, and Vanessa Morgan with special appearances by Mariah Carey, Serena Williams.


[12/12/18 - 08:10 AM]
Tuesday's Broadcast Ratings: Fall Finales Put CBS on Top in Viewers, Demos
"NCIS" is the night's most-watched program overall while NBC's "The Voice," ABC's "The Conners" top adults 18-49.


[12/12/18 - 08:03 AM]
Video: "7 Days Out" - Official Trailer - Netflix
A behind-the-scenes look at the most iconic cultural events in fashion, sports, food, gaming, and space.