[01/18/19 - 10:43 AM]
First Look of Nicole Maines as the DC Character "Dreamer"
The costume will be first glimpsed on the January 27 episode of "Supergirl."
---
[via press release from The CW]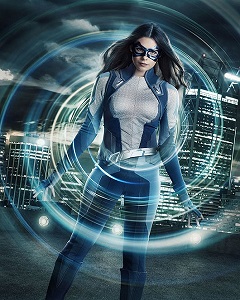 We are excited to share the first look of Nicole Maines as the DC character Dreamer. On the January 27th episode of "Supergirl," entitled "Blood Memory," we will learn about Nia's (Nicole Maines) backstory and how she came to get her powers and what troubles come with them. By the end of the episode we will get a glimpse at the costume but we will see Nicole fully suited up in episode 412, entitled "Menagerie," which airs February 17.
Please note that Nicole Maines as Dreamer is the first transgender superhero on TV.
SUPERGIRL returns this Sunday, Jan 20 at 8pm ET.
Here is the listing for the Jan 27 episode:
"SUPERGIRL" - (8:00 p.m. - 9:00 p.m. ET)
"Blood Memory" (TV- TV-PG, V) (HDTV)
KATE BURTON GUEST STARS; NIA AND KARA VISIT NIA'S HOMETOWN - Kara (Melissa Benoist) joins Nia (Nicole Maines) on a trip to Nia's hometown to visit her family during the town's annual Harvest Festival. While home, Nia's mother (guest star Kate Burton) encourages her daughter to embrace her destiny. Meanwhile, Alex (Chyler Leigh) deals with a street drug that is turning people violent and giving them temporary superpowers. Shannon Kohli directed the episode written by Jessica Queller & Dana Horgan (#411). Original airdate 1/27/2019.




[02/20/19 - 08:11 AM]
Tuesday's Broadcast Ratings: Another Week, Another NBC Demo Victory
"This Is Us" paves the way for the Peacock to take home the adults 18-49 crown.


[02/19/19 - 12:14 PM]
TV One Announces Production of Original Film "The Bobby Debarge Story" Starring Roshon Fegan, Big Boi, Tyra Ferrell, Lloyd and Adrian Marcel; Debuting June 2019
The movie explores the tumultuous life of the former lead singer of the 70's R&B/Funk Band Switch, also the eldest sibling of the world-famous pop group DeBarge.


[02/19/19 - 11:01 AM]
Netflix Orders Scripted Series "Medical Police" from Rob Corddry, Krister Johnson, Jonathan Stern, and David Wain
Erinn Hayes and Rob Huebel star in the project, which will also feature Malin Akerman, Lake Bell, Rob Corddry, and Ken Marino in recurring roles.


[02/19/19 - 10:04 AM]
The Fourth and Final Season of Emmy Award-Winning "The Man in the High Castle" to Premiere This Fall Exclusively on Amazon Prime Video
The final season is currently being filmed in Vancouver and will wrap next month.


[02/19/19 - 10:01 AM]
Emmy(R) Award-Winning "RuPaul's Drag Race" Ru-veals Guest Judges for Highly Anticipated Season 11 Premiering Thursday, February 28 at 9:00PM ET/PT on VH1
Miley Cyrus, Troye Sivan, Lena Waithe, Joel McHale, Cara Delevingne, Bobby Moynihan, Kandi Burruss, Tiffany Pollard, Gina Rodriguez, Sydelle Noel, Wanda Sykes, Tony Hale and Adam Rippon are all on tap.


[02/19/19 - 10:00 AM]
Round Three: A Dozen More Stars Take the Oscar Stage
The latest presenters include Elsie Fisher, Danai Gurira, Brian Tyree Henry, Michael B. Jordan, Michael Keaton, Helen Mirren, John Mulaney, Tyler Perry, Pharrell Williams, Krysten Ritter, Paul Rudd and Michelle Yeoh.


[02/19/19 - 08:32 AM]
HBO(R) Invites "Game of Thrones(R)" Fans to Bleed for the Throne in National American Red Cross Blood Drive
The partnership will include an immersive experience at SXSW from March 7-9, in addition to blood drives in 43 states and 9 colleges and universities across the U.S. from March 7-12.


[02/19/19 - 08:30 AM]
"Arrested Development" Season 5, Part Two Launches March 15
Buster's on the run, no one has seen Lucille 2, and the wall is still unfunded.


[02/19/19 - 08:10 AM]
Monday's Broadcast Ratings: NBC Finales Top Viewers; ABC Wins Demo Race
"The Bachelor" leads the night among adults 18-49 while "America's Got Talent: The Champions" is the most-watched program overall.


[02/19/19 - 07:01 AM]
Video: Netflix Debuts Trailer & Key Art for "The Dirt"
Based on the bestselling autobiography from Mötley Crüe, the film is an unflinching tale of success and excess as four misfits rise from the streets of Hollywood to the heights of international fame.


[02/19/19 - 06:39 AM]
Netflix's "Green Eggs and Ham" Announces Ensemble Cast for Fall Debut
Adam Devine, Michael Douglas, Ilana Glazer, Diane Keaton, Eddie Izzard, Tracy Morgan and Keegan-Michael Key are all on tap.


[02/19/19 - 06:03 AM]
Jonathan and Drew Scott to Create Lifetime Homes for Families in New HGTV Series "Property Brothers: Forever Home"
The series will premiere Wednesday, May 29 at 9:00/8:00c.


[02/19/19 - 06:02 AM]
Video: "Most Beautiful Thing" - Official Trailer - Netflix
The year is 1959, the first Bossa Nova chords are being played, and Rio de Janeiro is the place where everyone wants to be.


[02/19/19 - 06:01 AM]
Netflix Creates Production Hub in Toronto, Leasing Studio Space at Cinespace and Pinewood Toronto Studios, Extending Canadian Efforts
The new spaces add to Netflix's existing physical production footprint in Canada, which already includes a lease of British Columbia's Martini Film Studios, as well as production sites Netflix sets up across Canada on a production-by-production basis.


[02/18/19 - 08:46 AM]
A Letter to Marvel Television Fans from Jeph Loeb
The company confirms Netflix has "decided they no longer want to continue telling the tales of these great characters."