[03/28/19 - 08:00 AM]
First Look at "The Society" - Netflix's Next YA Drama
The 10-episode series follows a group of teenagers who are mysteriously transported to a facsimile of their wealthy New England town without any trace of their parents.
---
[via press release from Netflix]
Freedom can be fun, but freedom can be dangerous. Meet the citizens of New Ham -- coming this May to Netflix.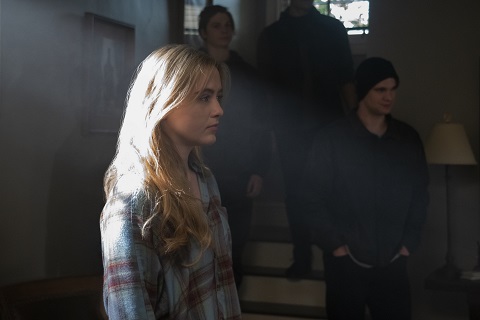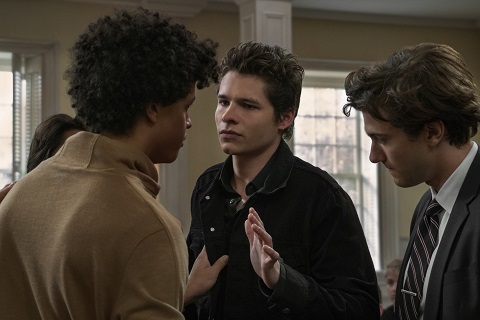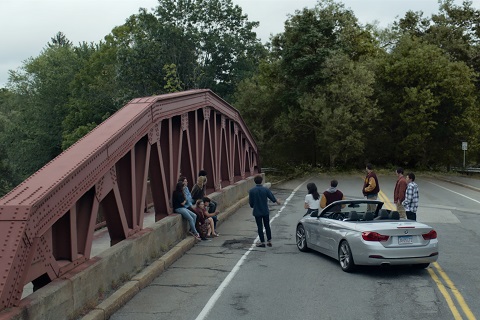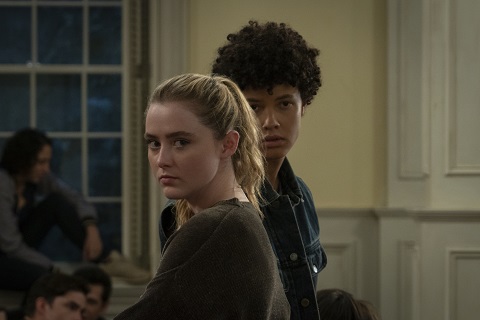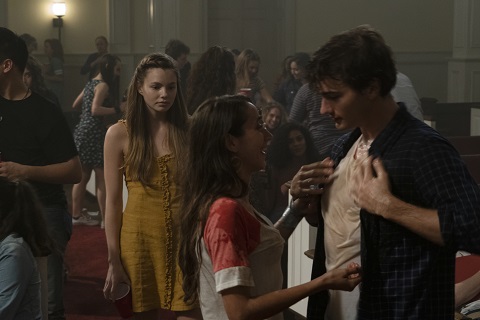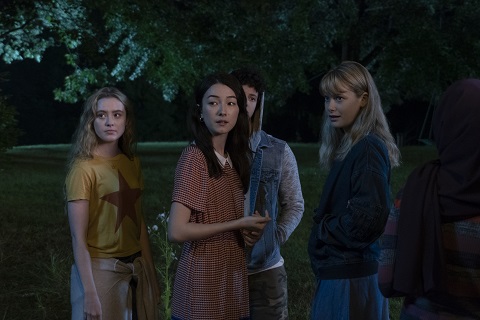 ++++++++++++++++++++++++
About The Society:
The Society follows a group of teenagers who are mysteriously transported to a facsimile of their wealthy New England town without any trace of their parents. Their newfound freedom will be fun... but it will also be very dangerous. As they struggle to figure out what has happened to them and how to get home, they must establish order and form alliances if they want to survive.
Launch date: May 2019
Format: 10 x 1 hour episodes
Filmed: Outside of Boston
Showrunner: Chris Keyser
Executive Producers: Marc Webb, Chris Keyser
Cast: Rachel Keller (Cassandra), Kathryn Newton (Allie), Alex Fitzalan (Harry), Kristine Froseth (Kelly), Jacques Colimon (Will), Sean Berdy (Sam), Toby Wallace (Campbell), Gideon Adlon (Becca), Olivia DeJonge (Elle), Alex MacNicoll (Luke), Natasha Liu Bordizzo (Helena), Jose Julian (Gordie), Salena Qureshi (Bean), Jack Mulhern (Grizz), Grace Victoria Cox (Lexie)
Please visit the official The Society social pages: Twitter: https://twitter.com/thesociety Instagram: https://www.instagram.com/thesociety Facebook: https://www.facebook.com/thesociety
netflix.com/thesociety




[04/19/19 - 10:07 AM]
Bravo Media Returns to the Big Easy When "Southern Charm New Orleans" Premieres Sunday, June 2 at 9PM ET/PT
Returning socialites include Tamica Lee, Barry Smith, Reagan Charleston, Jeff Charleston, Justin Reese, Jon Moody, Rachel McKenzie and Kelsey Nichols.


[04/19/19 - 09:23 AM]
YouTube Greenlights "Retro Tech" Starring YouTube Creator Marques Brownlee
The six-episode unscripted series will debut on Marques' YouTube channel this December.


[04/19/19 - 09:00 AM]
Music's Biggest Event for Families Returns For Its Seventh Year, Live for the First Time and With a New Name: "ARDYs: A Radio Disney Music Celebration," Sunday, June 16
For the first time, it will be a live telecast, originating from Los Angeles, on Disney Channel and in DisneyNOW, with a simulcast on Radio Disney.


[04/19/19 - 08:12 AM]
Thursday's Broadcast Ratings: "The Big Bang Theory" Tops Charts for CBS
The Eye takes home victories in both total viewers and adults 18-49.


[04/19/19 - 08:01 AM]
Video: Trailer Debut - Get the First Look at Footage from Ava DuVernay's "When They See Us"
Based on a true story that gripped the country, the four part limited series will chronicle the notorious case of five teenagers of color, labeled the Central Park Five, who were convicted of a rape they did not commit.


[04/18/19 - 09:00 PM]
Jimmy Kimmel Brings an Unforgettable Night of Television to ABC with "Live in Front of a Studio Audience: Norman Lear's 'All in the Family' and 'The Jeffersons,'" Wednesday, May 22
Ellie Kemper, Jamie Foxx, Justina Machado, Marisa Tomei, Wanda Sykes, Will Ferrell and Woody Harrelson are among those slated to appear.


[04/18/19 - 05:07 PM]
"Still Laugh-In: The Stars Celebrate" Will Launch Globally on Netflix Tuesday, May 14th
The special, which was taped at Hollywood's Dolby Theater, is filled with an elite lineup of talent paying homage to the iconic show and its director/producer George Schlatter with modern takes on timeless moments.


[04/18/19 - 04:45 PM]
NBC Shifts Two of Its Tuesday Series by Moving "The Village" to 8 p.m. and "The Voice" to 9 p.m.
The five-week change will begin April 23 and conclude May 21.


[04/18/19 - 12:15 PM]
ABC Slots "Bless This Mess" Pilot Encore in Advance of Second Episode
Look for its debut installment at 8:30/7:30c this Tuesday, April 23 (in place of "The Kids Are Alright") followed by a new episode at 9:30/8:30c.


[04/18/19 - 11:57 AM]
Lifetime Reveals Royal Slate in Celebration of Prince Harry & Meghan Markle's First Wedding Anniversary
Said offerings are timed with the premiere of "Harry & Meghan: Becoming Royal" on Memorial Day, Monday, May 27 at 8:00/7:00c.


[04/18/19 - 11:00 AM]
Lauren Corrao Joins Freeform as Executive Vice President, Original Programming and Development
Most recently she was co-president of Tornante TV, an independent studio owned by former Disney CEO Michael Eisner.


[04/18/19 - 11:00 AM]
FOX Renews "Last Man Standing," Starring Tim Allen, for the 2019-2020 Season
"Hard to believe 'Last Man Standing' hits 150 episodes this week and it gets better with another upcoming season at FOX!" said Allen.


[04/18/19 - 10:44 AM]
Governor Cuomo Announces Netflix Will Expand New York Presence with New Production Hub in New York City
The production hub will include an expanded office in Manhattan and six sound stages in Brooklyn with the capacity to hold thousands of production crew jobs within five years.


[04/18/19 - 10:17 AM]
It's a Bird, It's a Plane, It's "Krypton" Season 2 on Syfy June 12 at 10PM
Plus: the brand new, full-length trailer puts a spotlight on villains, both familiar and new, as the fate of our much-loved heroes is threatened once more.


[04/18/19 - 10:02 AM]
It's a Family Affair as E!'s Latest Docu-Series "Relatively Nat & Liv" Premieres Sunday, June 2nd at 10PM ET/PT
The series features social influencers, and cousins, Natalie Halcro and Olivia Pierson, along with their close-knit families, as they juggle their lives between the beauty and fame of Los Angeles and their humble and hilarious roots in Vancouver.