[11/11/20 - 08:09 AM]
CBS Orders "United States of Al" to Series, A New Comedy from Award-Winning Executive Producer Chuck Lorre, David Goetsch and Maria Ferrari for the 2020-2021 Broadcast Season
Adhir Kalyan and Parker Young star in the multi-camera project.
---
[via press release from CBS]
CBS ORDERS "UNITED STATES OF AL" TO SERIES, A NEW COMEDY FROM AWARD-WINNING EXECUTIVE PRODUCER CHUCK LORRE, DAVID GOETSCH AND MARIA FERRARI FOR THE 2020-2021 BROADCAST SEASON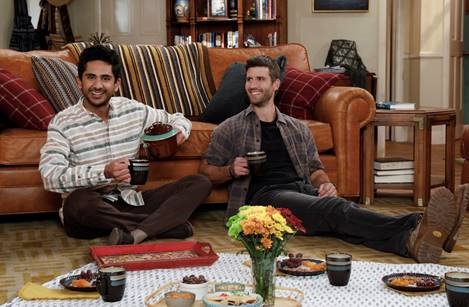 CBS has ordered UNITED STATES OF AL to series, a new comedy from award-winning executive producer Chuck Lorre and creators/writers David Goetsch and Maria Ferrari, for the 2020-2021 broadcast season.
UNITED STATES OF AL stars Adhir Kalyan and Parker Young in a comedy about the friendship between Riley (Young), a Marine combat veteran struggling to readjust to civilian life in Ohio, and Awalmir ("Al") (Kalyan), the interpreter who served with his unit in Afghanistan and has just arrived to start a new life in America. Kelli Goss, Dean Norris and Elizabeth Alderfer also star. David Goetsch & Maria Ferrari, Chuck Lorre, Reza Aslan, Mahyad Tousi and director Mark Cendrowski (pilot only) are executive producers for Warner Bros. Television and Chuck Lorre Productions, Inc.
"Once again, Chuck, his talented writing team of Maria and David, and an amazing cast brings us a heartfelt and touching comedy that honestly and respectfully reflects the experiences and challenges our veterans deal with upon returning home, and the deep bonds they develop with those serving alongside them," said Thom Sherman, Senior Executive Vice President, Programming, CBS Entertainment. "In addition, UNITED STATES OF AL holds up a mirror to ourselves in a unique way by taking a look at American culture through the eyes of an immigrant who is experiencing it all for the very first time."
The new comedy joins four additional series from Chuck Lorre that are already on the Network's schedule, including #1 comedy YOUNG SHELDON, #2 comedy MOM, this season's #1 new comedy B POSITIVE and last season's #1 new comedy BOB ♥ ABISHOLA, which premieres Monday, Nov. 16.




[11/30/20 - 12:08 PM]
Video: Showtime(R) Sports Documentary Films Offers First Look at "Macho: The Hector Camacho Story"
Premiering this Friday, December 4, the documentary debuts eight years after Camacho's fatal shooting in Bayamon, Puerto Rico.


[11/30/20 - 11:01 AM]
Video: HBO Max Debuts Official Trailer for Max Original "My Gift: A Christmas Special From Carrie Underwood" Premiering Dec. 3
The special features many heartfelt moments and performances, including a duet with John Legend, singing "Hallelujah," an original song he co-wrote with Toby Gad, which appears on her "My Gift" album.


[11/30/20 - 09:15 AM]
Bravo's "The Real Housewives of Dallas" Returns for Season Five on Tuesday, January 5 at 9 PM ET/PT
New housewife and physician Tiffany Moon joins this season, wasting no time inserting herself into the drama with the ladies.


[11/30/20 - 09:07 AM]
"The Daily Show's" Roy Wood Jr. Set to Host "31 More Days of Being Home for the Holidays" December Programming Event on Comedy Central
The month-long programming block, now in its third year, provides viewers a "holiday from the holiday" with holiday themed episodes of iconic shows, weekend movie marathons and all-new comedy specials.


[11/30/20 - 09:01 AM]
An Elite Team of Researchers Return to the Field with All New Clues in Travel Channel's Hit Series "Expedition Bigfoot"
The "Expedition Bigfoot" team have reassembled to review their findings from last season and reevaluate the algorithm to respond to the uptick in Bigfoot sightings just this year, in the new one-hour special premiering on Sunday, January 3.


[11/30/20 - 09:00 AM]
ABC to Simulcast Two December ESPN "Monday Night Football" Games, Plus an NFL Wild Card Game in January
For ESPN's NFL Wild Card presentation, airing either January 9 or 10, ESPN will utilize its signature MegaCast production marking the concept's NFL postseason debut and delivering fans the most extensive multichannel NFL Playoff game offering to date.


[11/30/20 - 07:00 AM]
30 for 30 Documentary "The Infinite Race" to Premiere December 15 on ESPN and ESPN Deportes
The film has screened as part of many film festivals, including the DocLands Documentary Film Festival, Full Frame Documentary Film Festival, the International Documentary Film Festival of Mexico City and San Francisco DocFest.


[11/29/20 - 11:26 AM]
It's Happy Who Year Once Again as "Doctor Who" Returns on New Year's Day with Dalek-Filled Special
The Thirteenth Doctor will kick-off 2021 with an action-packed episode entitled "Revolution of the Daleks," set to air on Friday, January 1 at 8:00/7:00c.


[11/27/20 - 08:46 PM]
NFL Pushes Ravens-Steelers to Tuesday; NBC Sends "The Voice," "Transplant" to Thursday
The matchup, original slated for Thanksgiving, is on the move for the second time.


[11/27/20 - 09:12 AM]
Video: "The Available Wife" - Official Trailer - Coming to UMC
In the film, due on December 17, Nicole Wright, a successful music CEO, realizes that her life is about to crumble in front of her.


[11/27/20 - 05:38 AM]
Video: Apple TV+ and Mariah Carey Unveil Official Trailer for "Mariah Carey's Magical Christmas Special," Offering a First Look at the Holiday Extravaganza, Set to Debut December 4
Combining musical performances, dynamic dancing and groundbreaking animation, the undisputed Queen of Christmas jumps into action to create a holiday spectacular to make the whole world merry.


[11/26/20 - 08:31 AM]
Video: "3 Caminos" - Official Trailer - Amazon Prime Video
The streaming service's latest original bows Friday, January 22.


[11/26/20 - 06:01 AM]
Video: "The Prom" - Official Trailer - Netflix
A group of down-on-their-luck Broadway stars shake up a small Indiana town as they rally behind a teen who just wants to attend prom with her girlfriend.


[11/25/20 - 12:13 PM]
"Married at First Sight" Heads Down the Aisle in Atlanta for Season 12 on January 13 with Three Hour Megasized Premiere
Season 12 is set to be the most romantic, diverse, and surprising season yet as ten brave-but-loveless singles meet their new spouse at the altar and enter a legally binding marriage at first sight.


[11/25/20 - 12:06 PM]
NFL Moves Ravens-Steelers Thanksgiving Primetime Game to Sunday, November 29
In its place, NBC will rebroadcast "The National Dog Show" alongside a repeat of "The Wall."