[11/18/20 - 10:59 AM]
HBO Max to Premiere Special Friendsgiving Episode of "Selena + Chef"
The first season of "Selena + Chef" premiered in August on HBO Max and the series has been renewed for an upcoming second season.
---
[via press release from WarnerMedia]
HBO Max to Premiere Special Friendsgiving Episode of "SELENA + CHEF"
The All-New Episode Will Feature Selena Gomez Cooking Thanksgiving Dishes with Chef Aarti Sequeira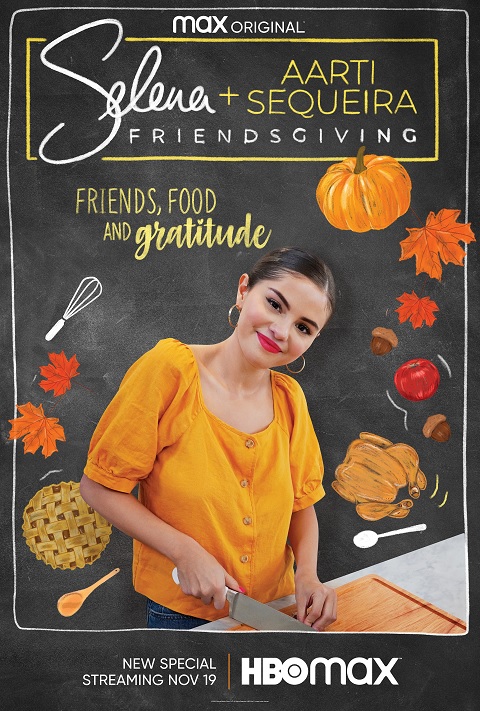 HBO Max will premiere a special Friendsgiving episode of "Selena + Chef" on Thursday, November 19. Known for elevating classic American dishes with Indian flavors, dubbed as a Queen of Spices, TV personality, author, producer, celebrity cook and judge Aarti Sequeira whips up a tandoori butter turkey breast and colorful side dishes that might just revolutionize Selena Gomez's favorite holiday, Thanksgiving. Both will be joined by friends to celebrate the holiday. The unscripted series is executive produced by Gomez for July Moon Productions, along with executive producers Eli Holzman, Aaron Saidman and Leah Hariton on behalf of Industrial Media's The Intellectual Property Corporation (IPC) and Melissa Stokes.
The first season of "Selena + Chef" premiered in August on HBO Max and the series has been renewed for an upcoming second season.




[11/25/20 - 12:13 PM]
"Married at First Sight" Heads Down the Aisle in Atlanta for Season 12 on January 13 with Three Hour Megasized Premiere
Season 12 is set to be the most romantic, diverse, and surprising season yet as ten brave-but-loveless singles meet their new spouse at the altar and enter a legally binding marriage at first sight.


[11/25/20 - 12:06 PM]
NFL Moves Ravens-Steelers Thanksgiving Primetime Game to Sunday, November 29
In its place, NBC will rebroadcast "The National Dog Show" alongside a repeat of "The Wall."


[11/25/20 - 10:47 AM]
Video: HBO Max Debuts Trailer and Key Art for Max Original "House of Ho" Premiering Thursday, Dec. 10
The series follow the lives, loves, and conflicts of the Hos, a wealthy Vietnamese-American family in Houston who've built a multimillion-dollar empire.


[11/25/20 - 10:31 AM]
"Saturday Night Live" Closes Out 2020 with Three Shows in December, Live Coast-to-Coast
Jason Bateman, Timothée Chalamet and Kristen Wiig are on tap to host in the coming weeks.


[11/25/20 - 10:08 AM]
Video: "On Pointe" - Official Trailer - Disney+
Get a glimpse into the students from the School of American Ballet in the series, due on Friday, December 18.


[11/25/20 - 10:00 AM]
An Incredible Lineup of Talent Set to Join the "Christmas Spectacular Starring the Radio City Rockettes - At Home Holiday Special"
NBC News' "Today" co-anchors Savannah Guthrie and Hoda Kotb will host the joyous event.


[11/25/20 - 09:00 AM]
More Performers Announced for the One-Hour Concert Special "Play On: Celebrating The Power of Music to Make Change," on a New Date and Time, Tuesday, Dec. 15
The one-hour special was previously scheduled for Saturday, December 5 at 9:00/8:00c.


[11/25/20 - 08:12 AM]
Tuesday's Broadcast Ratings: "The Bachelorette" Keeps ABC on Top in Demos
The Alphabet takes home the adults 18-49 crown while CBS leads the night in total viewers.


[11/25/20 - 08:00 AM]
HBO Max Highlights - December 2020
Newly announced premieres include "House of Ho" on December 10 and "Homeschool Musical Class of 2020" on December 17.


[11/25/20 - 06:33 AM]
FOX College Hoops Tips Off 2020-21 Season with Thanksgiving Week Feast
Gus Johnson, the most exciting voice in sports, returns as the network's lead play-by-play announcer, with former All-American and NBA veteran Jim Jackson and Emmy Award-winning broadcaster Bill Raftery serving as FOX Sports' lead game analysts.


[11/25/20 - 05:32 AM]
Successful Duo Brings New Danish Series "Chosen" to Netflix
"Chosen" is a coming-of-age sci-fi story about a young girl whose reality is suddenly turned upside down when everything she thought she knew turns out to be wrong, and she realises that the world is not as safe and blissful as she thought.


[11/24/20 - 11:25 PM]
Development Update: Tuesday, November 24
Updates include: Netflix renews "Izzy's Koala World"; Pop cancels "One Day at a Time"; and Amber Riley to star in NBC's "Dream."


[11/24/20 - 12:07 PM]
Lifetime Announces Movie and Documentary Events for Winter 2021
Highlights include two all-new authorized biopics of Salt-N-Pepa and Wendy Williams.


[11/24/20 - 12:00 PM]
CW Seed and "Entertainment Tonight" Reunite the Cast of 90210 for All-New Special
The reunion show will be available to stream on CW Seed, The CW's streaming-only network, free and without subscription or log-in beginning tomorrow, Wednesday, November 25.


[11/24/20 - 11:33 AM]
Bundle Up with New Holiday Specials of Kids and Family Favorites "Looney Tunes Cartoons," "Esme & Roy," and "Sesame Street"
"Bugs Bunny's 24-Carrot Holiday Special" will kick things off on Thursday, December 3.