YouTube Originals Announces Popular Kids Animated Series "Pinkfong Wonderstar" Coming to the Global Platform in December
Pinkfong Wonderstar becomes the first Korean animated series on YouTube Originals in 2020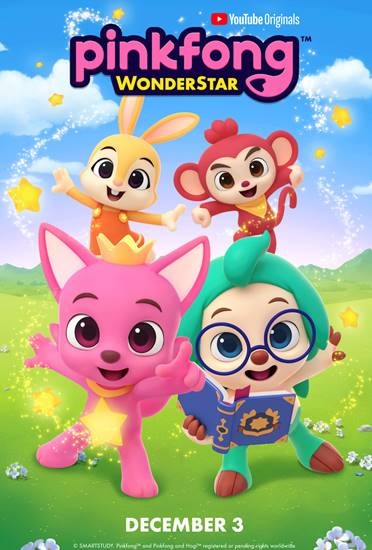 Los Angeles, November 18, 2020 - SmartStudy and YouTube Originals today announce "Pinkfong Wonderstar," SmartStudy's popular animated series, will be coming to YouTube Originals in December. The series will be sequentially released on Pinkfong's Korean and English channel and will be available on the YouTube Kids app starting December 3, 2020 at 9am PST.
The 3D computer-animated series follows Pinkfong, an adorable fox from planet Staria, and his best friend Hogi into their fun-filled adventures as they team up to solve their friends' problems in Wonderville with Pinkfong's magical powers and Hogi's great ideas. Pinkfong's magic, endless enthusiasm and Hogi's encyclopedic knowledge inspire them to open 'Wonderstar', a problem solving service for the townspeople of Wonderville - and beyond.
"Pinkfong Wonderstar" is the first TV animated series that introduces the original story of Pinkfong. Exclusive to YouTube Originals are special clips at the beginning of every episode featuring Pinkfong and Hogi's fun explanation of key learning takeaways from each episode's story.
"We're excited to partner with YouTube for Pinkfong Wonderstar's global release on YouTube Originals," said Min Seok Kim, CEO, SmartStudy. "We hope Pinkfong Wonderstar sparks the imagination of children around the world and helps them learn the importance of teamwork and collaboration."
"Pinkfong's universe is loved by millions of children around the world. We're thrilled to welcome Pinkfong Wonderstar to our YouTube Originals slate, bringing the magic of Wonderville to our global fans and inspiring children to treasure friendship, learning, and teamwork," said Nadine Zylstra, Head of Family Entertainment and Learning, YouTube Originals.
"Pinkfong Wonderstar" is composed of 13 episodes in total. The episodes will be sequentially released on Pinkfong's Korean and English YouTube channel and will be available on the YouTube Kids app starting December 3rd.
About YouTube Originals
YouTube Originals are award-winning, creative and engaging scripted and unscripted series and films across music, personalities and learning for fans all over the world. Spotlighting both YouTube creators alongside Hollywood's biggest stars, YouTube Originals provide an experience that only YouTube can offer. By tapping into the platform's growing global community, fan engagement product capabilities, and innovative content mixed with pioneering live-streamed specials, there is truly something for everybody. Fans experience YouTube Original content through ad-supported YouTube as well as YouTube Premium, a subscription service that offers access to YouTube Original series and movies, a streaming music platform, and an uninterrupted, ad-free experience across all of YouTube. YouTube Originals are available in nearly 80 countries worldwide.
About SmartStudy
Founded in June 2010, SmartStudy is a global entertainment company moving beyond the limits of platforms to create original content across children's education, games and animation. Through SmartStudy's beloved children's brand, Pinkfong, the company produces modern-day songs and stories to provide stimulating, fun, learning experiences to children.
About Pinkfong
Pinkfong is a global entertainment brand that creates award-winning kids' content for families around the world. Pinkfong has over 5,000 songs and stories within its vast library of children's content, which can be accessed on the App Store and Google Play, as well as on YouTube and Amazon Video. Pinkfong's accolades include the Amazon Video Direct Star, YouTube's Diamond Play Button and Google Play's Best Family App of 2014-2017.
For more information, please visit the Pinkfong website, subscribe to its YouTube channel, or follow the company on Facebook, Instagram and Twitter.