[11/23/20 - 01:01 PM]
"Resident Alien" - New Dramedy Starring Alan Tudyk Premieres Wednesday, January 27 at 10pm ET/PT on Syfy
Based on the Dark Horse comic, the series follows Harry, an alien played by Alan Tudyk that crash lands on Earth and passes himself off as a small-town human doctor.
---
[via press release from Syfy]
GOOD NEWS, HUMANS!
New Dramedy Starring Alan Tudyk Premieres Wednesday, January 27 at 10pm ET/PT on SYFY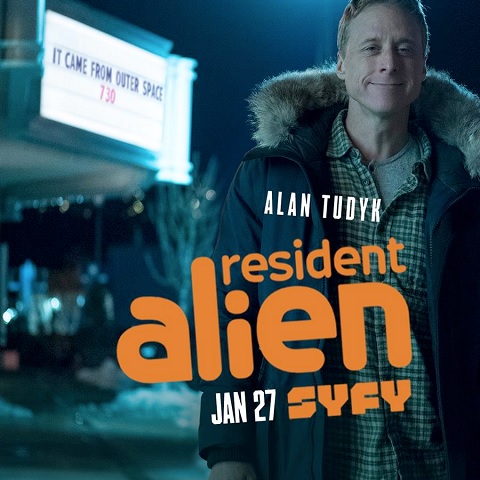 Based on the Dark Horse comic, SYFY's RESIDENT ALIEN follows Harry, an alien played by Alan Tudyk ("Rogue One," "Firefly") that crash lands on Earth and passes himself off as a small-town human doctor. Arriving with a secret mission to kill all humans, Harry starts off living a simple life... but things get a bit rocky when he's roped into solving a local murder and realizes he needs to assimilate into his new world. As he does so, he begins to wrestle with the moral dilemma of his mission and asking the big life questions like: "Are human beings worth saving?" and "Why do they fold their pizza before eating it?" Sara Tomko ("Once Upon A Time"), Corey Reynolds ("The Closer"), Alice Wetterlund ("Silicon Valley") and Levi Fiehler ("Mars") star as the big personalities of small-town Patience, Colorado.
From UCP, in association with Amblin TV and Dark Horse Entertainment, RESIDENT ALIEN was adapted to television by executive producer Chris Sheridan ("Family Guy"). Mike Richardson ("Hellboy") and Keith Goldberg ("The Legend of Tarzan") of Dark Horse Entertainment ("The Umbrella Academy"), and Justin Falvey ("The Americans") and Darryl Frank ("The Americans") of Amblin TV also executive produce. David Dobkin ("Wedding Crashers") executive produced and directed the pilot.




[01/21/21 - 01:04 PM]
The CW Launches New CW App Nationally on VIZIO SmartCast
"We want to provide fans of The CW's programming a choice of how and where they consume our content," said Hiram Norman, Executive Vice President, Digital, The CW.


[01/21/21 - 01:02 PM]
Oscar Nominee Michelle Pfeiffer Joins Oscar Winner Viola Davis in "The First Lady" (w/t) for Showtime
Emmy and Golden Globe winner Susanne Bier will direct and executive produce the anthology series.


[01/21/21 - 12:17 PM]
AMC Networks Acquires "The Beast Must Die," An Original Drama Premiering This Spring on AMC And AMC+
Jared Harris, Cush Jumbo OBE, Billy Howle, Nathaniel Parker and Geraldine James star in the project, based on the novel by Nicholas Blake.


[01/21/21 - 11:48 AM]
Video: AMC Releases New Trailer for "The Walking Dead's" Extended 10th Season
In these six new episodes, we find our survivors trying to pick themselves up by their bootstraps following the destruction the Whisperers left in their wake.


[01/21/21 - 11:30 AM]
TNT, TBS and truTV Announce Premiere Dates in March and April
New series "Chad," "Double Cross with Blake Griffin" and "Big Trick Energy" will be joined the return of "American Dad."


[01/21/21 - 10:02 AM]
New discovery+ Series "One Week to Sell" Highlights Creative Design Transformations That Move Unsold Homes in Record Time
Unsold homes become red hot properties when New York-based interior designer and home stager Taylor Spellman steps on the scene in the new series.


[01/21/21 - 10:00 AM]
Four of TLC's Fan Favorite Series Set to Return with Brand New Seasons in February and March
"Sister Wives," "Outdaughtered," "Seeking Sister Wife" and "Return to Amish" are all due back.


[01/21/21 - 09:59 AM]
HBO's "Fake Famous," An Exploration Into The World Of Influencers Via Social Experiment, Debuts February 2
The film's journey into this world is driven by the casting of three people in Los Angeles who all have relatively small social followings and the attempt to grow them into famous influencers.


[01/21/21 - 08:05 AM]
CBS Sports to Stream Super Bowl LV Across Expanded Lineup of Digital Platforms and Devices
CBS Sports' streaming coverage will be available to viewers across an expanded lineup of platforms and devices, including unauthenticated at CBSSports.com and on the CBS Sports app for OTT devices and services, smart TVs and mobile devices.


[01/21/21 - 08:03 AM]
discovery+ Announces February Programming Slate
In February, subscribers will have access to the 23 new titles, with additional projects expected to be announced in the coming days.


[01/21/21 - 08:01 AM]
Wednesday's Broadcast Ratings: NBC Tops Inauguration Day
The network leads the night in total viewers, shares the adults 18-49 crown with ABC and FOX.


[01/21/21 - 08:00 AM]
CBS Sports Announces Extensive Coverage of Super Bowl LV, The Network's Record 21st Super Bowl Broadcast
Super Bowl LV kicks off at 6:30 PM, ET with the pregame shows beginning at 11:30 AM, ET.


[01/21/21 - 07:31 AM]
"Bridgerton" Renewed for Second Season
From Shondaland and Creator Chris Van Dusen, Bridgerton follows Daphne Bridgerton (Phoebe Dynevor), the eldest daughter of the powerful Bridgerton family as she makes her debut onto Regency London's competitive marriage market.


[01/21/21 - 07:00 AM]
"Nightline" Ranks No. 1 in All Key Measures for Third Consecutive Week
ABC spins the late-night numbers for the week of January 11.


[01/21/21 - 06:00 AM]
Elizabeth Mitchell and Goran Visnjic Join Donald Sutherland in U.S. Television Premiere of "Crossing Lines" Season Three on Ovation TV
As previously announced, the second season started on Ovation TV on January 11.