[01/08/21 - 11:01 AM]
From Culinary Mastermind Wolfgang Puck, "The Event" Premieres January 14 on HBO Max
The four-episode culinary series takes viewers into the kitchen of Wolfgang Puck's elite catering company as his team tackles some of the industry's biggest, most exclusive events.
---
[via press release from WarnerMedia]
From Culinary Mastermind Wolfgang Puck, THE EVENT Premieres January 14 on HBO Max
Official Teaser Trailer and Key Art Debut; Episodes Now Available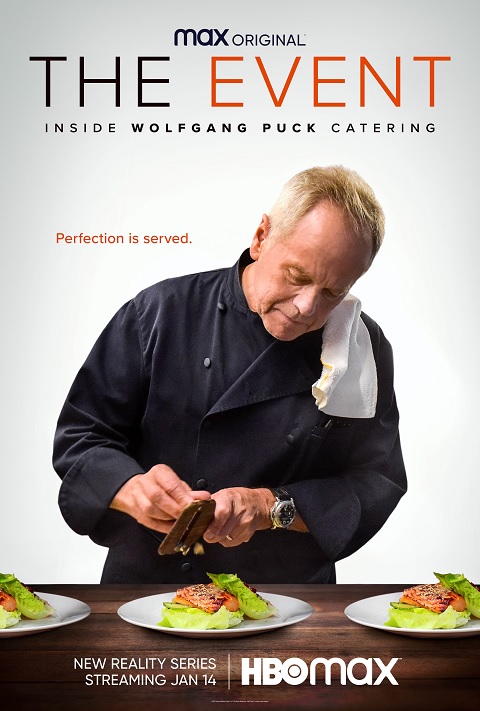 LOS ANGELES - JANUARY 8, 2021 - HBO Max announced today the premiere date for the upcoming unscripted series, THE EVENT, set to premiere January 14. The 4-episode culinary series takes viewers into the kitchen of Wolfgang Puck's elite catering company as his team tackles some of the industry's biggest, most exclusive events.
Known as the crème de la crème of the industry, Wolfgang Puck Catering is responsible for some of the nation's most legendary corporate, cultural, and entertainment events. Placing viewers both behind-the-scenes and inside these lavish affairs, THE EVENT follows renowned restaurateur Wolfgang Puck and members of his skilled catering team through every step of their intricate execution process. Each episode features a different high-profile event - from the SAG Awards to HBO's "Westworld" premiere party - offering access to trade secrets and an unprecedented look into the creative development, planning, and immense scope of running a world-renowned catering company.
THE EVENT is executive produced by Wolfgang Puck, Wolfgang Puck Catering's CEO Carl Schuster, Emmy(R)-nominees David Garfinkle and Jay Renfroe ("Naked and Afraid," "The Kennedy Detail") for Renegade 83, an eOne company, and Emmy(R)-winners Eamon Harrington and John Watkin ("The Alzheimer Project," "Patrick Dempsey: Racing Le Mans"), who co-direct all four episodes.




[01/20/21 - 08:39 AM]
Tuesday's Broadcast Ratings: "NCIS" Returns on Top for CBS
The Eye wins the evening in both total viewers and adults 18-49 with its drama lineup.


[01/20/21 - 07:14 AM]
The CW Network Sets "Super" Tuesday Event with Entire Night Dedicated to "Superman & Lois" on Tuesday, February 23
The premiere will be expanded to 90 minutes, bumping the return of "The Flash" to the following Tuesday, March 2.


[01/20/21 - 02:05 AM]
Netflix UK Commissions "Heartstopper," A New 8-Part Live Action Series from See-Saw Films
"This is a story that deserves to be told," said Alexi Wheeler, Director, Kids & Family Content.


[01/19/21 - 12:01 PM]
Hallmark Channel Announces "Love Ever After" Month with All New Movies, Return of the Networks Hit Series and More This February
The all new romance movies include "Beverly Hills Wedding" (February 6), "Playing Cupid" (February 13), "Valentine's Again" (February 14), "Mix up in the Mediterranean" (February 20), and "It Was Always You" (February 27).


[01/19/21 - 12:00 PM]
Hallmark Movies & Mysteries Announces All New "Crossword Mysteries" and "Chronicle Mysteries" Movies, Along with Marathons of Your Favorite Mysteries All February
Look for said installments on Sunday, February 14 and Sunday, February 21, respectively.


[01/19/21 - 11:02 AM]
TNT's #1 New Cable Drama "Snowpiercer" Receives Third Season Order
Season two premieres on Monday, January 25 at 9:00/8:00c on TNT.


[01/19/21 - 11:00 AM]
HBO's "Euphoria" Second Special Episode to Premiere Early on HBO Max on January 22
The first special episode, "Trouble Don't Last Always," debuted December 6 on HBO and had an early streaming premiere on HBO Max starting December 4.


[01/19/21 - 10:49 AM]
Crackle Announces the Premiere of Original College Football Documentary Series "Bucket List," Available For Free on Crackle February 1
The series follows outspoken college football legend, Brian "The Boz" Bosworth, as he tours eight of the best destinations in college football today, interviewing coaches, former star players and fans to determine why each stadium deserves a spot on every fan's bucket list.


[01/19/21 - 10:32 AM]
The Biggest Band Breakups, Icons of Pop Music, Celebrity True Crime Mysteries and a Spy Thriller Highlight a February 2021 Lineup with All New Original Stories
"Breaking the Band," "Geraldo Rivera's Murder in the Family" and "World's Most Evil Killers" are among the returning Reelz series.


[01/19/21 - 10:29 AM]
HBO's "Black Art: In the Absence of Light" Debuts February 9
The film is a testament to the indelible contributions of Black American artists in today's contemporary art world.


[01/19/21 - 10:04 AM]
NAACP Announces New Air Date for the 52nd NAACP Image Awards
Previously set for February 20, the event will now air live on BET on March 27.


[01/19/21 - 10:03 AM]
Brad Paisley & Blake Shelton to Host "Grand Ole Opry: 95 Years of Country Music" on Sunday, Feb. 14 on NBC
For almost a century, the Grand Ole Opry has celebrated the past, present and future of country music, showcasing a mix of country legends and the contemporary chart-toppers who have followed in their footsteps.


[01/19/21 - 10:01 AM]
French-Hebrew Language Thriller "Possessions" to Debut on HBO Max on January 28
The series tells the story of Natalie, a young French expatriate in Israel, is charged with the murder of her husband on their wedding night.


[01/19/21 - 09:03 AM]
BET Greenlights Third Season for Hit Scripted Drama "Tyler Perry's Sistas"
The series renewal lands in anticipation of the mid-season premiere of "Tyler Perry's Sistas" Wednesday, January 27 at 9:00/8:00c.


[01/19/21 - 09:01 AM]
Video: "Nadiya Bakes" - Official Trailer - Netflix
Delightful cakes and heavenly breads pop from the oven as Nadiya Hussain returns to baking, her happy place, and spotlights creative kindred spirits.