Netflix Summons "Daniel Spellbound" to Netflix in an All-New Animated Series
-- New animated adventure from Boat Rocker Studios and Industrial Brothers will premiere worldwide in 2022--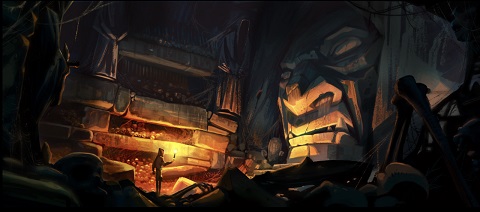 Netflix, Boat Rocker Studios and Industrial Brothers today announced the magical new CG animated series Daniel Spellbound from creator Matt Fernandes (Dino Ranch, Remy & Boo, Kingdom Force).
The 20 x 22-minute animated epic adventure series will debut globally on Netflix in 2022.
Logline: In modern-day New York City, magic is real... it's just hidden from the public by sleight of hand and misdirection. But Daniel Spellbound knows where to find it - as a tracker of magical ingredients he makes his living selling rare goods to sorcerers and wizards for their spells. But when he discovers a strange ingredient, Daniel catches the attention of dangerous alchemists and he suddenly must test his skills on an adventure around the globe, while the magical world hangs in the balance!
The series is produced in partnership with its creator and director Matt Fernandes, who will serve as Executive Producer, along with Industrial Brothers (Executive Producers, Arthur Spanos and Tammy Semen) Boat Rocker Studios, (Executive Producers, Ivan Schneeberg, David Fortier, Jon Rutherford and Chapman Maddox) Merrill Hagan (Teen Titans Go, The Magic School Bus, Danger Mouse) is Executive Story Editor.
Matt Fernandes, Creative Director and Co-founder of Industrial Brothers: "I wanted to create a contemporary fantasy world that reflected urban culture - not just set in a magical world, but where the magic is woven into the fabric of modern society, only hidden in plain sight. I had always been curious about how wizards actually acquired the strange ingredients for their spells. Is there a corner store that has them? And who is the guy that finds all that weird stuff? From that point, Daniel Spellbound was born."
Jon Rutherford, President, Boat Rocker Studios, Kids & Family and Rights: "We're very excited to finally announce a project that we developed and pitched over three years ago, and couldn't be happier to be producing it with Netflix. Matt and I always envisioned this story would inspire kids and families around the world and it's incredible to now see these magical worlds come to life. We look forward to unveiling this show to the world in 2022."
The series joins Netflix's growing slate of original animated programming for kids and families everywhere, brought to 190 countries by artists from around the world including upcoming animated series Kid Cosmic from Powerpuff Girls creator Craig McCracken, Arlo the Alligator from Ryan Crego, City of Ghosts from Elizabeth Ito, Centaurworld from Megan Nicole Dong and limited event series Maya and the Three from Jorge Gutierrez.
ABOUT BOAT ROCKER MEDIA
Boat Rocker Media (Boat Rocker) is the linear distribution and global merchandising rights holders of Daniel Spellbound. Boat Rocker is an independent, integrated global entertainment company that harnesses the power of creativity and commerce to tell stories and build iconic brands for audiences around the world. Boat Rocker Studios, the company's main creative engine,creates, produces and distributes award-winning content and franchises across all major genres via its Scripted, Unscripted, and Kids & Family divisions. The Studio distributes and licenses thousands of hours of its own and third-party content worldwide. Boat Rocker owns or invests in companies in the entertainment industry that bolster the company's strategic and operational goals, including Insight Productions (Unscripted), Jam Filled Entertainment (2D and 3D Animation), Industrial Brothers (Kids & Family Animation) and Untitled Entertainment, a leading global talent management company that represents leading on-screen talent and celebrities. A selection of Boat Rocker's projects include: Orphan Black (BBC AMERICA, Space), Dear... (Apple TV+), Lip Sync Battle (Paramount Network), The Amazing Race Canada (CTV), MasterChef Canada (CTV), The Next Step (Family Channel, CBC), The Loud House (Nickelodeon), and Remy & Boo (Universal Kids, CBC), and Dino Ranch (Disney Jr, CBC). For more information, please visit www.boatrocker.com.
ABOUT INDUSTRIAL BROTHERS
Industrial Brothers, co-founded by Matt Fernandes and Arthur Spanos, is a creative studio focused exclusively on developing and producing premium, original IP that tells unique stories for kids of all ages. Based in Toronto, Industrial Brothers works closely with broadcast, production and distribution partners, creating high quality shows such as Dino Ranch (with Boat Rocker Studios for Disney Jr. and CBC), Top Wing (produced by 9 Story Media Group for Nickelodeon), Remy & Boo (with Boat Rocker Studios for Universal Kids), Kingdom Force (with Boat Rocker Studios for CBC), Dot! (with The Jim Henson Company for CBC, Universal Kids and Hulu), Yup Yups (Disney Jr.) and the YouTube exclusive boys' action series Gummandos. Industrial Brothers has become one of the first animation studios in Canada to integrate Pixar's Universal Scene Description (USD) open source technology for TV and streaming series productions, bringing big studio animated feature film and big budget visual effects production to the small screen. For more information on Industrial Brothers, please visit www.industrialbrothers.com or connect via Facebook at http://www.facebook.com/industrialbrothers.